White House chief of staff Mark Meadows is the latest member of the Trump administration to test positive for the new coronavirus, raising concerns about the potential exposure of others.
Bloomberg was first to report Meadows' positive diagnosis, which was confirmed by the Associated Press. It's unclear when he tested positive, but Meadows attended a party at the White House on Election Night on Tuesday. His own positive diagnosis comes a month after President Donald Trump tested positive.
White House officials are tested on a regular basis and it's also unclear when Meadows became infected or if he's experiencing symptoms. The Centers for Disease Control and Prevention recommends anyone who was in "close contact" with a person who tests positive for COVID-19 quarantine for 14 days since they were exposed. "Close contact," as defined by the CDC, is someone who was within six feet of an infected person for 15 minutes or more over a 24-hour period starting from two days before illness onset or when the positive test was taken.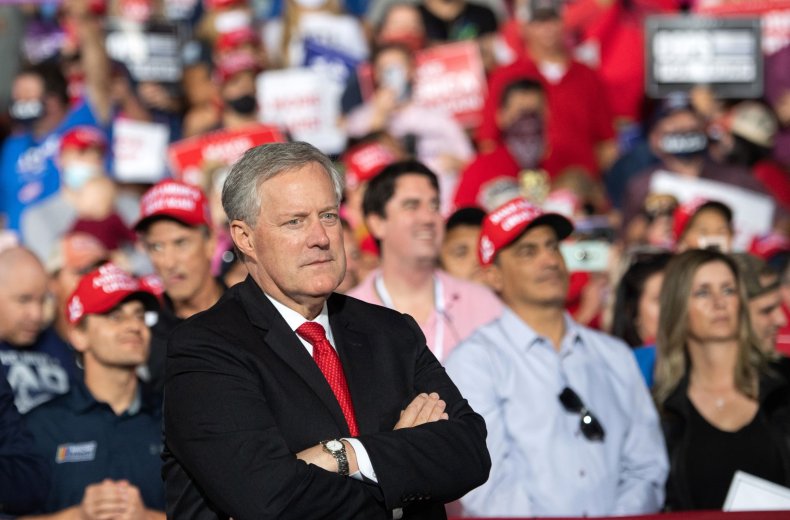 Days before Trump tested positive, the White House held an event to celebrate the nomination of Judge Amy Coney Barrett to the Supreme Court. It turned out to be a "superspreader" event that led to multiple positive cases and Meadows' presence at the White House election night party raised concerns that it could also become a superspreader. Earlier in the day, Meadows ventured with the president to Trump campaign headquarters, where he appeared without a mask, as well.
More than 9.7 million people have tested positive for the new coronavirus in the United States, according to a tracker maintained by Johns Hopkins University. Along with leading the world in cases, America's also had the highest number of deaths, at more than 236,000 lives lost, according to the tracker.
The pandemic has been a lightning rod for criticism of the Trump administration and in a close election, it's possible it swayed voters to cast ballots for Biden. The Democratic candidate for president hit Trump hard for his response to the outbreak and comments he made that appeared to undermine the severity of the pandemic or the state the country was in. However, the president stood by his response, often citing the rapid speed at which a vaccine is being developed and praise he received for closing down travel from China.
Two weeks before Meadows tested positive, Marc Short, Vice President Mike Pence's chief of staff, and other aides tested positive. At least 24 others tested positive after the event celebrating Barrett.
This is a developing story and will be updated as more information becomes available.
HI! I AM DAVID BRAYZ!
I am a highly-skilled IT Specialist with over 12 years of experience in Web Design, Graphic Design, Web Blogging & ITL Management.