01:09
Summary
As of this evening, 70,032,485 Americans have already voted early – either in person or absentee, according to the US Elections Project.The overwhelming enthusiasm has perhaps put this year on pace to see some of the highest voter participation rates in more than a century.
Hundreds took to the streets in Philadelphia to protest the police killing of Walter Wallace Jr, a 27-year-old Black man. Philadelphia police said they will be deploying more officers and have asked for the National Guard to assist them as protests continue.
Amy Coney Barrett officially joined the supreme court, after Chief Justice John Roberts delivered her judicial oath in a private ceremony this morning.
Trump lashed out against Barack Obama as the former president unleashed blistering criticism of his successor. Speaking at a drive-in rally in Orlando, Florida, Obama once again lambasted Trump's response to the coronavirus pandemic, noting the president has complained about the news coverage the pandemic has received as the US death toll continues to climb. "He's jealous of Covid's media coverage," Obama said.
Biden delivered a speech in Warm Springs, Georgia, as polls show a close presidential race in the traditionally conservative state. "The president declared, he's going to wage war on the virus. Instead he shrugged, swaggered and he surrendered," Biden said in Warm Springs. "Well, I'm here to tell you we can and will get control of this virus."
Trump falsely suggested it was illegal to count ballots after election day. "It would be very, very proper and very nice if a winner were declared on November 3, instead of counting ballots for two weeks, which is totally inappropriate, and I don't believe that's by our laws," Trump told reporters before leaving Washington for his three campaign rallies today. In reality, states have until 8 December (known as the "safe harbor" deadline) to tabulate final election results.
A federal judge denied the justice department's bid to take over Trump's defense in E Jean Carroll's defamation lawsuit. The judge ruled that the president was not acting in his official capacity when he denied Carroll's rape allegation, as the justice department had argued.
My colleague Tom McCarthy will continue to bring you live updates. Follow along here:
00:46
Trump administration sets new low for refugee admissions
In a late-night press release, the White House announced it will admit no more than 15,000 refugees over the next fiscal year, setting a historic low since the US began its refugee program in 1980.
"This refugee admissions ceiling incorporates more than 6,000 unused places from the FY 2020 refugee admissions ceiling that might have been used if not for the COVID-19 pandemic," the administration said in a statement.
Last year, the administration set the cap for the number of refugees admitted into the US at 18,000. The year before that it was 30,000. The caps have a significant reduction from the 110,000 refugees allowed during Barack Obama's last year in office.
The determination to cap admissions at 15,000 was made earlier this month. Read more:
00:21
The US diplomats' union has denounced an attempt by a Trump appointee to remove the "firewall" protecting the editorial independence of the Voice of America, Radio Free Europe and other US overseas broadcasters
, warning that it marked an attempt to turn them into vehicles for "government propaganda".
The CEO of the US Agency for Global Media (USAGM), Michael Pack, announced overnight on Monday that he would be rescinding the "firewall rule" insulating journalists from editorial direction from politically appointed management.
The rule, Pack argued, was "in tension with the law and harmful to the agency and the US national interest".
"The rule threatened constitutional values because the constitution gives the president broad latitude in directing the foreign policy of the United States," Pack wrote in a message to his staff.
The move follows several steps already taken by Pack, an ally of the rightwing ideologue Steve Bannon, to exercise greater political control USAGM broadcasters that include Voice of America, Radio Free Europe/Radio Liberty, Middle East Broadcasting Networks, Radio Free Asia and the Office of Cuba Broadcasting. Since taking up the job in June, he has conducted a purge on senior journalists and refused to renew the visas of foreign reporters.
The American Foreign Service Association (AFSA) said it stood in solidarity with USAGM staff in opposition to the move
00:01
In a new series, Guardian US is zooming in on
Maricopa county
, a spot that could decide the fate of Trump – and America.
Maricopa county, which encompasses Arizona's capital, Phoenix, and blossoming rings of surrounding suburbs, has nearly 4.5 million residents and dominates the state politically. One third of Maricopa residents identify as Latino, according to US census data.
Over the past decade, demographic change, population growth and a cultural shift seen across America's suburbs has turned this sprawling desert metropolis – a bastion of western conservatism for decades – into one of the most closely watched and fiercely contested presidential battlegrounds in the nation.
The county holds the keys to winning Arizona, and no Republican has ever won the White House without winning this key Sun Belt state. In 2016, Donald Trump won here by just three percentage points. Can he do it again in 2020?
Read more from the opening piece in the series, Phoenix rising, here:
Updated

23:23
Health officials and scientists in the administration told the Daily Beast they were offended by a press release that listed "ending the Covid-19 pandemic" as a major accomplishment of Donald Trump's and quoted the president's daughter Ivanka alongside experts.
The Daily Beast reports:



In a statement released Tuesday afternoon The White House Office of Science and Technology Policy said that it considered "ending the COVID-19 pandemic" to be one of President Donald Trump's major first term accomplishments. The office released a corresponding report that listed achievements of the Trump administration in the area of science and innovation.

"It's mind boggling," one official said of the White House's assertion it had ended the pandemic. "There's no world in which anyone can think that [statement] is true. Maybe the president. But I don't see how even he can believe that. We have more than 70,000 new cases each day."

Four officials working with the White House coronavirus task force told The Daily Beast that they viewed the White House's statement as a personal slight and a public rebuke of their efforts to try and get control of the virus.

Officials described the report as the latest example of the president and his team of advisers refusing to acknowledge that the U.S. is experiencing a worrying resurgence of the virus.

"We have exploding case counts. Death rates will undoubtedly rise. They are living in a parallel universe that bears no relation to the reality that Americans are living," said Dr. Tom Frieden, former director of the Centers for Disease Control in the Obama administration. "And this idea that we should let it spread and protect the vulnerable is a really dangerous mistake. The idea that it [containing the virus] can't be done ignores reality."
Read more here.
Updated

22:40
At the Trump rally in Nebraska
, the Los Angeles Times' Eli Stokols writes that the Wifi network was called "Where is Hunter?" and the password was "10FORTHEBIGGUY".
The network was "largely non-functioning," he wrote in the Press Pool report.
Supporters at the rally, as they are wont to do, chanted "Lock him up," when Trump's speech turned to unsubstantiated and unverified accusations against his opponent Joe Biden's son Hunter.
22:20
America's protest crackdown: five months after George Floyd, hundreds face trials and prison

Sam Levin
Some protesters face stacked charges and threats of deportation; others have been charged with police assault with no reports of injuries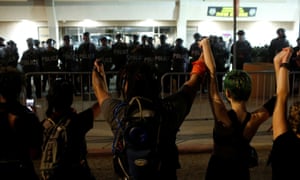 Lee Percy Christian III didn't think Arizona law enforcement could stop him from protesting – until they locked him up indefinitely.
Earlier this month, Christian, 27, was arrested for "unlawful assembly" after a Black Lives Matter protest in Phoenix and jailed without bond because of outstanding charges from previous demonstrations. Prosecutors later suggested bond be set at $100,000. Christian's lawyers and a judge agreed he could be released on a lower bond – if he didn't participate in future public protests.
Christian was mortified, but agreed to sign away his right to protests so he could leave jail – he had spent nine days locked up. "I'm guilty until proven innocent," he said recently on the phone. "We're in a police state, and the last thing the police want is for me to be out there using my voice."
Since the killing of George Floyd in Minneapolis in May, millions of Americans have marched in cities big and small to protests racial violence and police brutality. The demonstrations have been overwhelmingly nonviolent, yet in many jurisdictions law enforcement has responded with force. Tens of thousands of demonstrators, activists and BLM supporters have been arrested.
More than five months since the start of the unrest, hundreds of these protesters have been slapped with serious charges by federal and local prosecutors, according to researchers and a review of court data. Some protesters have faced stacked charges and threats of life sentences. Others have been charged with "assaulting" police officers where there's no evidence of violence and no reports of injuries. Some arrested protesters have been transferred to immigration authorities.
The crackdown comes as Donald Trump, eager to put Democrats on the defense, has ramped up warnings about Black Lives Matter, anti-fascists and the "far left" in the lead up to the election. He has called BLM a "symbol of hate" and claimed without evidence that "Antifa" will "attack your homes".
22:04
Survey: Indian Americans back Biden and Democrats
Indian Americans are overwhelmingly backing Joe Biden according to a new survey. Of more than Indian American citizens surveyed, 72% planned to vote for Biden and 22% for Trump.
Although Indian Americans make up about .8% of eligible voters in the US, both presidential campaigns have been courting them. The Biden/Harris campaign recently held a South Asian get out the vote rally, a virtual event that featured stars from the Netflix reality TV show Indian Matchmaker as well as Indian actors and public figures.
Kamla Harris, if elected, would become the first Black and Indian American vice-president in US history.
Donald Trump, meanwhile, has maintained a friendship with India's rightwing prime minister, Narendra Modi, even hosting a "Howdy, Modi: Shared Dreams, Bright Futures" rally in Houston last year that drew hundreds of thousands.
But "the data show that Indian Americans continue to be strongly attached to the Democratic party, with little indication of a shift toward the Republican party," said researchers from Carnegie Endowment for International Peace, Johns Hopkins School of Advanced International Studies and the University of Pennsylvania.
"In addition, Indian Americans view US-India relations as a low priority issue in this electoral cycle, emphasizing instead nationally salient issues such as healthcare and the economy," they wrote.
Updated

21:37
More than 70 million Americans have voted early
As of this evening, 70,032,485 Americans have already voted early – either in person or absentee, according to the US Elections Project.
The overwhelming enthusiasm has perhaps put this year on pace to see some of the highest voter participation rates in more than a century. Thus far, early voters have favored Democrats in most states that provide data on who is voting early, but Republicans have been narrowing the gap.
Updated

21:17
The protests in Philadelphia over the police killing of Walter Wallace Jr are still going strong.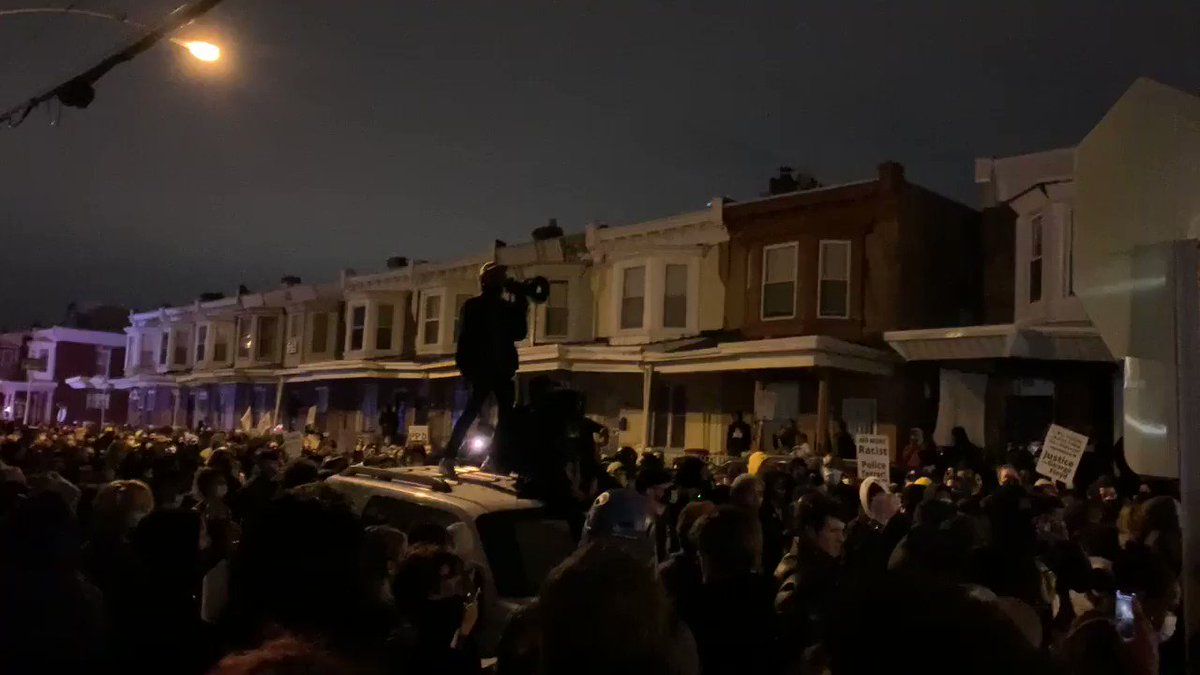 Wallace Jr, 27, had mental health issues, said Shaka Johnson, a lawyer representing the family. The young man's brother had called 911 asking for an ambulance to help this brother – the dispatcher was told that Wallace was suffering. But instead of an ambulance, police arrived, Johnson said.
"To think about calling for assistance and winding up with the people you called for assistance killing you," he said. Justice means "reform in the Philadelphia Police Department and adequate training" he added.
20:57
Democratic campaigners are scrambling to convince American voters to deliver absentee ballots by hand rather than rely on the US postal service, after the supreme court sided with Republicans in Wisconsin in refusing to allow a count of votes arriving after election day.
Democrats argued that the flood of absentee ballots, and other challenges posed by the coronavirus pandemic, made it necessary to extend the posting deadline. The court is due to hear similar cases from two pivotal battleground states, North Carolina and Pennsylvania, before 3 November.
With the bench now packed with a 6-3 conservative majority after the swearing in on Tuesday of the new Donald Trump-picked justice, Amy Coney Barrett, the supreme court has become the object of intense scrutiny.
Barrett, 48, was formally sworn in by the US chief justice, John Roberts, in a private ceremony on Tuesday, fuelling anxiety among Democrats over what her presence in the court might mean for other election-related cases, including any challenge to the result.
The Wisconsin decision triggered a rush by Democratic party campaign workers to track more than 360,000 so far unreturned mail-in ballots in the state. They urged voters to deliver their ballots by hand by 3 November rather than rely on a postal service that has been hamstrung by delays, some reportedly politically inspired.
"We're phone banking. We're text banking. We're friend banking. We're drawing chalk murals, driving sound trucks through neighborhoods & flying banners over Milwaukee. We're running ads in every conceivable medium," Ben Wikler, the party's chairman in Wisconsin, tweeted after the supreme court decision.
Among the endorsers of dropping off one's ballot – Lady Gaga: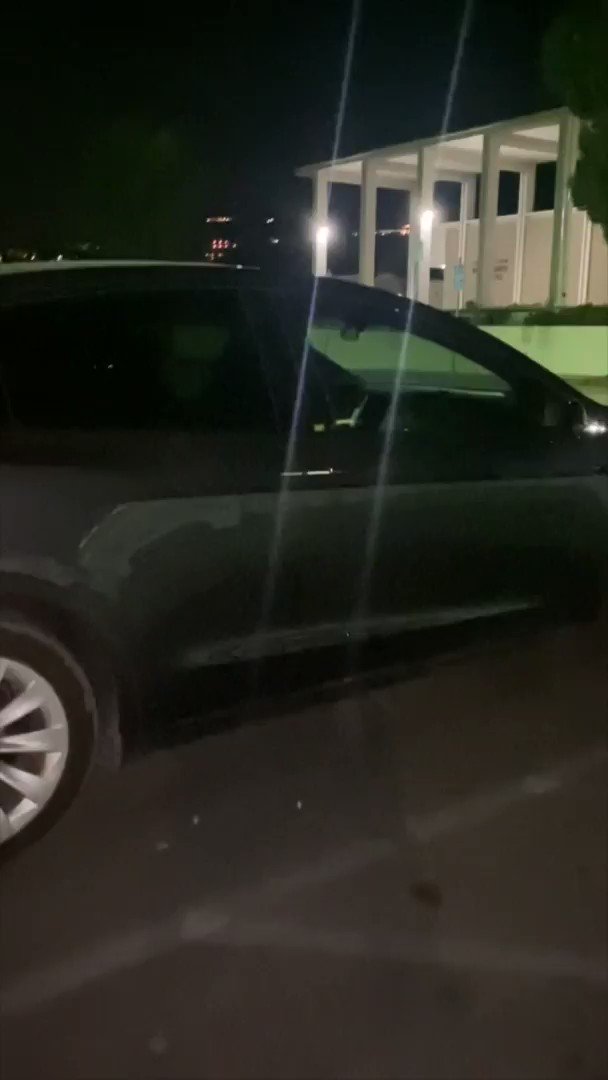 Read more, from Peter Beaumont, Ed Pilkington in New York me:
20:50
The electoral map has shifted in 2020, amid new challenges from misinformation to mail-in ballots. Previously reliable states on both sides are now looking more competitive.
Helena Robertson, Ashley Kirk and Frank Hulley-Jones report:
In the interactive linked below, you decide which way these closer states will vote, and try to pave Joe Biden or Donald Trump's path to victory.
Some states remain very likely to go to Biden or Trump because they were won by large margins in 2016, or they have voted the same way in several recent elections. Such states – ranked either a "solid" or "likely" win for either party, according to the Cook Political Report – have already been colored in for Biden and Trump in the graphic below.
A majority of 270 electoral votes out of a total of 538 is needed to win, and the remaining states are up to you.
20:40
It seems the president's staff has been leaving notes and printouts for journalists in the White House press pool.
The printouts include a promo for upcoming Fox News programming, with the handwritten message: "Must-see TV". Journalists also received a printout of early voting numbers by party affiliation in Michigan.
"The president wasn't aware until somewhat recently that the press corps doesn't have access to wifi" while aboard Air Force One, said Jennifer Jacobs of Bloomberg. "So he's been leaving us printouts. It's essentially a paperwork version of a tweet."
Updated

20:23
Donald Trump's campaign website was briefly down.
The campaign said the website was "defaced".
The site's "About" section was replaced with what appeared to be a scam to collect cryptocurrency, TechCrunch reports. The new text read: "the world has had enough of the fake-news spreaded daily by president donald j trump. it is time to allow the world to know truth."
Whoever switched out the website content also claimed to have information about "origin of the corona virus" and provided addresses to collect cryptocurrency.
"There was no exposure to sensitive data because none of it is actually stored on the site. The website has been restored," said Trump communications director Tim Murtaugh.
Updated

20:13
Facebook's moratorium on political ads in the last stretch before election day was full of glitches, according to campaigns.
Reuters reports:



Democratic presidential candidate Joe Biden's digital director Rob Flaherty slammed the social media giant on Tuesday, saying on Twitter its systems broke "within seconds of launching the silly, performative pre-election hoop-jumping exercise."

A Biden spokesman said an undisclosed number of his campaign's ads were affected.

Under pressure to crack down on misinformation and other abuses, Facebook said last month it would impose a moratorium – or temporary ban – on new political ads in the week before Nov. 3 in an attempt to tamp down on misinformation on social media as Election Day approached.

The company stopped accepting new political or issue ads on Tuesday. Facebook said it would allow pre-existing ads to run during that period but would block any adjustments to the ads' content or design.

A Facebook spokeswoman declined to answer Reuters questions, but Facebook's director of product management Rob Leathern said on Twitter: "We're investigating the issues of some ads being paused incorrectly, and some advertisers having trouble making changes to their campaigns."

Campaigns rushed to submit any ads they might need for the election period ahead of the moratorium, strategists have told Reuters in recent days.

President Donald Trump's re-election campaign started running pre-prepared ads touting GDP numbers that will not be released until Thursday.

Facebook Inc said on Tuesday it had rejected a pre-prepared Trump campaign ad that told users to "vote today," because it did not have "the proper context or clarity" – a violation of its policies.
Updated

20:08
BBC Newsnight pressed an aggrieved John Bolton about his refusal to voluntarily testify in the impeachment trial of Donald Trump.
"You refused to tell the American people what you saw and what you knew," said the BBC's Emily Maitlis.
"You are absolutely wrong," Bolton said.
"You were asked to testify …" Maitlis pushed.
"Let me finish, let me finish," Bolton retorted.
Watch the clip here:
Updated

20:01
As the future of Obamacare heads to the supreme court, so do trans rights.

Katelyn Burns reports:
The Affordable Care Act (ACA) is scheduled to be argued before the supreme court on 4 November. The lawsuit – which has been widely panned by legal experts – was brought by 19 Republican state attorneys general and seeks to have the entire landmark healthcare law tossed out. The future of the ACA was a common theme during hearings for Judge Amy Coney Barrett's nomination to the high court – now that she has been confirmed, she will soon be hearing California v Texas, a case challenging the landmark healthcare law.
"Life for trans people in terms of access to healthcare before and after the ACA is like night and day," said Shannon Minter, an expert in transgender law and an attorney at the National Center for Lesbian Rights. But many Americans don't have a grasp on the important role the ACA has played for LGBTQ+ people, especially those who are transgender, potentially making this fall's supreme court arguments the most critical transgender rights case ever heard at the court.
"If you were just going to point to a major case currently before the court that has the potential to have the greatest impact on transgender people it's unquestionably the ACA," said Minter, "I'm amazed that more people don't understand this, that this hasn't gotten more attention."
Updated

Get the latest news and advice on COVID-19, direct from the experts in your inbox. Join hundreds of thousands who trust experts by subscribing to our newsletter.
Send your news and stories to us news@climaxradio.co.uk or newstories@climaxnewsroom.com and WhatsApp: +447747873668.
Before you go...
Democratic norms are being stress-tested all over the world, and the past few years have thrown up all kinds of questions we didn't know needed clarifying – how long is too long for a parliamentary prorogation? How far should politicians be allowed to intervene in court cases? To monitor these issues as closely as we have in the past we need your support, so please consider donating to The Climax News Room.