00:42
US prosecutor publicly criticizes Bill Barr
James D Herbert, a current assistant US attorney for the district of Massachusetts, has written a letter to the editor publicly criticizing Trump's attorney general, Bill Barr:


While I am a federal prosecutor, I am writing to express my own views, clearly not those of the department, on a matter that should concern all citizens: the unprecedented politicization of the office of the attorney general. The attorney general acts as though his job is to serve only the political interests of Donald J. Trump. This is a dangerous abuse of power.
The letter appeared in the Boston Globe yesterday, but a reporter for ABC News has now confirmed it is authentic and that Herbert currently remains employed at the US attorney's office:
00:37
Covid hospitalizations expected to rise in California, officials warn
Gabrielle Canon
Covid-19 hospitalizations are expected to jump 89% in California, officials said at a news conference today.
Cases continue to hover around 3% over the past two weeks – a promising sign that new sectors could begin reopening. But Dr Mark Ghaly, who heads California's health and human services department, told reporters that the numbers are creeping up, likely due to some lag-time after Labor Day celebrations.
"We're seeing more admissions than we did the day or week prior for Covid-19 in some of our hospital systems across the state," he said.
More than 800,000 people in California have gotten Covid-19 as of Friday and deaths from the disease topped 15,000 earlier in the week. Hospitals aren't currently close to capacity though, and won't be even with a spike in cases. Over the summer there were more than 7,000 people hospitalized with the virus at one point and current state predictions through October are under 5,000.
California officials are still moving forward with a plan to allow nail salons to reopen, and are allowing counties to govern their own reopening plans based on a tier system.
Still, with flu season around the corner, Ghaly said they don't want to take any chances.
"We've never done Covid hospitalizations with flu hospitalizations," he said. "We see things coming together that we want to make sure we're very vigilant around, to ensure that even if we go up a little bit with our hospitalizations, we don't continue to have high rates and even come close to the numbers that we saw over the summer."
Updated

00:05
Trump declines to comment on his supreme court pick
Despite the flurry of news reports suggesting that the president will be nominating Amy Coney Barrett, Trump himself has declined to confirm his selection.
He told reporters that he has made his decision, but said he would be withholding the news until 5pm EST on Saturday. He said it "could be anyone of them" and "they're all outstanding", referring to five women he has been considering. Asked explicitly about Barrett, he said, "I haven't said it is her."
23:49
Amy Coney Barrett's record on LGBTQ+ rights, immigration and more
Some additional background on Amy Coney Barrett's record in the wake of reports that she is Trump's pick for supreme court nominee:
LGBTQ+ rights: Barrett has "demonstrated hostility toward LGBTQ rights in her words and rulings", according to the Human Rights Campaign (HRC). She criticized the landmark marriage equality case of Obergefell v Hodges, questioning the role of the court in deciding the case. She also argued Title IX protections do not extend to trans people, claiming it was a "strain on the text" to reach that interpretation, HRC found. She has also misgendered trans people, referring to trans women as "physiological males" in one comment attacking trans rights.
Immigration: Barrett recently voted to support Trump's controversial "public charge" rule, which allowed the government to deny green cards and visas to immigrants who rely on public benefits and went into effect in February. In an earlier case, she wrote the opinion for a three-judge panel that argued the Yemeni wife of a US citizen could not challenge the denial of her application for a visa.
Abortion: Barrett recently referred to abortion as "always immoral" and has twice issued rulings favoring additional restrictions on access. In one case, she argued in favor of a state law that would have required providers to notify parents of minors seeking abortion.
Some more on her record at CBS, NPR and Scotusblog.
23:18
The unnamed aides and White House sources confirming that Trump will nominate Amy Coney Barrett have told reporters that the president could change his mind between now and tomorrow
, according to multiple accounts.
All signs, however, point to Barrett, reports say. The New York Times said aides "cautioned" that "Trump sometimes upends his own plans", but also noted that the president appears to have only interviewed Barrett for the post.
CNN, which first reported the news, said Barrett was seen at her South Bend, Indiana home today. The network also said it was unclear if Barrett has been told she is the choice, and noted that she may be informed "as late as possible to maintain secrecy around the announcement".
Some reporters have been camped outside her home:
23:04
While the enormity of tackling climate change can be so overwhelming that some people shut down, presenting people with examples of how they can take action offers hope
, says prominent US climate scientist
Katharine Hayhoe.
In a live interview with Reuters on Thursday Hayhoe explained how the climate crisis was causing weather events such as heat waves, wildfires and hurricanes to become more severe and more frequent.
"According to natural factors we should be very gradually but inevitably getting cooler right now," said Hayhoe, an atmospheric scientist at Texas Tech University in Lubbock.
"Instead we're getting warmer faster than any time in the history of human civilization on this planet."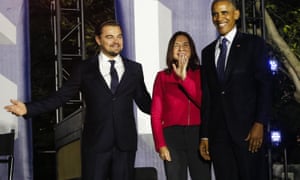 The urgency of climate change is real, she said, calling it "a here issue, and a now issue."
Climate change was a major factor in heat waves that made recent fires in Siberia, Australia, and right now in the US West so extensive and damaging, she said.
Hayhoe, widely known as a top communicator of climate change, addressed what often stands in the way of more aggressive action toward reducing emissions and adapting our societies to cope with change.
"Scaring the pants off us, for most of us, doesn't move us forward. It actually causes us to freeze. That's how our brains are hard-wired," Hayhoe said.
"We are wired to move forward not only to escape fear but rather towards a reward, something positive."
Instead, Hayhoe focuses on communicating how climate change is affecting people locally and offering suggestions for how people can help provide solutions, even if those solutions appear small. Giving people a sense of efficacy, she said, means giving people hope.
Follow the Guardian's special series Climate Countdown as we brace ahead of the election. Donald Trump's actions are scheduled to cause the US to leave the Paris Climate Accord on November 4, the day after the election. That is the pact agreed between most of the world's countries, to tackle the climate crisis.
22:52
Who is Amy Coney Barrett?
As more reporters confirm that Amy Coney Barrett is Trump's pick for supreme court nominee, a quick reminder about some key parts of her background and legacy:
She is a 48-year-old judge, who currently sits on the US circuit court of appeals in Chicago. If confirmed, she would be the youngest supreme court justice.
Barrett was nominated by Trump and confirmed by the Senate in October 2017 by a 55-43 vote. The 7th circuit in Chicago covers the states of Illinois, Indiana and Wisconsin.
She is a devout Catholic and mother of seven, who staunchly opposes abortion. Progressives fear she would vote to overturn the critical Roe v Wade ruling, which safeguards the right to abortion.
In her nearly three years on the bench, Barrett has authored around 100 opinions and revealing dissents in which she has been consistently conservative on a wide range of topics, including guns, campus sexual assault and health care.
Barrett served as a law clerk to supreme court justice Antonin Scalia, worked briefly as a private lawyer in DC and became a University of Notre Dame law school professor in 2002.
When asked about her religious beliefs in the 2017 confirmation hearings, she said: "I would stress that my personal church affiliation or my religious belief would not bear in the discharge of my duties as a judge."
Barrett was on Trump's list of potential nominees in 2018 to replace Anthony Kennedy, but the president reportedly said, "I'm saving her for Ginsburg."
More:
22:35
Reporters across DC are confirming an Amy Coney Barrett pick, including CNN, CBS, PBS and others:
Trump has said he will make an official announcement on Saturday.
22:23
GOP preparing for Amy Coney Barrett, AP reports
Another report is out on the rumors of Trump's supreme court nominee pick scheduled to be revealed tomorrow:
Republicans are expecting and preparing for Trump to announce that he is nominating Judge Amy Coney Barrett, the AP is reporting.
More from the AP:


Conservative groups and congressional allies are laying the groundwork for a swift confirmation process for Barrett, even before Trump makes the selection official. They, like the president, are wasting little time moving to replace the late Justice Ruth Bader Ginsburg, organizing multimillion-dollar ad campaigns and marshalling supporters both to confirm the pick and to boost Trump to a second term.
A number of outside conservative groups are planning to spend more than $25 million to support the president's nominee, the AP noted. The Judicial Crisis Network has organized a coalition that includes American First Policies, the Susan B Anthony List, the Club for Growth and the group Catholic Vote.
Some additional background on Barrett:
Updated

22:13
Oregon declares state of emergency over Proud Boys rally
Hi all –
Sam Levin
in Los Angeles, taking over our live coverage for the rest of the day.
First some news from Portland, Oregon, where Governor Kate Brown is sending state troopers and sheriffs deputies to the city to help police monitor a weekend rally by the rightwing Proud Boys and counter-protests by liberal groups.
As the AP reports, "Portland has been roiled by often violent protests for more than three months following the police killing of George Floyd in Minneapolis in May. Demonstrations that went into a lull during wildfires resumed this week, fueled by a Kentucky grand jury's decision to not indict officers in the killing of Breonna Taylor.



Brown told reporters she was exercising her authority to place Multnomah county sheriff Mike Reese and Oregon state police superintendent Travis Hampton in charge of Portland's public safety on Saturday and Sunday. Brown said Portland mayor Ted Wheeler supported the plan.

"This is our entire community coming together to protect our community," Brown said. "We want the highest level of coordination and the strongest leadership possible."

Similar competing demonstrations have ended with fistfights and bloodshed, including the fatal shooting on 29 August of Aaron "Jay" Danielson, a supporter of a rightwing group who was killed after Trump supporters drove pickup trucks in a caravan downtown. The suspect, leftwing protester Michael Reinoehl, was killed by federal officers in neighboring Washington state.

Superintendent Hampton said: "If you want to come to Oregon, to Portland, to peacefully protest, to assemble, to voice your outrage, to voice your concern – we welcome you for that. If your job and your intent is to come to Oregon to commit crimes, to provoke, to make people feel unsafe in their homes then we do not want you to come here."
Portland, of course, was one of the cities named by the US Department of Justice as an "anarchist jurisdiction" this week – a wholly political move by attorney general Bill Barr designed to support Donald Trump's "law and order" electoral campaign.
For further reading, from another anarchist jurisdiction, here's a piece from Gothamist and not the Onion, honest: "Local Anarchists Miffed By Trump's Designation Of NYC As Anarchist Jurisdiction."
21:58
Trump on threat not to concede power: I was joking… or was I?
I'm about to hand this blog on to Sam Levin in our West Coast office. In the meantime, according to the pool report, Donald Trump's speech in Atlanta went on for around an hour and included the usual doozies, including a joke about
fears he will not accept the result of the election
should he lose to Joe Biden.
According to the pool report:



"

Will we be president in 10 years?

" President Trump asked, then explaining that whenever he said things like this he is joking, but "

you can't joke

".

"'I told you he's a dictator, he will not give up power!'" he said, mimicking what he said were people failing to get his sense of humor.

"Twelve more years!" chanted the crowd after the president said the media exaggerates when people jokingly chant 12 more years.
Trump also repeated his claim that the election result may not be known on 3 November because of mailed-in ballots and added: "With me, we may end up in a dispute for a long time, because that's the way [Democrats] want it, but we're going to end up winning."
The president was speaking to a predominantly African American audience, which reportedly was responsive to his evidence-free attacks on the Black Lives Matter movement.



Trump referenced Breonna Taylor and others. "Our hearts break for their families and for all families who have lost a loved one, especially if you look at this way – so senseless. But we can never allow mob rule."

Says BLM is "really hurting the black community". The crowd boos when he mentioned the words Black Lives Matter.

Says BLM aims to "achieve the destruction of the nuclear family, abolish the police, abolish prisons, abolish border security, abolish capitalism and abolish schools".

Denounces "wealthy liberal hypocrites" supporting BLM and living in "walled compounds".
Trump also took a shot at Biden, for "staying in again today". In response to which the pool reporter notes, drily: "Actually, Biden went to Washington today to pay respects to the late justice Ruth Bader Ginsburg lying in state in the US Capitol."
This is what happened yesterday, when Trump and first lady Melania Trump went to the supreme court to pay their respects:
21:39
To polling news, in light of the last post, because, well, everybody loves a good poll. Don't they.
The Washington Post heralds a new survey it has carried out with ABC News, which says a clear majority of Americans do not think Donald Trump and the Republicans who hold the Senate should get to confirm a replacement for Ruth Bader Ginsburg, the supreme court justice who died last week aged 87, before the election on 3 November.
CNN says the replacement will be Amy Coney Barrett, which we all essentially knew, unless of course it isn't.
The poll from WaPo and ABC, like others which have shown similar results, does not matter one tiny bit in the most obvious sense, because Donald Trump and the Republicans who hold the Senate are going to confirm their replacement for Ginsburg and there is nothing the Democrats or the voters can do to stop them.
The court is going to tip 6-3 to the right, after Trump stages his unveiling tomorrow.
But, anyway, the WaPo/ABC poll finds:



38% of Americans say the replacement for Ginsburg should be nominated by Trump and confirmed by the current Senate, while

57% say it should be left to the winner of the presidential election

and a Senate vote next year.

Partisans are deeply divided on the issue, though clear majorities of independents (61%) and women (64%) say the next justice should be chosen by the winner of the election, including about half of each group who feel this way 'strongly'.
What might such sentiment mean at the polls, is the question. My guess is it might be bad news for Trump and Senate Republicans and Democratic control of everything except the court might be on the way. But if it is, a sixth conservative justice will be one hell of a consolation prize.
Here again is David Litt, once a speechwriter to Barack Obama, now the author of Democracy In One Book Or Less, about what Democrats might do in return:
21:17
Amy Coney Barrett is Trump supreme court pick – report
Citing "multiple senior Republican sources with knowledge of the process", CNN reports that
Donald Trump has settled on Amy Coney Barrett
as his pick to replace Ruth Bader Ginsburg on the supreme court.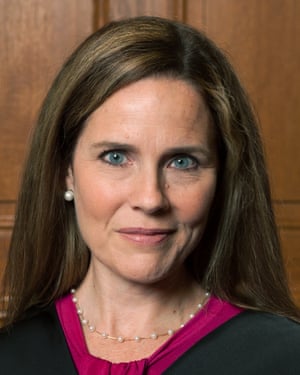 This is not a surprise, as the Indiana judge is widely expected to be Trump's pick, to be unveiled at the White House on Saturday. Barbara Lagoa of Florida is also reported to have been in contention.
CNN has a kind of all-purpose Trumpnews disclaimer very close to the top of its report: "All sources cautioned that until it is announced by the president, there is always the possibility that Trump makes a last-minute change." See: Iran, strikes against, influence of Tucker Carlson in postponing of (2019).
But Barrett "was the plan all along," CNN quotes "a former senior administration familiar with the process" as saying.
"She's the most distinguished and qualified by traditional measures. She has the strongest support among the legal conservatives who have dedicated their lives to the court. She will contribute most to the court's jurisprudence in the years and decades to come."
Trump was indeed reported to have said of Barrett, whose devout Catholicism fills women's rights and pro-choice advocates with fear: "I'm saving her for Ginsburg."
Here's David Litt again, on what Democrats might do after Barrett is confirmed, because she will be, because it bears repeating:
21:02
Ron Paul: 'I am doing fine'
The AP has an update on the health of Ron Paul:



Former Republican presidential candidate Ron Paul posted a picture of himself in a hospital on Friday but said he was OK, after video circulated online of him

struggling to speak during an interview

.

The 85-year-old former Texas congressman, who ran for the White House three times, posted a picture on Facebook showing him smiling in a hospital gown and giving a thumbs-up.

"I am doing fine. Thank you for your concern," he said.

The post came after a video took off on social media showing Paul having trouble speaking during an appearance on his live-streamed show, Ron Paul Liberty Report. The video cut away to the interviewer as Paul struggles.

Paul is the father of Senator Rand Paul of Kentucky, whose office did not immediately return a message.

Paul gained a loyal following running for president in 1988 and 2008, then saw his popularity rise with that of the Tea Party movement before he sought the White House again in 2012. He retired from his Texas district in 2013.
20:45
Trump speaks in Atlanta
Donald Trump has a speaking engagement in Atlanta this afternoon, at a campaign event titled "
Black Economic Empowerment: The Platinum Plan
."
The pool report offers some interesting descriptions of an event, in a state where the polls are tighter than they might be for a Republican incumbent, which has featured "a series warm-up speeches from African American leaders, including housing secretary Ben Carson".



"Speakers lauded the president with a torrent of scriptural references that frequently gave the atmosphere more of a church than election campaign.

'God made this man president,' said one.
Allow me to pause a second and allow the tiniest scrap of editorial voice into this blog, although as my editorial voice in such instances is essentially a poor impression of Christopher Hitchens after three Johnnie Walker Black Labels, faced on some college auditorium stage somewhere by an author of something called something like "The Atheist Delusion" … it's probably a bad idea.
Anyway: "God made this man president". Really? In that case, to quote Woody Allen, while I'm having bad ideas, "If it turns out that there is a God … the worst that you can say about him is that basically he's an underachiever."
"NFL great Herschel Walker" gave the last endorsement speech in Atlanta and said: "I've always know that he was different.
"He don't get the credit for all the things that he done in the African American community. He keeps God in the house.
"All us Americans have received so many touchdown passes from this man that … it is time to recognize our quarterback."
The pool report adds that "there are approximately 200 people in the audience, nearly all of them African Americans. Zero social distancing. A great many not wearing masks."
Updated

20:25
Speaking of Covid-19, and of pleas by health authorities that Donald Trump not hold his rally in Virginia tonight, and of cases in the US ticking past 7m, and so on, as the Associated Press helpfully puts it, "Governor Ron DeSantis has
lifted all restrictions on restaurants and other businesses in Florida,
in a move to reopen the economy despite the spread of the coronavirus."
The governor, a close Trump ally, has also banned local fines against people who refuse to wear masks. The AP, in the way of things, has more:



The Republican's order unleashed fresh debate in the politically divided state, where pandemic responses have become intertwined with the upcoming presidential election. DeSantis acknowledged that the pandemic is far from over, but said the threat has eased.

"We're not closing anything going forward," DeSantis said, while insisting that the state is prepared if infections increase again.

The governor said he would stop cities and counties from collecting fines on people who don't wear face masks.

"As an act of executive grace, all fines and penalties that have been applied against individuals are suspended," the governor said.

Democrats bemoaned the push to reopen as hasty.

"No one is advocating for a full-scale lockdown in Florida. But we have been and continue to ask for common sense prevention measures such as face masks, which are essential to preventing further spread," state senator Audrey Gibson said.

Florida has long been a Covid-19 hotspot, with nearly 700,000 infected. Nearly 14,000 have died.

The governor reluctantly closed bars and nightclubs on St Patrick's Day and days later restricted restaurants to take-out dining. Amusement parks ground to a halt. The closures battered the economy. More than 2.5 million Floridians have sought unemployment benefits.

DeSantis has been under pressure to revive the economy – much of it dependent on tourism. Like Trump, DeSantis has questioned the efficacy of closures, arguing that states that had more aggressively shut down, including California, have fared no better.

California has had more than 800,000 coronavirus cases and more than 15,000 deaths. While California has suffered slightly more infections and deaths, its population is nearly twice that of Florida.

"The state of Florida is probably the most open big state in the country," DeSantis boasted, nonetheless, on Friday.

New infections in Florida have steadily declined since a peak in July. Florida added 2,847 confirmed cases on Friday, pushing its total to 695,887. The state also announced 120 new deaths, pushing its total to 14,038.
Get the latest news and advice on COVID-19, direct from the experts in your inbox. Join hundreds of thousands who trust experts by subscribing to our newsletter.
Send your news and stories to us news@climaxradio.co.uk or newstories@climaxnewsroom.com and WhatsApp: +447747873668.
Before you go...
Democratic norms are being stress-tested all over the world, and the past few years have thrown up all kinds of questions we didn't know needed clarifying – how long is too long for a parliamentary prorogation? How far should politicians be allowed to intervene in court cases? To monitor these issues as closely as we have in the past we need your support, so please consider donating to The Climax News Room.