00:24
Ewan Murray's second-round report
23:59
So, two of the most-liked pros on the PGA Tour will make up Saturday's final pairing.
And on that ironic bombshell, I'll wrap today's commentary up. Thanks for reading and we'll be back tomorrow to see the next plot twist in this intriguing 120th US Open.
23:49
Final leaderboard
-4 Patrick Reed
-3 Bryson DeChambeau
-2 Rafa Cabrera Bello, Harris English, Justin Thomas
-1 Jason Kokrak
Day two at Winged Foot started with 21 players under par but it finishes with just the above half-dozen in red figures. A day when the course bit back.
23:46
Justin Thomas now the only player out there who can affect the final leaderboard.
He leaks his drive at 9 way right before a solid second and chip to 15 feet leaves an uphill birdie try. But, nope, he doesn't threaten the hole with it so that's a 3-over 73. Not the best but not the worst and the first-round leader will enter the weekend two behind new pacesetter Patrick Reed. Both men will be chasing a second major while second-placed Bryson DeChambeau is seeking his first.
Tiger birdies 9 but 10-over won't get him through to the last 36 holes. Well, at least it beats the 12-over he shot when missing the cut at the 2006 US Open here.
23:37
Rory McIlroy leaves himself an outside birdie chance at 18 but his big breaking 30 footer doesn't turn enough. He taps in to bring an unforgettable day to an end. A 6-over 76 leaves him seven back. And whatever the TV folk tell you, you don't win US Opens from there. Okay, Larry Nelson (seven back in 1983) and Tom Kite (eight back in 1992) offer outside hope but the odds are hugely against McIlroy now.
Updated

23:28
Matsuyama shows he does love the 60s really by making birdie at his final hole for a 1-under 69. That's just the third under-par lap of Winged Foot today. It lifts the Japanese to tied seventh on even par and only four adrift.
Updated

23:25
Patrick Reed rolls in his birdie putt at 9 for an even-par 70 and the new clubhouse lead of 4-under.
Well played that man. A short-game masterclass but can he keep missing fairways and greens at such a rate on the weekend?
Thomas plays a deft chip at 8 to save par and, in theory, can tie Reed with an eagle at the par-5 9th. You never know. Second-placed Bryson DeChambeau managed one there earlier.
23:21
Justin Thomas flushes his approach to 8
but it's almost too good a connection and his ball drifts through to the rough behind the green.
Reed finds more sand with his second at the par-5 9th but he plays a corker of a bunker shot. About four feet left for birdie which will give him the new clubhouse lead of 4-under. Not so good for Jordan Spieth, who is a monstrous 14-over. His well-documented struggles continue.
23:15
Pretty gritty stuff from PGA Championship winner Collin Morikawa. Starting at +6 and playing in the tougher afternoon conditions left him a huge task to make it to the weekend but he's still at +6 with two to play. As it stands, he'll sneak through to the final 36 holes along with other +6ers such as Shane Lowry, Paul Casey and Rickie Fowler.
Updated

23:08
Matsuyama now heads to number nine, number nine, number nine, number nine…
Back at 7, the gutsy Thomas sinks a good one to return to 2-under. That's birdie-2s on both par 3s on this nine. He still has a chance to tie the halfway lead.
23:03
Birdie at 8 (Days A Week) for non-Beatles fan Matsuyama.
That puts him T11 (four back) as he continues his bid to become the first male Japanese golfer to win a major.
Reed has a putt on a very similar line but can't convert so he heads to the par-5 9th, his final hole, still tied at the top.
Updated

23:00
11pm BST leaderboard
-3 DeChambeau (F)
-3 Reed (16*)
-2 Cabrera Bello (F)
-2 English (F)
-1 Kokrak (F)
-1 Thomas (15*)
22:58
Reed's approach to 8 sets up for his favoured draw and he hits a lovely shot to that 12-foot range again. Chance for a bounceback birdie and there's still that closing par 5 to come.
22:55
Harris English shows Rory how to play US Open golf by closing with 11 straight pars to complete an even-par 70. Excellent stuff from the Georgia Bulldog and he's currently tied second in the clubhouse on 2-under.
22:53
Reed's natural shot is a draw so he has to rather manufacture a swing to produce a cut. It looks ungainly – a sort of exaggerated cricket cover drive with a high left elbow – but we saw him use it to good effect when he won the 2018 Masters and it works again on the 17th as he finds the fairway.
22:50
Reed compounds the error from the tee at 7 as his chip from greenside rough fails to emerge.
No mistake with his second effort at least and he'll have a tap-in bogey. The yo-yo between -3 and -4 continues and he's T1 with DeChambeau once more.
A Rory McIlroy update but it's a bit grim really. If a US Open is about par golf, Rory hasn't twigged and he's made just four of them in 15 holes. His card also comprises three birdies, seven bogeys and a double. He's +6 for the day and +3 overall.
22:42
"That's so dead. So dead. What are you doing? Straight fricking pull" – the words of Patrick Reed after he yanks his tee-shot at 7 into greenside rough. Then again, he's bound to be somewhat self-critical of anything less than perfect having made a hole-in-one here yesterday.
22:39
A third player safely in the hutch in red figures and it's Jason Kokrak after a 71.
Add that to his opening 68 and he's 1-under after 36 holes.
Meanwhile, Reed looks as if he might not cash in on the short par-4 6th after finding rough and chipping 12 or so feet past. But the putter really is his friend and he nails his birdie effort. Back to -4 and he leads by one with three to play.
Updated

22:33
And here he have Harris English to tie the lead at 8. His 30-footer up the hill looks in as it straightens up over the last few feet but just can't grab enough of the lip and stays out. That'll be a par though and he'll have a realistic chance to match DeChambeau's clubhouse target of -3 with a birdie at the par-5 9th.
22:27
Reed steadies himself, his putt is on line but, no, he leaves it short!
Just needed a couple more revolutions (Hideki: can you name a Beatles song that springs to… oh, just forget it). A bogey and he drops back into a tie with DeChambeau at -3.
Reed keeps his calm though, unlike Brendon Todd who contemplates the full helicopter of his 7-iron after hoicking his second at 8 into the left rough.
Updated

22:22
Oooh! Justin Thomas almost holes his chip and run for an unlikely birdie at 4 (his 13th).
It catches a piece of the hole but stays above ground.
Reed floats his bunker shot to around seven feet at 5. Tony Finau would miss 19 times out of 20 from that range but I'm expecting our leader to knock it in.
22:17
And…. Reed finds sand again with his approach to 5.
Time for those magic wrists again.
Tiger now at +10, wedged between England's Tyrrell Hatton and Ian Poulter, who are also double digits over par.
22:15
Reed smooths a lovely draw off the 514-yard par-4 5th and finds the short grass. If he can make par there, he'll have a few birdie chances over his final four holes. The 6th is a short par 4, the 7th a modest par 3 and the 9th a par 5 where we've seen eagles. Perhaps I'm getting carried away. He'd probably snap your hand off if you offered him five closing pars.
22:09
Leader Patrick Reed often appears to be doing this by smoke and mirrors. Every time you look up he's missing a fairway, hitting from a bunker or wedging out of deep greenside rough and yet he's even par for the day. He'll have another test of his short game at 4 (his 13th) after finding the long stuff with his approach. And here we go again. With sleight of hand, he pops his ball onto the green and makes the five-footer vanish for par. Five holes to play and he leads by one.
22:01
10pm BST leaderboard
-4 Reed (12*)
-3 DeChambeau (F)
-2 Cabrera Bello (F)
-2 English (14*)
21:58
Hideki Matsuyama once revealed at the 2014 Open Championship at Royal Liverpool that he'd never heard of the Beatles!
Astonishing! It was bad enough hearing that Rory thought one of the Fab Four was called George Lucas or that Bubba couldn't name any of them. But not to have actually heard of the greatest band of all time… well. Anyway, here he is taking the Long and Winding Road to a birdie at 1. He'd have been a fool if his ball had stuck on the hill.
…. trying to think of some others but it's been a long day.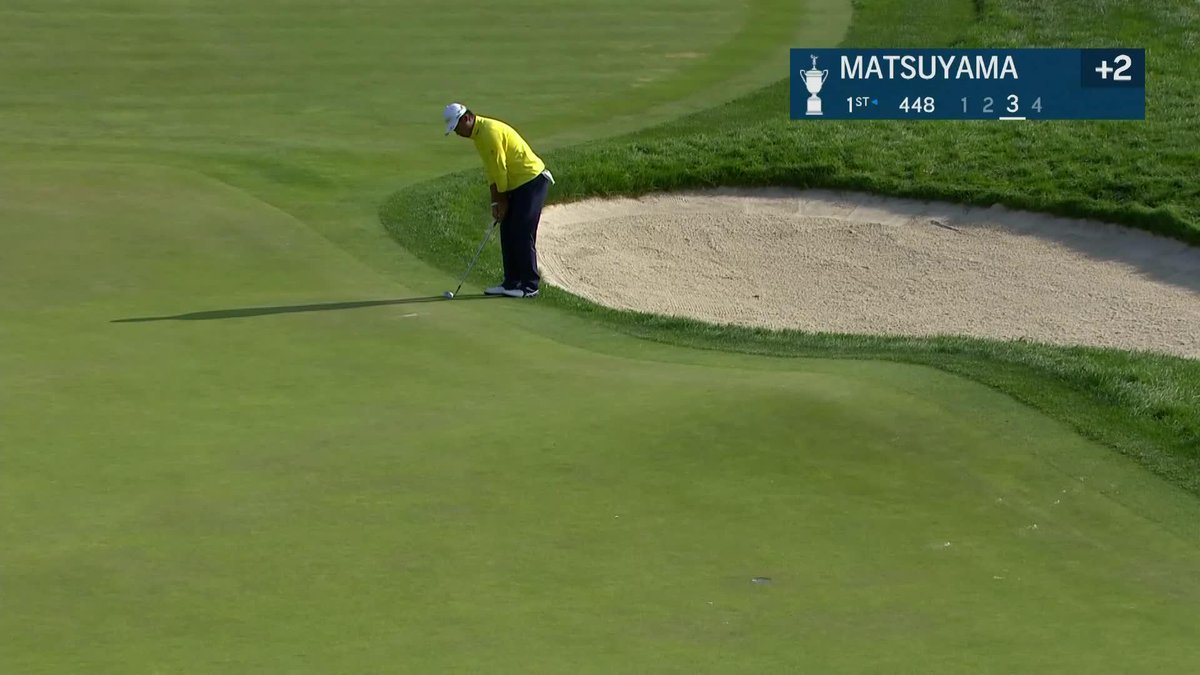 21:47
Tiger Woods now a combined 20-over in his three-and-a-bit rounds at Winged Foot. He shot 12-over when missing the cut in 2006 and he's +8 so far this week (+5 on his round today after 10). Looks like another halfway exit for the still current Masters champion.
21:44
And then there were five… in red figures. Jason Kokrak produces back-to-back birdies at 14 and 15 to climb into solo fifth on 1-under. The 35-year-old American has never had a top 15 in his 12 majors so this is unfamiliar territory.
21:41
If you want further details on that chart and analysis of OTT (Off The Tee), ATG (Around The Green) etc, here's a long read from the PGA Tour website.
21:37
One step forward and two steps back for Justin Thomas.
After his birdie at 18, he takes double bogey at 1. Already 5-over for the day and he's back to even par. Now just four players under par and here they are:
-4 Patrick Reed (10*)
-3 Bryson DeChambeau (F)
-2 Rafa Cabrera Bello (F)
-2 Harris English (13*)
21:31
A look at who's doing what well.
These R2 stats show that Rafa Cabrera Bello putted like a god today while DeChambeau and Bubba were the best from Tee To Green. Patrick Reed rather leaning on the shortstick too so far. (Graphic from Datagolf)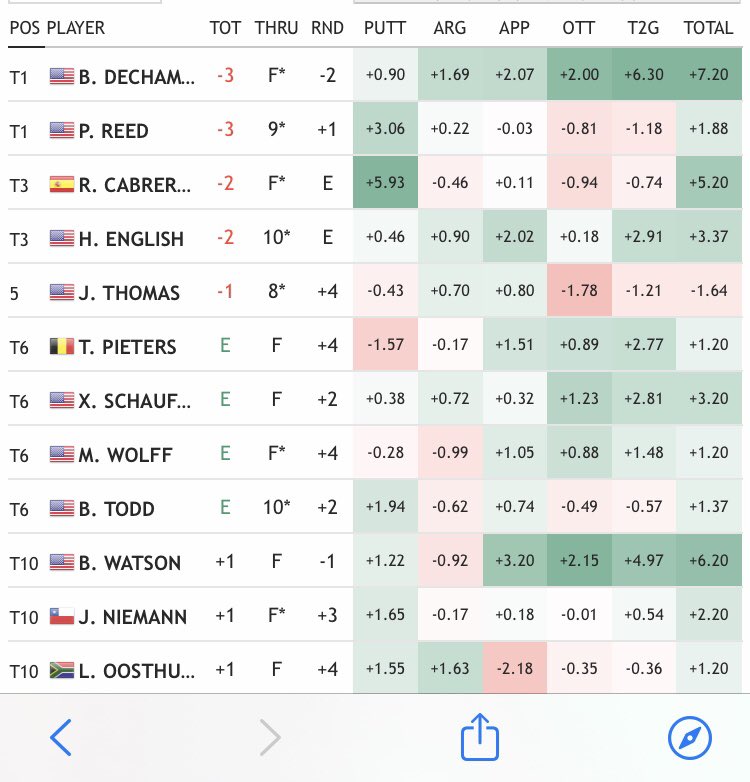 Updated

21:27
Looks like the guys out there now have got the unluckier side of the draw.
21:19
Patrick Reed uses the slopes better than Franz Klammer in his prime with a lovely bit of thinking at 1 (his 10th).
He goes deliberately long with his approach, uses the backstop and watches his ball trickle back down the hill to tap-in range. In it goes and he leads on his own again at -4.
Back at the ultra-tough 18th, Justin Thomas stops the rot of four bogeys in five holes with a welcome birdie of his own. That takes him to -2.
Updated

21:14
Some thoughts from Lee Westwood after his rather ragged 76 today.
As it stands, he's tied 28th (+3) and six back.
"U.S. Opens I just think you've got to hang around. Ideally you don't want runs of holes where you drop four shots in three holes, but 3-over is by no means out of it. Then you've just got to play solid over the weekend and see what happens. I shot 3-under yesterday.
"I know I'm capable of going out there and shooting 3-under if I play well, and that will get me back to level for the final day. I'm sure it wouldn't be far off even par winning this tournament."
21:10
Rory builds on his unlikely par save at 8 with a birdie at the par-5 9th. It could have been even better after a superb second but he'll take it. Four back now. Tied 10th. Life is looking better suddenly as he heads for the second nine.
21:08
The average score today is +2.05 shots higher than it was in round one. That's the second largest R1 to R2 jump in the history of the US Open.
21:03
9pm BST leaderboard
-3 DeChambeau (F)
-3 Reed (8*)
-2 Cabrera Bello (F)
-2 English (10*)
-1 Thomas (8*)
Updated

20:59
Boom! Webb Simpson hasn't been spotted much this week, probably only using up a couple of his allocated Andy Warhol minutes on the TV coverage, but he gets a brief 30 seconds in the limelight after sinking an eagle putt at 9. That hauls him up to 3-under and the 2012 US Open winner is suddenly tied for sixth. More air time for Webb please.
Updated

20:54
McIlroy unravelling quicker than Cleopatra from a slippery carpet off a cliff face.
A flop shot from deep rough for his third at No.8 goes way past the flag and surely that's another bogey.
But, wait! Rory sinks a monster putt and saves his par. He doesn't exactly walk like an Egyptian off the green – it's more like a relieved stagger – but could that get his head together again?
Updated

20:46
An update to sum up what's unfolding at Winged Foot right now. Justin Thomas can't save par after his wild tee-shot at 16, Patrick Reed finds a tough lie in sand and bogeys 17 while Tiger Woods racks up a double bogey at 16 after a loose second and miserable bogey putt which doesn't have the will to reach the hole. Thomas -2, Reed -3, Tiger +6.
20:40
I guess we'd all be happy if walking off the course with an eagle, but clubhouse leader Bryson DeChambeau really couldn't hide his delight after setting the target of -3
.
"I feel great. Confidence is at an all-time high right now, driving it well, iron play is fantastic, wedging is getting better each and every day, and I'm putting it like I know I can. So very happy.
"I want it to play as hard as possible. I feel like there's so many holes out here that I can take advantage of that some people can't. Now, that doesn't mean that I'm going to win or anything. You've still got to execute, you've still got to hit the driver straight. If I'm hitting the driver far but all over the place, you can't make birdies from the rough. It's very difficult to. So I still have to work on hitting it straight while hitting it far. And that's a unique combo that I'm going to strive for for the rest of my life."
20:35
This is all getting away from Rory McIlroy. The 7th is a short par 3 but he underhits his tee-shot and can't get up and down. It's quite a scroll to find his name on the leaderboard now. You'll spot it at tied 20th (+2).
20:32
Some quotes from world number one Dustin Johnson
, who dug out an even-par 70 to finish at 3-over, currently six back of the clubhouse lead and seven adrift of on-course pacesetter Patrick Reed.
"Yeah, played solid. Definitely much better than yesterday. Obviously didn't score that well coming down the stretch (finished bogey-bogey-par), but I played well. I'm happy with the game.
"I think still on this golf course with the conditions that we're supposed to have the next couple days, I don't feel like I'm out of it. I'm going to have to play really well, but I like where I'm at. I think obviously two solid rounds and right back in the mix."
Six back at halfway seems doable, but I've gone back to 1996 and found just one US Open champion winning from such a position – Webb Simpson at Olympic Club in 2012.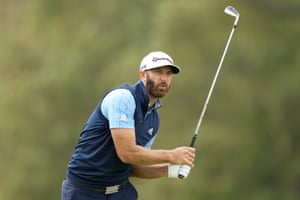 Updated

20:23
A reminder that the top 60 and ties make the cut this week. Right now, the axe is predicted to fall on those at +7 or worse.
20:21
Justin Thomas
flings out his left arm and shouts "get lucky" after hitting a big pull off the 16th tee. It remains to be seen if his ball listened as we don't know the lie yet.
But Patrick Reed won't yield to the idea that today is now just damage limitation. He attacks the 16th flag and knocks in a 14-foot putt for birdie-3. That's one against the head and he leads on his own at -4.
20:15
Was yesterday better than today? Was it more fun to see players picking up birdies and getting reward for good play? Or is today's collage of missed fairways, hacks, chops, bunker shots, 50-foot putts and misses from 12 feet for par more appealing? It depends how we define 'better' I guess. I've quite enjoyed a bit of both but feel today was necessary to counterbalance round one's relatively easy (for a US Open) scoring.
Updated

20:09
Rory in crisis here. He almost reverses the momentum in spectacular style when his bunker shot at 5 is heading towards the cup but it catches a piece of the hole and stays out. And, of course, he then misses the one back. Five shots gone in just four holes; McIlroy quickly needs to get off this snake and find a neutral square.
20:05
Thanks Gregg. There's an awful long way to go today but given how tough Winged Foot is playing, does anyone seriously believe that Bryson DeChambeau won't be leading on his own tonight? For the record, some bookies make that a 1/7 shot. Yep, you read that right.
20:01
8pm BST leaderboard
-3 DeChambeau (F), English (6*), Reed (6*), Thomas (5*)
-2 Cabrera Bello (F), Todd (6*)
Reed can't rescue par on the 15th, so it's all change at the top. De Chambeau, safely in the clubhouse, joins the leaders on -3. I'm going to hang back to Dave now to guide you through the rest of the evening. Enjoy!
19:56
Patrick Reed is out on his own as leader on -4. Justin Thomas has followed his bogey at the 13th with another dropped shot at 14. Mind you, Reed may soon join Thomas on -3 after duffing his third from the sunken rough at the edge of the 15th barely on to the edge of the green.
19:51
Only one player out on the course at the moment is under par on the day: Harris English. He's recovered from a bogey on 14 with a solid par on the 15th. Remember, only two players – Bubba Watson and Bryson DeChambeau – have shot under-par rounds today. Will anybody else play well enough to join their cosy club?
19:46
Oh Rory! That birdie on the 1st seems so long ago – and he's only on the 4th! The rough takes a tight hold of his club as he tries to find the green with his third, sucking all the life out of his stroke and landing the ball well short of the green. His fourth gives him a 15-footer to make bogey but the ball rolls past the cup. It's a 6 for Rory. He's back to evens after bogey-bogey-double. Take a deep breath. Time to reset.
19:39
Is it unravelling for Rory? Having walloped his second shot on the 4th into the juicy rough to the left just shy of the bunker, it just might be. Is the pace of play affecting him? It's soooooo slow. They are on course for a seven-hour round at the moment. Up ahead of McIlroy, Thomas has dropped his first shot. He's made four at the par-3 13th. Reed, who found the rough on 14, holds his nerve to save par. So he's tied for the lead with Thomas on -4.
Updated

19:33
Harris English has had a lively morning. Having birdied the 12th and 13th, Winged Foot bites back on the par-4 14th. English hits the false front with his approach and watches his ball speed backwards. A fine third gives him a decent chance of par but he missed by inches and scores 5.
19:26
McIlroy splashes out of the bunker to within 15ft. Can he avoid a second consecutive bogey? It's a clutch putt that could have a major bearing on whether he can gain some momentum on day two. No, no he can't. It's a difficult trickler that stays left. He's back to -2. If you're wondering how the leader, Thomas, is getting on, he's made par on his first three holes. Faldo would be proud.
19:21
Having briefly joined Thomas at the top on -5, Patrick Reed has bogeyed the 13th to slip back down to -4. A quick look at Twitter tells me that most people are delighted with this. He's not the most popular golfer is he?
19:18
If McIlroy was hoping to bounce back with a birdie at the 3rd having bogeyed the 2nd, he'll have to do something special. He's found a nasty bunker to the right of the green with his tee shot. He will do well to make par.
19:16
JT Poston has just added a little colour to the US Open with a delightful backwards dink on to the green at the 15th to avoid hitting a tree. It's not going to brighten his mood, mind. He makes another bogey. He's dropped five shots on his opening seven holes. He slides back to +6.
19:10
McIlroy has followed his birdie on the 1st with a bogey on the 2nd. He drove way right. So far in fact that he was almost on the 3rd tee box. He scrambles gamely and gets on the green in 3 but leaves himself a 40-footer. He almost saves par, too. Leaving himself a tap-in from mere inches. He's back to -3.
Get the latest news and advice on COVID-19, direct from the experts in your inbox. Join hundreds of thousands who trust experts by subscribing to our newsletter.
Send your news and stories to us news@climaxradio.co.uk or newstories@climaxnewsroom.com and WhatsApp: +447747873668.
Before you go...
Democratic norms are being stress-tested all over the world, and the past few years have thrown up all kinds of questions we didn't know needed clarifying – how long is too long for a parliamentary prorogation? How far should politicians be allowed to intervene in court cases? To monitor these issues as closely as we have in the past we need your support, so please consider donating to The Climax News Room.