01:15
The Guardian's Tom McCarthy will continue live coverage of the US elections. Follow along here:
01:01
Summary
Here's a look at today so far, from me and my colleagues Joan E Greve, Miranda Byrant and Sam Levine:
Protests continued as more details emerged on Wednesday about the police killing of 27-year-old Walter Wallace in Philadelphia. Mayor Jim Kenney, announced a curfew from 9pm until 6am Thursday.
The US supreme court denied two Republican efforts to limit which absentee ballots will be counted. The court rejected a last-minute plea from Pennsylvania Republicans to overturn a three-day extension of the absentee ballot deadline. It also declined to block an agreement giving North Carolina voters more time to return their absentee ballots, the latest in a series on important rulings on absentee ballots in key swing states.
Both campaigns held events in Phoenix, Arizona in what has become a hotly contested election battleground. While Trump held a packed rally, Kamala Harris hosted a drive-in event. Read the Guardian's series Phoenix Rising, to learn more about why the city – and its surrounding suburbs – is undergoing a political transformation.
Barack Obama campaigned with Joe Biden in the battleground state of Michigan on Saturday, just three days before election day. This will be the first joint in-person campaign appearance of Biden and Obama since Biden won the Democratic presidential nomination.
The US stock markets took another hit, as coronavirus cases continued to surge across the country. The Dow Jones closed down 942 points, or 3.4%, which appeared to be the worst drop since June.
The CEOs of Facebook, Google and Twitter testified before the Senate on section 230, a federal law that provides liability protections to internet companies. The hearing comes as Republicans have accused social media platforms of censorship, allegations that the CEOs have ardently denied.
Trump once again complained about the extensive news coverage of the coronavirus pandemic, which has already claimed more than 226,000 American lives. "Covid, Covid, Covid is the unified chant of the Fake News Lamestream Media," the president said in a tweet this morning. Campaigning for Biden in Florida yesterday, Barack Obama accused Trump of being "jealous of Covid's media coverage".
The identity of "Anonymous", the Trump administration official who penned a critical op-ed about the president in 2018, was revealed. Former DHS chief of staff Miles Taylor, who went public with his criticism of Trump in August, said he had written the New York Times op-ed. "I believe more than ever that Trump unbound will mean a nation undone," Taylor said in a statement revealing his identity.
Updated

00:37
"We can't vote in San Quentin prison. So we held a mock election"
Juan Haines and Kevin Sawyer , both incarcerated journalists at San Quentin prison, report:
"I want to be heard," one man wrote on the back of a makeshift ballot in a simulated election held inside San Quentin state prison. Another wrote that he was voting because "I'd like to feel like a citizen; feel like I am important too."
The total population of US prisons and jails is greater than all but four American cities. But with a few exceptions (Maine, Vermont and now Washington DC), citizens held in state and federal prisons cannot participate in the democratic process. In California, even people on parole cannot vote, though a measure called Proposition 17 could change that this year. The thousands of men in San Quentin do not worry about violence at polling places or missing mail-in ballots. We know from the start that our votes won't count.
At least 1,600 men spend more than 23 hours a day locked inside windowless, 4ft x 10ft cells. The unventilated housing units, five tiers high, have their windows welded shut – perfect environments for the coronavirus to thrive. There have been more than 2,200 confirmed cases at San Quentin – three-quarters of the prison's total population – and 28 incarcerated men have died.
Some of the men incarcerated here were nonetheless given a chance to make their choices – and their voices – known through a mock election. The mock election goal: poll those held in the general population in north block and west block, who represent about 85% of the total population. To make it happen, on 1 October, Solitary Watch, which is collaborating with the Guardian to support our election and publish our story, mailed 800 ballots to north block and 800 more to west block. The ballots, delivered via express mail, have been sitting in the prison mailroom since 2 October. Calls from Solitary Watch went unanswered.
It was under these circumstances that 150 handmade ballots were passed out in north block on 10 October. Three days later, 170 more were smuggled into west block, accompanied by a note that read: "Since CDCR [California department of corrections and rehabilitation] is holding the ballots, we have to improvise."
Read more:
00:15
After Ice Cube garnered headlines for his tweets announcing a collaboration with the Trump administration on what was called a Platinum Plan for Black America, the hip-hop mogul faced immediate backlash for supposed hypocrisy and misogyny.
Kenya Evelyn reports:
"Black men are breaking my heart with this caping for [Ice Cube and the president]. Apparently y'all want to be to 2020 what White women were to 2016," tweeted scholar Brittney Cooper.
Political analysts also chided the rapper for failing to admit that he declined invitations to meet with both the Joe Biden campaign and Kamala Harris.
The Los Angeles-based rapper neither disavowed working with nor endorsed the president, but the illusion of aligning with Trump allowed campaign officials to signal Ice Cube was proof of "Blaxit" – an initiative calling for the exodus of Black Americans from the Democratic party.
50 Cent encouraged followers to "vote for Trump" after posting that Biden's proposed tax plan only amplified criticism. He's since dialed back his support. The sometime rapper faced a mountain of criticism for claiming he doesn't "care Trump doesn't like Black people" in the weeks leading up to the 2020 presidential election.
Rosa Clemente, an activist and former Green party vice-presidential nominee, argued that these celebrity interventions run counter to existing, youth- and women-led initiatives fighting for institutional change.
"They're right to critique the Democratic party, where they're wrong is to act like there aren't already movements out here," she said. "We don't need another Black agenda. Yet here come these rappers over the age of 50 who've publicly decided to align with a white supremacist".
Read more:
23:43
Federal agencies have warned that cybercriminals are working to interfere with the US healthcare system that protects hospital information systems nationwide, the AP reports:



In a joint alert Wednesday, the FBI and two federal agencies warned that they had "credible information of an increased and imminent cybercrime threat to U.S. hospitals and healthcare providers." The alert said malicious groups are targeting the sector with attacks that produce "data theft and disruption of healthcare services."

The cyberattacks involve ransomware, which scrambles data into gibberish that can only be unlocked with software keys provided once targets pay up. Independent security experts say it has already hobbled at least five U.S. hospitals this week, and could potentially impact hundreds more.

The offensive by a Russian-speaking criminal gang coincides with the U.S. presidential election, although there is no immediate indication they were motivated by anything but profit. "We are experiencing the most significant cyber security threat we've ever seen in the United States," Charles Carmakal, chief technical officer of the cybersecurity firm Mandiant, said in a statement.
Read more here.
Updated

23:15
More than 75.7 million Americans have already voted in the election, according to the US Elections Project.
With six days to go until election day, more than 25.6m voted in person, and more than 50m absentee ballots were returned. The record-breaking early voting numbers are putting the country on pace to achieve the highest voter participation rate it has seen in more than a century.
22:48
The coronavirus death toll in US topped 1,000 today
States reported 1m tests, about 79,000 new cases, and 1,025 deaths, according to the Covid Tracking Project.
22:45
If Biden wins what would the first 100 days of his presidency look like?
Daniel Strauss and Julian Borger report from Washington:
If Joe Biden wins the 2020 US election against Donald Trump next week, the new president-elect will face enormous pressures to implement a laundry list of priorities on a range of issues from foreign policy to the climate crisis, reversing many of the stark changes implemented by his predecessor.
But Biden's first and most pressing task for his first 100 days in the White House would be to roll out a new nationwide plan to fight the coronavirus crisis, which has claimed more than 220,000 lives in the US and infected millions – more than any other country in the world – as well as taking steps to fix the disastrous economic fallout.
And, while the new president might be fresh from victory, the moderate Biden will also have to wrangle with his own side – a Democratic party with an increasingly influential liberal wing, hungry for major institutional changes to try to answer some of the most urgent questions over the country's future.
"He basically has to do something historic," said Saikat Chakrabarti, a Democratic activist and former chief of staff to the progressive New York congresswoman Alexandria Ocasio-Cortez. "He's being handed a depression, a pandemic, and he's being elected on a mandate to actually solve this stuff and do something big."
Read more:
22:32
The Trump administration has announced it will lift protections in Alaska's Tongass national forest, permitting logging in the world's largest intact temperate rainforest.
Cassidy Randall reports:
Experts call the Tongass the "lungs of the country" and one of nation's last remaining bulwarks against climate change. Located on the southern coast of Alaska, it is made up of centuries-old western cedar, hemlock and Sitka spruce trees, and is home to immense biodiversity, including the largest-known concentration of bald eagles.
"It's ironic that this administration is trying to tout this president's environmental record when [Trump is] unwinding environmental safeguards all over the place," said Ken Rait, project director of the Pew Charitable Trust, who two decades ago helped win the protections that Donald Trump is now undoing. "And lifting protections on the Tongass, the nation's flagship forest, is about the most egregious of all of them."
The administration's decision ignores overwhelming public support for keeping protections in place on the Tongass, including resolutions from six south-east Alaska tribes and six south-east Alaska city councils against lifting protections. Of the public comments solicited on the plan, 96% were in favor of keeping protections in places.
Tribes also petitioned the government to protect customary cultural use areas of the Tongass. "All other avenues to protect our homelands have been exhausted, to little avail," they wrote in their petition.
Read more:
22:02
Republican senator
Kelly Loeffler
of Georgia, a Trump loyalist who is fighting to hold onto her seat, claimed she was "not familiar" with the infamous Access Hollywood tape that caught Donald Trump boasting about sexual assault.
"I rank as the most conservative senator in the US Senate," she told supporters today. "I'm the only US senator that has voted 100% with President Trump."
Her claim – that she's never heard of a scandal that dominated national news during the 2016 presidential election – is highly suspect.
Loeffler, who has to fend off 20 challengers this election, is tied for second place in many polls with Republican representative Doug Collins. Democrat Raphael Warnock, a pastor, has maintained a lead over both Republicans in recent polls.
Updated

21:48
Tucker Carlson,
the Trump loyalist and Fox News host who has been stirring up controversy with unsubstantiated and unverified claims about the Bidens, said he lost some "damning" documents in the mail. "Those documents have vanished," Carlson said.
Ridicule of his highly suspect, "dog ate my damning documents" excuse ensued:
Updated

21:24
Both presidential campaigns held events in Phoenix today, in what has become a hotly contested political battleground.
While Trump held one of his classic, packed, maskless rallies – the Biden campaign organized a drive-in event. Kamala Harris told her crowd she'd deliver "straight talk" in the spirit of John McCain, the late Republican senator of Arizona.
"Arizona has a longstanding reputation for no BS," she said.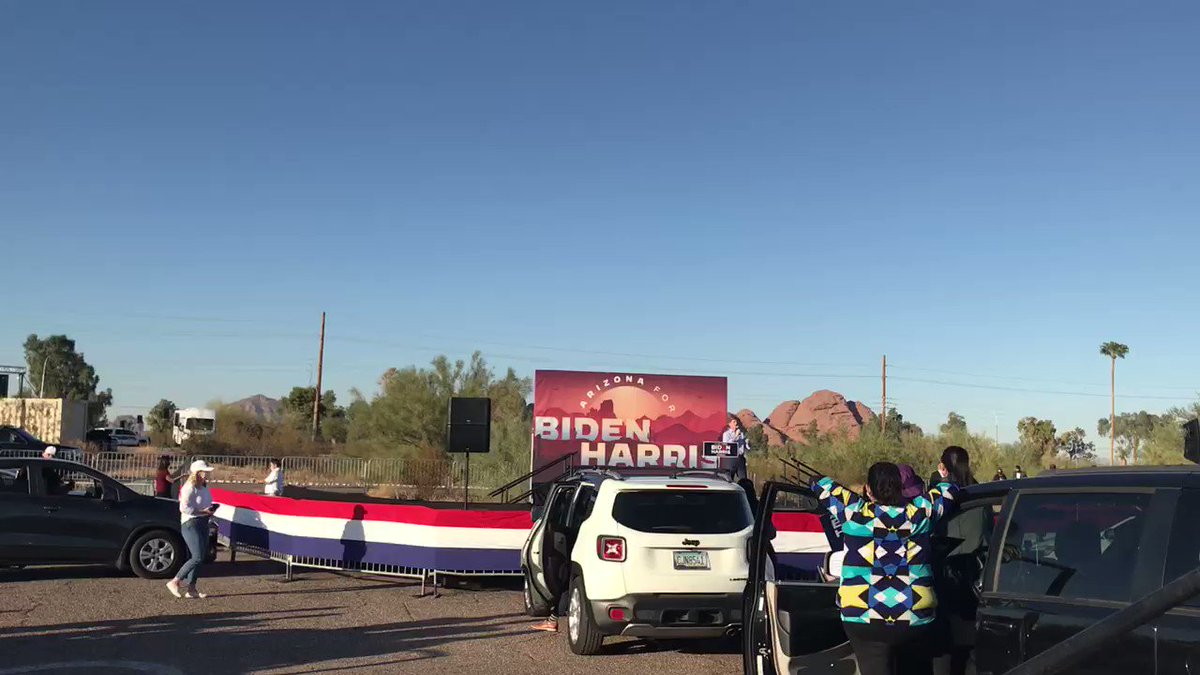 Maricopa County, which encompasses Phoenix, could help decide the fate of this election. Read more:
Updated

Get the latest news and advice on COVID-19, direct from the experts in your inbox. Join hundreds of thousands who trust experts by subscribing to our newsletter.
Send your news and stories to us news@climaxradio.co.uk or newstories@climaxnewsroom.com and WhatsApp: +447747873668.
Before you go...
Democratic norms are being stress-tested all over the world, and the past few years have thrown up all kinds of questions we didn't know needed clarifying – how long is too long for a parliamentary prorogation? How far should politicians be allowed to intervene in court cases? To monitor these issues as closely as we have in the past we need your support, so please consider donating to The Climax News Room.