14:01
Daniel Chaitin, the breaking news editor at the Washington Examiner, seems to indicate that Saturday is going to be the day for Trump's pick.
And that is it from me today, I'll be back tomorrow, I'm handing over now to Joan…
13:39
We'd had reports of some of the details already, but Today has put up some clips of the first TV interview with
Olivia Troye
, who worked as an adviser to vice [resident Mike Pence before quitting Donald Trump's coronavirus task force. She was being interviewed by NBC senior Washington correspondent Andrea Mitchell.
Troy is described as a lifelong Republican who worked at the Pentagon, was detailed to Iraq, and who worked at the National Counterterrorism centre before joining the coronavirus task force.
In the clip she says she spoke out because "I felt that, in my heart, and in my entire being, American lives were continuing to be on the line."
She said that president Trump was mainly focussed on how the virus would affect his PR and image, rather than the agenda of the taskforce, and at one point said coronavirus might be a good thing as he'd have to shake fewer hands. She added "I can't imagine how any honestly normal human being would ever say that out loud in the middle of a pandemic."
She confirmed that Donald Trump was briefed in late January that coronavirus was going to be "big", at a point where he continued to dismiss it in public. Troye described watching the president say it was just going to "go away" was "frightening".
"You know, when you're the president," she said, "words matter."
You can watch the clip here: Today – Former Pence aide speaks out about Trump's 'frightening' response to coronavirus
13:31
Nancy Pelosi
will later on this morning be attending the Covid Memorial Project's interfaith memorial service at the National Mall. The project has installed
20,000 Americans flags on the northeast quadrant of the Washington Monument
, facing the White House, to mark 200,000 deaths in the US from the coronavirus.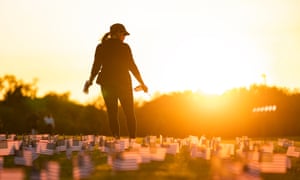 13:19
Zoe Williams has written for us today on how the death of Ruth Bader Ginsburg has put the issue of abortion centre-stage in the US presidential election, and she urges campaigners to seize the opportunity:



More of Trump's supporters have this as a "very important" factor in the way they'll vote. This is a classic issue of asymmetric polarisation – it pleases the moderate to say there are extremists on both sides, yet the pro-choice side should never have accepted that premise. The anti-abortionists, at their extremes, want to curtail this right for every woman, in every circumstance. There isn't a pro-choice activist on Earth who wants all pregnancies to end in termination. If the past five years have taught us anything, it's that the most polarised have the most to gain, politically, from a calcified debate.

Precisely because it is insoluble, the issue has an obliterative quality, scorching everything around it. Who wants to talk about tax bands and green energy subsidies, when there is life and death at stake? This, again, appears to play better for Trump, since the left wins when it builds a plausible, detailed, coherent plan for a different future, whereas the right wins when it offers up absolutes and asks the voter to build an identity round one or the other.
Read it here: Zoe Williams – Ruth Bader Ginsburg's death means pro-choicers have a fight on their hands
13:09
Poll: Trump and Biden tied in Iowa battleground – numbers show stark gender divide
News this morning of a new Des Moines Register/Mediacom Iowa poll which sees
Trump and Biden "locked in a tie just six weeks to Election Day"
. The paper reports:



Forty-seven percent of likely voters say they would support Trump for president, and 47% say they would support Biden. Another 4% would vote for someone else and 3% are unsure.

A stark gender divide appears to be driving the race as men of nearly every demographic cast their support for Trump, a Republican, and women do the same for Biden, a Democrat.

"I don't know that there's any race in the history of presidential polling in Iowa that shows this kind of division," said J. Ann Selzer, president of Selzer & Co., the firm that conducted the poll.

Trump leads by 21 percentage points with men, 57% to 36% over Biden. And Biden leads by 20 percentage points with women, 57% to 37% over Trump.
Trump carried Iowa easily in 2016 with a ten point lead of Hillary Clinton.
Read more here: Des Moines Register – Iowa Poll: Donald Trump and Joe Biden are locked in a dead heat six weeks to Election Day
13:04
Poll: Only 39% of Americans say they would take a first generation Covid vaccine
Donald Trump has been pushing for it and promising it, but the American public seem increasingly unenthusiastic about the prospect of an imminent vaccine against the coronavirus according to the latest findings of the Axios-Ipsos Coronavirus Index.
Just 13% say they'd definitely be willing to try it immediately.
Margaret Talev writes that the trend is taking place among Republicans as well as Democrats, and that "It's another warning of the potential difficulties health authorities will face in convincing enough Americans that a vaccine is safe and effective."
In all, sixty percent say it is not very, or not at all, likely they would get the first generation vaccine, while 39% report that they were very likely or somewhat likely to take it. Ipsos report this represents an eight percentage point drop from last month, when 47% said they would get the first vaccine.
The poll also finds that 60% of Americans do not trust pharmaceutical companies to look out for their best interests.
Cliff Young, president of Ipsos US Public Affairs, suggests the growing concerns around the vaccine reflect a combination of scientists urging patience and the "political ping-pong" that surrounds it.
Read more here: Axios – Vaccine resistance grows
12:48
If you are above a certain age, you may not have grasped what TikTok is, and why it has become so popular among young Americans.
And even if you have grasped that, you still might be somewhat baffled as to why the Trump administration has intervened into the ownership of the social media video sharing app.
Fortunately, my colleague Helen Davidson has got you covered, answering why TikTok is for sale, and how the deal for it get so complicated:



Donald Trump has accused the video-sharing social networking service of being a threat to national security. He claims its Chinese parent company, ByteDance, would give the Chinese government access to user data upon request. TikTok denies the accusation.

The US president has demanded a full sale of TikTok to an American owner. But China complicated a potential sale, with an amendment to its export restrictions requiring companies to seek government approval before exporting Chinese tech. It was widely believed to be aimed at the technology driving TikTok's algorithm – AI interfaces, voice recognition, and content recommendation analysis.
There's a lot more here: TikTok – why it is being sold and who will own it
12:43
Kamala Harris to visit Flint and Detroit in Michigan today
Kamala Harris is making a campaign stop in Michigan today
, where she will visit Flint and Detroit. Flint came to national attention with the scandal over its water supply. As the Detroit Free Press reports in advance of her visit:



In Washington, Harris is working to address issues that affect residents in Michigan cities such as Flint, where a state-led change in the city's municipal water supply in 2014 exposed residents — many of them children — to lead. The state agreed in August to a $600-million preliminary settlement of civil lawsuits brought by residents harmed by lead during the water crisis.

In July, Harris introduced a bill ensuring American citizens, especially those in at-risk communities like Flint, had access to clean drinking water. The "Water Justice Act" would invest $220 billion for safe water programs.
Michigan was narrowly won by Donald Trump last time out by around 10,000 votes, securing him 16 Electoral College votes. Our US election polls tracker currently puts Biden 7 points up this time around. The state can expect a few more visits from both sides before November rolls around.
But Flint wasn't a one-off in the US with regards to water, and we've had a whole series looking at the issue of the affordability and quality of water in the country called America's water crisis. In the latest instalment, Nina Lakhani has been in Martin county, Kentucky.



The tap water smells strongly of chlorine, like a swimming pool, and residents frequently report problems with bad taste, discolouration, sediment and irritated or burning skin after bathing.

"In Martin county nobody drinks the tap water unless they have to, you can't trust it, and you can't trust the water department," said Reed, a former teacher's assistant who lives off $780 a month in benefits.

Reed ostensibly pays two water bills: $60 to $70 a month to the public utility and $30 or so to the store for bottled water. Her grandson Chance Crum, 18, has never tasted the tap water.

"It makes you sick to my stomach," says Florence Reed, "I would never let my baby drink it, it smells bad and it tastes bad. It's nasty, but sometimes I have no choice."
Read it here: 'It smells bad, it tastes bad': how Americans stopped trusting their water
12:29
Secretary of state Mike Pompeo
has tweeted this morning of pride in the leading role of the US in helping to set up the United Nations 75 years ago.
The UN General Assembly opens today, although in a rather different and more virtual format than previous years due to the coronavirus pandemic.
Donald Trump will be addressing the UN via a pre-recorded speech on a bill that also features Brazil's Jair Bolsonaro, China's Xi Jinping, Turkey's Recep Tayyip Erdoğan and Russia's Vladimir Putin. That's quite the programming choice from whoever was putting the agenda together. We'll have a separate live blog for that closer to the time – it starts at 9am.
Our world affairs editor Julian Borger has written this scene-setter for us, encouragingly titled: Why the UN's 75th general assembly could be worse than the world's worst Zoom meeting
12:18
Michael Bloomberg helps raise millions to aid Florida felons restore their voting rights
Associated Press report that after
Florida Gov. Ron DeSantis won a court victory to keep felons from voting until they've paid off debts
, Democratic billionaire and former presidential candidate
Michael Bloomberg has stepped in as part of an effort that has raised more than $20 million dollars
on their behalf in order to allow them to vote.
That's in addition to the $100 million Bloomberg has pledged to help Biden win Florida.
A federal appellate court ruled on 11 September that in addition to serving their sentences, Florida felons must pay all fines, restitution and legal fees before they can regain their right to vote. The case could have broad implications for the November elections.
Under Amendment 4, which Florida voters passed overwhelmingly in 2018, felons who have completed their sentences would have voting rights restored. Republican lawmakers then moved to define what it means to complete a sentence.
In addition to prison time served, lawmakers directed that all legal financial obligations, including unpaid fines and restitution, would also have to be settled before a felon could be eligible to vote.
With Bloomberg's help, the Florida Rights Restitution Council is trying to get this accomplished. The group had raised about $5 million before Bloomberg made calls to raise almost $17 million more, according to Bloomberg advisers who weren't authorized to speak to AP on the record because the announcement hadn't been made yet.
The money is targeted for felons who registered to vote while the law was in question and who owe $1,500 or less. That accounts for about 31,100 people, Bloomberg advisers say. In a state that decided the 2000 presidential election by 537 votes, that could be critical in a year when polls show Trump and former Vice President Joe Biden in a dead heat.
Organizers for the group say they aren't targeting people registered with a particular political party.
"To hell with politics, to hell with any other implications or inuations, at the end of the day it's about real people, real lives, American citizens who want to be a part of this," said Desmond Meade, the group's executive director. "People with felony convictions have had their voices silenced for so long."
The Florida Rights Restitution Council said other donors include John Legend, LeBron James, Michael Jordan, MTV, Comedy Central, VH1, Ben & Jerry's, Levi Strauss & Co., the Miami Dolphins, the Orlando Magic, the Miami Heat and Stephen Spielberg.
12:13
Pentagon used taxpayer funds meant for Covid masks and swabs to make jet engine parts and body armor – reports
This has just dropped from the Washington Post: Pentagon used taxpayer money meant for masks and swabs to make jet engine parts and body armor



A $1 billion fund Congress gave the Pentagon in March to build up the country's supplies of medical equipment has instead been mostly funneled to defense contractors and used for making things such as jet engine parts, body armor and dress uniforms.

The change illustrates how one taxpayer-backed effort to battle the novel coronavirus was instead diverted toward patching up long-standing perceived gaps in military supplies.

The Cares Act, which Congress passed earlier this year, gave the Pentagon money to "prevent, prepare for, and respond to coronavirus." But a few weeks later, the Defense Department began reshaping how it would award the money in a way that represented a major departure from Congress's original intent. The payments were made even though US health officials believe there are still major funding gaps in responding to the pandemic.
The Post report that:


Defense Department lawyers quickly determined that the funds could be used for defense production, a conclusion that Congress later disputed. Among the awards: $183 million to firms including Rolls-Royce and ArcelorMittal to maintain the shipbuilding industry; tens of millions of dollars for satellite, drone and space surveillance technology; $80 million to a Kansas aircraft parts business suffering from the Boeing 737 Max grounding and the global slowdown in air travel; and $2 million for a domestic manufacturer of Army dress uniform fabric.
Read more here: Washington Post – Pentagon used taxpayer money meant for masks and swabs to make jet engine parts and body armor
Get the latest news and advice on COVID-19, direct from the experts in your inbox. Join hundreds of thousands who trust experts by subscribing to our newsletter.
Send your news and stories to us news@climaxradio.co.uk or newstories@climaxnewsroom.com and WhatsApp: +447747873668.
Before you go...
Democratic norms are being stress-tested all over the world, and the past few years have thrown up all kinds of questions we didn't know needed clarifying – how long is too long for a parliamentary prorogation? How far should politicians be allowed to intervene in court cases? To monitor these issues as closely as we have in the past we need your support, so please consider donating to The Climax News Room.