Barcelona has experienced a rise in cases, with restrictions placed on bars and nightclubs.
Grant Shapps, who drew up air corridor plans, caught up in move as he is holidaying in Spain
The UK imposed restrictions on holidaymakers returning from Spain on Saturday night in a bid to curb the surge in coronavirus infections.
The decision means those coming back from Spain will have to self isolate for two weeks upon their return. The move, a blow to the government's travel corridor scheme, followed a dramatic increase in the virus in Spain where nearly 1,000 infections have been reported in the past two days.
Ministers removed Spain from the government's list of countries to which it is safe to travel after the rise in Covid-19 cases. In a statement a transport department spokesman said: "The Joint Biosecurity Centre together with Public Health England updated their coronavirus assessments of Spain based on the latest data. As a result, Spain has been removed from the list of countries from which passengers arriving in England, Scotland, Wales and Northern Ireland are exempted from the need to self-isolate. We've always been clear we would act immediately to remove a country where necessary."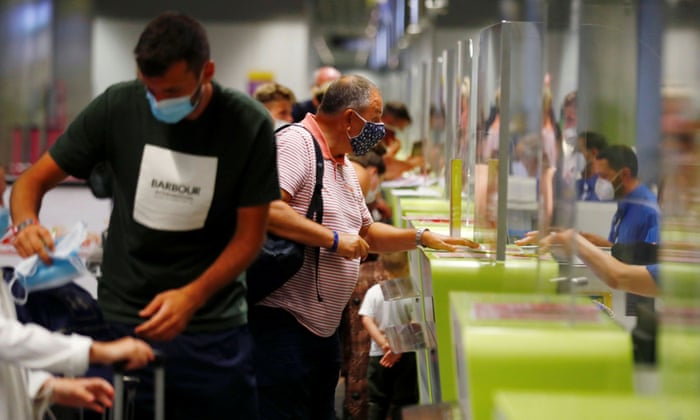 In a twist, Grant Shapps, the transport secretary who has been instrumental in drawing up the air corridor plans, was understood to be already holidaying in Spain, or to be in the process of travelling there.
Tourists and travellers were told they could avoid the 14-day social isolation rules if they returned to the UK by 11pm on Saturday.
Holidaymakers said on Saturday that they were left "shocked and confused" by the sudden news. Chloe Harris, 23, from Kent, booked a last-minute four-night stay in Lanzarote arriving on Friday. "When I heard the news I was shocked because I thought they would have given us some warning. Even some warning that this was something they were going to consider.
READ MORE: Safest Way to Travel During the Coronavirus Pandemic: Road Trip, Train, Plane
"I think a lot of people are going to rush to the airport, but because we are only here for four days, and we only arrived this morning, it doesn't seem worth it. I would probably be fine to continue working from home. However, my friend I travelled with is due to start a new job on 3 August and so that's going to be difficult to explain to her employer."
Neil Hunter, 45, from Sittingbourne in Kent, was set to travel to Lanzarote on Tuesday on a trip booked last December. "Since this announcement, I'm unsure what's going to happen as I work as a train driver, and I don't think my employer will accept me having to isolate due to going on holiday." He said he understood why the decision had been taken, but that it "is a lot of money and disappointing all the same".
Transport officials urged employers to be "understanding of those returning from Spain who now will need to self-isolate".
The Foreign Office said it was also recommending against all but essential travel to mainland Spain. Spain's Canary and Balearic Islands were not covered by the advice to avoid travel, but are subject to the quarantine.
A Spanish foreign ministry spokeswoman said Spain "respects decisions of the UK".
Spain's exclusion from protected travel corridors will cause consternation in Madrid, dealing a heavy blow to a country trying to recoup its tourism season after the sector took a battering from virus lockdowns and travel restrictions. British tourists accounted for more than 20% of foreign visitors last year, the largest group by nationality. Tourism normally accounts for 12% of Spain's economy.
In Spain, critics were quick to point out that areas popular with UK tourists such as the Costa del Sol and Benidorm were not reporting infection surges.
Catalonia became the latest region to crack down on nightlife. The north-eastern region ordered all nightclubs to close for 15 days and put a midnight curfew on bars in the Barcelona area and other towns that have become contagion hot zones. Catalonia reported 1,493 new coronavirus cases and three deaths yesterday. The regional government urged residents of Barcelona to stay at home.
Britain is not alone in tightening restrictions on travellers from Spain. Germany said on Saturday it was also considering mandatory coronavirus tests for travellers returning from high-risk destinations including Spain, according to the health minister, Jens Spahn.
Norway reimpose a 10-day quarantine requirement for people arriving from Spain on Saturday.
In an interview with CNN on Friday, the foreign minister, Arancha González Laya, said Spain was one of the countries with the "most controls and mechanisms for identifying outbreaks" and played down suggestions of a second wave of Covid-19. "We're not worried; we're identifying cases and isolating them to cut off transmission," she said.
You may have seen …
… that we have taken some tough decisions about our future. The economic crisis caused by Covid-19 has compelled us to move decisively to ensure that we prioritise our readers in these challenging times.
We know tens of millions of you out there read, share and admire our journalism. If there were ever a time to join us and empower our journalists in their core mission to expose wrongdoing, incompetence, injustice and inequality, it is now, when our traditional sources of income are under such pressure. More than 200,000 people have supported us since March, joining others from 180 countries. Will you join them?
You've read in the last nine months. This unlimited access is possible because we keep our reporting open to all, regardless of where you read us, or what you can afford to pay. We believe everyone deserves access, now more than ever.
The more support we can get, the bigger the difference we can make. The more readers who fund our work, the more we can investigate. The more contributions we can secure from people like you, the more wrongdoing, incompetence, injustice and unfairness we can expose. Our work has real-world impact, forcing those in power to cleaner, higher standards. The more funding we get, the greater that real-world impact can be.
The Guardian's independence means we interrogate the actions of those in power without fear. With no shareholders or billionaire owner, our journalism is free from political and commercial bias – this makes us different. We can give a voice to the oppressed and neglected, and stand in solidarity with those who are calling for a fairer future.
Get the latest news and advice on COVID-19, direct from the experts in your inbox. Join hundreds of thousands who trust experts by subscribing to our newsletter.
Send your news and stories to us news@climaxradio.co.uk or newstories@climaxnewsroom.com and WhatsApp: +447747873668.
Before you go...
Democratic norms are being stress-tested all over the world, and the past few years have thrown up all kinds of questions we didn't know needed clarifying – how long is too long for a parliamentary prorogation? How far should politicians be allowed to intervene in court cases? To monitor these issues as closely as we have in the past we need your support, so please consider donating to The Climax News Room.