01:10
Key takeaways from the first night of the Republican convention
That's it from us tonight. The Guardian team will be back tomorrow with more coverage of the Republican National Convention.
Here are the key takeaways from the night:
Republicans delivered a dark, Trumpian message centered on the alleged dangers of electing Joe Biden as president. Despite party leaders' promises to paint an optimistic vision about the future of the country, Republicans instead attempted to scare voters into supporting Trump by pushing baseless claims that Democrats would "disarm you, empty the prisons, lock you in your home, and invite MS-13 to live next door", as Florida congressman Matt Gaetz said.
The convention kept fact-checkers busy as the RNC peddled falsehoods about the coronavirus pandemic. Republicans praised Trump's response to the pandemic and accused Democrats and the media of failing to recognize the threat posed by coronavirus, even though the president has said as recently as this month that the virus "will go away". Health experts dismissed Republicans' presentation as "all propaganda".
Trump made multiple appearances at the convention through pre-taped videos, ensuring he will remain the star of the event. Despite the president's criticism of Democrats for including many pre-taped videos in their convention last week, Trump appeared in two such segments tonight. Considering Republicans did not craft a party platform for the convention, the president's repeated appearances underscored that this week is certain to become "the Trump Show".
Nikki Haley tried to walk the line between embracing Trump and promoting her own vision for the future. The former UN ambassador began her speech by celebrating Trump's foreign policy agenda and accusing the Obama administration of disastrous inaction. But Haley, who previously served as the South Carolina governor, then pivoted to calling for a more inclusive America. Haley praised her home state for removing the Confederate flag from the state capitol in 2015, which seemed to be at odds with Trump's repeated criticisms of Nascar for banning the Confederate flag from races.
Republicans copied elements of the Democratic convention. Certain segments and speakers of Monday's programming appeared to be a direct response to the Democrats' convention last week. A Democratic state legislator explained why he was supporting Trump, an obvious attempt to counter prominent Republicans' endorsements of Biden last week. A father who lost his daughter in the Parkland shooting also addressed the convention on Monday, a week after another Parkland father spoke at the Democratic convention.
Kimberly Guilfoyle was mocked by critics for her loud and enthusiastic speech, which was delivered to an empty room. Guilfoyle, who serves as a senior adviser to the Trump campaign, shouted much of her speech, prompting comparisons to a "North Korean propaganda lady" and a SoulCycle instructor.
Senator Tim Scott attracted praise for his hopeful speech, which clashed with the overall dark tone of the evening. Scott, the only Black Republican in the Senate, explained his belief in the American dream, noting that his own grandfather was forced to leave school in the third grade to pick cotton. "Our family went from cotton to Congress in one lifetime," Scott said. "And that's why I believe the next American century can be better than the last."
Thanks for following along with our convention coverage and remember to return tomorrow, as the RNC continues.
Updated

00:51
The Biden campaign's Latino Media Director Jennifer Molina offered this rebuke of the RNC:
"Congratulations to the Trump campaign on finding the small handful of Latino voters still supporting him after a disastrous four years for the Latino community."
The DNC also drew criticism for not involving more Latino speakers, and for excluding Julián Castro, the former Housing and Urban Development secretary under Obama and the only Latino Democratic presidential candidate in 2020.
This year, there are 32m Latino eligible voters, per the Pew Research Center.
Molina noted: "Under Trump's watch, Latinos have been devastated by COVID, a crumbling economy, anti-immigrant rhetoric and policies that have separated families and needlessly divided Americans. Tonight's program was thin on solutions for the challenges facing Latinos."
– Maanvi Singh
00:43
In some non-convention news,
Jacob Blake is reportedly in stable condition after being shot multiple times by police officers in Kenosha, Wisconsin.
Civil rights attorney Benjamin Crump, who is representing the Blake family, told the Milwaukee Journal Sentinel that the father of six remains in stable condition.
"At this point, we're still waiting for the facts to be confirmed," Crump said. "But we know what we saw in that video, and it was clearly an excessive use of force that was shocking and outrageous and devastating and nobody's more devastated than his three sons."
A video of the shooting appears to show Kenosha police repeatedly shooting Blake while his back is turned.
00:37
More fact checks from tonight…
Donald Trump: "I didn't back down from my promises, and I've kept every single one."
Fact check: Per a Politifact tally, Trump has kept 24% of his promises.
Donald Trump: "We're taking good care of our postal workers. We're not getting rid of any of our postal workers, you know … If anyone does it's the Democrats, not the Republicans."
Fact check: The USPS under Trump donor Louis DeJoy, earlier this month announced planning to seek early retirements of non-union employees. It only suspended an initiative to cut work hours for postal workers after public scrutiny.
– Maanvi Singh
Updated

00:21
Notably, tonight, the Republicans offered few specific platforms of their own, choosing instead to keep the focus on bashing Democrats policies.
While the DNC adopted an official party platform last week, the RNC won't be doing the same. This year, the RNC has resolved that it "enthusiastically supports President Trump and continues to reject the policy positions of the Obama-Biden Administration" and "will adjourn without adopting a new platform until the 2024 Republican National Convention".
– Maanvi Singh
00:10
Here's a side-by-side comparison of
Fox News
– Trump's darling network – and other news channels during tonight's RNC.
– Maanvi Singh
Updated

00:04
A few quickfire fact checks from tonight:
Nikki Haley: "They want to ban fracking."
Fact check: Biden and Harris' climate plan would not ban fracking, though it would end new leases for fracking on federal land.
Donald Trump Jr: "Courtesy of the Chinese Communist Party, the virus struck."
Fact check: Though the virus first flared up in China, genome evidence suggests that most people in New York caught the virus from travelers from Europe.
Steve Scalise: "Joe Biden has embraced the left's insane mission to defund [police]."
Fact check: He has not and it is not a part of Biden's platform.
– Maanvi Singh
Updated

23:50
Biden's campaign attacked the Republicans for failing to provide any plans to contain the coronavirus crisis during tonight's convention.
Kate Bedingfield, the campaign's deputy manager, said:



If you tuned into the Republican convention tonight looking for some indication from President Trump that he has a strategy to contain the coronavirus, you're still waiting. Instead, what you heard tonight was a parade of dark and divisive fear-mongering designed to distract from the fact that Donald Trump does not have an affirmative case to make to the American people about why he should be re-elected.

The truth is that his failed leadership has needlessly cost over 177,000 Americans their lives, tens of millions of Americans their jobs, and left the United States the hardest hit country by the pandemic in the whole world. Yet six months into this crisis, he still doesn't have what Joe Biden proposed months ago: a plan to get us out.
– Maanvi Singh

Updated

23:47
Today's roster of speakers included two rising stars of the Republican party – Nikki Haley and Tim Scott.
Haley, who was initially critical of Trump (she said in 2015, when she was governor of South Carolina, that he represents "everything a governor doesn't want in a president") has come a long way in delivering a full-throated endorsement today. She also used the opportunity to set herself up as a 2024 presidential candidate – providing a personal biography and outlining her vision for the country's future.
– Maanvi Singh
23:31
In the lead up to the RNC, Republicans struggled to pin down an attack against the
Biden/Harris
ticket, alternatively painting them as radicals, and socialists who want to defund the police (they are not and do not) but also as candidates too tough on crime.
That waffling continued tonight.
Vernon Jones, a Georgia state representative, lauded Trump for delivering a "historic criminal justice reform" and decried Democrats' reform efforts in the same speech.
– Maanvi Singh
Updated

23:25
Senator
Tim Scott
received some praise for his convention speech, with many fellow
Republicans
saying he offered an uplifting message about America's future.
Reflecting on how his grandfather was forced to leave school after third grade to pick cotton, Scott said, "Our family went from cotton to Congress in one lifetime. And that's why I believe the next American century can be better than the last."
Former New Jersey Governor Chris Christie said Scott's speech was "authentic" and "the most effective" of the night.
Updated

23:14
The conservative-leaning website Drudge Report summarized the first night of the Republican convention with the headline:
Trump
or doom.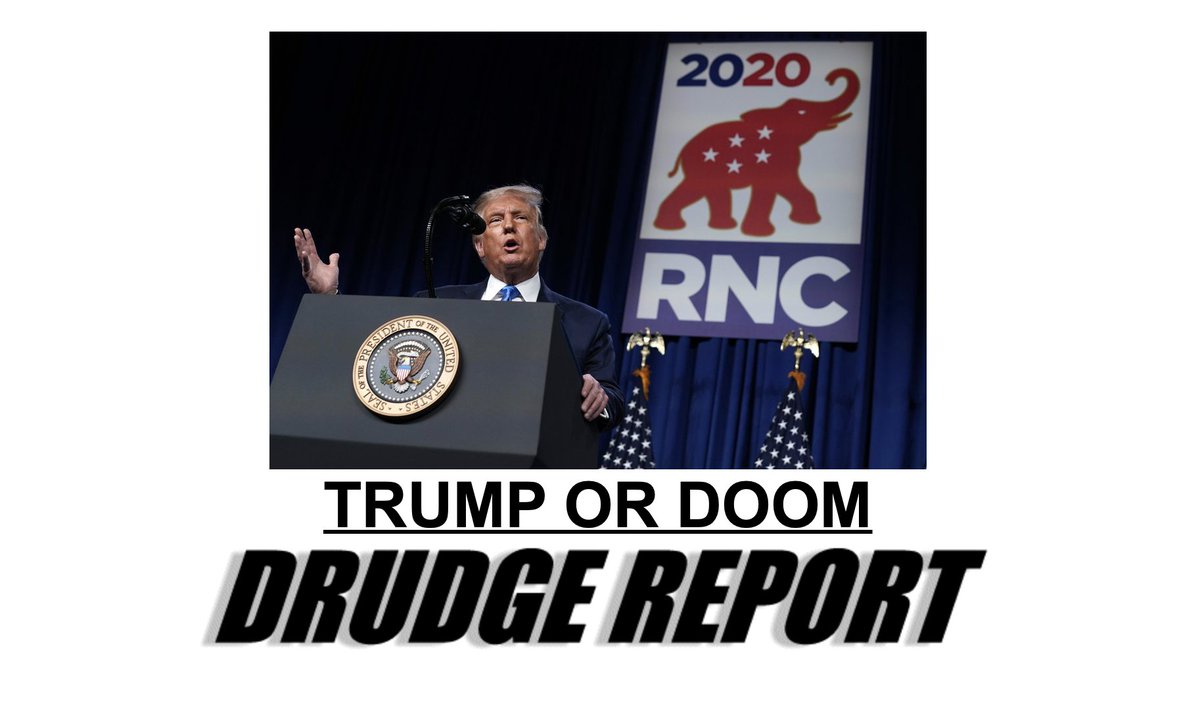 Heading into the convention, Republicans promised to offer a promising vision for the future of the country, but the night was dominated by dark warnings about the alleged dangers of electing Joe Biden president.
Updated

23:14
"Do we want a society that breeds success, or a culture that cancels everything it even slightly disagrees with?" asked
Tim Scott
, posing a rhetorical that was meant as an endorsement of
Donald Trump
.
Nikki Haley, also asserted that Trump "knows that political correctness and 'cancel culture' are dangerous and just plain wrong".
Trump has tried to cancel many people and companies he disagrees with, including but not limited to: Paul Krugman, Goodyear tires, NFL players who kneel during the national anthem, CNN, Univision, social media companies that fact-checked him, journalists who've been critical of him…
– Maanvi Singh
Updated

Get the latest news and advice on COVID-19, direct from the experts in your inbox. Join hundreds of thousands who trust experts by subscribing to our newsletter.
Send your news and stories to us news@climaxradio.co.uk or newstories@climaxnewsroom.com and WhatsApp: +447747873668.
Before you go...
Democratic norms are being stress-tested all over the world, and the past few years have thrown up all kinds of questions we didn't know needed clarifying – how long is too long for a parliamentary prorogation? How far should politicians be allowed to intervene in court cases? To monitor these issues as closely as we have in the past we need your support, so please consider donating to The Climax News Room.