18:03
Evening summary
It's been a lively day on the election trail. We're closing this blog now but will be back with all the developments in US political news, as it happens, tomorrow.
Here are the main events of the day:
Alaska's Republican Senator Lisa Murkowski has hopped off the fence and says she will confirm Amy Coney Barrett for the US supreme court in the vote expected on Monday.
Barack Obama, speaking at a drive-in rally to support Joe Biden in the key swing state of Florida, laid into Donald Trump for his response to the coronavirus pandemic.
Democratic vice-presidential nominee Kamala Harris, campainging in Ohio, also decried the Trump administration's handling of Covid-19 and lamented that the crushed economy has led to a "hunger crisis" in America.
Campaigning at two rallies in Pennsylvania today, Joe Biden said at each that he would not ban fracking – a very active industry in the swing state.
Top infectious disease public health official Anthony Fauci supports the idea of a national face mask mandate if that's the only way to get people to wear them and curb the spread of coronavirus.
Both Donald Trump and his most controversial coronavirus adviser Scott Atlas have been spreading misleading info on Twitter about Covid-19.
17:53
Democratic vice-presidential candidate
Kamala Harris
is calling for an administration that is
frank about racist police brutality
in America.
"There isn't a Black man I know, be it a relative or friend, who has not had some sort of experience with police that's been about an unreasonable stop, some sort of profiling or excessive force," she said.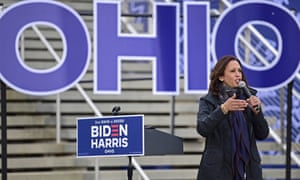 She said Donald Trump "says people who are protesting are looters and they are violent, and talking about law and order, not understanding that peaceful protest is part of how this nation was founded."
Harris said peaceful protest is what has allowed her to become only the second Black woman elected to the United States Senate (hat tip to groundbreaker Carol Moseley Braun). "But there is still a lot of work to be done" not just to speak out about police brutality but to do something about it."
She said she had spoken out about Breonna Taylor, shot dead by police in March during a botched raid on her Louisville, Kentucky, apartment, "but there are many Breonnas and Georges", referring to George Floyd who was killed by police in Minneapolis this spring when an officer kneeled on his neck on the ground for almost nine minutes, reinvigorating the Black Lives Matter movement.
"There needs to be ban on chokeholds and carotid holds, across the board. Let's have a national registry of police officers who break the law."
She added that there needed to be "accountability and consequences" not just for individual police but for "the system".
The latest CNN opinion poll in Ohio has Democratic candidate Joe Biden and Republican candidate Donald Trump in a statistical dead heat, with 46% of those surveyed backing Biden for the White House in November, 47% favoring Trump.
No Republican in modern history has lost Ohio but won the White House.
17:21
The 2020 race continues
.
Donald Trump
is on his way to begin another rally in Circleville,
Ohio
, about a 30-minute drive from Columbus, and
Joe Biden is speaking now in Dallas, north-eastern Pennsylvania
.
This Dallas is not far from Scranton, Biden's birthplace. The Democratic candidate for president just said "maybe it's the Scranton in me" that gives him "a bit of a chip on my shoulder" about Trump's flaunting of and focus on his own wealth.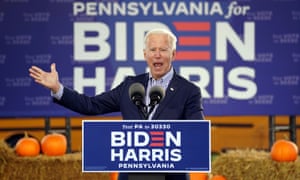 Biden is at his most fired up on the campaign trail right now, he doesn't have the oratory skills of Obama, but he is impassioned.
After so many months in the basement, campaigning online, it's truly exciting to see Biden, as well as Harris and Obama out on the trail in person talking to motivated voters – not leaving it all to Trump.
Biden just said once again that he won't ban fracking.
And he's slamming Trump's handling of the coronavirus pandemic. He's using what has become one of his standard lines, bringing up the revelation from Bob Woodward's book Rage that the president told him very early on in the outbreak that he knew exactly how dangerous Covid-19 was but downplayed it to the public because he didn't want to spread panic (instead his stance just spread coronavirus).
"The American people don't panic," Biden said. "Donald Trump panicked."
He called the president's approach to controlling the outbreak "weak and chaotic". Biden said he is determined to shut down the virus if he is president, without shutting down the economy, although it's not entirely clear yet how he would thread that needle for the nation.
Biden said Trump "hasn't delivered on a damn thing". Voters honking their car horns and cheering.
Updated

17:00
Alaska's Murkowski will confirm Barrett for supreme court
Supreme Court nominee
Amy Coney Barrett
won crucial backing this afternoon when one of the last Republican holdouts announced her support for Donald Trump's pick ahead of a confirmation vote expected Monday.
Senator Lisa Murkowski of Alaska said during today's Senate session that while she opposed her party's decision to push ahead with the nomination process so close to the November 3 presidential election, she supported the federal judge, who is on track to lock in a conservative court majority for years to come, The Associated Press reports.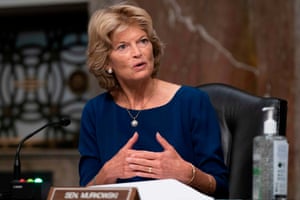 Barrett already appeared to have enough votes for confirmation from Senate Republicans who hold the majority in the chamber and are racing to install her on the high court before Election Day.
But Murkowski's nod gives her a boost of support. Only one Republican, Senator Susan Collins of Maine, is now expected to oppose the conservative judge.
"While I oppose the process that has led us to this point, I do not hold it against her," Murkowski said.
The Senate opened the rare weekend session despite Democratic efforts to stall Trump's nominee.
Democrats mounted more procedural hurdles during the day, but the party has no realistic chance of stopping Barrett's advance. Barrett, a federal appeals court judge from Indiana, is expected to be confirmed Monday and quickly join the court.
The fast-track confirmation process is like none other in US history so close to a presidential election.
Democrats, notably the vice-presidential nominee and California Senator Kamala Harris, who sits on the judiciary committee, call it a "sham" and say the winner of the presidential election should name the nominee to fill the vacancy left by the recent death of Justice Ruth Bader Ginsburg.
Senators planned to stay in session Saturday and Sunday.
Read the Guardian's latest report on the Amy Coney Barrett. Not only is her confirmation process controversial but she is a controversial judge and individual.
16:51
Richard Luscombe
Here's our last report on Barack Obama's rally in Florida on behalf of Joe Biden today.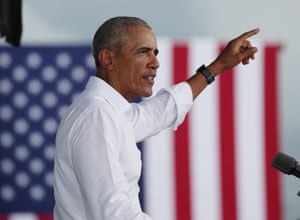 In his speech, which lasted almost an hour, he worked through several major election issues, such as the economy and the pandemic and touched on others as he continued to lash Trump.
"Let me just see a show of hands, how many people here have a secret Chinese bank account?" Obama asked, referring to a story that emerged in the week that Trump had paid more than $200,000 in taxes in China, weeks after it emerged his federal income tax liability in the US was far less.
"His first year in the White House he only paid $750 in federal income tax," Obama said.
"You've got secretaries, you've got construction workers, you got your health care workers, nurses, who pay a lot more in income taxes than that."
There was a staunch defense of Obamacare, his signature Affordable Care Act, which provided millions more Americans with affordable health insurance, that Republicans have tried numerous times to dismantle during the Trump administration. "When they're asked about it they say, 'Well look, we're gonna have a great replacement. It's coming. It's gonna be there in two weeks.' They've never had a replacement. Nothing. Nada. Zero. Zilch.
"They've attacked the Affordable Care Act and every time they've driven up costs, they're driving up the uninsured. Now they're trying to get the Supreme Court to take away your health care as we speak, in the middle of a pandemic," referring to the high court's hearing into the constitutionality of the ACA on 10 November.
Appealing to Florida's sizeable Hispanic demographic, Obama had harsh words for Trump's handling of the aftermath of Hurricane Maria, which devastated Puerto Rico in 2017, and efforts by some among Miami's Cuban and Venezuelan communities to portray Biden as an extreme socialist.
"Listening to the Republicans, you'd think Joe was more communist than the Castros. Don't fall for that garbage," Obama said.
"Folks would know if he was a secret socialist by now. What is true is he'll promote human rights in Cuba and around the world and he won't coddle dictators the way our current president does."
The former prescient ended on an upbeat note.
"I'm here to report that America is a good and decent place. We just see so much noise and nonsense," he said.
"Sometimes it's hard for us to remember but I've been all across this country. There are a lot of good people here. There are a lot of folks who share the values of looking out for one another and doing right by one another."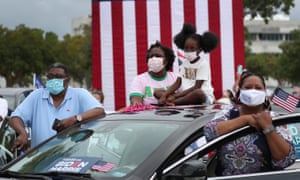 16:40
Here we go again with Donald Trump's antipathy to the wearing of face masks to help prevent the spread of coronavirus.
Having just arrived in Columbus, Ohio, for his next campaign trail event, the president had a few words with reporters and is talking utter nonsense.
First he said there are so many cases of coronavirus being reported in Wisconsin, where the disease is surging, at the moment because of all the testing.
So if no testing, then no coronavirus? This is a highly misleading and wrongheaded argument that the president of the United States has tried numerous times over the months in order to downplay the coronavirus pandemic.
And at a question from another reporter, Trump barked: "I can't hear you with your mask on" and moved to the next reporter without waiting for the person to repeat the question.
16:27
The
Texas state supreme court
this afternoon temporarily reinstated the governor's ban on multiple drop-off sites for
mail ballots
, in a short-term victory for Donald Trump.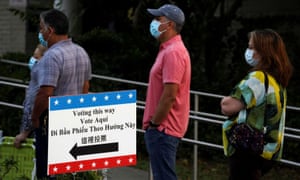 The ban will remain in effect while the state supreme court fully reviews a Friday appeals court ruling that overturned the order by Governor Greg Abbott, a Republican like the president, who faces Democrat Joe Biden in a race for the White House on November 3, Reuters writes.
The Texas 3rd court of appeals had unanimously agreed with a lower court that limiting the number of drop boxes would lengthen lines, increase the risk that voters could get infected with Covid-19, and infringe on their right to vote.
Trump has repeatedly criticized mail-in ballots, claiming – without evidence – they would lead to widespread fraud.
Abbott issued his order limiting mail-in ballot drop boxes to one per county on October 1, saying it was aimed at preventing fraud.
The move, which closed more than a dozen satellite locations in at least two counties, drew condemnation from Democrats and voting rights advocates.
Texas, which Trump won by nine percentage points in 2016, has not voted for a Democratic presidential candidate in more than four decades.
But opinion polls have suggested it might be in reach for Biden, in part because of dissatisfaction over Trump's handling of the coronavirus pandemic.
The Guardian's Erum Salam noted in this story from earlier in the month that large, populous counties such as Travis and Harris county will be disproportionately affected by Abbott's order.
These counties includes Texas's most diverse cities: Austin and Houston, respectively. Nine per cent of Travis county's population are black and 33% are Hispanic. In Harris county, 20% of the population are black and 43% Hispanic.
Harris county is the third most populous county in the country with more than 4.7 million residents. As of 2018, it has nearly 2.4 million registered voters. After Abbott's new order, the vast county has gone from having 12 ballot drop-off sites to just one, located at the NRG Stadium in central Houston. Full story here.
16:10
Richard Luscombe writes that Barack Obama is delivering a sparky speech at a drive-in rally for Joe Biden in North Miami, Florida.
His event continues with him highlighting the difference between Trump's "empty promises" for a second term and Biden's plans for his first.
"Tweeting… doesn't fix things. Inventing conspiracies doesn't make people's lives better," he said. "You've got to have a plan. You've got to do the work. And along with the experience of getting things done, Joe Biden has concrete plans and policies that are going to turn our vision of a better, fairer, stronger country into reality."
Seeking to heap blame on Trump's lack of response for a coronavirus pandemic that has killed almost 225,000 Americans and cost millions of jobs, Obama pointed out that his own administration had left plans.
"We literally left this White House a pandemic playbook that showed them how to respond before a virus reached our shores," Obama said.
"It must be lost along with the Republican health care plan. We can't find it, eight months into this pandemic."
Also squandered, Obama said, was the nation's strong economy: "Unemployment was steadily going down during the Obama-Biden presidency. And then he gets elected and it keeps on going down and suddenly he says, 'Look what I did there.'
"He did inherit the longest streak of job growth in American history that we got started but just like everything else he inherited he fumbled it.
"The economic damage inflicted by [his] pandemic response means that Donald Trump will be the first president since Herbert Hoover that actually loses jobs."
Obama also teased Trump for ending his interview early for 60 Minutes, with journalist Lesley Stahl, early. The interview airs tomorrow night, ditto one with Biden.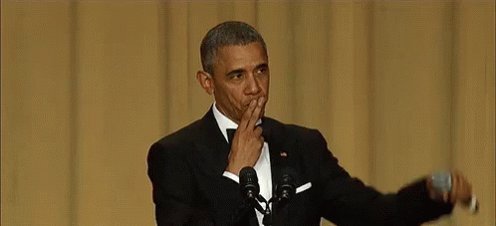 Updated

16:03
A quick reminder that
Jared Kushner and Ivanka Trump
have threatened to
sue the Lincoln Project
, if the anti-Trump Republicans do not remove
two huge billboards
from Times Square in
New York City
, in which they accuse the senior White House advisers of showing "indifference" to Americans suffering and dying under
Covid-19
.
Saying the billboards would stay up, the group called Kushner and Trump "entitled, out-of-touch bullies, who have never given the slightest indication they have any regard for the American people".
My colleague Martin Pengelly has just updated the story with the following:
In an email to the Guardian on Saturday, Carl Tobias, a law professor at the University of Richmond in Virginia, said: "It does seem unlikely that Ivanka and Jared would actually sue the Lincoln Project, especially before election day, while after that hopefully they won't care, can return to New York and stop pretending to be public servants.
"Her father has honed litigation abuse as a business person and president, to an art form," Tobias added, but "if they did sue, the litigation might take years to resolve, be expensive and lead to embarrassing revelations … suits like this by people who have thrust themselves into the public eye are notoriously difficult to win.
"In short, this appears to be the usual Trump family bluster."
Read the full story here:
And here's the latest tweet from the project:
Updated

15:55
Obama speaks in Florida: slams Trump, says Biden made Obama himself "a better president"
Richard Luscombe
Barack Obama is wasting no time in mocking Donald Trump during the former Democratic president's appearance in
North Miami, Florida
this afternoon.
"He's had a tough week. Everybody has been very unfair to Donald Trump, this week," the former president said to joyous honks of car horns at a drive-in rally.
Referring to the final presidential debate between Trump and Joe Biden on Thursday, Obama said: "Trump was asked, 'What is your plan for the new phase of Covid?' which is a pretty good question considering that we just saw the highest number of cases spike up yesterday.
"So you think he'd be ready for a response. Instead, he just said it wasn't his fault, he didn't have one. He said, 'It's now gone and a bunch of states.' Just as states are reaching new record highs nationwide he doesn't have a plan. He doesn't even acknowledge the reality of what's taking place all across the country."
As he did earlier in the week at a rally in Pennsylvania for Biden, his former vice-president, Obama kept the focus firmly on Trump.
"It's a good idea to have an answer to this question. It's a good idea if you're running for reelection to say, 'Here's what I want to accomplish." What did Trump say? He got mad and walked out of the interview," Obama said, referring to an ill-tempered 60 Minutes due to air on CBS Sunday night but already posted on Trump's Facebook site.
"He thought the questions were too tough. If he can't answer a tough question like, 'What would you like to do in your second term?' then it's our job to make sure he doesn't get a second term."
Obama said he didn't know Biden very well when he picked him to be his Veep. But he said he got to know his character as their administration proceeded, and that Biden "made me a better president".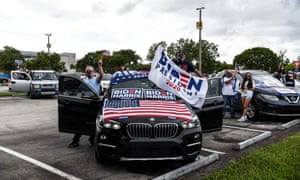 Updated

15:50
Sanders in PA, Booker in NC
Also campaigning today in Pennsylvania is Bernie Sanders. He's out on the trail for Joe Biden, who defeated him in the primary process this spring to become the Democratic nominee for president.
Here's a post from the Sanders event from the Democratic councilwoman at large for Allegheny county, Bethany Hallam.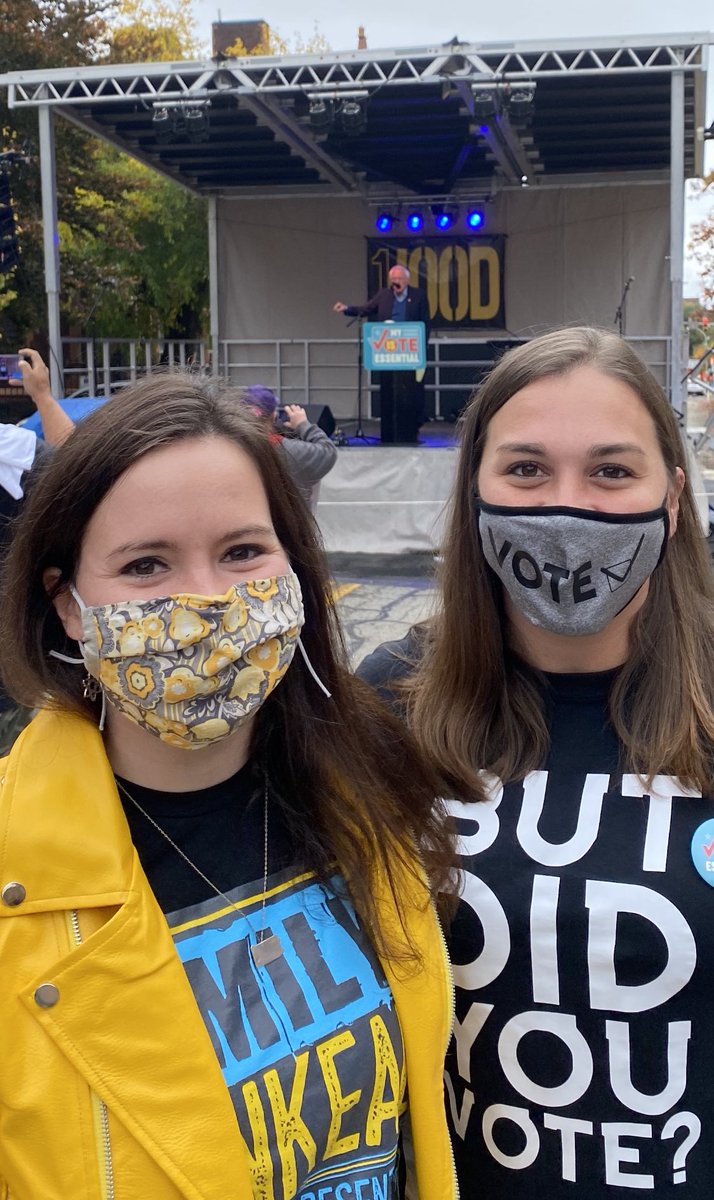 Hallam has become a little bit famous of late for her unique campaign to persuade voters in Pennsylvania to be careful to enclose their mail-in ballots in the privacy envelope issued by the state, inside the outer envelope, if you follow me. Read all about it here.
And in North Carolina, former Democratic presidential candidate and New Jersey Senator Cory Booker is campaigning today to help get Joe Biden elected next month.
15:37
More from Edward Helmore…
Facebook has demanded that New York University stop collecting data about its political ad targeting practices, arguing the engineering project violates its terms of service.
The argument between the social media giant and NYU's Ad Observatory project, which launched last month with more 6,500 volunteers assigned to collect data about political ads, flared up on Friday, according to the Wall Street Journal.
In a letter to the engineering department, Facebook said "scraping tools, no matter how well-intentioned, are not a permissible means of collecting information from us".
Facebook went on to say that if the university does not cease harvesting the data and delete it, it "may be subject to additional enforcement action".
Last month, Facebook said it would stop political advertising for a month ahead the 3 November presidential election, seeking to prevent the spread of misinformation.
After the 2016 election of Donald Trump, Facebook was accused of allowing Russian disinformation and political profiling to flow almost unchecked.
NYU has said the Ad Observatory is designed to provide the public, journalists, researchers and policy makers with the ability to search political ads floated to specific audiences and to see how those ads are funded.
Facebook's demand that NYU cease the program met with criticism.
"Facebook is making it harder for Americans to get information about online political ads," Democratic senator Amy Klobuchar, a sponsor of a bill called the Honest Ads Act, said in a statement to the Journal.
Social media platforms, she added, have pledged to make online advertising more transparent – but Facebook's threatened action "is further evidence that voluntary standards are insufficient".
After the Journal's article was published, Facebook partially retracted its threat, signaling the sensitivity of the issue. It said it would not take any action until after the election.
15:33
Harris laments "hunger crisis"
The Democratic vice-presidential nominee, Kamala Harris, is offering a searing view of the Trump presidency in
Cleveland, Ohio
, right now.
She decries, loudly and in a sharply scathing tone, Donald Trump's having politicized mask-wearing in relation to the coronavirus pandemic, when the president indicates that if you don't wear a mask you're for Trump, if you wear one then you are against him.
"Can you imagine?" she asks rhetorically.
She's talking as Barack Obama just took the stage at a drive-in rally in North Miami, Florida, where the former president just jogged in wearing a "VOTE" mask.
Harris, in the swing state of Ohio, went on to describe Trump as the kind of vain man "who looks in the mirror rather than looking into the faces of the American people."
"And so we find ourselves in this crisis," she said.
With the pandemic decimating the public health and the economy, Harris said that in Ohio right now, one in 10 families are concerned that they don't have enough food, one in six families are concerned that they won't be able to pay the rent next month, and one in five businesses have closed "with no prospect of being able to reopen."
"We are in the middle of a hunger crisis in America," the California Senator said.
She called the Trump presidency the greatest failure of an administration in US history.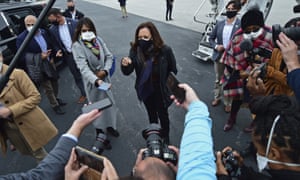 HI! I AM DAVID BRAYZ!
I am a highly-skilled IT Specialist with over 12 years of experience in Web Design, Graphic Design, Web Blogging & ITL Management.