19:46
Minnesota traces Covid outbreak to Trump rally
The Minnesota department of health said it has so far traced 20 Covid-19 cases to a Trump rally in Bemidji in September, CNN reports:
Sixteen of the 20 cases are people who were at the rally. Two people are now hospitalized, according to CNN.
19:42
Donald Trump is now speaking at a rally in Macon, Georgia, attacking the media and Democrats with typical falsehoods and unsubstantiated claims.
In his last speech today, the president repeatedly mocked Joe Biden for verbal slips, but misspoke in numerous bizarre ways himself, notes CNN's fact checker Daniel Dale:
At the Macon rally, one state representative and Trump supporter crowd-surfed, an activity that clearly violates social-distancing guidelines:
19:32
Joe Kennedy III reports campaign finance violation
Congressman Joe Kennedy III's failed Senate campaign reported today that it improperly spent $1.5m of donations intended for the general election during the primary against Senator Ed Markey
, the Boston Globe has just reported.
Federal campaign finance rules bar candidates from spending their general election funds on expenses during the primary, the Globe said.
"After an internal review, I believe it was an honest mistake by those involved, resulting from misinformation, not malintent," Kennedy said in a statement to the Globe. "But as the candidate, I take full responsibility for the error that occurred and have worked to rectify it as expeditiously as possible."
Kennedy also said he did not know about the improper spending.
Markey won the tight race with support of progressive groups.
Updated

19:00

Lois Beckett
The QAnon conspiracy theory has been linked to several violent acts since 2018, with QAnon supporters arrested for threatening politicians, breaking into the residence of the Canadian prime minister, an armed standoff near the Hoover dam, a kidnapping plot and two kidnappings, and at least one murder.
QAnon adherents believe that Donald Trump is trying to save the world from a cabal of satanic pedophiles. The conspiracy theory's narrative includes centuries-old antisemitic tropes, like the belief that the cabal is harvesting blood from abused children, and it names specific people, including Democratic politicians and Hollywood celebrities, as participants in a global plot. Experts call these extreme, baseless claims "an incitement to violence".
The conspiracy theory's claims have put ordinary people at risk. The FBI identified QAnon in 2019 as a potential domestic terror threat and the Combating Terrorism Center at West Point described it as a "novel challenge to public security".
QAnon supporters believe that there will soon be mass arrests, and members of the cabal will be brought to justice. If supporters of the conspiracy theory begin to lose faith in Trump's ability to stop the cabal of child abusers, said Travis View, one of the hosts of the QAnon Anonymous podcast, that might inspire them to begin taking more direct violent action themselves.
More here:
18:49
1,000 current and former CDC officers criticize Covid response
More than 1,000 current and former officers of a disease-fighting program at the US Centers for Disease Control and Prevention have authored an open letter criticizing the US response to Covid, the Wall Street Journal reports.
"The absence of national leadership on Covid-19 is unprecedented and dangerous. CDC should be at the forefront of a successful response to this global public health emergency," said the letter signed by officers from the Epidemic Intelligence Service program of the CDC. More details:
18:39
Trump's cabinet is "scrambling to enact regulatory changes affecting millions of Americans" due to fears that he will lose his re-election
, according to a new New York Times report.
The rushed proposed rules, the Times says, include:
Labor department changes that would redefine what it means to be an "independent contractor", affecting 19m people.
A department of homeland security rule that would make it much more difficult to sponsor an immigrant coming to the US.
A proposal that would loosen limits on how many hours some truckers can spend behind the wheel.
Another DHS proposal that would enable the government to more easily collect biometric data.
The blitz is so hurried that some of the changes could be particularly vulnerable to court challenges, the Times reported.
18:22
A Montana concert attended by Republican Congressman Greg Gianforte, who is also running for governor, has been linked to a Covid-19 outbreak,
the AP reports.
Gianforte hasn't since taken a test, his spokesperson said, saying he does not have symptoms and his healthcare provider said it wasn't necessary.
The outdoor concert, held on 3 October in Helena,had been approved by the local health department, the Independent Record reported. The event organizers have since faced criticisms for failing to follow local Covid regulations, which say public events should not have more than 250 attendees.
Gianforte has previously faced criticisms for not wearing a mask and hugging supporters:
18:10
Ronna McDaniel, chair of the Republican National Committee who also recently had Covid, is present at Trump's rally, without a mask: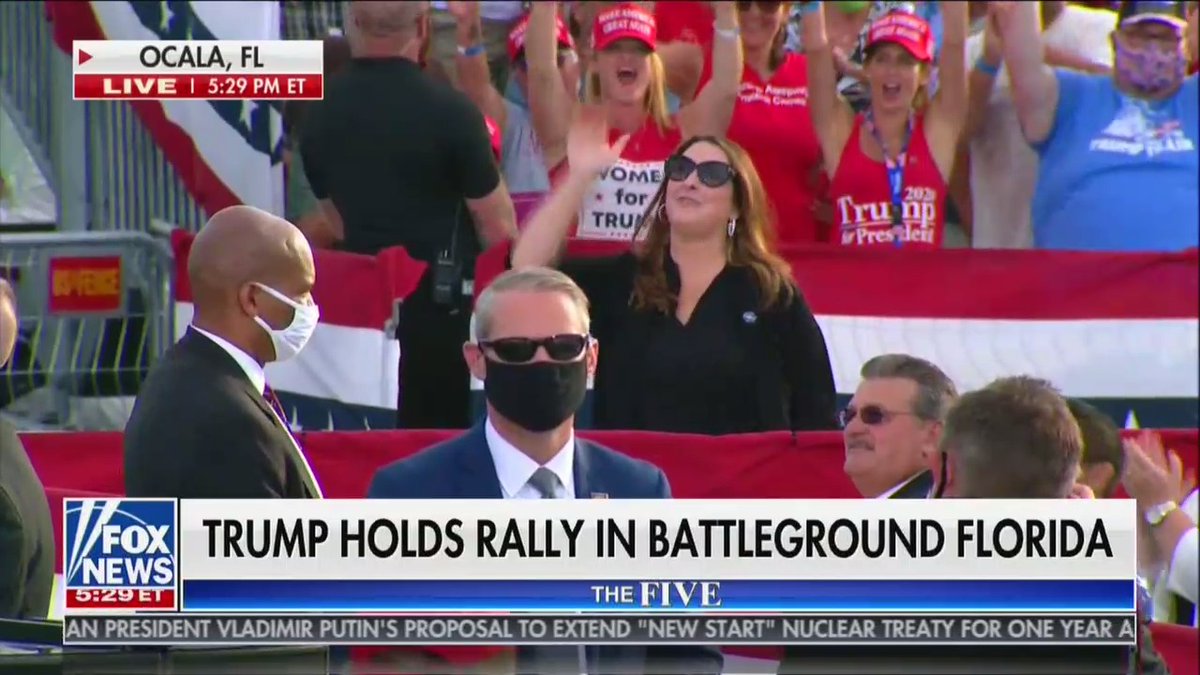 18:01
Joe Biden and Kamala Harris both tested negative for Covid-19 today
, the campaigns said:
This comes one day after both reported that they flew on planes this week with people who have tested positive for coronavirus, though they both said they did not have close contact with the affected people.
17:53
Supreme court agrees to hear arguments in Census case
Sam Levine
The US supreme court agreed today to hear arguments in a closely-watched case over whether Donald Trump can exclude undocumented immigrants from the total population count used to determine how many US House seats each state gets.
The court said Friday it will hear oral argument in the case on 30 November. Trump issued an executive order blocking undocumented people from the count earlier this summer, but a three-judge panel blocked the measure in early September. The constitution requires the census, which is used to apportion House seats, to count all "persons". In September, the judges wrote that because the decennial census does not ask about citizenship, citizenship status could not be taken into account when apportioning seats.
But the supreme court's decision alone to hear the case is ominous. The case took a unique procedural route to the court and because it came from a three judge panel, the court is obligated to consider it. The court could have upheld the three judge panel's ruling without an oral argument – the fact that it set one may be a signal it is open to overturning it.
Separately, the supreme court this week allowed the Trump administration to end counting for the census two weeks early, despite warnings it would result in an undercount of the population. Observers have speculated the Trump administration is trying to rush the census to ensure Trump has the opportunity to try and exclude undocumented immigrants from the count before he leaves office.
17:47
Donald Trump called Hope Hicks, his senior advisor who tested positive for Covid earlier this month, up to the stage at his Florida rally:
She was not wearing a mask, and said very little, but joked: "We can share a microphone now."
Trump is back on the campaign trail this week after his hospitalization for Covid. At a town hall last night, the president spread falsehoods about the virus and masks.
17:31
Trump approves wildfire aid for California, reversing rejection
Donald Trump reversed his administration's decision to deny California's request for additional federal wildfire aid, the state's governor has announced.
"Just got off the phone with President Trump who has approved our major disaster declaration request," Gavin Newsom tweeted. "Grateful for his quick response."
Newsom's tweet came hours after he said he was appealing the president's rejection for additional aid to clean up the damage from six recent large fires. It has been a disastrous wildfire season in California, with more than 8,500 blazes burning more than 6,400 square miles (16,000 sq km) since the start of the year.
17:21
Senator Dianne Feinstein faces growing progressive backlash
Hi all –
Sam Levin
in Los Angeles, taking over our live coverage for the rest of the day.
California senator Dianne Feinstein, the top Democrat on the judiciary committee, is facing growing backlash from progressive groups who argue she has failed in her leadership role in the Amy Coney Barrett nomination hearings.
After Demand Justice, a progressive group, called for her to step down yesterday, Naral Pro-Choice America, a leading reproductive rights group, has also called her "wildly out of step with the American people", saying the "committee needs new leadership":
Naral criticized Feinstein of offering "an appearance of credibility to the proceedings". The ranking Democratic senator notably said, "This has been one of the best set of hearings that I've participated in," and gave chairman Lindsey Graham a hug:
California congresswoman Katie Porter, a Democrat, also criticized Feinstein, telling HuffPost, "I disagree strongly with senator Feinstein that that set of hearings was one of the best or was even acceptable. I think Amy Coney Barrett did not answer basic questions about her beliefs and stonewalled repeatedly. We got many fewer direct answers than we have out of most supreme court hearings."
17:14

Martin Pengelly
The Los Angeles Times has obtained an early copy of another Trump book, this one called
Tower of Lies: What My 18 Years of Working With Donald Trump Reveals About Him
and by Barbara A Res, a former Trump Organization staffer.
"The book recounts racist, anti-Semitic and sexist behavior," the Times reports, "along with Trump's ability to lie 'so naturally' that 'if you didn't know the actual facts, he could slip something past you.'"
Res left Trump's employ two decades ago and has been critical of him since. On the page, the Times said, she…



…recalled Trump berating her when he spotted a Black worker on a construction site.

"Get him off there right now," he said, "and don't ever let that happen again. I don't want people to think that Trump Tower is being built by Black people."

Trump turned red-faced when she brought a young Black job applicant into the lobby of another building, she wrote.

"Barbara, I don't want Black kids sitting in the lobby where people come to buy million-dollar apartments!"

Res wrote that Trump hired a German residential manager, believing his heritage made him "especially clean and orderly", and then joked in front of Jewish executives that "this guy still reminisces about the ovens, so you guys better watch out for him".

Trump and his campaign often pointed to Res during the 2016 election as an example of his progressive history of hiring and promoting women. But during her 18-year tenure, she wrote, Trump talked frequently and graphically about women's looks and his own sexual exploits – and forced Res to fire a woman because she was pregnant and bar her own secretary from important meetings because she did not look like a model.
One might think – see below – that so close to the election, the seam of Trump books might be close to mined out. Tim Murtaugh, communications director for the Trump campaign, would hope so. He told the Times Res's book was "transparently a disgruntled former employee packaging a bunch of lies in a book to make money".
17:01
Today so far
That's it from me today. My west coast colleague, Sam Levin, will take over the blog for the next few hours.
Here's where the day stands so far:
The number of US coronavirus cases surpassed 8 million, which is more than any other country in the world. The US reported 63,610 new coronavirus cases yesterday, marking the highest single-day total since mid-August.
Despite those alarming statistics, Trump again claimed the country is "rounding the turn" in its coronavirus crisis. Speaking in Southfield, Michigan, Joe Biden criticized the president for suggesting the situation is improving. "It's not disappearing. In fact, it's on the rise again," Biden said. "It's getting worse, as predicted."
Biden's ABC town hall attracted more viewers than Trump's NBC town hall last night. According to Nielsen, Biden's event was watched by almost 1 million more viewers, even though Trump's town hall was broadcast on more channels. The figures will likely enrage the ratings-obsessed president, who reportedly told aides he hoped to beat Biden and then use the numbers to humiliate them.
The US has posted a record-high federal budget deficit of $3.1tr, which is three times as high as last year's deficit. Due to the coronavirus pandemic, the country's revenue has declined while government spending has soared this year.
Barack Obama will campaign for Biden in Philadelphia next week. The Biden campaign announced Obama, who won Pennsylvania in 2008 and 2012, will travel to Philadelphia next Wednesday.
Sam will have more coming up, so stay tuned.
16:47
Trump
is now speaking in Ocala, Florida, and the president is once again attacking
Joe Biden
as the head of a "corrupt family".
As Trump attacked Biden and his son, Hunter, the Florida crowd started to chant, "Lock him up!"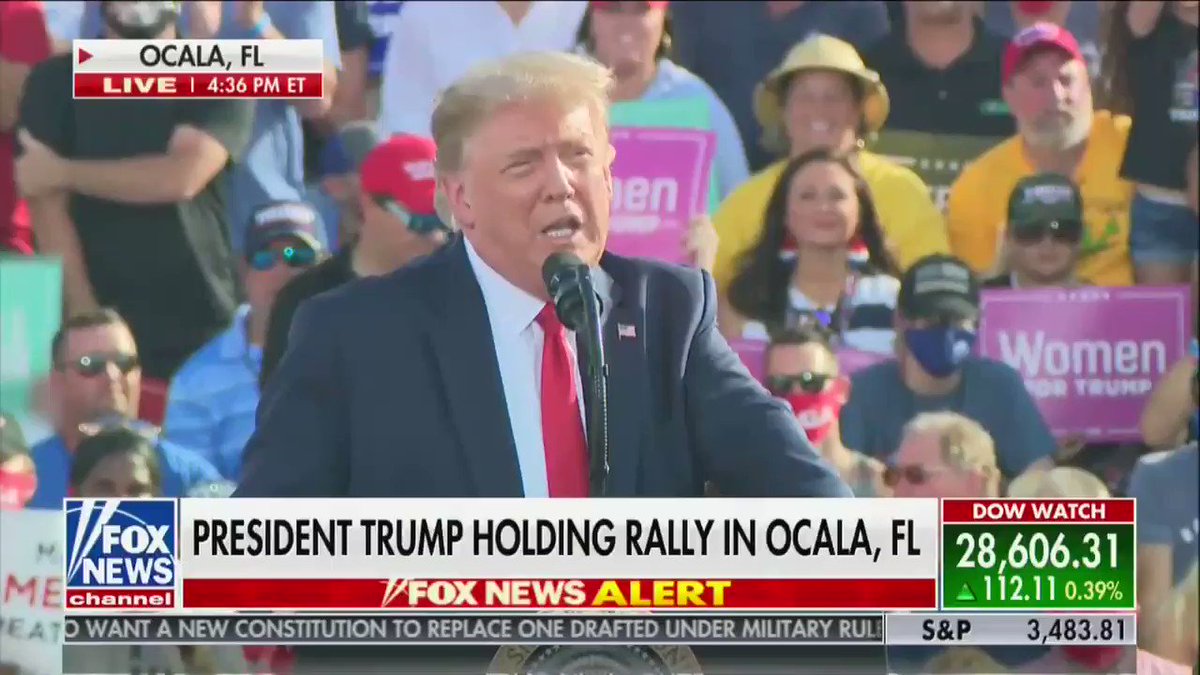 "Joe Biden is a corrupt politician, and he has been for a long time," Trump said. "The Biden family is a criminal enterprise."
The president added, "In fact, they sort of make 'Crooked Hillary Clinton' look like amateur hour."
Trump repeatedly referenced a New York Post story about some of Hunter Biden's emails that federal investigators are reportedly examining as part of a potential foreign intelligence operation.
Updated

Get the latest news and advice on COVID-19, direct from the experts in your inbox. Join hundreds of thousands who trust experts by subscribing to our newsletter.
Send your news and stories to us news@climaxradio.co.uk or newstories@climaxnewsroom.com and WhatsApp: +447747873668.
Before you go...
Democratic norms are being stress-tested all over the world, and the past few years have thrown up all kinds of questions we didn't know needed clarifying – how long is too long for a parliamentary prorogation? How far should politicians be allowed to intervene in court cases? To monitor these issues as closely as we have in the past we need your support, so please consider donating to The Climax News Room.