22:02
Summary
We're closing the blog for today, but we'll be back tomorrow with more live updates. Before we go, here's a quick summary of everything that's happened today:
Donald Trump has started to say that he is "immune" to Covid-19 after contracting the virus, contradicting evidence that people can get the virus more than once and ignoring the lack of research about how long antibodies are effective. Twitter flagged Trump's tweet that claims he's immune to the virus, saying that it contains misleading information.
Dr Anthony Fauci spoke out against a Trump campaign ad that took praise he gave for the coronavirus task force out of context. In the rare pushback to Trump, Fauci said that the GOP did not get his permission to use the clip and reiterated that he has never publicly endorsed any political candidates "in my nearly five decades of public service".
The opening statement Amy Coney Barrett, the supreme court nominee whose nomination process will start in the Senate tomorrow, has been leaked and reveals Barrett will say that she would apply the "law as written" and speak about the influence of the late supreme court justice Antonin Scalia on her judicial philosophy.
A new national poll from ABC News and the Washington Post shows Joe Biden maintaining a large lead over Donald Trump, with Biden holding a 12% lead over the incumbent just three weeks until the presidential election.

21:41
Dr. Anthony Fauci, the nation's top infectious disease expert, has spoken out against Donald Trump taking a clip out of context for a campaign ad, what is now one of Fauci's most direct pushback against Trump since the start of the pandemic.
For months during the course of the pandemic, Donald Trump has often been at odds with Fauci, delivering contradictory public health messages and publicly expressing frustration with the doctor's more sober take on the pandemic.
In the spring, as the virus ravaged the Northeast of the country, Fauci was a regular at the White House's coronavirus press briefings. But in June, Fauci said he was not invited to the press briefings, with Trump telling Fox News that "Dr. Fauci's a nice man, but he made a lot of mistakes". At the time, cases were just starting to rise in many parts of the country, the effects of states quickly reopening their economies for the summer, allowing the virus to spread. Fauci at the time cautioned against reopening without regulations in place, contradicting Trump's messaging that states should rush to reopen.
Fauci has done his best to be a neutral, authoritative public health figure over the course of the pandemic, opting to do dozens of virtual interviews to offer his recommendations to Americans. Trump has since replaced Fauci and Dr Deborah Birx, another respected epidemiologist who was once a regular at the White House press briefing, with Dr Scott Atlas, who has come under scrutiny by public health experts for questioning the effectiveness of masks and parroting the Trump administration's optimistic timeline for a Covid-19 vaccine.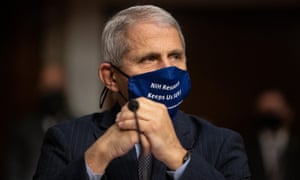 Updated


20:59
Donald Trump's campaign responded to a new statement from Dr Anthony Fauci, the nation's top infectious disease expert, who said his words were taken out of context for a new Trump ad.
"These are Dr. Facui's own words. The video is from a nationally broadcast television interview in which Dr. Fauci was praising the work of the Trump administration," said Trump's communication director Tim Murtaugh. "The words are accurate and directly from Dr. Fauci's mouth."
The statement of course does not address that Fauci, when he said "I can't imagine that… anyone could be doing more" was not referring to Trump but the broader coronavirus task force, including himself.

20:39
Dr Anthony Fauci, the nation's top infectious disease expert, responded to his misleading appearance in a new ad for Donald Trump's campaign, saying that he was taken out of context by the spot.
In the ad, released yesterday, Fauci can be heard saying "I can't imagine that… anyone could be doing more" in an interview as the ad boasts Trump's response to Covid-19.
The clip came from an interview Fauci had with Fox News and was taken from a snippet when he was describing the work that he and other members of the coronavirus task force undertook to respond to the virus. Fauci was not directing his statement at Trump.
"In my nearly five decades of public service, I have never publicly endorsed any political candidate," Fauci said in a statement to CNN. "The comments attributed to me without my permission in the GOP campaign ad were taken out of context from a broad statement I made months ago about the efforts of federal public health officials."
Updated


20:11
The chief executive of Regeneron, the pharmaceutical company that produced the antibody cocktail that Donald Trump received to treat his case of Covid-19, said that Trump's experience with the drug is "a case of one" and said the company is working through clinical trials to ensure its safety and effectiveness.
"The president is a case of one," Leonard Schleifer, chief executive of Regeneron, said in an interview with CBS today. "It is evidence of what's happening, but it's kind of the weakest evidence you can get."
The company is likely trying to neutralize itself after falling into political discourse about the virus. Earlier this week, Trump in a video said that Regeneron's antibody cocktail was the key to his recovery from the virus, calling it a "cure" for Covid-19 though the drug is still in clinical trials. Public health experts criticized the president for touting a drug that has not been approved by the Food and Drug Administration, something the president has done before with other unconfirmed treatments of the virus such as hydroxychloroquine and blood plasma.
Updated


19:52
Jaime Harrison, who is running against Republican Lindsey Graham for his Senate seat representing South Carolina, has raised $57 million over the last three months – the largest haul in a single quarter for a Senate candidate in US history.
The biggest quarterly haul for a Senate candidate was $38 million before Harrison set the new record, which was raised by former US representative Beto O'Rourke in his election against Senator Ted Cruz, according to the New York Times. Graham has not yet announced his fundraising figure for the last quarter.
Harrison is the former chair of the South Carolina's Democratic Party and associate chairman of the national Democratic Party.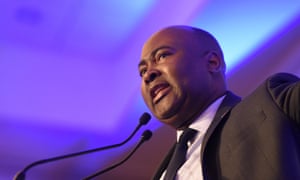 Updated


19:24
Twitter flags Trump's tweet about Covid-19 immunity
It looks like Twitter flagged Donald Trump's tweet about being immune to Covid-19. The platform has hid the Tweet completely under a message that says it violates Twitter's rules "about spreading misleading and potentially harmful information related to Covid-19". The note also says that Twitter "has determined that it may be in the public's interest for the Tweet to remain accessible".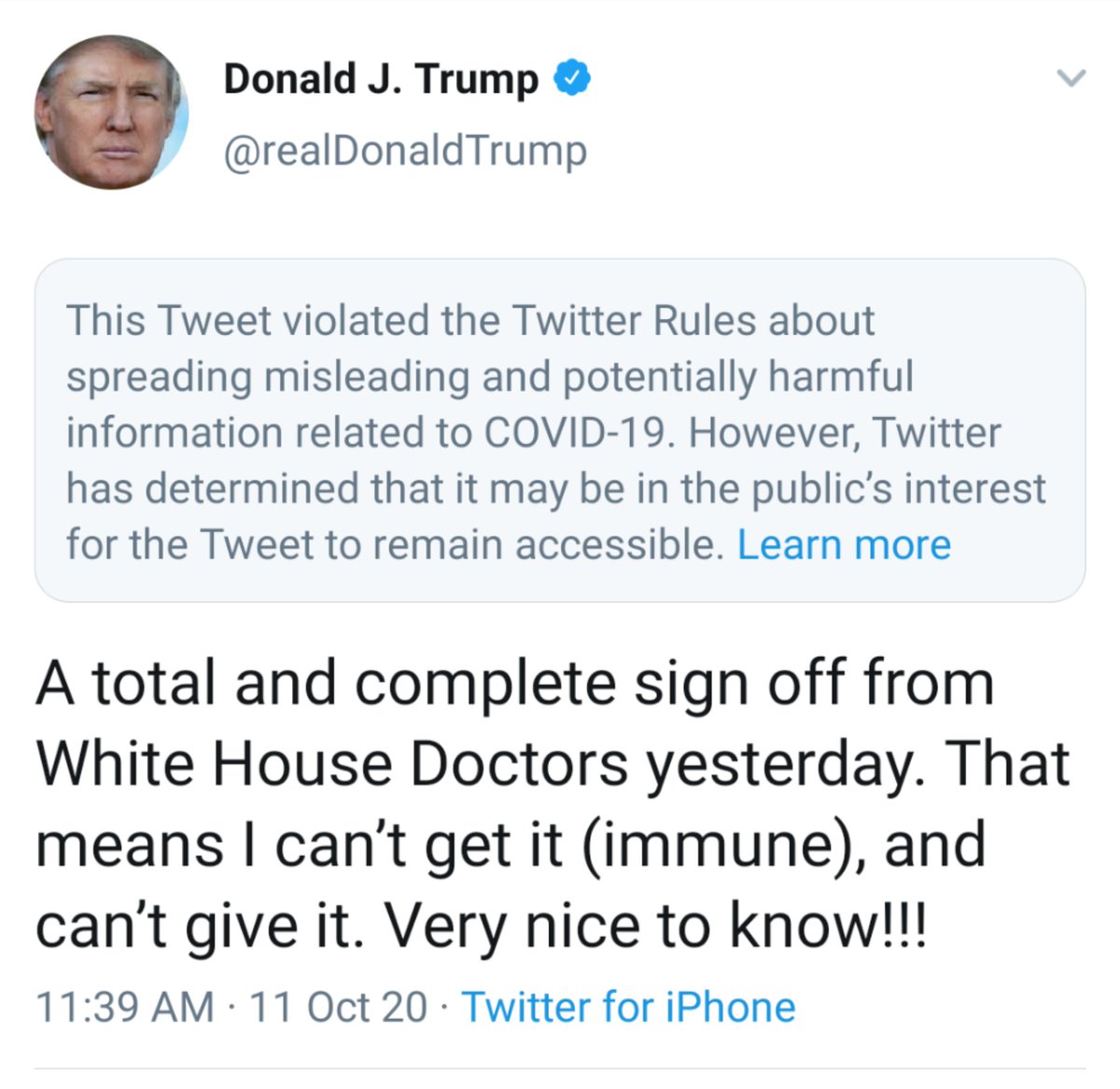 This appears to be the fifth Tweet of Trump's that the platform has flagged. The first was a Tweet from May when he said "when the looting starts, the shooting starts". One Tweet in June about using "serious force" against protesters and another in August that called mail boxes a "voter security disaster" were both flagged. The fourth flagged tweet was from September when Trump encouraged voters in North Carolina to vote twice, which is illegal.
On Friday, Twitter announced further limits on users who are trying to spread misinformation or encourage violence or election interference, including candidates for office. The platform said it would flag false claims of winning an election from candidates until state election officials or authoritative national news outlets report it.
Updated


19:01
After talks over a new coronavirus stimulus package, which have been ongoing since July, the White House published an open letter to Congress that targets Democrats for taking "an all-or-nothing approach" to talks.
"The House has passed two separate partisan bills instead of compromising with us on bipartisan legislation like we have done in the past," the letter reads.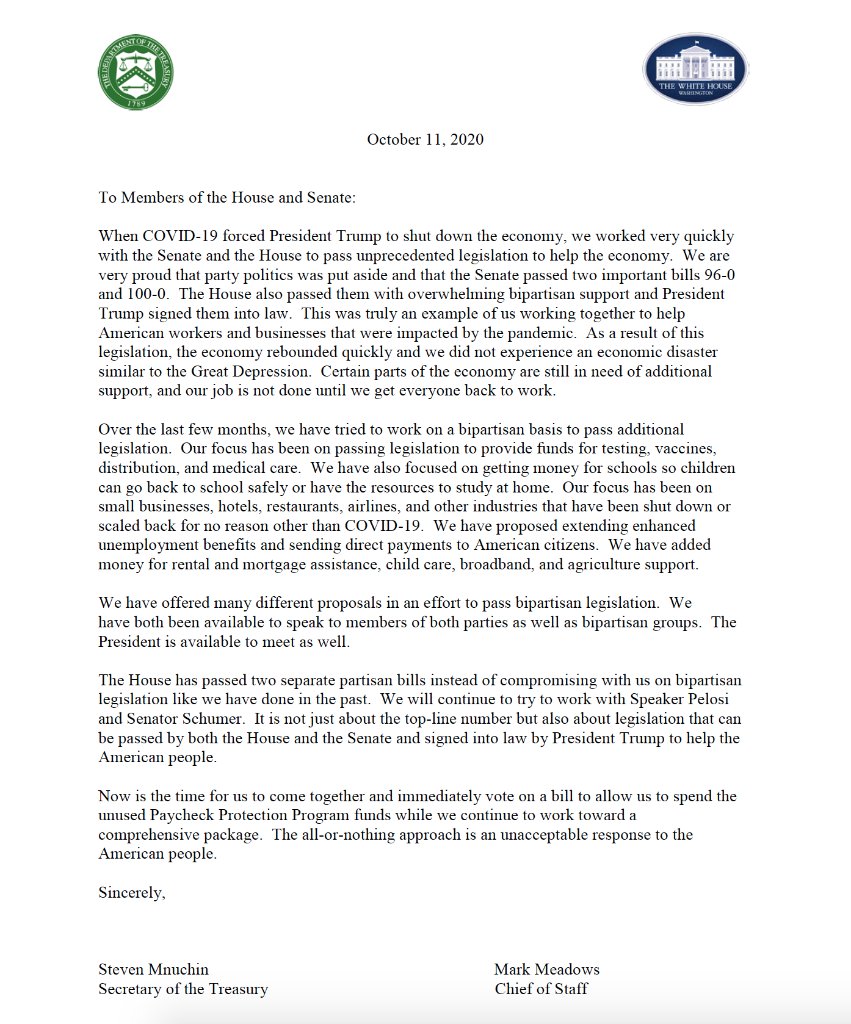 Of course the letter does not mention that Senate Republicans have played a major role in holding up negotiations. House Democrats passed two different stimulus packages, the hefty $3 trillion HEROES Act in May and a $2.2 trillion at the beginning of the month. Republicans have put forth the $1 trillion HEALS Act in July. While both sides seem reluctant to budget, the White House has indicated that they are more willing to get closer to what Democrats want than Senate Republicans, offering House speaker Nancy Pelosi a $1.8 trillion plan on Friday. Pelosi's team indicated there was disagreement on the plan's Covid-19 public health response and overall funding level, meaning a bill is still not close in sight.
Senate Republicans meanwhile have acknowledged that they are focused more on the nomination of judge Amy Coney Barrett to the Supreme Court, with Senate majority leader Mitch McConnell saying that a bill will likely not be passed until after the election.

18:23
This is Lauren Aratani taking over for Tom Lutz.
Senator Kamala Harris just announced that she will be participating in the confirmation hearing for judge Amy Coney Barrett remotely. The testimony in front of the Senate's judiciary committee is set to start tomorrow.
Her Senate office said in a statement that the Republicans on the committee did not agree to agree to a request from Democrats, including Harris to implement a testing procedure. Two Republican members of the committee, senators Thom Tillis of North Carolina and Mike Lee of Utah, both tested positive for the virus after attending the nominating ceremony for Barrett at the White House Sept. 25, which is considered a super-spreader event.
Republicans have been eager to push Barrett's nomination through the Senate as quickly as possible before the election.
On Twitter, Harris said that by moving forward with the hearing tomorrow, Senate Republicans were "endangering the lives of not just members and our staff, but the hardworking people who keep the Senate complex running".
Updated


17:52
Democratic Senate minority leader
Chuck Schumer
has said Donald Trump's supreme court nominee
Amy Coney Barrett
should, if confirmed, step aside from contentious cases.
Reuters reports:
Democratic opposition to Barrett on policy issues has focused on her possible role in deciding a case before the Supreme Court in which Trump and Republican-led states are seeking to invalidate the Affordable Care Act (ACA) healthcare law, often called Obamacare.

"She doesn't come unbiased and that's why she should recuse herself," Schumer said on Sunday.

A key Obamacare provision that would be thrown out if the court strikes down the law bars insurance companies from denying coverage to people with pre-existing conditions. Democrats have criticized Trump for seeking to end Obamacare protections amid a pandemic that has killed more than 210,000 Americans.

Schumer also said Barrett should recuse herself from any cases involving the presidential election because of statements made by Trump in which the president has said the court is likely to have election cases. Trump, who is running for reelection against Democrat Joe Biden, has indicated he would expect the court to rule in his favor if Barrett is confirmed.

17:52
Donald Trump claims he is immune to Covid-19 – video
When asked whether he still had Covid-19, the US president said he was now immune to the disease. Speaking on Fox News, he said he would be immune "maybe for a short time, maybe for a long time" and that he was "in very good shape". People who have had Covid-19 can be reinfected
Updated

Get the latest news and advice on COVID-19, direct from the experts in your inbox. Join hundreds of thousands who trust experts by subscribing to our newsletter.
Send your news and stories to us news@climaxradio.co.uk or newstories@climaxnewsroom.com and WhatsApp: +447747873668.
Before you go...
Democratic norms are being stress-tested all over the world, and the past few years have thrown up all kinds of questions we didn't know needed clarifying – how long is too long for a parliamentary prorogation? How far should politicians be allowed to intervene in court cases? To monitor these issues as closely as we have in the past we need your support, so please consider donating to The Climax News Room.