05:14
Evening summary: coronavirus in the Rose Garden
It has been an extraordinary 24 hours in American politics, and the next few days are unlikely to be much calmer. You can continue to follow US political updates on our global coronavirus blog, helmed by my colleague Christopher Knaus in Australia.
Here's the highlights of today's developments.
Less than a day after announcing he had tested positive for Covid-19, Trump was hospitalized at Walter Reed medical center, where officials said he would spend the next few days.
Trump walked himself to the helicopter that transported him to the hospital, and White House officials said he was doing well and would be staying at the hospital out of "an abundance of caution".
The White House said late Friday night that Trump was being treated with remdesivir. Trump tweeted that it was "going well".
It's still not clear how and when Trump was infected with coronavirus, but a White House Rose Garden event last Saturday announcing Amy Coney Barrett as Trump's supreme court nominee emerged as a key moment, with at least seven people at the event later announcing they had tested positive for coronavirus.
Republican senators Thom Tillis and Mike Lee, both members of the Senate judiciary committee, said they had tested positive for coronavirus, raising questions about the scheduled confirmation hearing process for Barrett, which is scheduled to begin in 10 days. The Senate majority leader, Mitch McConnell, said early Friday that he intended to move along with the confirmation process.
Melania Trump, Kellyanne Conway, the Notre Dame president, John Jenkins, and a White House reporter also tested positive after the Rose Garden event.
Democratic presidential candidate Joe Biden said the country needed to unite in the face of Trump's illness. Biden's campaign said it would be suspending negative ads about Trump, but that Biden would continue campaigning for the time being. Trump's campaign said it would still run negative ads about Biden.
There are still many questions about how many other workers and employees may have been exposed to coronavirus by the president or his inner circle, including secret service members, White House reporters, and staffers at the president's campaign fundraiser in New Jersey on Thursday night.
Updated


04:47
Trump is being treated with remdesivir, White House says
A late-night update from the White House press secretary: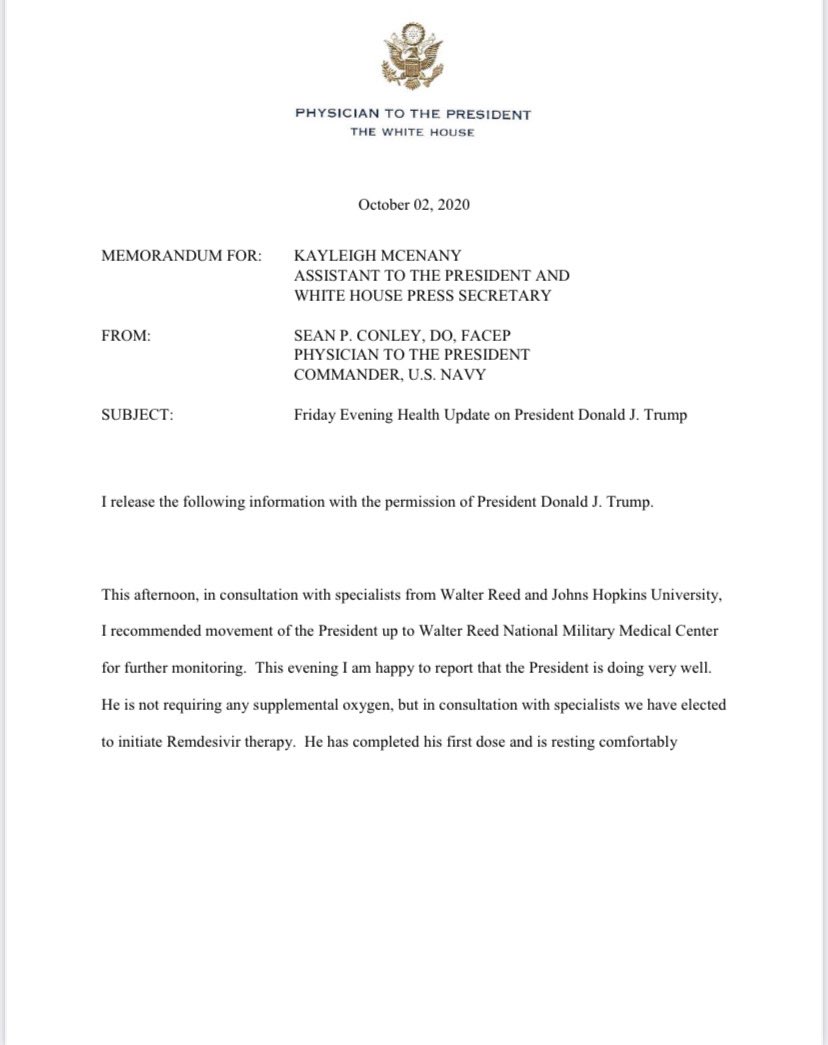 Remdesivir, the first drug approved by licensing authorities in the US to treat Covid-19, has been shown to help people recover faster from the disease. Read more here.
Updated


04:42
Trump tweets that his hospitalization is 'going well'
It is nearly midnight in Washington, DC, but the president, who ihospitalized with coronavirus, appears to be awake.

04:23
Scrutinizing the timeline of Trump's coronavirus contacts
As we learn more about the people exposed to Trump over the past few days, his choice to fly to a fundraiser in New Jersey on Thursday night is likely to attract more scrutiny.

04:17
More video of Trump allies who now have coronavirus mingling at Rose Garden event
Few masks, no social distancing.

04:12
Secret Service agents reportedly furious at Trump's behavior during pandemic
Secret Service agents almost never complain about the president. It's "unheard of," the Washington Post reports. But now, current agents' frustration at Trump's behavior during the coronavirus pandemic is seeping out into public view.
"Some currently in the ranks had become convinced during the pandemic that Trump was willing to put his protectors in harm's way," the Post reports, noting that some agents feel like he has put the people sworn to protect him in harm's way.
"He's never cared about us," one agent told a friend, the Post reports. Another said in an internal message group: "This administration doesn't care about the Secret Service."
The husband of former White House adviser Kellyanne Conway, who just announced that she had tested positive for coronavirus after attending a Rose Garden event, used the news story to suggest his own feelings about his wife's announcement.
Updated


03:58
Was the announcement of Trump's supreme court nominee a super-spreader event?
Confirmed cases linked to Saturday's Rose Garden event are rising. The event was Trump's formal announcement that he was nominating Amy Coney Barrett to fill progressive champion Ruth Bader Ginsberg's seat on the supreme court. Ginsberg, who died on 18 September, had made clear that she believed her replacement should not be confirmed until after the 2020 election.
Updated


03:41
Rose Garden ceremony linked to at least seven confirmed coronavirus cases
Politico has made a visual guide to the growing number of Trump officials and allies who have tested positive for coronavirus since attending a crowded Rose Garden ceremony last Saturday announcing Amy Coney Barrett as Trump's supreme court nominee.
Many of those who have since announced they tested positive for the virus were seated close together.
As Huffington Post's Igor Bobic notes, the chairs for the ceremony were not even spaced out.
Updated


03:30
Little transparency, many questions as coronavirus cases mount in Washington
Within 24 hours, Trump announced he had tested positive for coronavirus, then announced he was going to be hospitalized for several days.
Key players in the government received no warning about the president's condition.
And, at a moment of deep uncertainty for the country and for the 2020 election, the Trump administration has a consistent record of making statements that are not true.
"A crisis of confidence that has been building for four years," as journalist Abby Phillip put it.

03:24
Kellyanne Conway has tested positive for Covid-19, says symptoms are 'mild'
She is the seventh person at the Rose Garden event announcing Amy Coney Barrett's nomination to the supreme court to confirm she has tested positive for coronavirus.
Updated


02:50
'I'm just not' worried about getting coronavirus, Trump told Woodward in April
New audio recording from Trump's 13 April interview with journalist Bob Woodward includes Trump explaining why, despite the risks he was taking, he was "just not" worried about getting coronavirus.
"I don't know why I'm not. I'm not," Trump said.
Updated


02:44
Vice-presidential candidates will debate while 12ft apart
Updated


02:40
11 coronavirus cases linked to presidential debate in Cleveland
Everyone agreed: the first 2020 presidential debate was a mess. And that was before it became clear that a growing number of debate attendees had been diagnosed with coronavirus.
Cleveland city officials announced earlier today that they had confirmed at least 11 cases of coronavirus connected with the presidential debate held there on Tuesday.
"In total, at this time, we are aware of 11 cases stemming from pre-debate planning and set-up, with the majority of cases occurring among out of state residents," a press release said. "At this time, though that could change, no City residents appear to have contracted the virus as a result of this event."
Ohio's Democratic state house minority leader tweeted earlier today about her frustration with the debate attendees, including members of Trump's family, who refused to wear masks.

02:19
Donald Trump Jr., Kimberly Guilfoyle say they tested negative for COVID-19
Per Fox News reporter Bill Hemmer:

02:06
Will Covid-19 diagnoses delay confirmation hearings for Amy Coney Barrett?
Ten days before a contentious and divisive supreme court Senate hearing, two GOP senators have tested positive for Covid-19
The confirmation hearings for Trump's supreme court nominee, Amy Coney Barrett, are slated to begin on 12 October. Two Republican members of the Senate judiciary committee have just been diagnosed with Covid-19. (They are among six people at a crowded White House Rose Garden ceremony for Barrett that have already tested positive for the virus.)
The Democratic Senate minority leader, Chuck Schumer, is now calling to delay the confirmation hearings for Barrett.
"It is irresponsible and dangerous to move forward with a hearing, and there is absolutely no good reason to do so," Schumer wrote on Twitter.
Huffington Post reports that the two GOP senators are instead planning to quarantine for 10 days, rather than 14, which would mean they would be out of quarantine by the beginning of the scheduled hearing.
The Senate majority leader, Mitch McConnell, wrote earlier today that the hearings should proceed despite Trump's coronavirus diagnosis.
Updated


01:49
Twitter says it will remove tweets expressing hope that Trump dies of coronavirus
The social media company said that "this does not automatically mean suspension" for users that tweet about hoping that Trump dies.

01:38
Another GOP senator at Rose Garden even for Supreme Court nominee tests positive
This brings the total number of confirmed coronavirus cases among attendees at the event to six, CNN reporter Betsy Klein notes.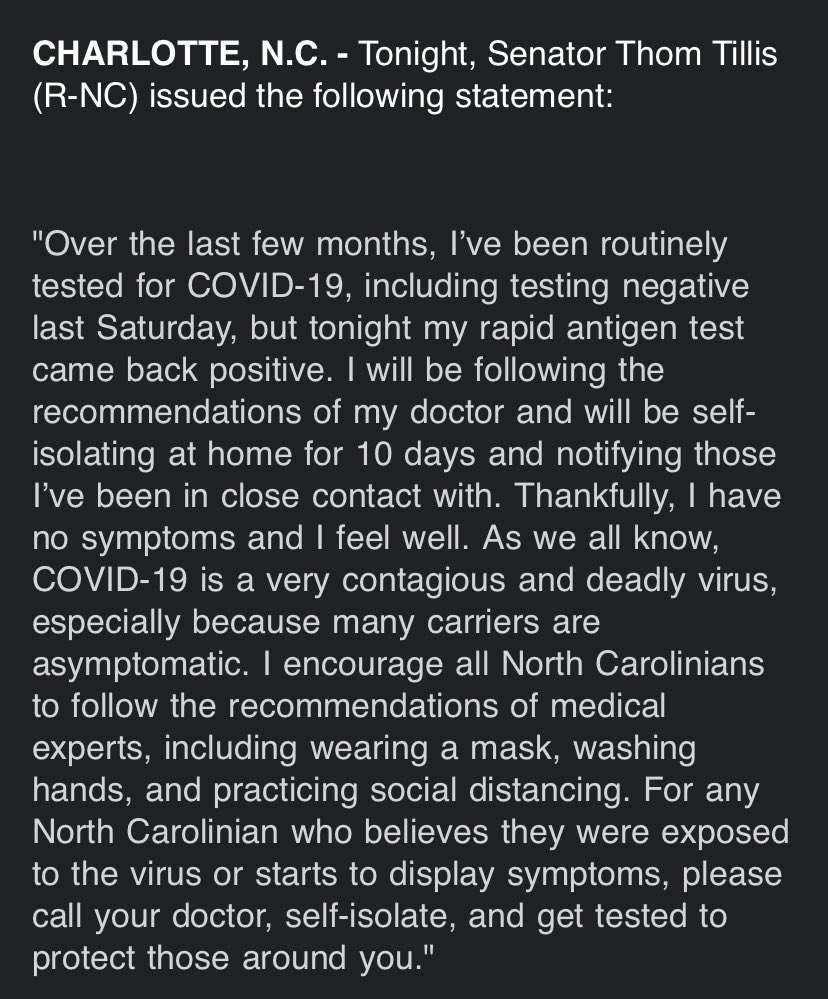 01:32
What we know and don't know about Trump's coronavirus
There are many unanswered questions surrounding Donald Trump's Covid-19 diagnosis and treatment. The Associated Press has a great breakdown of what we know about Trump's case of coronavirus, and what we still don't know.
What symptoms does he have?
The White House officially has given few details, except that he had a fever and was fatigued.
How is he being treated?
Trump's physician, Dr Sean Conley, said Friday doctors were providing Trump with an experimental antibody cocktail; vitamin D; famotidine, which is typically used to treat heartburn and acid reflux; the sleep aid melatonin; and an aspirin.
And while he said initially that Trump planned to stay at the White House, the White House announced late Friday afternoon Trump instead would be working from "presidential offices" at Walter Reed.
When did Trump know he had been exposed?
That question is important to answering whether the president continued his campaign events and other activities despite knowing he might be infecting others, and to knowing whether the White House was adequately transparent about Trump's illness.
White House officials say they learned of adviser Hope Hicks' positive test results for the coronavirus Thursday, after Trump boarded the Marine One helicopter for a private fundraiser in New Jersey. But Trump went ahead with the trip and the fundraiser. He told Fox News that evening he was being tested.
Just before 1am Friday, he tweeted that he and the first lady, Melania Trump, had tested positive.
Who infected Trump?
We don't know, although there's no shortage of possible suspects. Trump, who typically shuns masks, was around hundreds if not thousands of people this week, traveling to a campaign rally, his golf club, the presidential debate, fundraisers and meetings with people involved in his nomination of Amy Coney Barrett to the supreme court.
Hicks, one of Trump's closest advisers, fell ill with the coronavirus Wednesday while accompanying Trump to a fundraiser in Minnesota, officials say. It's not clear if her case is related to the president's. And Senator Mike Lee, a Utah Republican who was at the White House last weekend, announced Friday he had tested positive.
The White House medical unit is slated to trace the president's contacts.
Updated


01:25
Trump will keep running negative campaign ads against Biden
While Joe Biden is going to stop running negative campaign ads after Trump has been diagnosed with coronavirus, the Trump campaign has confirmed that they are not going to pause their attack ads against Biden.
Get the latest news and advice on COVID-19, direct from the experts in your inbox. Join hundreds of thousands who trust experts by subscribing to our newsletter.
Send your news and stories to us news@climaxradio.co.uk or newstories@climaxnewsroom.com and WhatsApp: +447747873668.
Before you go...
Democratic norms are being stress-tested all over the world, and the past few years have thrown up all kinds of questions we didn't know needed clarifying – how long is too long for a parliamentary prorogation? How far should politicians be allowed to intervene in court cases? To monitor these issues as closely as we have in the past we need your support, so please consider donating to The Climax News Room.