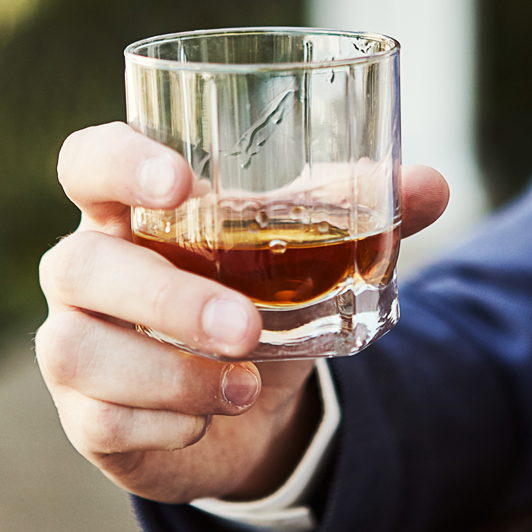 Courtesy of Bacardi/Getty Images/Courtesy of Flor de Caña
From mojitos to mai tais to daiquiris, rum is well-regarded as a boozy base for a wide range of delicious cocktails. But unlike bourbon, scotch, or even tequila, rum isn't given nearly enough respect for its ability to stand on its own. While you might be more used to dumping a bottle of the cheap stuff into a sugary, pre-made mix and parking it poolside, there are a bunch of top-notch sipping rums worth adding to your liquor cabinet or home bar.
Rum is made by fermenting then distilling molasses, a by-product of the sugar refining process, which is then aged, usually in oak barrels. Much like other brown liquors, the smoothest rums rely on a combination of craftsmanship and patience. Rum comes in a variety of grades, with lighter rums in general being more suitable for cocktails, while golden and dark rums are more amenable on the rocks or straight. However, there are rums across the color and aging spectrum that are great for sipping. A more inexperienced palate might taste rum and go, "Yup, tastes like rum." But the more rums you taste, the more you'll notice subtle citrus, fruit, caramel, vanilla, or other notes that come from the aging process and give individual rums their distinctive character.
In order to throw together this list, we consulted with spirits expert and master bartender Shannon Mustipher, the author of Tiki: Modern Tropical Cocktails, who graciously shared some of her favorites. Whether you're shopping for a top-shelf rum or just want to find an affordable rum you can enjoy neat, here's our rundown of best sipping rums:
Appleton Estate 12-Year
BUY IT HERE
Founded in 1745, Appleton Estate is the oldest sugar estate and longest running distiller in Jamaica. This aged rum has a lower ester content than other Jamaican rums, meaning it's a little less funky and a little more universally appealing. You'll notice a slight bite at the end, but there's mango and banana on the nose and coffee and toffee with the finish. Mustipher is a fan of the newly updated packaging, which pays homage to its distinctively curvy original shape, while still giving it a little more visual stature on the shelf.
Flor de Caña 25 Year Rum
BUY IT HERE
Best Rum Under $200
This higher-end rum from Nicaragua is a favorite sipper for its unbelievable smoothness, balanced notes, and full body. Produced by a 5th-generation family estate, it's naturally aged without artificial ingredients and distilled 100% with renewable energy. Honestly, you're wasting this ultra premium aged rum by drinking it any way except straight or with a rock. Wood and caramel notes make this a great after-dinner drink, especially when paired with a rich dark chocolate.
Ron Colon Salvadoreño Dark Aged Rum
BUY IT HERE
"With a good amount of time (and bottles) under my tasting belt, it takes a lot for rum to take me by surprise," Mustipher says. "Ron Colon does this in a way that I have not experienced in a good while." This rum from El Salvador is higher-proof at 55.5% ABV, which is crucial the intensity of its flavor. Mustipher notes that there's a common misconception that higher-proof rums are strong and harsh. "Nothing could be farther from the truth here," Mustipher says. She notes that this rum's brilliance lies in a combination of its blend of three high-ester pot still rums, which are added to bring aroma, tropical fruit, body, and substance to the bottle. "Add to this the long, tannic finish, and you're in the money," Mustipher says.
Santa Teresa 1796
BUY IT HERE
Best Rum Under $50
This Venezuelan rum was first produced in 1996 to commemorate the 200th anniversary of the establishment of Santa Teresa Hacienda, its namesake distillery. It's made using the solera system, an aging method that originates from Spanish sherry, but that has been used for aging other liquids like wine, balsamic vinegar, and—yes—rum. Fans of 1796 appreciate honey, butterscotch, and toffee notes on the nose, with a light, lingering spice on the finish, but minimal burn. Given its price-point, Santa Teresa 1796 is considered one of the more underrated sipping rums you can buy for under $50.
Clairin Le Rocher
BUY IT HERE
Looking for something delightfully different? This agricole imported by Velier, an Italian importer of rare and limited release rums that places an emphasis on traditional distillers and methods of production. "On the nose, Rocher offers aromas of fresh cut sawgrass mingled with tropical fruit," says Mustipher. Its finish is replete with an almost chipotle smokiness and citrus brine. While it's perfectly enjoyed neat, whenever Mustipher is in the market for a bold, funky daiquiri, this is her go-to.
Bacardí Gran Reserva Diez
BUY IT HERE
You'll probably recognize the brand name, but there's a good chance you haven't sampled the world's largest privately held spirits company's more premium offerings. This dark gold rum is aged for 10 years in charred, white oak barrels, producing bright notes of stone fruits, banana, and pear and balanced with caramelized vanilla. There's also a Gran Reserva Ocho (which is aged for eight years) that's slightly less expensive, but still a good sipper.
Avuá Bálsamo Cachaça
BUY IT HERE
"Given that the majority of cachaças known to consumers are non-aged, this one may very well surprise you: It has a soft, mellow mouthfeel, and warm, balsam and spice accompanied by hints of vanilla," says Mustipher. It's her pick for someone who enjoys whiskey, as there's some overlap in the flavors, but there's an added intrigue of cachaça's "funky and floral" notes to boot. We should also point out that it comes in a really beautiful bottle.
Zaya Gran Reserva Rum
BUY IT HERE
This dark rum hails from Trinidad & Tobago and distilled molasses in a five-column still. After, this blend of rare rums is aged for 16 years in used whiskey and bourbon barrels. Vanilla, coffee, and chocolate notes dominate and the finish is on the smokier end of the spectrum. If you prefer a sipping rum that's slightly sweeter, you should go with this Zaya Gran Reserva Rum blend. Bonus tip: Pair it with a full-bodied cigar.
Barbancourt Rhum Blanc
BUY IT HERE
Best Rum Under $30
You're more likely see to darker rums recommended for sipping, but Mustipher singles out this white rum as one that's worth drinking neat. "In Haiti, Barbancourt is so woven into the fabric of drinking culture that it easily qualifies as a national treasure. It's easy to see why," Mustipher says. This light, clean, approachable rum is distilled using a centuries-old tradition that grew from the French methods of creating cognac. While we recommended at least trying it neat, Mustipher also encourages you to mix this young rum into a local Haitian favorite, the Planteur, a Planter's Punch with guava juice.
Novo Fogo Barrel-Aged Cachaça
BUY IT HERE
What's the difference between cachaça and rum? While rum is typically made from molasses, cachaça is made from freshly pressed sugarcane juice. This distinctly Brazilian spirit gives you banana bread on the nose and black pepper on the finish. It's tasty enjoyed on its own, but you should also consider mixing cachaça with sugar and lime to make a refreshing caipirinha, Brazil's national cocktail.
Panamá-Pacific 23 Year-Old
BUY IT HERE
Mustipher reports that this is blended by a selection of rums by Don Pancho, a former Minister of Rum (yes, this is a real job) in Cuba and is inspired by the rums he enjoyed as a young man before the revolution. It's first aged in American Oak for three years before it's transferred to Tennessee and Canadian rye whiskey barrels to mature for 20 more years. Patience makes perfect. "The result: an elegant spirit that is smooth and achieves a balance between a round, creamy body with a light, supple mouthfeel," Mustipher says. "Vanilla and honey are tempered by oak and subtle spice."
Cutwater Three Sheets Barrel Aged Rum
BUY IT HERE
We're big fans of Cutwater Spirits' canned cocktails, which we've given high marks in the past thanks in part to the San Diego producer's prowess as a distillery first and foremost. While some other canned cocktails use industrial alcohol, Cutwater distills its own spirits, and you can taste the difference. If you're more of a whiskey drinker, this is an excellent starting point for a transition to rum. There's some heat on the nose, but it's smoother on the finish, with some roasted caramel notes tucked in there.
Hamilton St. Lucia 2004
BUY IT HERE
Ed Hamilton is an icon in the world of rum and editor of the Ministry of Rum blog. He sourced this rum, which Mustipher calls, "a stunner that, when tasted blind, could easily pass for a highland scotch." You might have to be a little diligent to actually track down a bottle since they're somewhat rare—Mustipher suggests looking at a big box store where buyers will often tack on to their big orders of mass-produced products a few "gem" bottles" for the more astute rum aficionado. In terms of sipping, Mustipher points out the delicate fruit and floral aromas on the nose that give way to a bright, racy palate. Plus, dry, peppery notes of ash turn into salt taffy and burnt licorice. You're bound to enjoy this bottle's long, satisfying finish. "This is the bottle I reach for when I want to realize that I am a fortunate soul indeed," Mustipher says.
Spencer Dukoff
Deputy Editor of Content Strategy
Spencer Dukoff is the deputy editor of content strategy at Men's Health where leads audience development efforts across all platforms for the magazine.
This content is created and maintained by a third party, and imported onto this page to help users provide their email addresses. You may be able to find more information about this and similar content at piano.io
Get the latest news and advice on COVID-19, direct from the experts in your inbox. Join hundreds of thousands who trust experts by subscribing to our newsletter.
Send your news and stories to us news@climaxradio.co.uk or newstories@climaxnewsroom.com and WhatsApp: +447747873668.
Before you go...
Democratic norms are being stress-tested all over the world, and the past few years have thrown up all kinds of questions we didn't know needed clarifying – how long is too long for a parliamentary prorogation? How far should politicians be allowed to intervene in court cases? To monitor these issues as closely as we have in the past we need your support, so please consider donating to The Climax News Room.