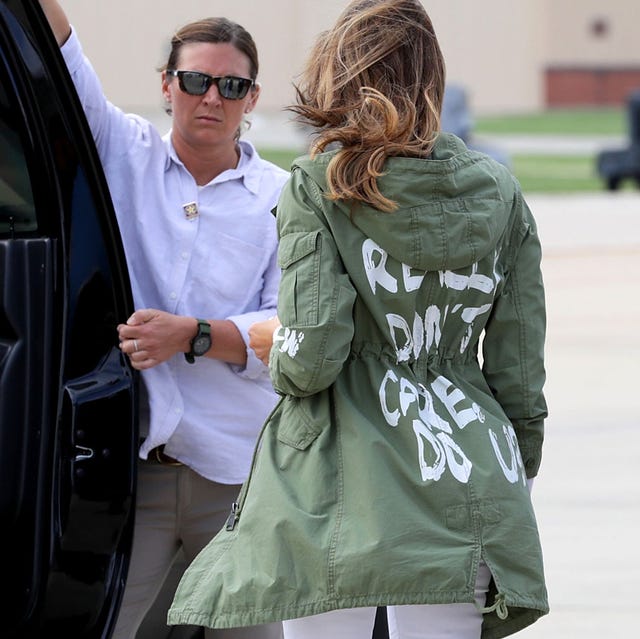 Getty Images
We have celebrities to thank for a lot of major fashion trends, both past and present. But for every "win" in the This Is Going To Be Something People Copy column, there's a handful of bold boundary-pushing looks that miss the mark. Some were downright signs of cultural appropriation while others toed the line from being too scandalous to actually kind of cool. Here, 65 star style moments that have inspired debate over the years.
Joy Villa at the 2019 Grammys
Villa made a name for herself by wearing outfits in support of the Trump administration to red carpet events. Aside from wearing a dress that said "Make America Great Again" to the Grammys, she also wore this one that said "Build the Wall" in 2019. If people thought she was joking or being sarcastic, you can see her pro-MAGA Instagram posts here.
Serena Williams at the French Open in 2018
The tennis star made headlines when she wore a catsuit to French Open, with many praising the athlete for the sporty look. But things took a dramatic turn when The French Tennis Federation president, Bernard Giudicelli, decided to ban the one-piece from future tournaments. Williams, and other celebrities, did not take this news lying down
Melania Trump's Jacket in 2018
For a surprise trip to Texas to visit facilities that housed migrant children, Melania wore this jacket that read, "I Really Don't Care, Do U?" Despite all the speculations that unfolded after she wore this, Melania told ABC News that she wore the outerwear "for the people and for the left-wing media who are criticizing me. And I want to show them that I don't care."
Sharon Stone at the Oscars in 1998
Before high-low became a trend in fashion, there was Sharon Stone. In 1998, the actress wore a white button-up from Gap with a Vera Wang skirt to the Oscars. Media outlets called out this surprising fact in stories and Stone broke all the rules of red carpet dressing in the best possible way.
Kanye West at the White House in 2018
The singer met with President Donald Trump at the White House in 2018 to discuss numerous issues from North Korea to bipolar disorder. West wore the controversial "Make America Great Again" hat and said he felt like a superhero in it. "I love this guy right here," said West after the meeting. His support for Trump has been well-documented and friends like John Legend have chastised the singer for doing so.
Scarlett Johansson at the Met Gala in 2018
Scarlett Johansson was the first major celebrity to wear Marchesa since the Harvey Weinstein scandal. (Georgina Chapman was married to Weinstein, and celebrities had revealed he would pressure them to wear his then wife's creations.) In a statement to the Cut, Johansson said of her decision, "I wore Marchesa because their clothes make women feel confident and beautiful and it is my pleasure to support a brand created by two incredibly talented and important female designers."
Angelina Jolie and Billy Bob Thornton's Blood Necklaces
Who could ever forget the duo wearing each other's blood as a symbol of their love? In a 2008 story to Entertainment Weekly, Jolie clarified the sensationalized news, saying, "It was like a flower press. It was like from a slight cut on your finger and you press your fingerprint in. It was kind of a sweet gesture. I thought it was kind of romantic!" There were also no "blood vials" as reported by the media. So then, a prick seems harmless…right?
Ellie Goulding's Halloween Costume in 2014
Dressing up as a Native American should not be anyone's choice for a costume, ever. The singer received backlash for her outfit, which she captioned "Chief" in a now-deleted Instagram post, from fans who called her racist and insensitive.
Hilary Duff and Jason Walsh in 2016
Another party, another Native American costume. The duo attended a Halloween gathering as a pilgrim and a Native American. Once photos were released, the duo of course got called out for their insensitive outfits. "I am SO sorry to people I offended with my costume. It was not properly thought through and I am truly sorry," Duff wrote on Twitter.
Harry Hamlin as Sid Vicious in 2015
The couple dressed as Sid Vicious and Nancy Spungen for the Casamigos tequila Halloween party. Rinna's husband Harry took things a bit too far for fans when he wore a red tee with a swastika on it. Rinna later took to Instagram to apologize for the incident.
Lizzy Gardiner at the Oscars in 1995
The costume designer outdid herself when she wore this American Express card dress to the Oscars. To create the look, 254 expired cards were used. We have so many questions. Was it heavy? How did she sit down? Did the cards bend? And…why?
Britney Spears' 2001 VMAs Outfit
One of the most iconic and wild moments that ever happened on the VMAs stage (pre-Miley twerk if you will) was Britney in this outfit with a snake for her "Slave 4 U" performance in 2001. The look has since been recreated by everyone for Halloween to themed parties and is 100 percent unforgettable.
Lady Gaga at the 2010 MTV Video Awards
Gaga's meat ensemble sparked extreme controversy in the animal rights community. "No matter how beautifully it is presented, flesh from a tortured animal is flesh from a tortured animal," said PETA president Ingrid Newkirk. "Meat represents bloody violence and suffering, so if that's the look they were going for, they achieved it."
Janet Jackson and Justin Timberlake at the 2004 Super Bowl
The infamous half-time moment—which left Janet exposed—sparked a huge controversy, as many people were torn over whether or not the incident was accidental or intentional.
Lady Gaga at London Fashion Week in 2012
The singer offended many in the Muslim community when she walked down the London runway in a burqa. The Atlantic covered the controversy, calling her outfit choice "cultural thievery."
Katy Perry at the 2017 Met Gala
Nas and Kelis at the 2008 Grammy Awards
This sparked a major backlash for pretty obvious reasons.
Katy Perry Performing at the 2013 AMA's
Katy's AMA received major criticism for wearing a kimono. Some were shocked at the "racist" ensemble, and others were totally unsurprised. One Twitter user wrote, "Loved the cultural authenticity of Katy Perry's #AMAs performance. She nailed the traditionally ignorant costume of a white pop singer." She later apologized.
Josephine Baker Performing in 1928 at the Theater des Westens in Berlin
In 1928, this costume was extremely controversial, given that it was in such contrast to the outfits women were expected to wear. Some people credit this controversial costume for transforming American culture, saying she "radically redefined notions of race and gender through style and performance in a way that continues to echo throughout fashion and music today, from Prada to Beyoncé."
Madonna at the 1984 MTV Awards
Before Madonna had really gained her notoriety for testing the limits of fashion, this look for her "Like a Virgin" music video was an extremely hot topic.
Very few people liked this suit given its "cheap looking CGI and off-putting tone of the color scheme."
Beyoncé in the video for "Hymn for the Weekend"
Beyoncé and Coldplay set their music video for "Hymn for the Weekend" in India and were accused of cultural appropriation, and criticized for an inaccurate portrayal of the country. One Twitter user wrote in response [sic], "i dont even know what to say about this coldplay video except can white rock bands please stop filming holi videos in india, thank you."
Paris Hilton and Nicky Hilton Rothschild at the Tequila Casamigos Halloween Party in 2015
Paris and Nicky were slammed for culturally appropriated Halloween costumes.
Karen Gillan in 'Jumanji: Welcome to the Jungle'
When the trailer was released for the upcoming film Jumanji: Welcome to the Jungle, many people were taken aback by Karen's costume. Her costume was criticized for sexualizing the actress: "Maybe part of the plot involves setting the gender equality fight back 20 years?" and for looking like it belonged to a child, "Ruby lost all of her clothing and had to rob a Baby Gap."
Gwyneth Paltrow at the 1999 Academy Awards
Many people thought this dress was "ill-fitting and overly quixotic." Stacy London conveyed this general opinion when she said, "I hated Gwyneth Paltrow's pink Oscar dress."
Heidi Klum and Seal at their 2008 Halloween Party
This extremely elaborate Halloween costume was deemed offensive by some.
Farrah Fawcett at the 2003 Vanity Fair Oscar Party
Many people thought this dress was extremely disrespectful, as the American flag is traditionally not supposed to touch the ground. This dress is cited in the article titled, "It's a grand old flag, but it isn't a rag — how about a little respect?"
Kylie Jenner in 2016
Kylie Jenner was criticized for sporting a du-rag as a fashion accessory.
Rebel Wilson in Pitch Perfect 3
After the release of the Pitch Perfect 3 trailer, fans were not happy that Wilson was dressed in a different shirt, accusing the movie of size discrimination. One user commented, "Your top should be the same. We all know you are the most delicious chick there."
Miley Cyrus at the 2015 VMAs
Miley Cyrus' performance came under fire when it became clear she didn't get proper licensing from Discount Universe. The brand responded to the performance, "We're obviously distraught."
Get the latest news and advice on COVID-19, direct from the experts in your inbox. Join hundreds of thousands who trust experts by subscribing to our newsletter.
Send your news and stories to us news@climaxradio.co.uk or newstories@climaxnewsroom.com and WhatsApp: +447747873668.
Before you go...
Democratic norms are being stress-tested all over the world, and the past few years have thrown up all kinds of questions we didn't know needed clarifying – how long is too long for a parliamentary prorogation? How far should politicians be allowed to intervene in court cases? To monitor these issues as closely as we have in the past we need your support, so please consider donating to The Climax News Room.