Everyone has that one person they can call on when the going gets tough. And though celebrities typically have countless people wanting to be their BFF, many of them already have one. Sometimes it's a fellow celeb who understands what it's like to be in the limelight. From Taylor Swift and Selena Gomez's long-lasting friendship to Snoop Dogg and Martha Stewart's unlikely pairing, here are the most iconic celebrity friendships.
Nicole Kidman and Naomi Watts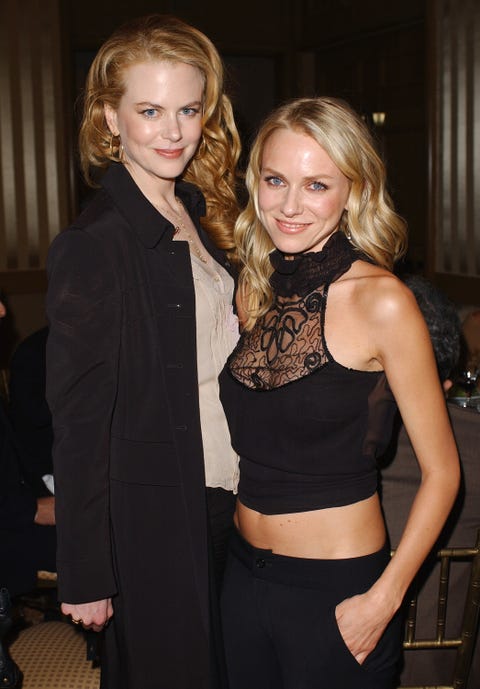 "We've gone through a lot together over a significant amount of time. That history binds you. We have a strong respect and love for one another." — Naomi Watts, People

"Naomi Watts and I are very, very good friends and have maintained that through so many things. I think that's really rare, particularly for actresses, and I take a lot of pride in that." — Nicole Kidman, Telegraph
Salma Hayek Pinault and Penélope Cruz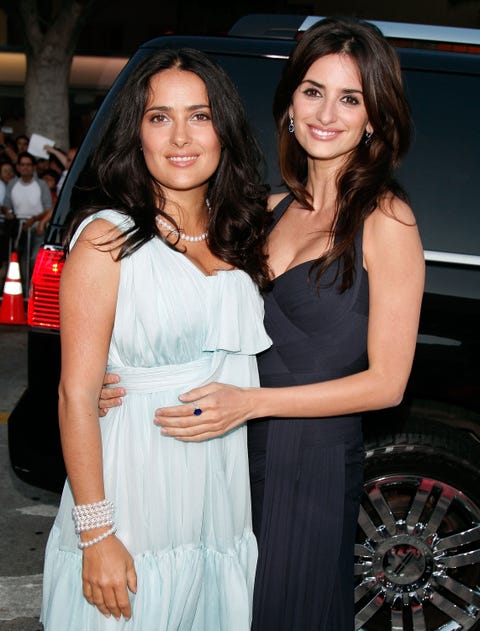 "Penélope is a motherly creature, a warrior by nature. I told her that little boy [her son Leo] is the luckiest boy in the world." — Selma Hayek, Vogue

"She's one of my best friends. We call each other huevos [eggs]. It was because when we were working together, we didn't have children yet, so we used to sleep much more than now. So it was a way to call each other lazy." — Penélope Cruz, Allure
Kate Hudson and Liv Tyler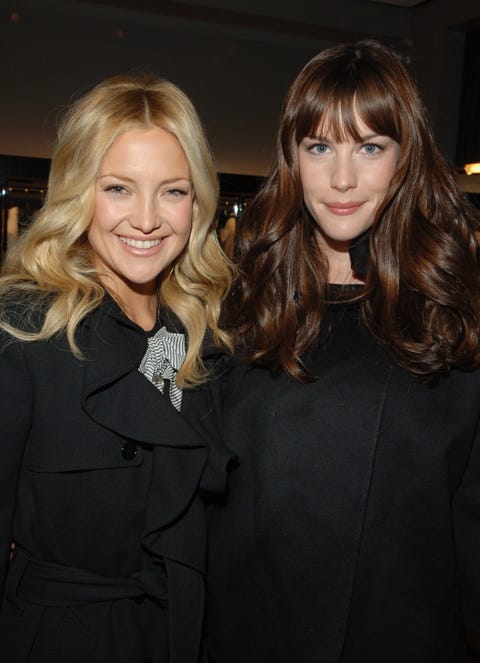 In the '90s, Hudson and Tyler went to school together at Crossroads School For Arts and Sciences in Santa Monica, California. The two connected over both having famous parents—Hudson's mom is Goldie Hawn, while Tyler's dad is Steven Tyler from Aerosmith. The families are so close that Hudson often calls Steven "Papa Tyler."
Ben Affleck and Matt Damon
"We grew up together….We were both in love with the same thing—acting and filmmaking. I think we fed on each other's obsession during really formative, important years and that bonded us for life." — Matt Damon, Entertainment Tonight
"I can't tell you how valuable it is to have somebody who's been through things with you, ups and downs, who knows what your life experience is like, who can identify with that. It's an incredibly valuable friendship and it's very precious." — Ben Affleck, Entertainment Tonight
Jada Pinkett Smith and Queen Latifah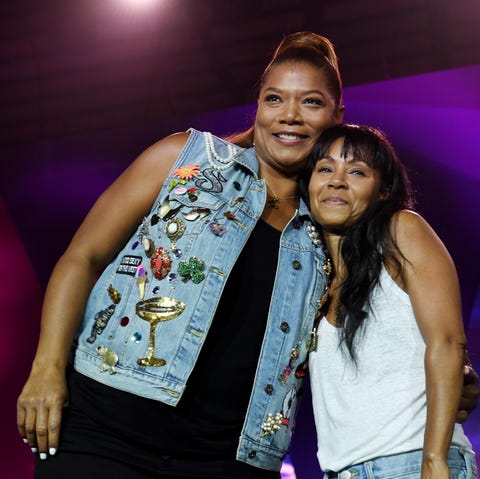 "I remember the first time I met her. It was in Baltimore at a club where she was performing. I'd never seen anyone like her before, this female rapper named Queen Latifah. I convinced the promoter to let me introduce her." — Jada Pinkett Smith, People

"Jada and I can have whole conversations where we haven't really said anything, but we've said a lot." — Queen Latifah, People
Kristen Stewart and Charlize Theron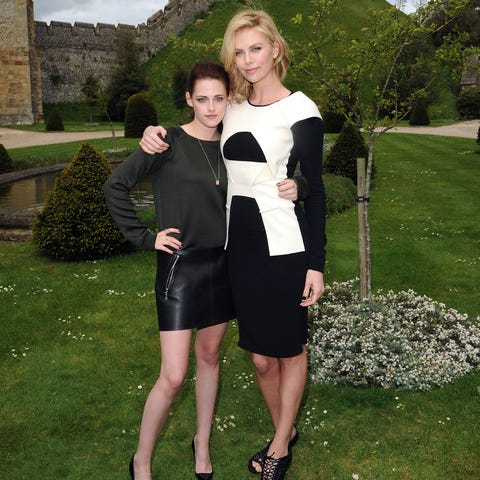 "It happened within the first five minutes of meeting her. We were on a plane going to San Diego, for ComicCon, and I just fell in love with her." — Charlize Theron, Celebuzz
Cameron Diaz and Drew Barrymore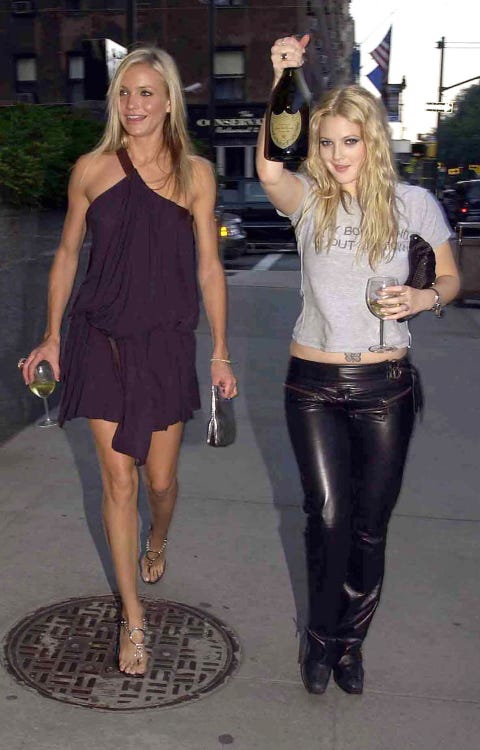 "She was 16 and I was 14 when we became friends. We were both LA kids. I worked in a coffeehouse, and she was a model. I served her a coffee, and we had mutual friends, and we just knew each other from around town. I will say this about her — she was always kind. Someone who looks like that, they could have an attitude, and she was the opposite. She was friendly and goofy and really nice." —Drew Barrymore, The Katie Couric Show

"She has the most amazing heart. She is one of my closest girlfriends, but the way she loves the people around her is really special. She is so giving of herself and so accepting of others. She has created this community for herself. She didn't really have a strong family, so friends are her family. She really loves on that level of just unconditional love. And her friends around her love her in that way as well. She is one big heart, Drew! She doesn't even wear it on her sleeve; it's like she is just a heart." — Cameron Diaz, InStyle
Tobey Maguire and Leonardo DiCaprio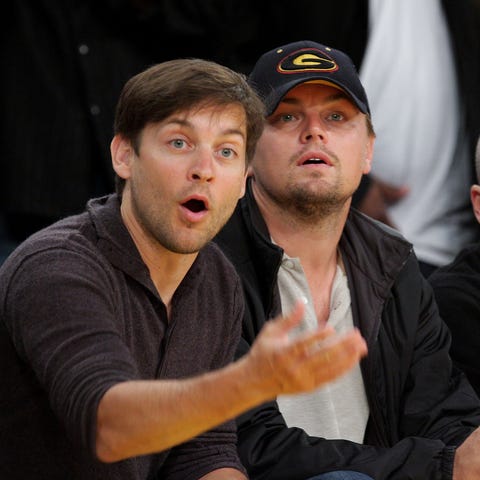 "Leo and I have a lot of trust and respect for each other. We have a close friendship and I definitely have an affection for Leo." — Tobey Maguire, People

"Every project we do, we talk about. Every single choice I've made, I've talked to Tobey about and vice versa. We've had endless conversations about certain projects and argued with one another and supported one another along the way." — Leonardo DiCaprio, Associated Press
Rihanna and Cara Delevingne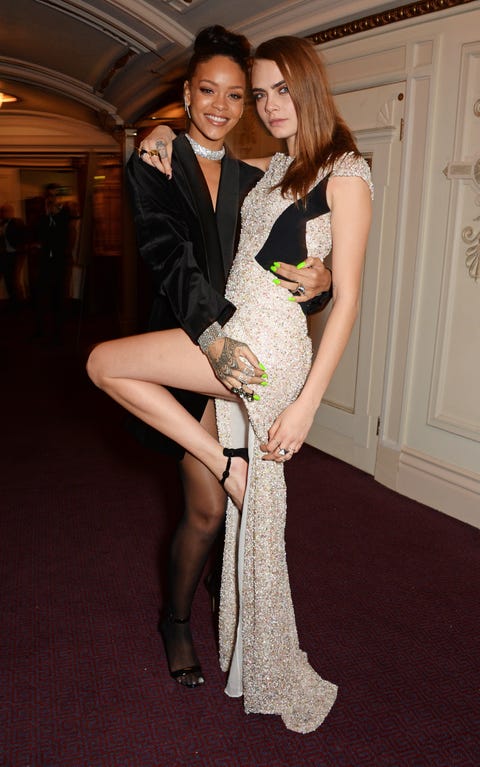 "I went up to her and was like, 'Maaam, you are so amazing, I love you, you look so hot out there performing. You put us all to shame.' Then I slapped her on the bum." — Cara Delevingne, Grazia Daily
Snoop Dogg and Martha Stewart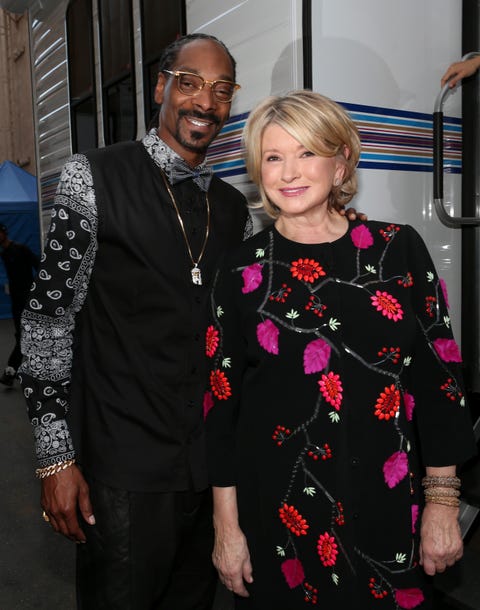 "I love Martha—like, I love her for real. She's the big sister I never had. Being able to correct me, to teach me, to show me how to be better, to give me something to aspire to be." — Snoop Dogg, Martha Stewart

"I like his laid-back energy—I like his outspokenness, I like his sense of timing, and I really enjoy to watch him cook." — Martha Stewart, Martha Stewart
Sofía Vergara and Reese Witherspoon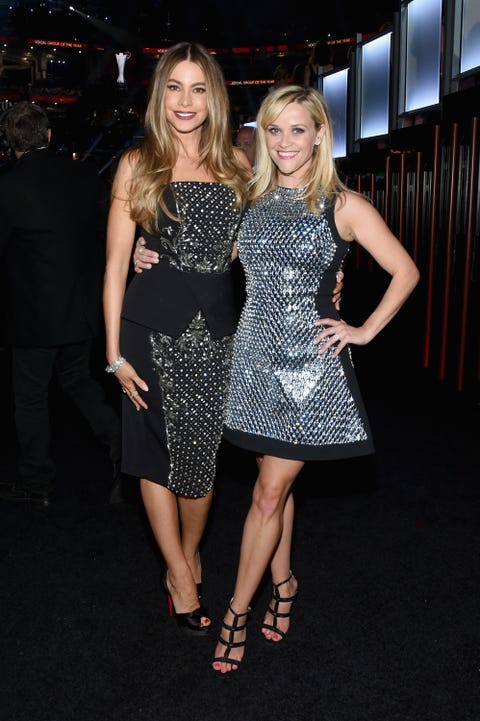 When the two actresses both secured lead roles in Hot Pursuit, they quickly became inseparable. "I liked her from the moment I saw her," Vergara told E! News. Shortly after, the duo took their friendship offscreen. Together, the pair has taken Latin dance classes, tried Colombian coffee, and even traveled with each other for work.
Emma Roberts and Lea Michele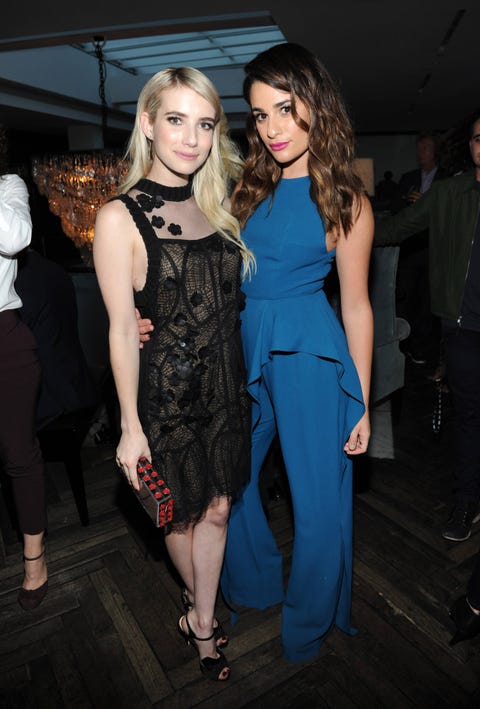 "Happy Birthday to the best friend a girl could ask for…I love you Emma. There is no one I laugh harder, I would rather call in the middle of the night or blast the Wreckers with all day…thank you for always being there for me. Love you so much." — Lea Michele, via Instagram
Chrissy Teigen and Kim Kardashian West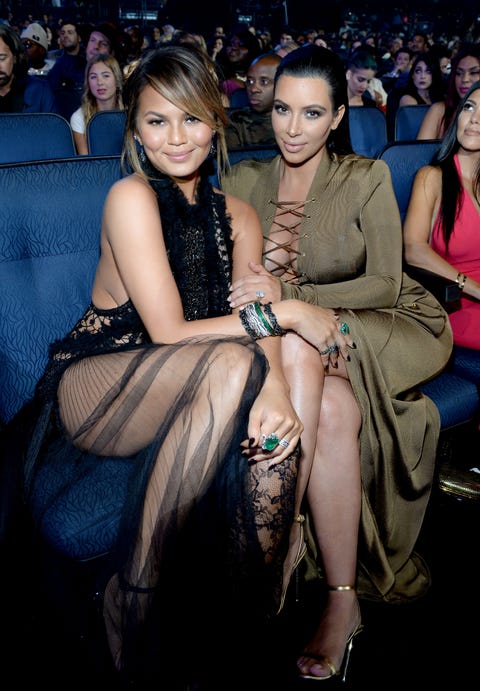 "I remember this because I was so nervous to meet you. I don't know. I'd been watching. I knew all about you. I felt kind of like a weirdo…You made me feel so much better because we went to the bathroom and you had me zip you up. [I was like] 'Oh my gosh! She has Spanx on. She's cool. She's normal.'" — Chrissy Teigen on meeting Kim for the first time, Bustle
Selena Gomez and Taylor Swift

"Taylor has such a beautiful way of bringing people together. That was good for me, because the more I started working, the more uncomfortable I was. I wouldn't trust people, and Taylor has a way of stripping down everything and just getting down to being human. I love that." — Selena Gomez, Flare Magazine

"It's been the longest [friendship] I think either of us had really….longevity is something you really can find very precious and rare in friendships." — Taylor Swfit, E! News
Kendall Jenner and Gigi Hadid
"Gigi is the best girlfriend a KenGi could ask for." — Kendall Jenner, Twitter

"She's just really helpful, but she's also the most low maintenance person and that's what I really respect about her. When you ask her a question or for advice, it's always going to be, 'Just let it happen, just let it go and, you know, be cool about it,' and that's always her thing." — Gigi Hadid, Access Online
Ashley Tisdale and Vanessa Hudgens
"I'm a loyal person. She's one of those girlfriends who will be my forever friend." — Vanessa Hudgens, Teen Vogue

"Me and Vanessa really have a special friendship. I could be anywhere and she could be doing a movie somewhere else, and nothing ever changes. It's like time hasn't even passed. Also I could call her whenever I'm anywhere all over the world. She's just always there." — Ashley Tisdale, Popstar
Oprah Winfrey and Gayle King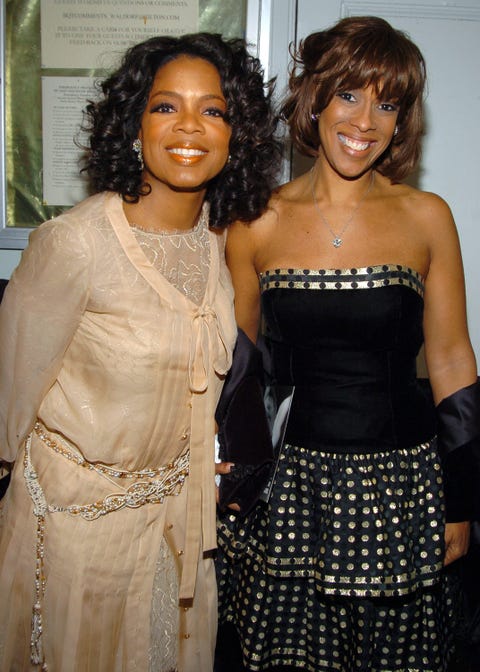 "I understand why people think we're gay. There isn't a definition in our culture for this kind of bond between women. So I get why people have to label it—how can you be this close without it being sexual? How else can you explain a level of intimacy where someone always loves you, always respects you, admires you, wants the best for you, wants the best for you in every single situation of your life, lifts you up, supports you always? That's an incredibly rare thing between even the closest of friends." — Oprah Winfrey, Oprah Magazine
Kristen Stewart and Dakota Fanning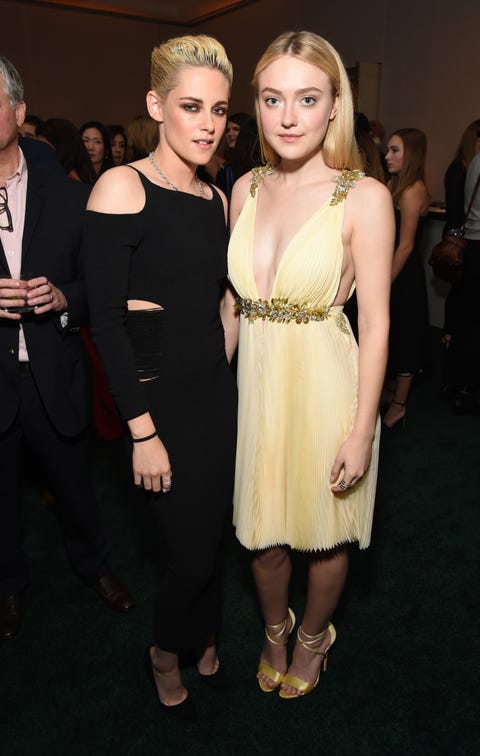 "I can honestly say that my friendship with Kristen is one of the most special bonds in my life." — Dakota Fanning, ELLE's Women in Hollywood Awards, 2016
Nina Dobrev and Julianne Hough
"She is beautiful. It's hard to find anything that's not perfect about Julianne." — Nina Dobrev, Access

"We just keep it real. We always have fun. It's fun to do things that keep you out of your comfort zone. We're very spontaneous when we're together." — Julianne Hough, PopSugar
Tina Fey and Amy Poehler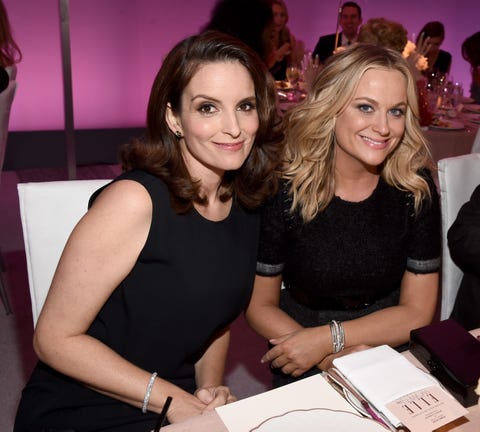 "People think of us as a 'comedy team' and I am not quick to correct them. Why wouldn't I want to connect myself to the fiercest and most talented voice in the comedy world?" — Amy Poehler, Yes Please

"She's fearless. Not only is she not afraid to look silly, she's not afraid to let you throw her in the air like a basketball and catch her." — Tina Fey, People
Ashley Benson and Shay Mitchell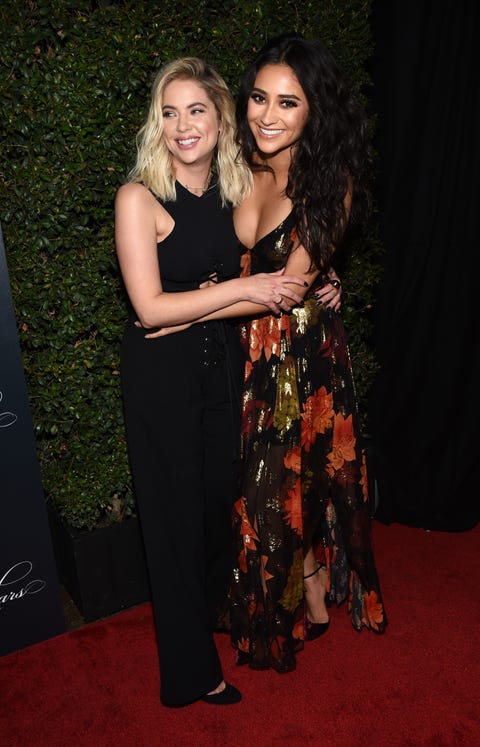 The on and offscreen BFFs met while they were filming their hit show, Pretty Little Liars. Since the show's premiere nine years ago, the two have managed to stay in touch despite busy schedules, often going on vacations with each other, attending Coachella, and creating their own unique friendship name, #buttahbenzo.
Michelle Williams and Busy Philipps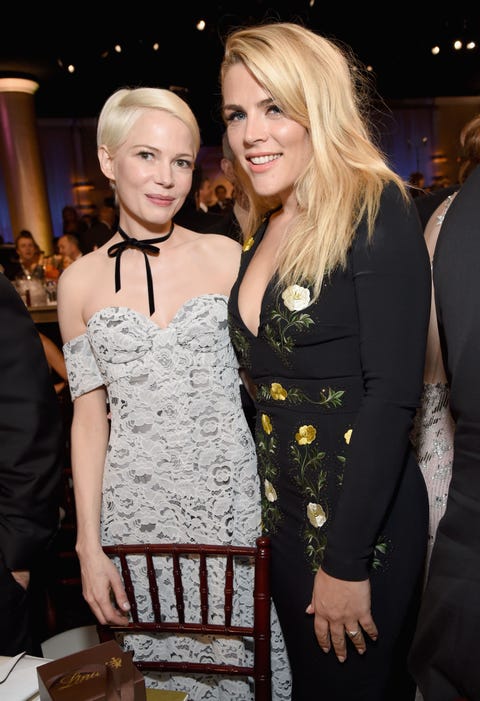 "It's important to have strong, supportive women in your life whatever you do. I'm glad I can be there for her and she's always there for me." — Busy Philipps, Hollywire

"I'm so in love with her. She's proof that the love of your life does not have to be a man! That's the love of my life right there." — Michelle Williams, People
America Ferrera, Amber Tamblyn, Blake Lively, and Alexis Bledel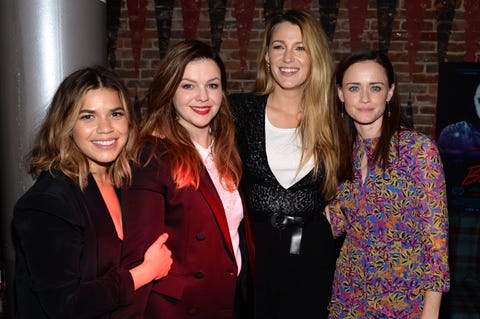 "If something is hard, and I need to get through—when I have doubts, when I get tired, when I feel like I just can't do it today—I look up, and there's my friend using her voice, there's my friend breaking boundaries, there's my friend doing something that terrifies her. It helps me keep going." — America Ferrera, Makers
Emma Stone and Jennifer Lawrence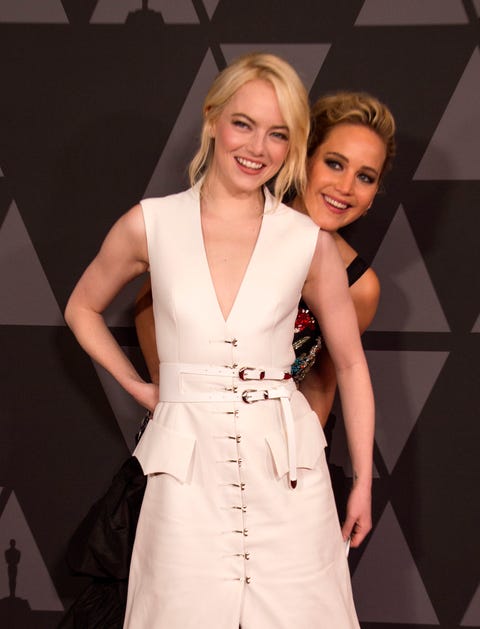 "I love Emma. She cracks me up; she's so 'theater.' She's adorable." — Jennifer Lawrence, Glamour

"We both really do love each other and care about each other as people, beyond being actors. I support her completely when it comes to work and I feel the same from her, but I know we'd be friends even if we didn't do the same job." — Emma Stone, Vanity Fair
Eva Longoria and Victoria Beckham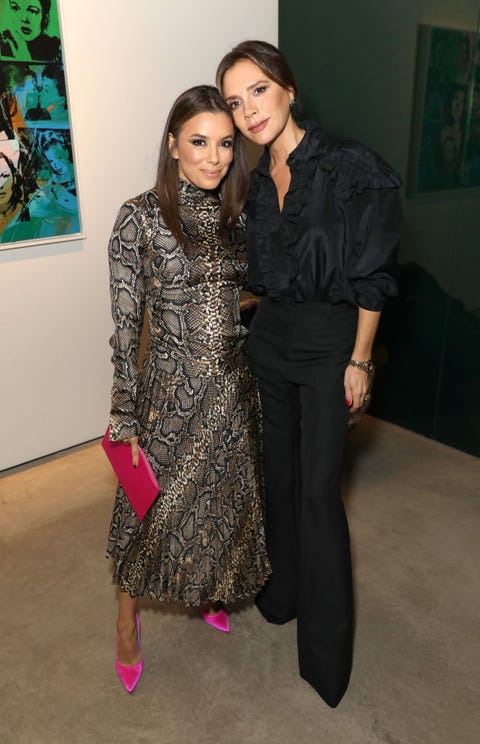 "Eva Longoria, I couldn't be more inspired by you. When women support each other, we accomplish amazing things. Celebrate the women who lean in together with you." — Victoria Beckham, via Instagram

"She has such a platform, such a voice, she's really the kindest, sweetest, most loyal human being you can have in your life." — Eva Longoria, This Morning
Courteney Cox and Jennifer Aniston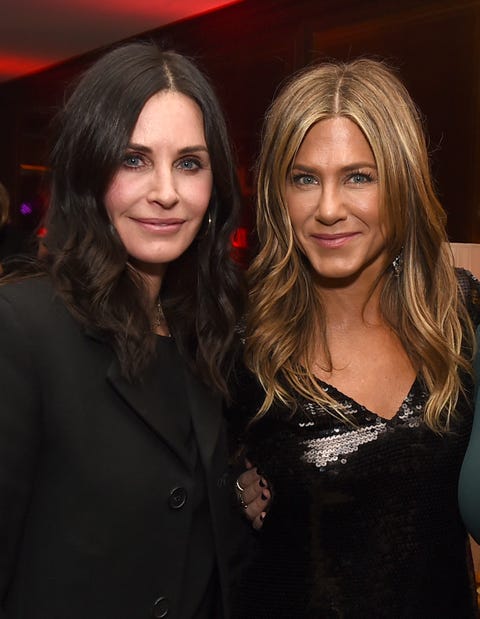 "We just have fun, we laugh, we're inseparable and it's great. Jennifer has been amazing for sure." — Courteney Cox, Access

"There's absolutely no judgment in Court. You'll never feel scolded. She's extremely fair, ridiculously loyal, and fiercely loving…Without giving away too much of my private stuff, all I can say is she's been there for me through thick and thin." — Jennifer Aniston, Us Weekly
Jennifer Lopez and Leah Remini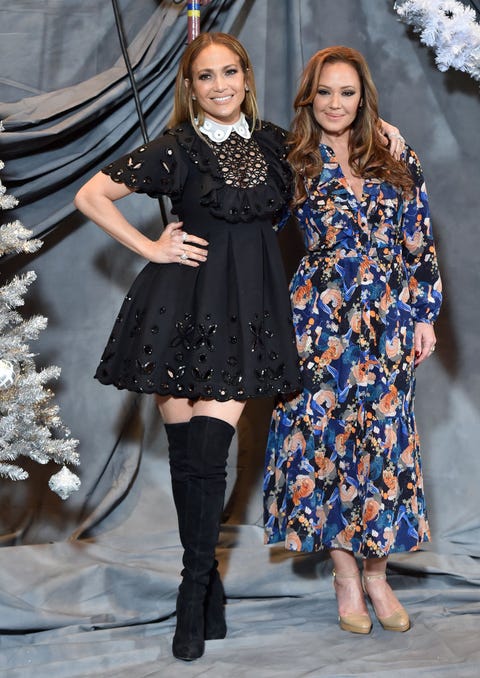 "It was one of those instant chemistry things where you just feel like, 'I love this person. I love being around this person. This person makes me laugh,'" Lopez said. "She's cool and we also have very similar upbringings. That's why we work well together." — Jennifer Lopez, Entertainment Tonight
Mary J. Blige and Taraji P. Henson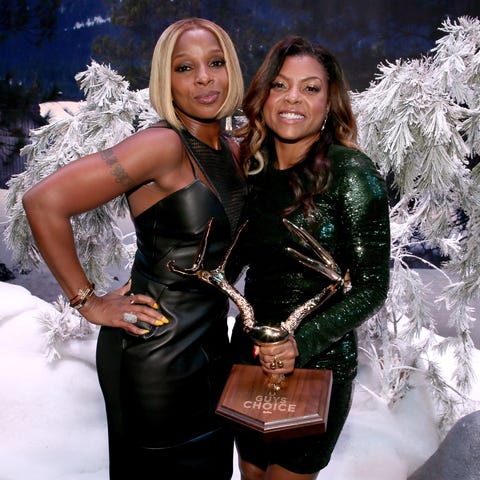 "You have been a total inspiration to me. We meet people in the industry and they're not nice. I've never had a friend that I can call while I'm on set and say, 'How do I do this as an actress,' and you helped me when I needed help. And in my mind, that's rare, because people don't share and you're a sharer. So thank you for being a giver and a sharer." — Mary J. Blige
Maisie Williams and Sophie Turner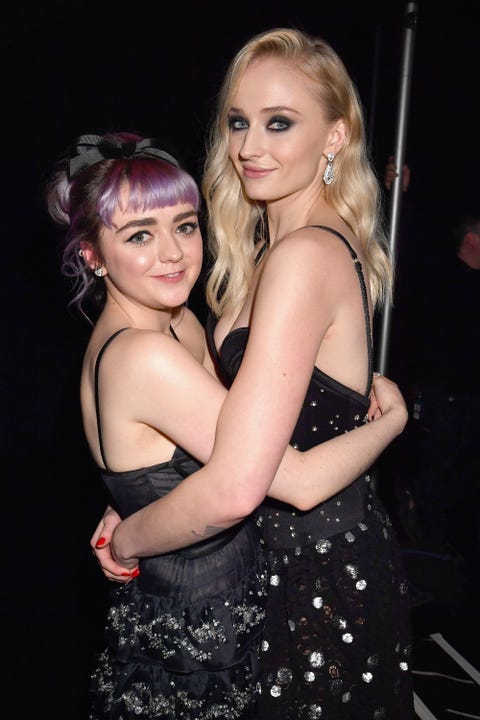 "Maisie and I have the purest form of true, true friendship. She's been my rock. We are kind of the only two people who know what it feels like to go through this very scenario from pretty much the same background and ending up where we are and kind of finding ourselves as we go." — Sophie Turner, W
"It's nice to have her going through this industry and someone who just completely gets it. It's really lovely to have someone hold my hand through all of it." — Maisie Williams, This Morning
Tyra Banks and Clay Aiken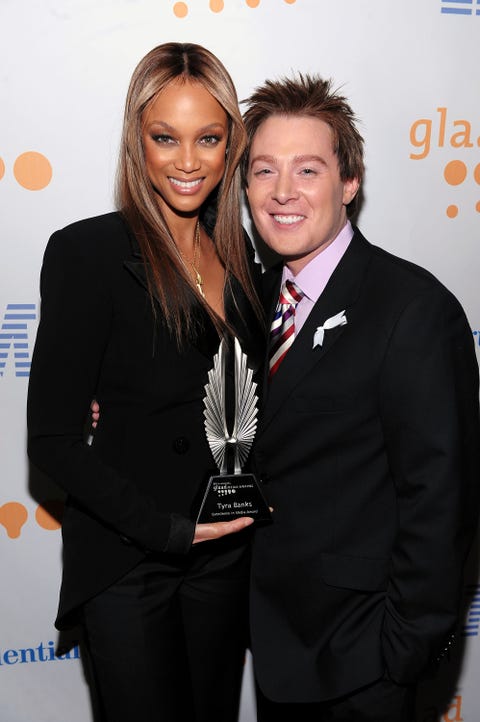 "I love her to death…For some reason we just clicked when we first met, and we try to stay in touch and see each other whenever we're in town…She's such a real person, and I think that's something people didn't know about her until her talk show. She doesn't try to be something she's not. She'll be as nerdy as she needs to be, or whatever she needs to be. I think that's why people are attracted to her, and I think that's why we became friends." — Clay Aiken, People

Brad Pitt and Bradley Cooper
Not many knew that these two famous Brads were friends until earlier this year. Cooper presented Pitt with Best Supporting Actor at the National Board of Review Annual Awards Gala. "I got sober because of this guy, and every day's been happier ever since," Pitt told the audience during his acceptance speech. "I love you, and I thank you."

Amy Schumer and Jennifer Lawrence

"I emailed her after I saw Trainwreck and said,'I don't know where to get started. I guess I should just say it: I'm in love with you. We started emailing, and then emailing turned to texting." — Jennifer Lawrence, The New York Times

"The friendship is completely over," Schumer jokingly told Entertainment Tonightafter Lawrence's win in a Golden Globe category they were both nominated in. "I just blocked her number. It's over."

Mindy Kaling and B.J. Novak

"We are pretty inseparable best friends with a lot of chemistry ourselves, and we're not dating. Whenever we date anyone else, I think there's a period where the person is very skeptical of our friendship—'Everyone seems to think you two might be a couple, and I don't mean to get in the way. Are you sure you're not dating?" — B.J. Novak, Entertainment Weekly

"He is not my boyfriend, but he is not my best friend. I guess you could describe our relationship as a 'romantically charged camaraderie with loud arguments,' but I don't think Facebook would accept this as a new status." — Mindy Kaling, InStyle

Natasha Lyonne and Chloë Sevigny

"One consistent figure who stood with me through the 'before' chapter. In my early days of getting clean, Chloë would show up in an oversize Morrissey T-shirt just to make sure I would leave the house. We'd go to the beach. She'd peel off into a bikini. I'd be in eight layers of black, smoking a cigarette going, 'I'm outside in sunlight, OK? What more do you want from me?'" — Natasha Lyonne, LA Confidential magazine

Anderson Cooper and Andy Cohen

On their first impressions of each other, via the New York Times:

"I remember going up some waterway in a slow-moving boat, talking to you, sort of entranced. Andy, even before he was on TV, was the life of the party." — Anderson Cooper

"I thought he was a little standoffish. But I liked making him laugh. That was my goal: Maybe I can crack this guy up, and that's where we can come together." — Andy Cohen

Harry Styles and Stevie Nicks
"She is more than a role model; she's a beacon to all of us. Whenever you hear her voice, life gets a little bit better. When she sings, the world is hers, and it is yours." — Harry Styles, Rock and Roll Hall of Fame induction ceremony for Nicks via Vulture
"I love Harry, and I'm so happy Harry made a rock and roll record — he could have made a pop record and that would have been the easy way for him. But I guess he decided he wanted to be born in 1948, too. He made a record that was more like 1975." — Stevie Nicks, Rolling Stone
Janelle Monáe and Tessa Thompson

"Janelle and I have been really close. We've been really good friends at this point for about three and a half years. I'm so lucky to have her in my life." — Tessa Thompson, Entertainment Tonight

When asked about romance rumors between herself and Thompson, Janelle Monáe told the New York Times, "I want it to be very clear that I'm an advocate for women. I'm a girl's girl, meaning I support women no matter what they choose to do. I'm proud when everybody is taking agency over their image and their bodies."

Beanie Feldstein and Ben Platt

"What I can say is that I think what Ben and I have is beyond friendship, honestly. It's like a soulmate connection. We're like twins separated at birth or something." — Beanie Feldstein, Broadway.com

"Happy 26th Birthday to my twin-soulmate-wife-mother-spirit-guide of over a decade @beaniefeldstein. Thank you for filling my life with endless love and vegan snacks. I love you forever. ❤️" — Ben Platt, Instagram

Serena Williams and Meghan Markle

"She couldn't be a better friend to me. Low moments, high moments—she's always there. That's all I want to be to her." —Serena Williams, post-Wimbledon press conference via E!

"We hit it off immediately, taking pictures, laughing through the flag football game we were both playing in, and chatting not about tennis or acting, but about all the good old fashioned girly stuff. So began our friendship." — Meghan Markle, The Tig via Us Weekly

Hilarie Burton and Sophia Bush

"Sophia Bush is a hurricane of a woman. It's impossible not to get swept up in her enthusiasm, her activism, and her rabid curiosity about life. We're born only 7 days apart, and so I've been fortunate to find in her a star sister…..a sensitive, no bullsh*t, nurturer." — Hilarie Burton, Bustle

"You're a champion for your community. An incredible mom. You're the alpaca whisperer. You're whip smart and razor sharp and deeply tender. There is no one I would have rather been on the world's most insane roller coaster with." — Sophia Bush to Burton on Instagram
Get the latest news and advice on COVID-19, direct from the experts in your inbox. Join hundreds of thousands who trust experts by subscribing to our newsletter.
Send your news and stories to us news@climaxradio.co.uk or newstories@climaxnewsroom.com and WhatsApp: +447747873668.
Before you go...
Democratic norms are being stress-tested all over the world, and the past few years have thrown up all kinds of questions we didn't know needed clarifying – how long is too long for a parliamentary prorogation? How far should politicians be allowed to intervene in court cases? To monitor these issues as closely as we have in the past we need your support, so please consider donating to The Climax News Room.