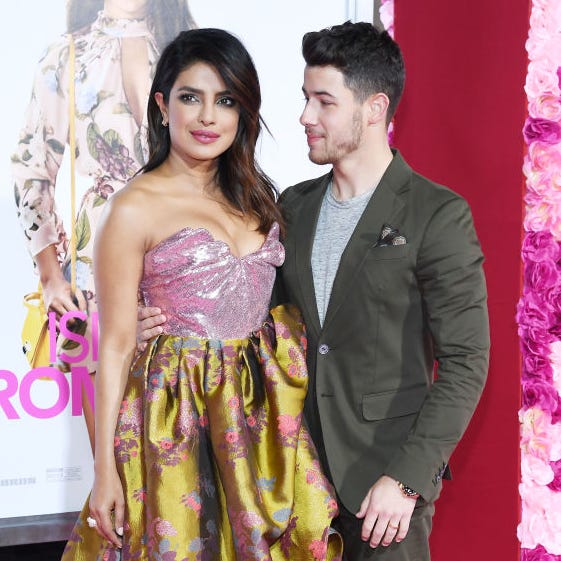 Amy Sussman
Getty Images
When you know, you know. Right? These celebs were so confident they found their person, they went ahead and put a ring on it. Like, fast. Some are still together. Others, well, not so much.
1 of 33
Chris Pratt and Katherine Schwarzenegger
After just seven months of being out in the public as a couple, Chris popped the question and posted the exciting news on Instagram on January 14, 2019. Details on the wedding TBA, but the couple already has the blessing of Chris' ex Anna Faris. "I'm so happy for you both!! Congratulations!" she wrote in the comments of his Instagram post.
2 of 33
Julia Roberts and Lyle Lovett
Having met on the set of The Player, they tied the knot three weeks after dating (hello, that's fast!), but sadly it didn't make it very long. They split about 21 months afterwards back in 1995.
3 of 33
Danielle Staub and Olivier Maier
If you're a fan of The Real Housewives of New Jersey, you probably saw how quickly Danielle and Olivier announced their engagement—and just a week after she finalized her divorce from her third ex-husband (she's been engaged 21 times). "I'm feeling elated and excited for the next stage of my life. I'm going to marry the man of my possible dreams and hopefully I'll spend the rest of my life in bliss," she told PEOPLE.
4 of 33
Drew Barrymore and Will Kopelman
The duo dated for just under a year before getting engaged in 2012. It's—shall we say—a habit for her? She got married in 1994 after six weeks of dating bar owner Jeremy Thomas and had a quickie marriage to Tom Green in 2001, details the Daily News. Sadly, Drew and Will divorced in 2016.
5 of 33
Reese Witherspoon and Jim Toth
After just less than a year of dating, Oscar winner Reese got engaged to the talent agent around Christmastime 2010, per People.
6 of 33
Cameron Diaz and Benji Madden
After dating for seven months, Cameron, 41, and Benji got engaged around Christmas 2014 and were married the following January at their home in LA. "…I have a husband who is…just my partner in life and in everything," she said in 2017 at a Goop health and wellness conference, according to USA Today. Awww.
7 of 33
Mariah Carey and James Pecker
The duo became official in June 2015 and were engaged in January 2016 with a whopping 35-carat ring in New York City, according to People. They broke up that year after an epic blowout on vacation in Greece.
8 of 33
Amal Alamuddin and George Clooney
Amal's fears of becoming a "spinster" didn't come true when George proposed over a candlelit, champagne dinner after six months of dating in 2014. They were married in September 2014 in Venice, Italy, Town & Country details; the couple welcomed twins together, Ella and Alexander, in 2017. Their status? Still going strong.
9 of 33
Nikki Reed and Ian Somerhalder
After six months of dating, the actors got engaged in January 2015, per US Weekly. They tied the knot that April in Malibu, California. They have a little girl together, Bodhi Soleil, and are still happily married.
10 of 33
Avril Lavigne and Chad Kroeger
The singer got engaged to the Nickleback frontman within six months with a 14-carat ring, per People. They announced their divorce after two years.
11 of 33
Jennifer Lopez and Marc Anthony
Jennifer has since moved on, but they were once hot and heavy. Six months after dating, they got married in a ceremony at her home in 2004, according to People. They lasted longer than most Hollywood duos, but separated in 2011 and finalized the divorce in 2014.
12 of 33
Kim Kardashian and Kris Humphries
When your divorce is more well-known than your marriage, well… The two started dating in November 2010 and he proposed at her home in Beverly Hills in May 2011—with "Will You Marry Me?" written in rose petals, reports Us Weekly. They divorced after 72 days of marriage.
13 of 33
Sofia Vergara and Joe Manganiello
Modern Family star Sofia and her Magic Mike man got engaged in Mexico following nearly six months of dating, according to People. After getting married in 2015, they're still blissfully wed today.
14 of 33
Carey Mulligan and Marcus Mumford
The actress moved on from Shia LaBeouf to the Mumford and Sons frontman, getting engaged after about six months of dating, per The Hollywood Reporter. They were married in 2012, have two kids and are still together.
15 of 33
Blac Chyna and Rob Kardashian
Four months of togetherness and they got engaged—she showed off her seven-carat stunner on Instagram, of course. They produced an adorable baby together, Dream (now 1), but after lots of dramatic Kardashian-family feuding, later broke up.
16 of 33
Renée Zellweger and Kenny Chesney
After meeting in early 2005, they got married in May in a ceremony on the Virgin Islands, according to People. And it was over as fast as it began: Renée filed for divorce in September that same year.
17 of 33
Kaley Cuoco and Ryan Sweeting
He popped the question after just three months of dating and they were wed on New Year's Eve in 2013. Sadly, they broke up after being married for less than two years. But Kaley has found her forever in equestrian beau Karl Cook (the announcement via Insta video will make you cry)—they were married this year.
18 of 33
Naya Rivera and Ryan Dorsey
They married a few months after she called off her engagement to Big Sean, says People. Things did not go so well—Naya was later charged with misdemeanor domestic battery against Ryan late last year. Their divorce was finalized this summer.
19 of 33
Nikki Reed and Paul McDonald
The Twilight star appears twice on this list! She was engaged to American Idol contestant Paul (yeah…Paul who?) after a few months of dating.
20 of 33
Britney Spears and Kevin Federline
A few months was all she needed to ask K-Fed to marry her while they were flying from New York to Ireland, details US Weekly. He said yes, and they were married in a surprise wedding in Studio City, California. After two kids, Sean Preston and Jayden James, they divorced in 2006.
21 of 33
Ryan Lochte and Kayla Rae Reid
The Olympic swimmer and Playboy model were suspected to be an item during the summer 2016 Games, according to People—and it was later confirmed when they announced their engagement via Instagram that October. They were married in 2018.
22 of 33
Priyanka Chopra and Nick Jonas
We were just getting used to the idea of this duo dating when they got engaged just two months later on her 36th birthday in London, according to ET.
23 of 33
Angelina Jolie and Billy Bob Thornton
They married after a couple of whirlwind months of dating, reports ABC News. Considering she's now going through a very crazy divorce battle with Brad Pitt, we all know how her marriage to Billy Bob ended: divorce.
24 of 33
Katie Holmes and Tom Cruise
The infamous couch jumper popped the question to Katie on top of the Eiffel Tower in 2005 (très romantique!) eight weeks after they first met, according to The Hollywood Reporter. TomKat divorced in 2012.
25 of 33
Katy Perry and Russell Brand
The pop star and her funnyman boyfriend went official in October 2009 and get engaged a couple months later on New Year's Eve "in a tent at the foot of a mountain in India," according to E! News. They divorced after 14 months of marriage.
26 of 33
Alice Kim and Nicolas Cage
Nick met Alice when she was waitressing in LA, reports E! News. Despite the fact that she's 20 years his junior and they married after two months of dating on a ranch in Northern California, they had a long marriage (12 years!), separating in 2016, per People.
27 of 33
Khloe Kardashian and Lamar Odom
Back in 2009, they met, got engaged, and were married all in the span of a month, according to ET. We all know how that one turned out. (Spoiler: a very public divorce.)
28 of 33
Ariana Grande and Pete Davidson
Few people saw this coming. After just weeks of dating, Ariana and Pete were engaged in June 2018. Pete told GQ they went engagement ring shopping the day they met, so hey.
29 of 33
Mariah Carey and Nick Cannon
They may have known each other for a few years, but they only dated for a few weeks before marrying in the Bahamas in 2008, according to E! News. As far as celeb marriages go, theirs lasted six years (a good run!), but they divorced in 2014.
30 of 33
Hailey Baldwin and Justin Bieber
They recently joined the ranks of celebs who dated for just a few weeks before putting a ring on it, reports People. "My heart is COMPLETELY and FULLY YOURS and I will ALWAYS put you first!" he wrote, announcing it on Instagram.
Jessica Migala
Jessica Migala is a health writer specializing in general wellness, fitness, nutrition, and skincare, with work published in Women's Health, Glamour, Health, Men's Health, and more.
This content is created and maintained by a third party, and imported onto this page to help users provide their email addresses. You may be able to find more information about this and similar content at piano.io
HI! I AM DAVID BRAYZ!
I am a highly-skilled IT Specialist with over 12 years of experience in Web Design, Graphic Design, Web Blogging & ITL Management.