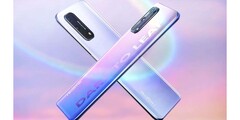 The Realme X7 and X7 Pro are phones based on 5G MediaTek Dimensity chipsets that aren't often seen in international markets. However, this may change soon as their release to the Indian market has just been announced. Unfortunately, this will not take place until 2021.
One of the most interesting things about mobile tech in 2020 is the rise of the Dimensity SoC series. MediaTek has managed to develop these 5G processors in order to target numerous tiers of the smartphone market that might otherwise be dominated by the same few Snapdragon equivalents, while also providing some arguably necessary competition in the same spaces. On the other hand, the intriguing (and increasingly well-priced) devices based on these processors have rarely made it out of what is often their home market of China.
Now, Realme has affirmed it is working on changing that with the launch of the X7 series in a new market. These phones may be a big hit there, particularly as the Pro variant rocks the highest-end Dimensity 1000+ chipset and a 120Hz AMOLED display.
The vanilla model also offers the lesser-spotted Dimensity 800U. Given these specs, it is a slight shame that they will only reach India by 2021. Realme India's CEO, Madhav Sheth, has stated that this is indeed the case in a recent tweet.
Then again, the executive also mentioned that the X7s are just the tip of the incoming Realme 5G-berg in India. Therefore, more potentially Dimensity-powered phones making it to this market may improve the chances that they will also start gravitating towards others in the near future.
Top 10 Laptops
Multimedia, Budget Multimedia, Gaming, Budget Gaming, Lightweight Gaming, Business, Budget Office, Workstation, Subnotebooks, Ultrabooks, Chromebooks
under 300 USD/Euros, under 500 USD/Euros, 1.000 USD/Euros
Best Displays, for University Students
Top 10 Smartphones
Smartphones, Phablets, ≤5-inch, Camera SmartphonesNotebookcheck's Top 10 Smartphones under 160 Euros
Deirdre O'Donnell, 2020-11-15 (Update: 2020-11-15)
HI! I AM DAVID BRAYZ!
I am a highly-skilled IT Specialist with over 12 years of experience in Web Design, Graphic Design, Web Blogging & ITL Management.