17:43
Summary
Here's a rundown of Saturday's events. We'll be back tomorrow for all Sunday's news.
House Democrats pass $25bn bill to fund US Postal Service. The House of Representatives has passed a bill to fund the US Postal Service, amid ongoing complaints by Democrats that the Trump administration is attempting to sabotage the delivery of mail-in ballots ahead of the presidential election in November.
Trump to attend Republican convention as Biden promises coronavirus action. Trump is set to travel to Charlotte on Monday, to attend in person as delegates to the Republican National Convention renominate him for US president.
William Barr told Murdoch to 'muzzle' Fox News Trump critic, new book says. The attorney general told Rupert Murdoch to "muzzle" Andrew Napolitano, a prominent Fox News personality who became a critic of Donald Trump, according to a new book about the rightwing TV network.
Trump spreads false claim Democrats dropped God from Pledge of Allegiance. Before playing golf on Saturday, Donald Trump took time to spread a false claim about God on Twitter.
Trump-Russia investigation: former CIA chief interviewed by US attorney. The former CIA director John Brennan was interviewed on Friday by US attorney John Durham's team, as part of its inquiry into the investigation of Russian election interference in 2016.
California wildfires among largest in history as state asks Australia and Canada for help. California is battling some of the largest wildfires in its history which have displaced more than 100,000 people, prompting the state to request help from Australia and Canada to tackle the flames.
Judge orders Trump to pay Stormy Daniels $44,000 in legal fees. A California judge has ordered the president to pay the adult film actor and director Stormy Daniels $44,100, to cover legal fees in the battle over her non-disclosure agreement with the president.
Mike Pompeo to visit Israel and UAE to discuss new diplomatic ties. The US secretary of state will visit Israel on Monday and the United Arab Emirates a day later to discuss the countries' normalization deal, according to two sources briefed on his itinerary.
17:16
Donald Trump
has dismissed the House's $25bn emergency funding bill for the Postal Service as a "HOAX" in a tweet on Saturday afternoon.
"Representatives of the Post Office have repeatedly stated that they DO NOT NEED MONEY, and will not make changes," Trump tweeted. "This is all another HOAX by the Democrats to give 25 Billion unneeded dollars for political purposes, without talking about the Universal Mail-In Ballot Scam."
Earlier Saturday, the House passed a bill to fund the Postal Service amid ongoing complaints by Democrats that the Trump administration is attempting to sabotage the delivery of mail-in ballots ahead of the November election.
The Democratic bill, which passed on Saturday despite opposition from Republicans, would provide $25bn in aid for the USPS and prioritize election mail as "first class", to ensure ballots arrive in time to be counted in an election in which the coronavirus pandemic will cast a shadow over in-person voting.
16:49
Donald Trump
's motorcade is back at the White House after spending the day at his golf club in Virginia.
As has become customary during the president's visits to the Loudoun county club, groups of supporters and protesters gathered outside were there to make themselves heard as Trump departed the property.
According to a White House pool report:



There was a little impromptu parade, outside of the country club and in the rain, as we waited for the president to depart.

Two Jeeps, covered in Trump bumper stickers and flying blue and yellow and pink Trump banners, buzzed up and down the boulevard. A big semi chugged alongside, complete with giant American flag and Trump 2020 mud flaps.

This convoy, for the better part of half-an-hour, laid on their horns, on and off again, to show support for the other Trump fans, the ones standing in the grass with their own Trump signs and Trump flags and Trump t-shirts and assorted Trump swag.

There were about two dozen, and they cheered as the motorcade passed by.

A handful of Biden supporters, who didn't have a semi or any Jeeps, also stood outside holding their signs.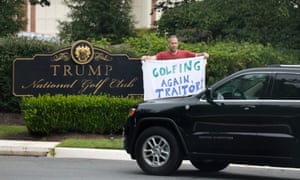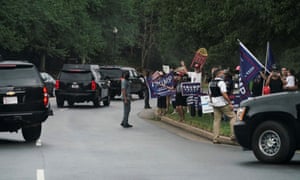 Updated

16:20
TikTok is planning to sue the Trump administration
over the president's executive order banning transactions with the popular video-sharing app and its Chinese parent ByteDance, CNBC reported Saturday.
Trump issued the orders earlier this month, saying the US must take "aggressive action" in the interest of national security and foreign policy.
"Even though we strongly disagree with the Administration's concerns, for nearly a year we have sought to engage in good faith to provide a constructive solution," a TikTok spokesperson said.
"What we encountered instead was a lack of due process as the Administration paid no attention to facts and tried to insert itself into negotiations between private businesses. To ensure that the rule of law is not discarded and that our company and users are treated fairly, we have no choice but to challenge the Executive Order through the judicial system."
16:00
The US House of Representatives has passed a bill to fund the Postal Service
, amid ongoing complaints by Democrats that the Trump administration is attempting to sabotage the delivery of mail-in ballots ahead of the presidential election in November.
The Democratic bill, which passed on Saturday despite opposition from Republicans, would provide $25bn in aid for the USPS and prioritize election mail as "first class", to ensure ballots arrive in time to be counted in an election in which the coronavirus pandemic will cast a shadow over in-person voting.
Nancy Pelosi, the speaker of the House, said the bill was necessary to "reject the Trump administration's efforts to undermine the critical mission of the postal service".
On the floor of the House, James Comer of Kentucky, the ranking Republican on the oversight committee, said the Democrats' bill was the "result of a legislative process only slightly less absurd than the conspiracies, insinuations, and fabrications that gave rise to the purported need for it".
15:15
New York congresswoman
Carolyn Maloney
, the chair of the House oversight committee, has released new internal Postal Service documents warning postmaster general
Louis DeJoy
about a drop in service standards as a result of his drastic operational and organizational changes.
The documents came to light on Saturday as the House prepared to vote on providing the cash-strapped Postal Service with $25bn and block policy changes that have stirred concerns about mail-in balloting ahead of the November election.
"The American people do not want anyone messing with the Post Office," said Maloney, who authored the legislation. "They certainly do not want it to be politicized. They just want their mail, they want their medicines and they want their mail-in ballots delivered in a timely way. And that is exactly what our bill does."
On Friday, DeJoy conceded the changes that he recently implemented were contributing to delays but said he would not reverse the decision to remove mail equipment ahead of the election.
14:54
Pelosi slams Trump 'deep state' comment about coronavirus vaccines
House speaker
Nancy Pelosi
described
Donald Trump
's tweet accusing "the deep state, or whoever, over at" the Food and Drug Administration of deliberately slowing coronavirus vaccine and therapy development as "scary" and "beyond the pale" even for the US president.
"The FDA has a responsibility to approve drugs, judging on their safety and their efficacy, not by a declaration from the White House about speed and politicizing the FDA," Pelosi told reporters on Capitol Hill.
The president's amplification of the "deep state" conspiracy theory comes one day after Fox Business host Lou Dobbs used it to explain the arrest of former Trump campaign manager Steve Bannon.
Bannon himself is a key propagator of the theory that unknown government operatives are working against the Trump administration – but has also said the idea is "for nut cases" and should not be taken seriously.
In Deep State: Trump, the FBI and the Rule of Law by James B Stewart, published last October, Bannon said the "deep state conspiracy theory is for nut cases", because "America isn't Turkey or Egypt".
14:29
New York governor
Andrew Cuomo
said the state will give voters a chance to correct missing signatures and other clerical errors so their absentee ballots can be counted in anticipation of a wave of mail-in voting for the November election.
Election officials are expecting an even bigger flood of mail-in votes in November than for the June primary, after which results were delayed for six weeks.
The AP reports:



Cuomo said late Friday he'd sign yet temporarily tweak legislation that calls for notifying voters about such problems and provides for fixing them.

Under the version that passed the Legislature last month, the voter would have seven business days to file a form to fix the problem after a notice was mailed, in many situations.

Cuomo, a Democrat, said he agreed voters should be able to correct inadvertent mistakes that would otherwise invalidate their mail-in votes. But he said the Legislature's plan came too close to the Nov. 3 presidential election, requiring a series of notifications and mailings that would overtax election officials.

"New York must balance the right to vote with the need to ensure a timely, seamless and operationally sound election that leaves no doubt as to its outcome," he wrote in a memo, saying he and lawmakers had agreed on "temporary modifications" that would give voters an opportunity to correct slip-ups "without relying so heavily on an already burdened mail system."

The original legislation will take effect after November, Cuomo's memo said.

His memo didn't give further details on the temporary changes, saying they'd be made in an executive order and possibly in further legislation.
14:09
The Associated Press has more from Portland, Oregon, where protesters against police brutality and structural racism clashed again with federal agents and law enforcement officers overnight. Such confrontations were the subject of a Trump tweet this morning, in which the president once again expressed his willingness to send in the national guard:



About 200 people marched to a police precinct station on yet another night of violence for Oregon's largest city.

Demonstrators hurled bottles and rocks at officers and pointed lasers at them, damaging police cars and causing minor injuries for several officers, Portland police said.

One protester was given medical treatment after he threw rocks at officers and was shot with what police described as a "sponge-tipped less-lethal round".

That protester was among nine people arrested. Three were charged with assault on a police officer.

Many protesters wore helmets, eye protection, gas masks and body armor and some carried homemade wooden shields, police said.

Demonstrations – the majority peaceful but many violent – have happened in Portland for more than two months following the police killing of George Floyd in Minneapolis police custody in late May.

The demonstration that went into Saturday morning came a day after protesters in Portland clashed with federal agents outside a US Immigration and Customs Enforcement building.

Also Friday, a number of federal buildings across the city were closed as the FBI investigated a car bomb threat.
13:32
Florida's department of health reports that there were 4,311 new cases of Covid-19 on Friday in the state and 106 new deaths from the virus. Francisco Alvarado reports on how the pandemic has exposed the state's wealth gap:
When the first wave of the coronavirus pandemic reached southern Florida's shores, Bal Harbour residents braced themselves. In early March, health department officials confirmed a New York man who tested positive for coronavirus had spent time in the wealthy enclave. About a week later, a pair of Bal Harbour rabbis were among the first people in Miami-Dade county to test positive for the deadly virus.
The mayor, Gabriel Groisman, quickly went into isolation because he had been with one of the rabbis, Sholom Ber Lipskar. Grosiman advised anyone who had come in contact with Lipskar and Rabbi Moshe Gruenstein the previous 14 days to also self-isolate.
In Surfside, a small town neighboring Bal Harbour where the rabbis' synagogues are located, officials closed the town hall and other facilities and non essential staff were ordered to work from home. Surfside residents received a notice cautioning individuals who had close interactions with anyone who had been in close contact with Lipskar to self-monitor themselves for any Covid-19 symptoms.
Groisman said he and other local leaders had legitimate concerns about coronavirus spreading across Bal Harbour, Surfside and Bay Harbor Islands. But the outbreak never arrived. As coronavirus ravages Miami Beach and mainland Miami, Bal Harbour has emerged mostly unscathed from the pandemic. According to the Florida department of health, 49 of 3,039 Bal Harbour residents have tested positive through 8 August.
Buffered from the summer surge in cases that turned Florida into one of the nation's Covid-19 centers and has now killed more than 10,000 Floridians, wealthy coastal locales like Bal Harbour illustrate how sharp the socioeconomic divide is in Miami-Dade in the face of the pandemic.
About 30 minutes away from Bal Harbour, a blue-collar, predominantly Hispanic city is struggling to contain the coronavirus. Roughly 8.5% of the 238,942 residents of Hialeah, the second largest municipality in Miami-Dade, have tested positive for Covid-19. The city's 20,261 cases is the fourth most of any city in Florida.
You can read the full article below:
13:17
The House has voted to advance a bill that would provide $25bn in funding for the US Postal Service as fears grow the agency will be unable to cope with mail-in ballots in this November's election.
The bill would also stop the USPS from introducing changes such as the removal of sorting machines and a reduction in overtime that could harm its capacity to process mail in November's election. The postmaster general, Louis DeJoy, is a Trump ally and has been accused of supporting the president's antipathy towards mail-in voting my making cuts to the USPS.
Saturday's bill passed by 230-171 in the Democrat-majority House.
It is almost certain that the bill will fail to pass the Republican-held Senate. Mitch McConnell, the Senate's majority leader, has said Republicans only want to see USPS funding as part of a wider Covid-19 stimulus package.
Updated

13:00
The White House's famous Rose Garden has been given a new look before Melania Trump gives a speech there for next week's Republican national convention.
The White House says the renovations were paid for by private donations but there has been criticism that the venue will be used for a campaign event when Melania Trump gives her speech.
12:50
Pelosi says Trump's rush for Covid-19 vaccine is 'very dangerous'
House speak Nancy Pelosi has pushed back on Donald Trump's tweet from earlier today, in which he said the Food and Drug Administration was too slow in producing a Covid-19 vaccine.
"The FDA has a responsibility to approve drugs judged on their safety and efficacy, not by a declaration from the White House on speed," said Pelosi. "This was a very dangerous statement from the president … that went beyond the pale."
In Trump's tweet, the president suggested the "deep state" was behind a plot to delay the vaccine and harm his chances in November's election.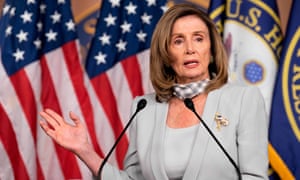 "The deep state, or whoever, over at the FDA is making it very difficult for drug companies to get people in order to test the vaccines and therapeutics," he wrote on Twitter. "Obviously, they are hoping to delay the answer until after November 3rd. Must focus on speed, and saving lives!"
Peter Marks, the director of the FDA's Center for Biologics Evaluation and Research, has said in the past he would resign rather than approve a Covid-19 vaccine that had not been proven to be safe.
"I could not stand by and see something that was unsafe or ineffective that was being put through," he told Reuters.
"You have to decide where your red line is, and that's my red line. I would feel obligated [to resign] because in doing so, I would indicate to the American public that there's something wrong."
12:34
Judge orders Trump to pay Stormy Daniels' legal fees
A California judge has ordered Donald Trump to pay porn actor Stormy Daniels for her legal fees in the battle over her non-disclosure agreement with the president.
The judge said Trump must pay Daniels, whose real name is Stephanie Clifford, $44,100. Daniels says she had an affair with Trump from 2006 until 2007, and sued the president in 2018 to be released from a non-disclosure agreement she signed with Trump's former attorney Michael Cohen. The lawsuit was dismissed as the agreement was deemed unenforceable.
The judge ruled Daniels was entitled to have her legal fees paid by Trump as she was the "prevailing party" under California law, even though her suit was dismissed.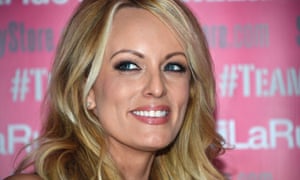 On Thursday, during an appearance in Pennsylvania, the president confirmed Daniels's story that he is scared of sharks.
"They were saying the other night, the shark. They were saying, 'Sharks, we have to protect them.' I said, 'Wait a minute, wait.' They actually want to remove all the seals in order to save the shark. I said, 'Wait, don't you have it the other way around?'
"It's true," he added. "I'm not a big fan of sharks either. I don't know, how many votes am I going to lose?"
Updated

12:13
The University of Washington's Institute for Health Metrics and Evaluation has told CNN that the US death toll from the Covid-19 pandemic could rise to 310,000 by 1 December.
However, that figure is under a scenario in which federal and state governments ease social distancing protocols and do not require masks to be worn in public. If more than 95% of the US population wear masks, the projected death toll between now and December would drop by around 70,000 according to the researchers.
"It really depends on what our leaders do, as individuals, and what governments do," the head of the institute, Dr Chris Murray, told CNN's Anderson Cooper on Friday night.
According to Johns Hopkins University, 987 people died of the virus in the US on Friday, the first time the toll had fallen below 1,000 in three weeks.
Updated

11:58

Oliver Milman
California has requested help from Australia and Canada to help tackle huge wildfires the state is struggling to contain.
Governor Gavin Newsom said the fires, which have consumed an area equivalent in size to Rhode Island, "are stretching our resources, our personnel", requiring help from other states and countries.
"We simply haven't seen anything like this in many, many years," said Newsom, who has requested assistance from what he called "the world's best wildfire-fighters" in Australia, a country that itself experienced enormous wildfires earlier this year.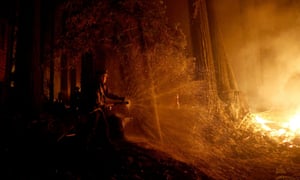 Help from Canada and 10 other US states is also heading to California. Extra firefighters and aircraft began arriving on Friday, to help weary crews battling some of the largest blazes in state history and as weekend weather threatened to renew the advance of flames that have killed six and incinerated hundreds of homes.
Some 560 wildfires were burning throughout the state. Many were small and remote but the bulk of damage was from three clusters of blazes ravaging forest and rural areas in the wine country and San Francisco Bay Area.
You can read the full story below:
11:35
A police union that supported Donald Trump in the 2016 presidential election says it will not do so this year.
The Cleveland Police Patrolmen's Association is not supporting either Trump or Joe Biden this time around after a vote among its board of directors and 30 officers. The 2016 endorsement was the first time the association had backed a candidate in its history, and sparked a backlash among some members.
Trump, who has pitched himself as a "law and order" president, has however secured the backing of the New York Police Benevolent Association, which represents 24,000 officers in the NYPD.
"Across this country, police officers are under attack. Our neighborhoods are being ripped apart by violence and lawlessness," Patrick J Lynch, the union's president, said in a statement. "Most politicians have abandoned us, but we still have one strong voice speaking up in our defense."
Trump has falsely accused Biden of seeking to defund the police.
Get the latest news and advice on COVID-19, direct from the experts in your inbox. Join hundreds of thousands who trust experts by subscribing to our newsletter.
Send your news and stories to us news@climaxradio.co.uk or newstories@climaxnewsroom.com and WhatsApp: +447747873668.
Before you go...
Democratic norms are being stress-tested all over the world, and the past few years have thrown up all kinds of questions we didn't know needed clarifying – how long is too long for a parliamentary prorogation? How far should politicians be allowed to intervene in court cases? To monitor these issues as closely as we have in the past we need your support, so please consider donating to The Climax News Room.