10:15
Closing summary: S&P 500 hits new record high ahead of virtual Jackson Hole
First a virtual Jackson Hole, and now a summer Davos: central bank bosses' holiday schedules for the next 12 months are going to look very different.
Tomorrow's speech by Federal Reserve governor Jerome Powell will take place over a video call, but it will still be a key focus for investors who are hoping for signs of how the central bank thinks monetary policy will evolve as the pandemic continues.
He is expected to unveil a new monetary policy framework based on average inflation targeting, a mode that could allow for inflation to rise above target for some time if required to stimulate the economy. That could open the way for more stimulus.
But striking a balance will be tricky given that the depth of recessions in major economies means activity will almost inevitably come roaring back. For example, US durable goods orders this afternoon increased above expectations, rising by 11.2% compared to a 4.3% expectation from economists.
Yet almost anyone on any high street in the world will be able to tell you that economic activity has slumped. For central bankers whose armouries were nearly empty before the crisis further stimulus could prove politically painful, particularly if economic indicators appear strong.
Ahead of the speech, however, the FTSE 100 is nearly flat, down by 0.1% at about 6,029 points.
The S&P 500 has nudged upwards by 0.2%, but in this strange times (and in no small part thanks to Powell) that means it has hit a new record high.
Here are some of the other important developments from today:
Doorstep lender Provident Financial has cut 300 jobs after losing millions of pounds in its consumer credit division.
The UK's bank regulator has ended new mortgage payment holidays from 31 October, but told lenders to keep offering support.
Oil prices have been sustained by shutdowns in the Gulf of Mexico, which is braced for hurricanes.
US secretary of state Mike Pompeo has criticised HSBC for allegedly shutting down Hong Kong democracy activists' accounts. HSBC declined to comment.
And you can of course continue to follow our live news coverage from around the world:
In the UK, Boris Johnson has tried to blame a "mutant algorithm" for exam results chaos in England
In the US, there has been a second fatality confirmed in Kenosha after overnight protests following the Jacob Blake shooting
And in our global coverage, Iran's death toll exceeds 21,000; India passes 3.2m cases
Thank you as ever for following our live coverage today, and please do join me tomorrow for the buildup to Powell's speech at a virtual Jackson Hole. JJ
09:23
World Economic Forum at Davos postponed until summer 2021
The World Economic Forum, the annual gathering of the global business and economic elite, has pushed back its 2021 meeting in Davos from January to early next summer.
Adrian Monck, the forum's managing director for public engagement, said it was not possible to convene the meeting safely in January at its usual ski resort location.
Davos went ahead in January 2020, but there had been significant doubts over the ability to gather thousands of business leaders, media and politicians in one place in 2021 after the pandemic spread.
In an email, Monck said:


The decision was not taken easily, since the need for global leaders to come together to design a common recovery path and shape the "Great Reset" in the post-Covid-19 era is so urgent. However, the advice from experts is that we cannot do so safely in January.
The WEF will instead hold digital "Davos dialogues" during the week of 25 January. "Key global leaders will share their views on the state of the world in 2021," he said.
Updated

08:45
US secretary of state criticises HSBC's alleged closure of activist accounts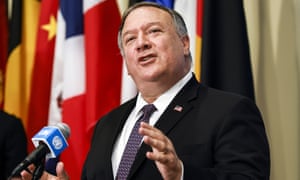 US secretary of state Mike Pompeo has criticised British bank HSBC for allegedly shutting down accounts belonging to activists in Hong Kong.
HSBC enraged the US and critics in the UK after publicly backing the imposition by Beijing of a new security law in Hong Kong.
Pompeo has previously accused HSBC of a "corporate kowtow" after its Asia Pacific chief executive, Peter Wong, signed a petition supporting laws that analysts said drastically weakened freedom of speech protections in the territory.
Pompeo on Twitter said he was "dismayed" to learn of pressure on British businesses and then referenced HSBC's alleged closure of accounts "for those seeking freedom".
HSBC has been approached for comment.
08:26
The economies of the wealthiest nations contracted by an "unprecedented" 9.8% in the second quarter of 2020, according to the OECD, the club for richer countries.
The OECD (Organisation for Economic Co-operation and Development) figures confirm that the UK suffered the worst contraction – 20.7% – among the G7 major economies.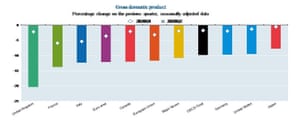 But it is of course by no means only the very richest nations who have suffered. Mexico this afternoon reported a contraction of 17.1% in the second quarter.
A forecast drop of 10.5% in output for 2020 versus 2019 would be the worst year since the Great Depression, according to Reuters.
07:42
British online consumer brands retailer The Hut Group is planning a £4.5bn stock market flotation, according to Sky News.
The company, which employs 7,000 people, is reportedly planning for shares to start trading on 16 September, with an announcement possible as soon as Thursday.
The Hut Group sells cosmetics under brands such as ESPA, Illamasqua and lookfantastic, and clothing and fashion from Coggles, AllSole and MyBag.
Sky News reported that co-founder Matthew Moulding could be in line for a £700m payout if the company proves popular with investors.


Sky News can reveal details of a long-standing share plan that could hand more than £700m-worth of shares to Matthew Moulding, the company's executive chairman, if it achieves a market capitalisation of £7.25bn by December 2022.
06:47
Investors focused on Jackson Hole's virtual hints of further stimulus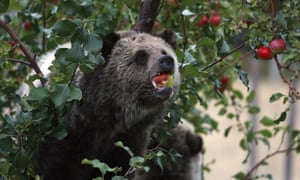 Central bankers would, at this point in the year, usually be getting out their fishing rods in preparation for an annual conference at Jackson Hole, a resort in the wilds of Wyoming.
This year the annual session of navel-gazing is going virtual, but investors in the sluggish days of August are still focusing on what the economists, and particularly Federal Reserve governor Jerome Powell, will say about the future of monetary policy.
Powell's speech will be keenly watched by investors, writes the Guardian's economics editor, Larry Elliott, because he is expected to signal that the Fed is poised to soften its inflation stance, paving the way for more stimulus in the months ahead. If the head of the world's most powerful central bank fails to deliver, share prices are likely to nosedive.
Friday will be Andrew Bailey's first time in the Jackson Hole spotlight (although he and his American wife are familiar with the wilderness, to the point that she once scared off a bear while he was on the phone, according to the Financial Times). Since the start of the year, the Bank has been looking into the medium and long-term effects of operating in a world where it is hard to cut interest rates any further and whether laws of diminishing return apply to doses of quantitative easing.
You can read the full report on what to expect here:
06:28
Sarah Butler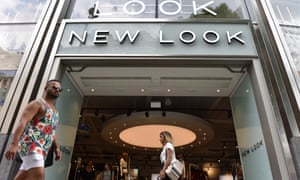 New Look is seeking a three-year rent holiday on 68 of its stores and big rent reductions on hundreds of others as it battles to stay afloat and save the jobs of its 11,200 employees.
The struggling fast-fashion chain is attempting to secure its second financial rescue deal in 18 months and, along with the payment holiday, is asking landlords to slash rents to 12% of current levels on a further 402 of its shops.
You can read the full report here:
06:23
The FTSE 100 has now lost 0.3% this morning, although Germany's Dax and France's Cac 40 are up by 0.5% and 0.2% respectively on a mixed day on financial markets.
Currency markets are also fairly quiet, with the pound nudging up by barely 0.1% against the US dollar at $1.3160. The euro has dipped slightly against the dollar, down by 0.1% at €1.1818.
Oil futures prices have dipped slightly as well. Brent crude futures have lost 0.2%, although they remain near recent highs at $45.78.
06:17
Banking regulator to end new mortgage payment holidays in October
The Financial Conduct Authority (FCA) has confirmed that the option of three-month mortgage payment holidays for people hit by the pandemic will end on 31 October, but called on banks to continue to offer support to people struggling with debt.
Borrowers will be able to take a first or second three-month payment deferral on their mortgage up until 31 October, when the guidance is expected to expire.
After that, the FCA said it expects further help from banks to borrowers, such as extending the repayment term or restructuring of the mortgage, according to new draft guidance out for consultation.


Where consumers need further short-term support, firms should offer arrangements for no or reduced payments for a specified period to give customers time to get back on track.
The mortgage holiday was introduced amid the UK's lockdown in order to prevent a wave of defaults from workers who were unable to work or had reduced pay during the furlough scheme.
However, the FCA acknowledged that there is likely to be more financial pain ahead, and that some borrowers could face new difficulties in the months ahead. Many economists expect unemployment to rise significantly when the furlough scheme ends, also on 31 October. The FCA said.


The majority of customers who have had a payment holiday are expected to resume full repayment. However, many will remain in financial difficulty.
Christopher Woolard, interim chief executive at the FCA, said:



It is important that consumers who can afford to resume mortgage payments should do so. However, we understand that borrowers facing payment difficulties because of the pandemic will continue to face uncertainty and may also experience temporary interruptions in income.

We are proposing that firms contact their borrowers in good time before the end of a payment holiday, and work with them to come up with a tailored plan to help get them back on track. Firms should not take a 'one size fits all' approach.
05:44
Sarah Butler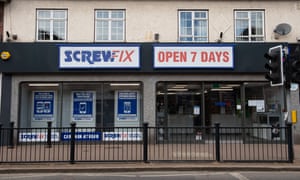 Screwfix is to open 30 stores in the UK and 10 in the Republic of Ireland creating more than 400 new jobs.
The online tools and DIY kit specialist has 680 stores in the UK with a long-term target of 800 in the UK.
It only has five stores in Ireland, all of which opened this year. But the business says it hope to open up to 40 stores in coming years.
04:37
Despite the (buried) job losses, investors in Provident Financial are clearly happy with the results, and particularly with chief executive Malcolm Le May's statement of confidence in its balance sheet: shares are up by 12.7%, making them the biggest riser on the FTSE 350 this morning.
Provident has helped the mid-cap FTSE 250 index to a 0.4% gain this morning, outdoing the 0.2% decline on the large-cap FTSE 100.
There are not any major moves on the FTSE 100, with software company Aveva the biggest riser. It's up 2.9%, continuing the run of good form from yesterday, when it announced the $5bn (£3.8bn) purchase of California software company OSIsoft.
04:20
Doorstep lender Provident Financial cuts 300 jobs
Provident Financial, a lender to less wealthy borrowers, has revealed 300 job losses at the same time as reporting a £28m loss for the first six months of 2020.
The owner of Vanquis Bank and Moneybarn said it would slash its customer service operations, combining two jobs into one with a lower base salary.
In comments released alongside the results, chief executive Malcolm Le May heralded the company's decision to pay back money received under the government's job retention scheme, which supported the salaries of furloughed workers. However, he made no reference to the 300 redundant colleagues.
The job losses came after a steep £37m loss from Provident's consumer credit division, which includes the Satsuma and Provident home credit brands.
The job losses announcement was buried 7,000 words into the statement published on Wednesday. It said:


At the end of July, home credit launched a consultation period with a view to removing around 300 CEMs [customer experience managers] and customer service managers (CSMs). The proposal is to replace the CEMs/CSMs role with a new customer representative ('CR') role, reporting to business managers. The proposed CR role will also see the introduction of a higher level of variable remuneration.
03:52
Tourism loss threatens £22bn in spending and 3m UK jobs – report

Mark Sweney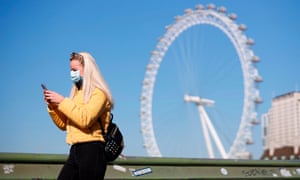 The UK is forecast to lose £22bn in spending as international tourism plummets, putting almost 3m jobs at risk, according to a report.
The World Travel & Tourism Council (WTTC) said the continuing uncertainty around travel restrictions designed to halt a resurgence in coronavirus cases is causing millions of overseas travellers and tourists to opt for staycations in their home countries instead.
An impact assessment on the UK economy by the organisation estimates that the drop in international tourist numbers could result in the amount spent dropping by as much as 78%, or £420m a week.
You can read the full report here:
Updated

03:42
West Texas Intermediate futures prices have just nudged into positive territory for today, and are only a few cents shy of the five-month high.
The picture over the last five months is of a vertiginous fall in prices as traders adjusted to lower demand for fuel during the pandemic, to a bounceback that has seen prices revert to levels that can be profitable for many traditional producers.
However, prices remain well below the $65 per barrel level hit in early January, before the pandemic was known to have hit richer economies.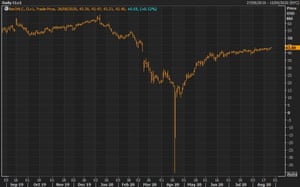 03:21
Introduction: Hurricane Laura prompts oil shutdowns to rival Katrina
Good morning, and welcome to our live coverage of business, economics and financial markets.
North American oil prices have sustained five-month-high levels as producers brace for hurricanes that could prompt the biggest weather-related shutdown for 15 years – as well as fears for the potential human costs.
Futures prices for West Texas Intermediate, the North American benchmark, hit highs of $43.57 per barrel on Tuesday, and have just about sustained those levels at about $43.27 at the time of writing. Before this week prices had not reached that level since the coronavirus pandemic triggered the price crash in March, followed by the historic negative prices in April.
Brent crude futures, the North Sea benchmark, traded as high as $46.10 per barrel on Wednesday, just shy of a five-month high.
Crude oil production has fallen to levels last seen during 2005's Hurricane Katrina as producers brace for Hurricane Laura, and officials along the Texas and Louisiana coasts have ordered residents to move inland. Winds reaching 115 miles per hour are forecast.
Reuters reported that oil producers on Tuesday had evacuated 310 offshore facilities and shut 1.56 million barrels per day (bpd) of crude output, 84% of Gulf of Mexico's offshore production, near the 90% outage that Katrina brought 15 years ago.
Analysts at Deutsche Bank led by Jim Reid wrote:



The incoming arrival of Hurricane Laura to the United States [has] led to worries over potential fuel shortages.

The National Hurricane Center warned that Laura would reach the northwestern Gulf Coast tonight, with the danger of life-threatening storm surges. Much of the oil production in the area has already been shut down, and there are obvious concerns of further damage to come.
This map of the area from S&P Global's Platts shows just how much US oil capacity is concentrated in the Gulf of Mexico – and also the number of refineries which will not have any oil to process:
Satellite pictures of the ocean tell their own story: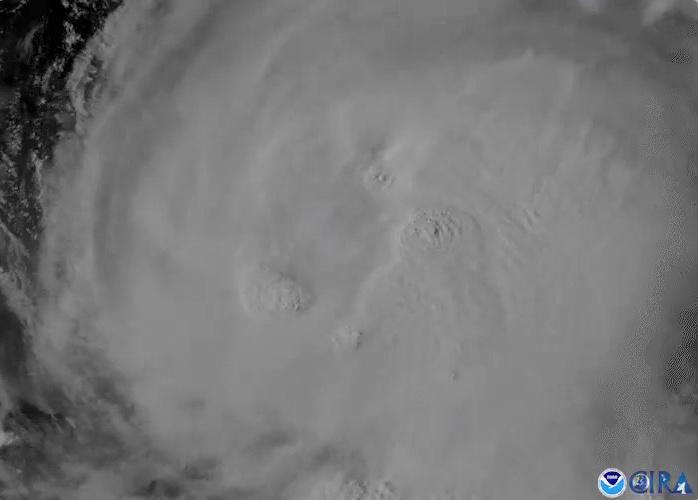 Elsewhere on Wednesday, investors are mainly looking ahead to the Jackson Hole central bankers' summit (albeit carried out this year by videoconference for obvious reasons).
Bonds sold off overnight as investors look for riskier assets, although the traditional rotation of money into stock markets does not appear to have materialised this morning. Asian markets retreated despite US equity indices hitting new record highs last night.
The FTSE 100 has lost 0.3% in early trading, while Germany's Dax and France's Cac 40 have lost 0.2% and 0.4% respectively.
The agenda
1:30pm BST: US durable goods orders, July (previous: up 7.3%; consensus: up 4.3%)
2pm BST: European Central Bank Isabel Schnabel speech
Updated

Get the latest news and advice on COVID-19, direct from the experts in your inbox. Join hundreds of thousands who trust experts by subscribing to our newsletter.
Send your news and stories to us news@climaxradio.co.uk or newstories@climaxnewsroom.com and WhatsApp: +447747873668.
Before you go...
Democratic norms are being stress-tested all over the world, and the past few years have thrown up all kinds of questions we didn't know needed clarifying – how long is too long for a parliamentary prorogation? How far should politicians be allowed to intervene in court cases? To monitor these issues as closely as we have in the past we need your support, so please consider donating to The Climax News Room.