New York (CNN) Kobe Bryant's late daughter Gianna's new Mambacita apparel line went on sale Saturday on what would have been the teen basketball star's 15th birthday. The clothing sold out by early afternoon, according to a representative of Kobe Bryant's estate team.
Vanessa Bryant, his widow, gave her Instagram followers a sneak peak of the new tie dye color-scheme Mambacita-brand sweatshirts and sweat pants on Friday, less than two weeks after Kobe Bryant's estate team ended its two-decade apparel deal with Nike (NKE).
Mambacita was Gianna's basketball nickname, a nod to her legendary father, whom Lakers fans called the "Black Mamba."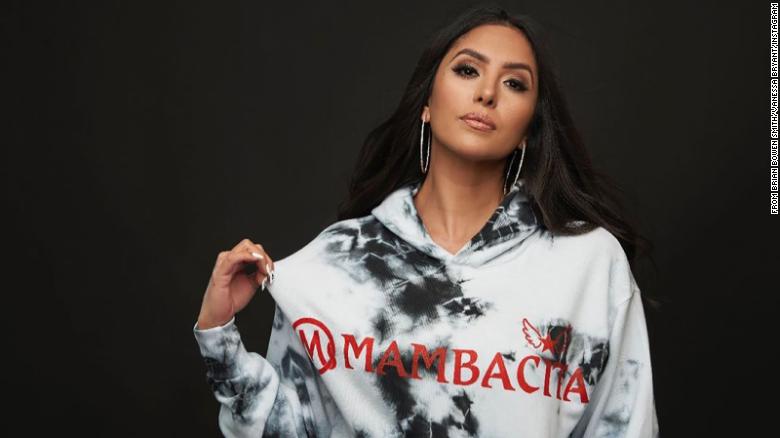 Kobe and Gianna Bryant died in a Los Angeles helicopter crash on January 26, 2020. The pilot and six other passengers were also killed.
"In honor of my Gigi's 15th Birthday," Vanessa Bryant wrote in the 
photo caption 
on her Instagram page, next to a series of photos of her and her three other daughters modeling Mambacita purple, black and white sweats, which come in adult and children's sizes.
Representatives from Kobe Bryant's estate declined to provide additional details on the announcement.
Bryant partnered with 
Dannijo
, a clothing line run by two sisters, to create a limited-edition tie-dye sweat set capsule collection. A two-piece adult sweat set is priced at $332 while the children's model is $224. Adult hoodies cost $224, and the children's model is $124. Face masks were $24.
"Her passion, warmth and kindness continue to remain in our hearts and minds and continue to guide Lil MAMBACITAS and Lady Mambas throughout the world," the company wrote about Gianna 
on Instagram
.
I am a highly skilled IT Specialist with over 12 years of experience in Web Design, Graphic Design, Web Blogging, ITL Management, IT Support Desk Manager Skills. I am a qualified and experienced within NHS, Automotive Companies, HR, Administration, Finance, marketing and other 3rd Party Companies with IT requirements. I am also self employed as Web Design, Radio Broadcaster, Media Technician, Sound Engineer and IT Specialist.
Visit: https://www.linkedin.com/in/profdavidbrayz/