Summary
Police say one person was killed in the violence,
UN Security Council fails to agree on Tigray crisis,
Ghana opposition leader disagrees with poll ruling,
Tanzania hospital installs 'Covid steam booths',
Nigeria set to begin Covid vaccination rollout,
Kenya Catholic church rebuffs opposition to vaccine,
Rights group urges war crimes inquiry in Tigray,
Live Reporting
SA top judge ordered to retract pro-Israel comments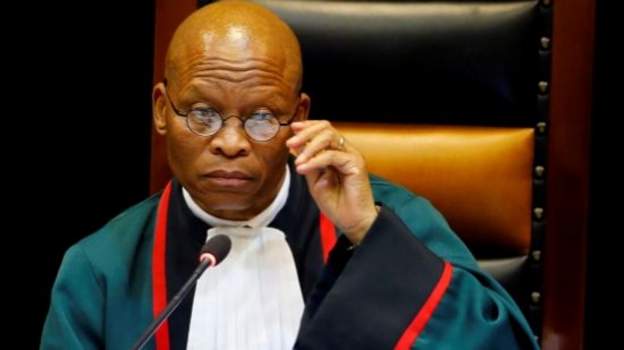 South Africa's Judicial Conduct Committee has ordered the chief justice to apologise and retract his comments that showed support for Israel.
Chief Justice Mogoeng Mogoeng made the remarks in June last year during a webinar – which was hosted by The Jerusalem Post newspaper, according to local media.
Africa 4 Palestine, a pro-Palestine organisation, was among three groups that filed a complaint with South Africa's Judicial Conduct Committee, saying the comments contravened the code of judicial conduct.
The committee ruled on Thursday that Justice Mogoeng must apologise within 10 days and even gave the wording to be used.
In a statement, Africa 4 Palestine said the decision "affirms that no one is above the law and we hope that it sets the standard for future judicial conduct".
Internet disruption amid Senegal clashes

Nigeria, Kenya, Rwanda start vaccine rollout

Nigeria, Kenya and Rwanda have begun coronavirus immunisation programmes under the Covax vaccine-sharing initiative, becoming the latest African countries to do so.

Health workers will be among the early beneficiaries of the AstraZeneca jab in all three.

In Nigeria, Cyprian Nyong – a doctor who has been taking care of Covid-19 patients since March last year – was the first to get the jab at a hospital in the capital, Abuja.

Copyright: BBC

Some other 150 health workers were also injected.

Nigerian health officials say President Muhammadu Buhari and other senior figures will be immunised in public to help boost confidence in the programme.

In Kenya, ministry of health official Patrick Amoth was the first to get the jab.

Ghana and Ivory Coast started vaccination drives earlier this week.

Angola, DR Congo and Gambia have also received supplies under the international initiative.

By Peter Mwai

BBC Reality Check

Seychelles to open up to all tourists from 25 March

Yasine Mohabuth

Port Louis, Mauritius

Seychelles is opening up to receive visitors from around the world from 25 March, irrespective of whether they are vaccinated or not.

South Africans will however not be allowed be enter the country until further notice.

In January, Seychelles had announced said that it had opened up to vaccinated travellers.

Visitors will now only be required to present a negative Covid test taken 72 hours prior to departure, foreign affairs and tourism minister Sylvestre Radegonde has said.

There will be no quarantine requirement nor restriction on movement upon entry into Seychelles.

Additionally, the minimum stay in establishments upon arrival will no longer be applicable.

However, visitors will still be required to adhere to other public health measures put in place, including wearing of face masks, social distancing, regular sanitisation or washing of hands.

Ghana opposition leader disagrees with poll ruling

Thomas Naadi

BBC News, Accra

Ghana's opposition leader and former President John Mahama has said he disagrees with the process and ruling of the Supreme Court on his petition challenging the results of last years' presidential election.

But he said he is legally bound by the decision of the court.

On Thursday, the Supreme Court upheld Nana Akufo-Addo's victory, dismissing allegations of irregularities.

Reacting to the court's verdict, Mr Mahama expressed disappointment that the head of the electoral commission, Jean Mensa, did not testify on alleged irregularities.

The Supreme Court ruled that the opposition leader had failed to prove that none of the candidates had won more 50% as is required to win the presidential election in the first round.

It also said that later alterations of declared results by the electoral commission had not significantly impacted the result.

According to the court, the declaration of the results was therefore legal and represented the will of the people.

UN Security Council fails to agree on Tigray crisis

.

The UN Security Council has failed to agree on a joint statement on the crisis in Ethiopia's northern Tigray region, after Russia, China and India concluded it was an internal matter.

Diplomats quoted by the AFP news agency said three African nations on the council – Kenya, Niger and Tunisia – had supported a draft statement.

It would have called for immediate humanitarian assistance and a halt to hostilities, while asserting Ethiopia's sovereignty, the agency reports.

The UN High Commissioner for Human Rights had earlier said there were distressing reports of continued violations that may amount to war crimes in Tigray.

Michelle Bachelet highlighted incidents of sexual and gender-based violence, extra-judicial killings and widespread destruction.

The UN rights office wants to be granted access to investigate reports of atrocities carried out by the Ethiopian and Eritrean armed forces, the Tigray People's Liberation Front and Amhara Regional Forces.

Tanzanian hospital installs 'Covid steam booths'

Tanzania's main referral hospital has installed four steam inhalation machines to treat respiratory problems.

Yet the World Health Organization (WHO) and health experts do not recommend steam therapy for treating coronavirus.

Muhimbili National Hospital Director Lawrence Maseru said each patient would be spending at least five minutes to inhale the steam that is infused with herbal remedies – adding that herbal treatments had shown to be effective

Patients will pay about $2 to use the machine, which cost between $3,200 and $4,200 (£2,300 – £3,000) to install, The Citizen newspaper reported.

Earlier this month the health ministry launched a campaign to promote steam therapy to curb the spread of Covid-19.

Tanzania has not shared data on its coronavirus situation since May last year and until recently had downplayed the impact of the virus in the country.

Where are South Africa's black fathers?

Alan Kasujja

BBC Africa Daily

Growing up without a dad at home can be hard – and yet, this has become the norm for most black children in South Africa.

"This problem affects us," says Bantu Mtshiselwa, one of the founders of the online campaign Black Father's Stand Up ZA.

"There's a friend, there's a neighbour, there's even someone in our families who is not a present father, and we should be vocal about that problem."

According to a new report, almost seven out of 10 have no biological father at home as they get older.

Money has something to do with it, but there are other complex reasons behind this trend.

"We've got a huge unemployment rate in South Africa, huge inequality," says Dr Tawanda Makusha, a senior research specialist at the Human Sciences Research Council in Pretoria.

"It's difficult for families to actually live together."

So, what does it all mean for the children, for the mothers, for the fathers?

Find out in Friday's edition of Africa Daily.

Nigeria to begin Covid-19 vaccination rollout

Chris Ewokor

BBC News, Abuja

.

Nigeria is beginning mass Covid-19 immunisation in the capital, Abuja, using Oxford-AstraZeneca vaccines acquired through Covax – a UN-backed initiative to ensure poorer nations acquire the doses.

Frontline health workers will be the first to get the jabs, according to the head of the country's Healthcare Development Agency.

The elderly and people with underlying conditions will also be prioritised.

President Muhammadu Buhari and Vice-President Yemi Osinbajo will receive their jabs on Saturday.

The country received a shipment of nearly four million doses of the vaccines earlier this week.

The government said about 50% of Nigerians have expressed willingness to be vaccinated against Covid-19.

Kenya Catholic Church rebuffs opposition to vaccine

.

The Catholic Church in Kenya has voiced its support for the Covid-19 vaccine after the country received more than one million doses of the Oxford-AstraZeneca vaccine.

The Church has also dismissed prior advice given by a group of Catholic doctors in the country who claimed Covid-19 vaccinations weren't necessary.

"Pope Francis is the head of the Church, and has spoken very clearly regarding the vaccine. The vaccines are licit to receive… they need to go through the normal tests of any vaccines and the ministry of health is supposed to do that," said Catholic Archbishop Anthony Muheria, who heads an interfaith council on Kenya's response to the virus.

In 2019 the Catholic Church in Kenya rejected the vaccination of girls against Human Papillomavirus (HPV), and in 2014 it opposed a tetanus vaccination campaign.

Rights group urges war crimes inquiry in Tigray

.

Human Rights Watch has added its voice to calls for an urgent United Nations-backed inquiry into alleged war crimes and crimes against humanity in the Ethiopian region of Tigray.

The lobby group accuses Ethiopian and Eritrean forces of indiscriminately shelling the city of Aksum in November.

Echoing a report last week by Amnesty International, Human Rights Watch says the Eritreans later massacred an estimated 200 civilians.

Eritrea has previously dismissed the allegations. Ethiopia's Human Rights Commissions says they should be taken seriously.

On Thursday, the UN Security Council failed to agree on a joint statement on the conflict in Tigray.

Senegal TV stations suspended over protest coverage

.

The Senegalese authorities have suspended the signal of two private television stations after accusing them of focusing too much on protests triggered by the arrest of an opposition leader, Ousmane Sonko.

The two stations affected by the decision by the National Audiovisual Regulatory Council (CNRA) are Sen TV and Walf TV channels

The channel were accused of broadcasting images of the unrest "in loop" after Mr Sonko's arrest, the AFP news agency reported.

Earlier, police clashed with supporters of Mr Sonko in Bignona town in the southern Casamance region on Thursday.

The government confirmed that one person was killed in the violence on Thursday, which followed Mr Sonko's arrest in Dakar a day earlier.

Mr Sonko has been accused of raping a woman at a salon where he went to get massages, which he denies.

He has described the case as politically motivated and an attempt by President Macky Sall's allies to ensure he can't run in the next election.

Some opposition leaders were excluded from contesting 2019 elections for legal reasons – and Mr Sonko says he is the latest in this pattern.

Last week, Senegal's parliament voted to strip Mr Sonko's immunity so the rape trial could proceed.

Some opposition leaders were ruled out of running in the 2019 elections for legal reasons – and Mr Sonko says he is the latest in this pattern.

Scroll down for Thursday's stories

We'll be back on Friday

That's all from BBC Africa Live for now. Keep up-to-date with what's happening across the continent by listening to the Africa Today podcast or check the BBC News website.

A reminder of our wise words of the day:

Quote Message: When you find yourself in the same place in the forest twice, then you are lost." from A Beti proverb sent by Christian Messina Mvogo in Yaoundé, Cameroon

Click here to send us your African proverbs.

And we leave you with this Instagram post by artist Falko Fantastic taken in Cape Town, South Africa:

Rwandan YouTuber arraigned in court

Rhoda Odhiambo

BBC News, Nairobi

Copyright: Yvonne Idamange Iryamugwiza

.

Rwandan YouTuber Yvonne Idamange Iryamugwiza has been arraigned in court in the capital Kigali on six charges including insurrection and incitement to public disorder.

She is accused of "spreading rumours using technology", "contempt for genocide memorials", "obstruction of the implementation of government policies" and "using counterfeit bank cheques" among other charges.

She denies all charges.

The YouTuber rose to prominence with videos critical of President Paul Kagame and the Rwandan government.

In one video on her YouTube channel, she criticised the government for displaying the bones of genocide victims in memorials. She said the remains should instead be buried with dignity.

She was arrested on 15 February and Thursday's appearance was the first time she has been seen in court.

The opposition party PS Imberakuri criticised her arrest as an attempt to stifle free speech.

Algeria 'welcomes France's murder admission'

. in 2001

Algeria has welcomed France's admission that its soldiers tortured and murdered a key figure in the country's independence struggle, reports the AFP news agency.

"Algeria notes with satisfaction the announcement by French President Emmanuel Macron of his decision to honour the fighter and martyr Ali Boumendjel," AFP quotes an official statement as saying.

The admission "comes in the framework of good intentions and a genuine desire to strengthen dialogue between Algeria and France regarding the colonial period… Through such an initiative, Algeria and France can move forward, build stable and peaceful relations, genuine reconciliation and many forms of cooperation," it said.

It also added that such moves "in no way imply the erasing of a painful history that has left lasting scars on the body of Algeria".

Boumendjel was arrested during the Algerian War of Independence in 1957, and his death shortly after was covered-up as a suicide.

But, in a meeting with Boumendjel's grandchildren on Tuesday, President Macron reassessed the death.

"[He] did not commit suicide. He was tortured and then killed," he said.

Algeria gained independence from France in 1962 after a bloody seven-year war.

UN asks for tougher stance on human traffickers

Will Ross

Africa editor, BBC World Service

.

The UN migration agency has called for more to be done to prosecute smugglers and human traffickers following the latest drownings off Djibouti.

Survivors have described the brutal actions of smugglers operating in the Horn of Africa.

Some 200 migrants including children were crammed onto the boat in Djibouti on Wednesday morning.

Just half an hour after setting off, the smugglers forced 80 of them into the sea.

At least 20 people died.

Every year, tens of thousands of young migrants try to make it to Yemen despite the conflict there. Their aim is to reach Saudi Arabia and the neighbouring Gulf countries in search of work.

Last year there was a dramatic decrease in the number of people making the journey from Ethiopia and Somalia to Yemen, but the International Organization for Migration fears that as coronavirus controls are lifted many more lives will be lost due to the greed and brutality of the smuggling gangs.

Algeria prepares law to strip terrorists of nationality

Algeria is preparing a law which would strip the nationality of its citizens who join, finance or glorify a terrorist organisation abroad.

The justice minister outlined the proposed changes during a cabinet meeting, reports the state-run news agency APS.

Reuters news agency quotes the prime minister's office as saying that the new law would remain compatible with international conventions and guarantee the right to appeal.

The authorities, however, appear to have not given any reason for the amendment.

Ghana court upholds Akufo-Addo's election victory

Thomas Naadi

BBC News, Accra

Ghana's Supreme Court has upheld Nana Akufo-Addo's victory in the December presidential election, dismissing allegations of irregularities.

Opposition candidate, and former President John Mahama, had filed a petition asking the court to annul the results of the elections and order a rerun because of alleged irregularities.

But the court ruled that Mr Akufo-Addo had obtained more than 50% (51.295%) of total valid votes and that the electoral commission's corrections of the declared results did not significantly impact the outcome.

According to the court, the declaration of the results was therefore legal and represented the will of the people.

Mr Mahama's lawyers tried unsuccessfully to get Electoral Commission Chairperson Jean Mensa to testify and be cross-examined during the hearing.

They had wanted to ask her questions relating to the alleged irregularities.

Mayor complains after Port Elizabeth named Gqeberha

Will Ross

Africa editor, BBC World Service

The local authorities in South Africa's Eastern Cape have agreed to ask the government to reconsider recent name changes following public outcry.

Last month the country's arts and culture minister Nathi Mthethwa announced that the city of Port Elizabeth had been renamed Gqeberha.

Several other changes were also introduced, aimed at erasing colonial or apartheid-era names and celebrating members of the black communities living there.

After tens of thousands of people signed a petition, the mayor of Mandela Bay Municipality Nqaba Bhanga said that he would submit a formal complaint to the arts and culture minister.

Gqeberha is a Xhosa name which has a "click" sound in it that some non-Xhosa speakers have trouble pronouncing.

Watch the BBC's Pumza Fihlani, a fluent Xhosa speaker, demonstrate how to say Gqeberha:
I am a highly skilled IT Specialist with over 12 years of experience in Web Design, Graphic Design, Web Blogging, ITL Management, IT Support Desk Manager Skills. I am a qualified and experienced within NHS, Automotive Companies, HR, Administration, Finance, marketing and other 3rd Party Companies with IT requirements. I am also self employed as Web Design, Radio Broadcaster, Media Technician, Sound Engineer and IT Specialist.
Visit: https://www.linkedin.com/in/profdavidbrayz/