00:56
Summary
You can continue to follow the latest updates on the global coronavirus blog
The House speaker, Nancy Pelosi, and the representative Jamie Raskin, a Democrat from Maryland, plan to introduce a bill tomorrow morning that would create a commission to evaluate the president's fitness for office under the 25th amendment of the US constitution. Republicans have responded by accusing Democrats of a "coup". The Democrats' discussion of presidential removal comes after Trump gave a meandering interview to the Fox Business channel during which he called for prosecuting his political enemies.
As the president continues to recover from Covid-19, his physician said he will be cleared to resume public engagements on Saturday. After refusing to participate in a virtual debate with Joe Biden next week, Trump said he would instead plan a rally.
The antibody cocktail that Trump was treated with, and has mischaracterized as a "cure" was developed with cells derived an aborted fetus – a practice that the administration opposes. Last year, the Trump administration restricted federal funding for research involving fetal tissue, suspending the newest research that involves tissue derived from abortions. The Covid-19 treatment that Trump was tested with a fetal tissue cell line from the 1980s, that was exempt from the administration's restrictions.
The Federal Bureau of Investigation (FBI) announced Thursday it thwarted an alleged plot to violently overthrow the government and kidnap the Michigan governor, Gretchen Whitmer. The Democratic governor said Trump's rhetoric has stoked threats against her.
Updated


00:35
Miranda Bryant
A top Republican senator has said that "democracy isn't the objective" of America's political system, sparking widespread outrage at a time when his party has been accused by Democrats of plotting voter suppression and questioning a peaceful transition of power in November's election.
The Utah senator Mike Lee made the inflammatory declaration in an early morning tweet following Wednesday's vice-presidential debate.
"Democracy isn't the objective; liberty, peace, and prospefity are. We want the human condition to flourish. Rank democracy can thwart that," he wrote, misspelling prosperity.
It followed a series of tweets he made during the debate between Mike Pence and Kamala Harris in which Lee claimed "We're not a democracy" and questioned its role in US government.
Lee is among a swath of Republicans who recently tested positive for coronavirus. His tweets came amid growing concerns over the integrity of the election on 3 November. Trump and Pence have refused to assure voters of a peaceful transfer of power if the Republicans lose November's election.
The president has said: "Well, we're going to have to see what happens." And in the vice-presidential debate, when asked what he would do if Trump refused a peaceful transfer of power, Pence said: "First and foremost, I think we're going to win this election."

00:29
On CNN, Michigan's governor, Gretchen Whitmer, said the White House's attacks have stoked threats against her.
Six people have been charged with a plot to kidnap Whitmer. Another seven have been charged with plotting to target law enforcement and attack the state capitol.
"We have to call it out for what it is – it is domestic terrorism," she said.
Whitmer said White House had not checked up on her, while Joe Biden and Charlie Baker – the Republican governor of Massachusetts – had. "That's what decent people do," she said. Not long after news of the thwarted plot broke, Trump campaign official Jason Miller attacked Whitmer: "If we want to talk about hatred, then Gov Whitmer, go look in the mirror – the fact that she wakes up every day with such hatred in her heart towards President Trump."
"Every time that this White House identifies me or takes a shot at me, we see an increase in rhetoric online – violent rhetoric," the Michigan governor said. The foiled kidnapping plot "took it to a whole new level".
Updated


00:08
Donald Trump
is expected to call into Sean Hannity's show on Fox News tonight, and guest host the Rush Limbaugh Show – a three-hour radio program.
This morning, he spent an hour on the phone with Fox Business' Maria Bartiromo, saying he felt well after contracting Covid-19 and describing himself as a "perfect physical specimen".
In a memo, the president's physician Dr Sean Conley said he anticipates Trump will be able to safely return to public engagements on Saturday. Conley had previously said he didn't think Trump would be cleared until Monday.
The CDC currently recommends that people who have had Covid-19 can be around others 10 days after symptoms first appeared.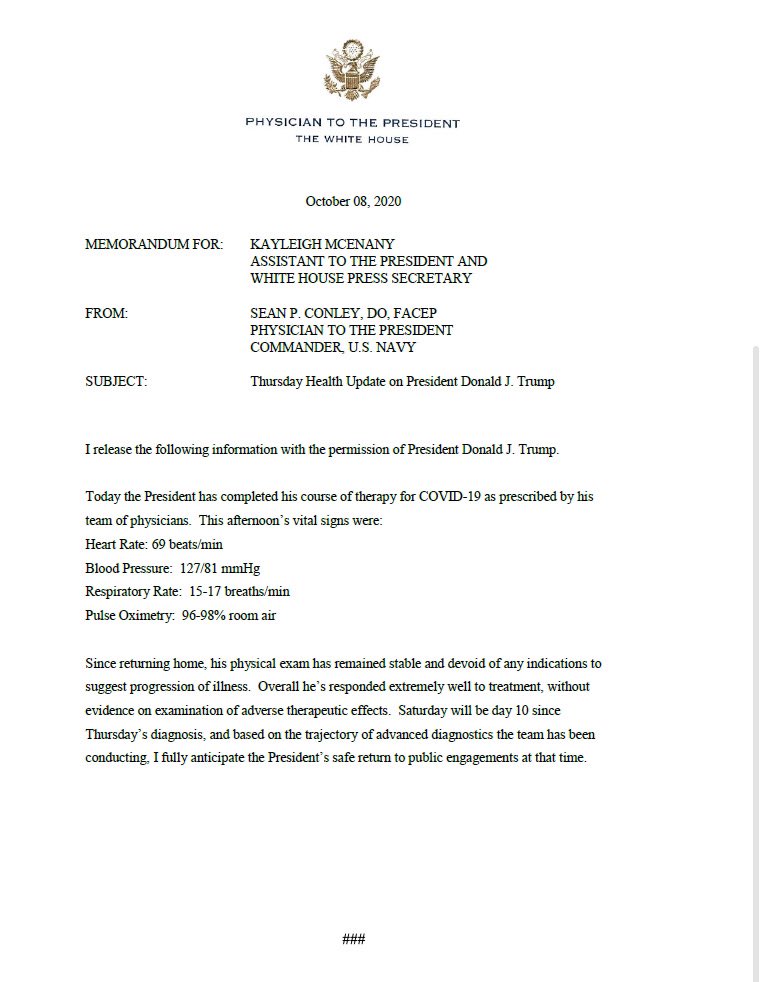 23:48
Another member of the White House press corps has tested positive for coronavirus after taking a rapid test.
If their results are confirmed, this person would be the fourth journalist to have tested positive for Covid-19 after being exposed to an outbreak at the White House.
"In the immediate days ahead, we continue to insist that journalists who are not in the pool and do not have an enclosed workspace refrain from entering the indoor press areas of the White House," the White House correspondents association said. "We would also strongly encourage all journalists to continue avoiding working from the White House grounds entirely if possible."
Yesterday, BuzzFeed News pulled a political correspondent White House press pool due to coronavirus risks.

23:28
Martin Belam in London and Amanda Holpuch in New York:
Donald Trump suggested on Thursday that relatives of fallen soldiers could have given him coronavirus after they visited the White House – as the timetable for the remaining two presidential debates between Trump and Biden was thrown into turmoil.
In a phone interview with the Fox Business TV channel on Thursday morning, Trump complained about coming into close contact with the veterans' families in a gathering one day after an event at the White House where Trump nominated a new supreme court justice. Many senior figures in attendance at that event later tested positive for Covid-19.
Of the Gold Star families event at the White House on Sunday 27 September, Trump told Fox he "went through, like 35 people" whose family members had died, "and everyone had a different story", adding: "I can't back up and say: 'Give me room. I want room. Give me 12 feet. Stay 12 feet away when you talk,'" he said.
The military family members had "come within an inch of my face, sometimes", Trump said. "They want to hug me, and they want to kiss me. And they do. And, frankly, I'm not telling them to back up. I'm not doing it."
He also said he would not agree to debating his Democratic rival, Joe Biden, in a virtual setting, rather than in person, on 15 October, after the commission in charge of presidential debates said it was moving the debate online because of coronavirus concerns. There followed hours of back and forth between the two sides' election campaigns that remained unresolved on Thursday afternoon.

23:06
What are Nancy Pelosi and Jamie Raskin proposing with their bill?
They say their bill would create a panel, operating under the confines of the 25th amendment, to help determine whether a sitting president is unfit for office.
The US adopted the 25th amendment to the constitution in the 1960s. It allows for a president to be removed from office if the vice-president and a majority of cabinet members or "such other body as Congress may by law provide" decide that the president is unable to serve. The amendment also allows the president to temporarily hand power over the vice-president before a foreseen event like a surgery.
While undergoing a colonoscopy, George W Bush handed over power to Dick Cheney. But after Reagan was shot and in hospital, he was unable to evoke the 25th – and didn't hand over power, and his vice-president, George HW Bush, didn't take it.
Pelosi and Raskin's bill would seek to create that "other body" to consider whether presidential removal is appropriate.
Updated


22:47
The president
appears to be back at the West Wing, outside of which a US Marine has been posted.
Trump, who is likely still contagious as he recovers from Covid-19, drew criticism for leaving his living quarters and returning to the West Wing earlier this week, where he could expose aides, advisers, cleaning staff, and others.
After the president's first West Wing visit since returning from the hospital, a White House source told Axios: "It's insane that he would return to the White House and jeopardize his staff's health when we are still learning of new cases among senior staff. This place is a cesspool."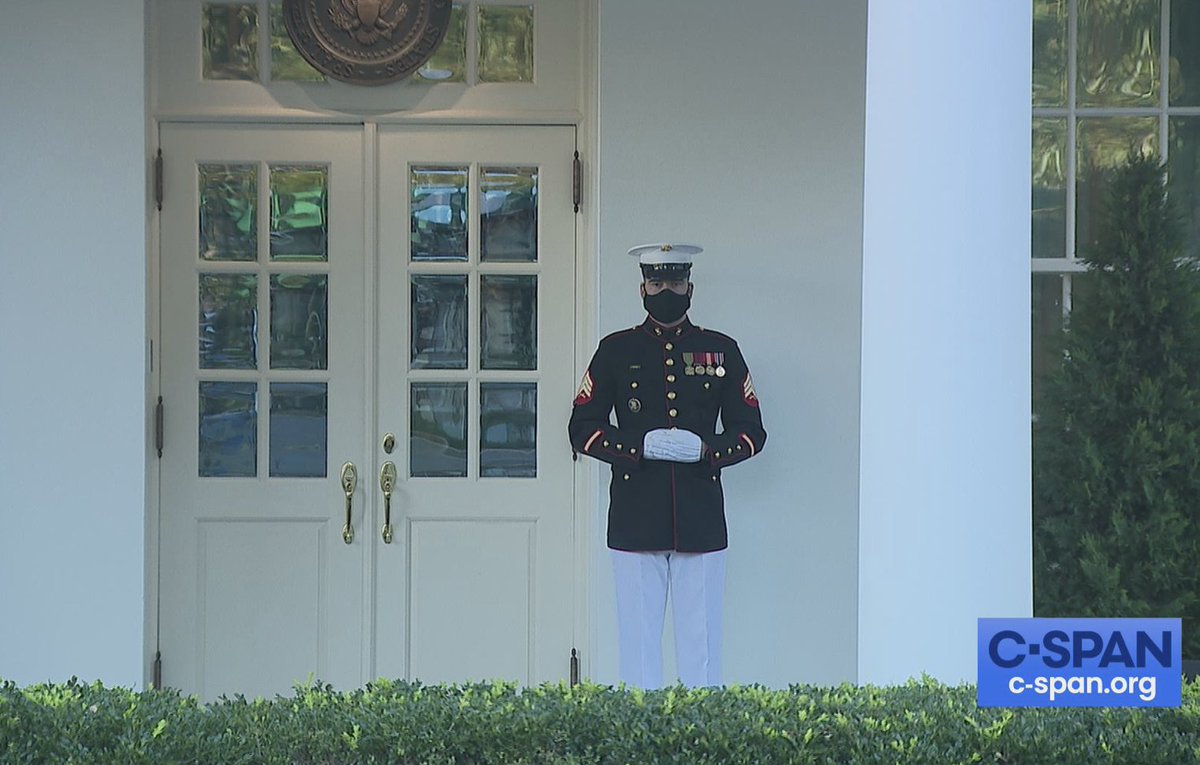 22:37
Trump treatment tested with cells from fetal tissue – a practice his administration opposes
The antibody cocktail that Trump hasmischaracterized as a "cure" was developed with cells derived from human fetal tissue – a practice that the administration opposes.
Last year, the Trump administration restricted federal funding for research involving fetal tissue, suspending most new research that involves tissue derived from abortions.
The effectiveness of Regeneron Pharmaceutical's antibody treatment for Covid-19 was tested by using a fetal tissue cell line from the 1980s, per the company, and falls outside the administration's recent restrictions. Remdesivir, another drug the president was given as part of his treatment, was also tested with these cells.
"Promoting the dignity of human life from conception to natural death is one of the very top priorities of President Trump's administration," the Department of Health and Human Services said as the restrictions were imposed.
Updated


22:10
Hi there, it's Maanvi Singh – blogging from the West Coast.
Joe Biden and Kamala Harris are in Arizona today.
The Democratic candidates were asked about Trump's comments about Harris. "No, I don't comment on his childish remarks," she told reporters.
Per LA Times reporter Melanie Mason, Biden added: "It's despicable. It's despicable. It's so beneath the office of the presidency, and the American people are sick and tired of it. They know who this man is, it's got to stop.:

21:58
Today so far
Updated


21:47
One last dispatch from
Michigan governor Gretchen Whitmer's
press conference from Miranda Bryant:
Whitmer said leaders who "meet with, encourage or fraternise" with domestic terrorists are "complicit" and "legitimise their actions".
Citing Republican president Ronald Reagan's speech to the NAACP's annual convention in 1981 addressing racism and religious prejudice, she issued a warning that "hatred, bigotry and violence have no place in the great state of Michigan."
She added: "If you break the law or conspire to commit heinous acts of violence against anyone, we will find you, we will hold you accountable and we will bring you to justice."
Referencing lockdown restrictions – which attracted condemnation, including armed protests in the state capitol – she said she has had to make "gut-wrenching decisions no governor has ever had to make" over the last seven months and that coronavirus has caused "immeasurable" disruption to people's lives and killed over 6,800 people in Michigan.
"As painful as these losses are, our hard work and sacrifices have saved thousands of lives," she said, but warned there would be more difficult days to come.
Updated


21:40
Vice president Mike Pence
has abruptly canceled his trip to vote in Indiana tomorrow, per an email from his office.
Pence is currently in Arizona and officials said he is still planning to travel to Florida on Saturday, according to the New York Times.

21:27
Pelosi to introduce bill to create commission on president's fitness for office
House speaker Nancy Pelosi
and representative Jamie Raskin, a Democrat from Maryland, are tomorrow morning introducing a bill to create a commission to evaluate the president's fitness for office under the
25th amendment.
This morning, Pelosi mentioned she would later discuss the 25th amendment, immediately inspiring accusations of a "coup" from Republicans online and on Fox News.
This included multiple retweets along those lines by the president, who also bizarrely shared a post by a journalist pointing out that using the 25th amendment is not a coup.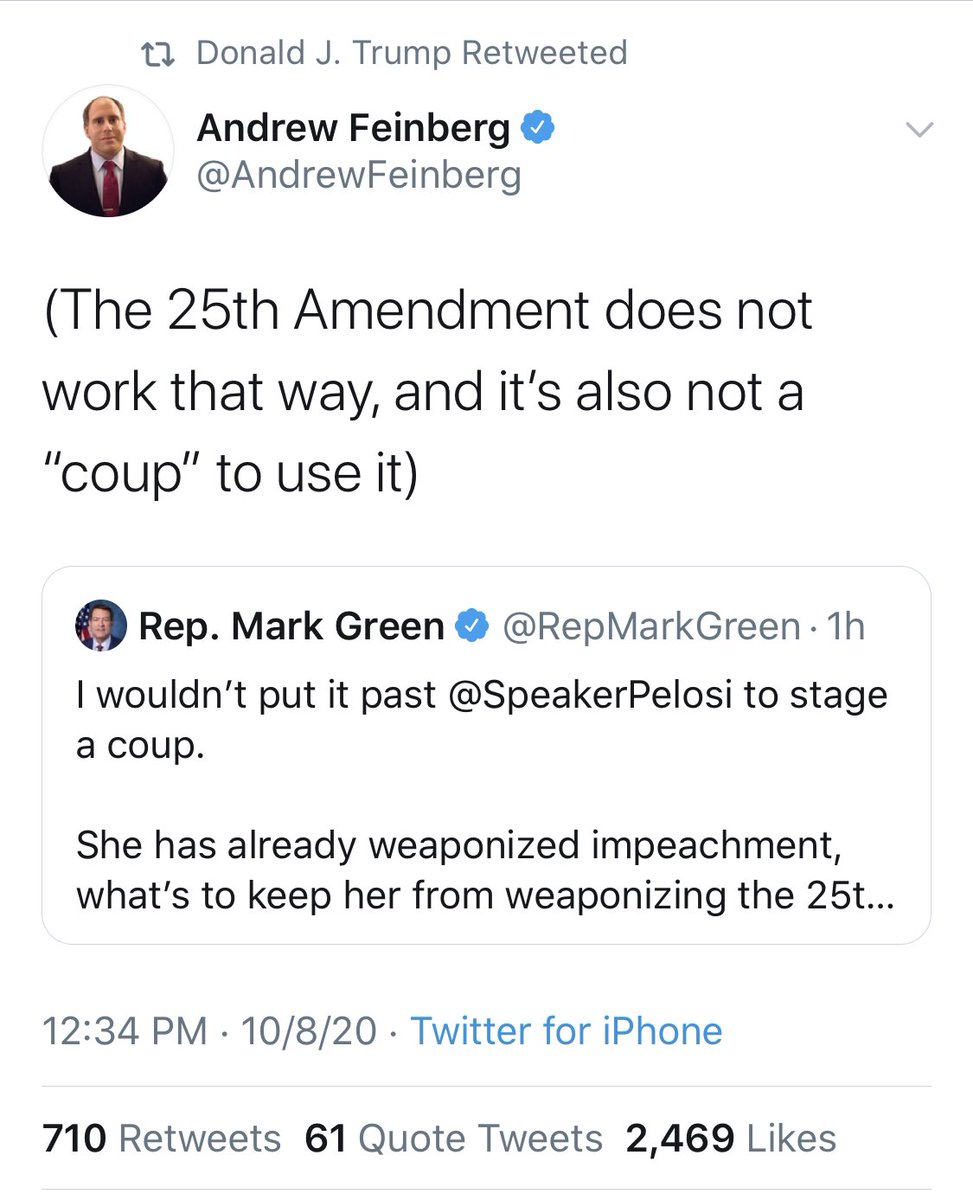 Updated

Get the latest news and advice on COVID-19, direct from the experts in your inbox. Join hundreds of thousands who trust experts by subscribing to our newsletter.
Send your news and stories to us news@climaxradio.co.uk or newstories@climaxnewsroom.com and WhatsApp: +447747873668.
Before you go...
Democratic norms are being stress-tested all over the world, and the past few years have thrown up all kinds of questions we didn't know needed clarifying – how long is too long for a parliamentary prorogation? How far should politicians be allowed to intervene in court cases? To monitor these issues as closely as we have in the past we need your support, so please consider donating to The Climax News Room.