Guides
Want to find the Midas Flopper in Fortnite? Well, you're going to need to know where to look.

After much anticipation, Epic released the Midas Flopper into Fortnite in the v14.20 update. After hearing about it since the season began, we're finally able to search for one of the rarest fish in the game.
Fans assumed that the Midas Flopper would have the same spawn rate as the Mythic Goldfish – making it nearly impossible to find without getting extremely lucky. As it turns out, however, Epic decided to keep the Mythic Goldfish in a separate tier of loot.
Instead of the .001% spawn rate of the Mythic Goldfish, the Midas Flopper has the same spawn rate as the Vendetta fish at 1%. Catching this one is a lot more realistic than the Mythic Goldfish. In fact, you can even enter Battle Lab for a better shot.
For those who don't already know, the Midas Flopper offers players one of the best buffs in the game. Consuming it will turn every applicable item in your inventory gold. Of course, this doesn't apply to items like the Suppressed SMG and Bandage Cannon, as there are no gold variants of these items. The Flopper also grants you a free Gold Scar if you didn't already have an AR in yout inventory.
Read More: Fortnite teasers point to Blade as the next in-game hero
So, let's talk about where to find the Midas Flopper. You can't search just anywhere for it, as early fishermen learned the hard way. The Midas Flopper only spawns around The Authority, which was where we first met Midas in Season 2.
It's still early, but we've only seen the Midas Flopper caught with a Pro Fishing Rod. So far, we haven't seen any clips of the Flopper coming out of a Fishing Hole with a Harpoon Gun or normal Fishing Rod, so it's probably best to upgrade your Fishing Rod at The Authority before hitting the water. At the very least, it will drastically improve your chances of finding this rare fish.
Read More: Fortnite's 3rd birthday event leaks: cosmetics, challenges & more
Luckily, unlike the Mythic Goldfish, you can find the Midas Flopper if you set your mind to it. It might take hours to find, but at least you know where to look. There always seem to be several Fishing Holes around The Authority, so the chance of eventually finding the Midas Flopper is relatively reasonable. Good luck! You're going to need it.
Challenges
We're one step closer to unlocking Wolverine in Fortnite Season 4.

Published
20 mins ago
on
September 23, 2020
In recent seasons, Epic seem to have abandoned the "secret skin" concept that used to accompany each Battle Pass. For most of Chapter 2, we've been aware of the "secret skin" as soon as the season began. It's probably time that we start calling it an "unlockable skin," instead.
As almost all Fortnite players know, the Season 4 unlockable skin is Wolverine. In fact, we saw his entrance into Fortnite this morning in the v14.20 patch.
You can find Wolverine wandering around the Weeping Woods/Slurpy Swamp area if you look hard enough. We've already landed there twice and haven't found him. His spawn radius is huge and he's only one, small mutant.
When it comes to unlocking Wolverine's skin, however, Epic are taking it easy on us this week. All we have to do is locate the Transport Truck, which undoubtedly housed Wolverine until today. The doors to the truck are now open and Wolverine is roaming the map.
Read More: How to catch the Midas Flopper in Fortnite
Interestingly, the Transport Truck was an early addition to Fortnite Season 4. It appeared on the map even before the first update of the season. You can find it in the northeast corner of the map – just to the west of the lighthouse. Here's a closer look at the area and where you can find it on the map.
To finish the challenge, all you need to do is visit the truck from which Wolverine escaped. As long as you completed all of the rest of the Wolverine challenges, you'll unlock the Season 4 Wolverine Glider variant. We'll have to wait another week before we unlock Wolverine, himself.
Until then, you can take a look at our full Week 5 challenge guide here.
Challenges
The Fortnite Season 4 Week 5 challenges are live! Here's how to complete all of them.

Published
1 hour ago
on
September 23, 2020
Fortnite Season 4 Week 5 is here, bringing us a list of new challenges to complete as we make our way through the Battle Pass.
As always, the challenges will go live on Thursday morning at 10 am EST (7 am PST). This week, we're seeing more of the same as we'll be searching chests, eliminating opponents, and locating floating rings.
There are a few wrinkles, here, such as challenges that require us to drive from Slurpy to Catty and eliminate Gorgers, but most of these will look familiar to you.
Search Chests at Doom's Domain (0/7)
Eliminations at Dirty Docks (0/3)
Drive a car from Slurpy Swamp to Catty Corner in less than 4 minutes without getting out (0/1)
Collect Floating Rings at Coral Castle (0/1)
In a vehicle, jump through the flaming rings at Salty Springs (0/1)
Make a Stark Robot dance (0/1)
Destroy Gorgers (0/1)
Deal damage to opponents at The Authority (0/500)
Deal damage to opponents at Stark Industries (0/500)
Most of theses challenges are straightforward, but a couple of them require a guide. For instance, to make a Stark Robot dance, you need to down it, hack it, and emote next to it.
Read More: How to catch the Midas Flopper in Fortnite
Gorgers appear to randomly spawn throughout the map – similar to how the Marauders worked, but a bit rarer. Our best advice would be to search for the Gorgers in a few solo matches, rinse, and repeat.
The flaming ring at Salty Spring isn't in the game at the time of writing, but its eventual location is obvious when you see the ramp next to the old "broken" building. The ring will undoubtedly spawn here and require you to find a car to jump through it.
The final challenge that requires a guide is the location of the floating rings at Coral Castle, but we covered that in a separate article. You can find that guide here.
Read More: Fortnite teasers point to Blade as the next in-game hero
Apart from that, you should be able to get eliminations and search chests in these specific locations within a few matches. Stark Industries is always a hot drop and The Authority will likely become more populated when these challenges go live. If you're looking for the weekly Wolverine challenge, you can find that here. Good luck!
Leak
All signs point to the daywalker, Blade, being the next Marvel hero in Fortnite Season 4.

Published
4 hours ago
on
September 23, 2020
The Fortnite Season 4 Marvel crossover is chugging along with the most recent update: v14.20. Epic brought Wolverine to the game along with his mythic hero ability. They also added Storm's hero ability to the loot pool, which can be found at the Quinjet landing sites with the other standalone mythic abilities.
Now that most of the known hero abilities are in the game in some fashion, fans are wondering what will be next. This is only the second update of Chapter 2. We can't be done yet; can we?
Of course not. In fact, Epic have been dishing out some massive teasers that point to Blade – Marvel's resident vampire hunter – being the next hero in the lineup. The teasers began over the weekend with a tweet from Donald Mustard, cryptically quoting a Smashing Pumpkins song.
Most of the comments called this out for the teaser that it was, suggesting that Blade would be the next hero coming to Fortnite. In v14.20, Epic doubled-down on their Blade teasers.
Read More: Fortnite's 3rd birthday event leaks: cosmetics, challenges & more
In the patch notes email that Epic send to creators, they highlighted a few letters in red. These combine to spell "daywalker," which is the name of the half-human/half-vampire characters in Marvel Comics. As you might guess, Blade is the most popular daywalker character in the lineup.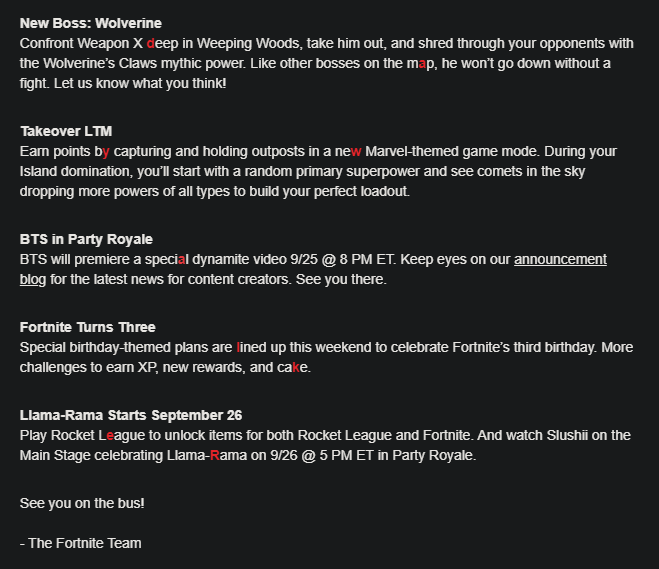 This teaser all but confirms Blade's entrance into Fortnite. Of course, we still have a few questions about the details. Will he be a boss in Fortnite? Will we be able to use his abilities in-game? Will he be a part of the Item Shop or a true secret skin? Only time will tell.
Read More: Fortnite v14.20 leaked skins and cosmetic items
For now, we can expect to see Blade come to Fortnite within the next few weeks. He might be released before the next update, but that would mean that his skin is encrypted – no data miners have mentioned him, yet. Of course, we'll let you know when we learn more.
Get the latest news and advice on COVID-19, direct from the experts in your inbox. Join hundreds of thousands who trust experts by subscribing to our newsletter.
Send your news and stories to us news@climaxradio.co.uk or newstories@climaxnewsroom.com and WhatsApp: +447747873668.
Before you go...
Democratic norms are being stress-tested all over the world, and the past few years have thrown up all kinds of questions we didn't know needed clarifying – how long is too long for a parliamentary prorogation? How far should politicians be allowed to intervene in court cases? To monitor these issues as closely as we have in the past we need your support, so please consider donating to The Climax News Room.