Events
Details of Fortnite's third birthday celebration event have been leaked.

It's crazy to think that we're approaching three full years of Fortnite: Battle Royale. The game has come a long way in that time and is virtually unrecognizable when you compare it to the early days.
Each year that passes, Epic host a birthday event for the player base. Typically, this involves some challenges, free cosmetic rewards, birthday cakes, and a thematic Battle Bus. According to the leaks surrounding the third Fortnite Birthday event, we can expect much of the same this year.
Challenges & rewards
The challenges for Fortnite's third birthday seem nearly identical to the challenges from last year. We'll be dancing in front of cakes, consuming birthday cake for health and shield, and completing general Fortnite tasks over the course of the week.
Read More: Fortnite 14.20 patch notes: Wolverine arrives, Takeover LTM
The challenges are similar to those of past seasons, as well. In fact, two of the rewards have the number 2 on them. These are likely placeholders for future rewards, including the "Take the Cake" emote that we saw leaked.
For now, here are the Fortnite birthday challenges and rewards that we saw leaked. Of course, these are subject to change when birthday event goes live.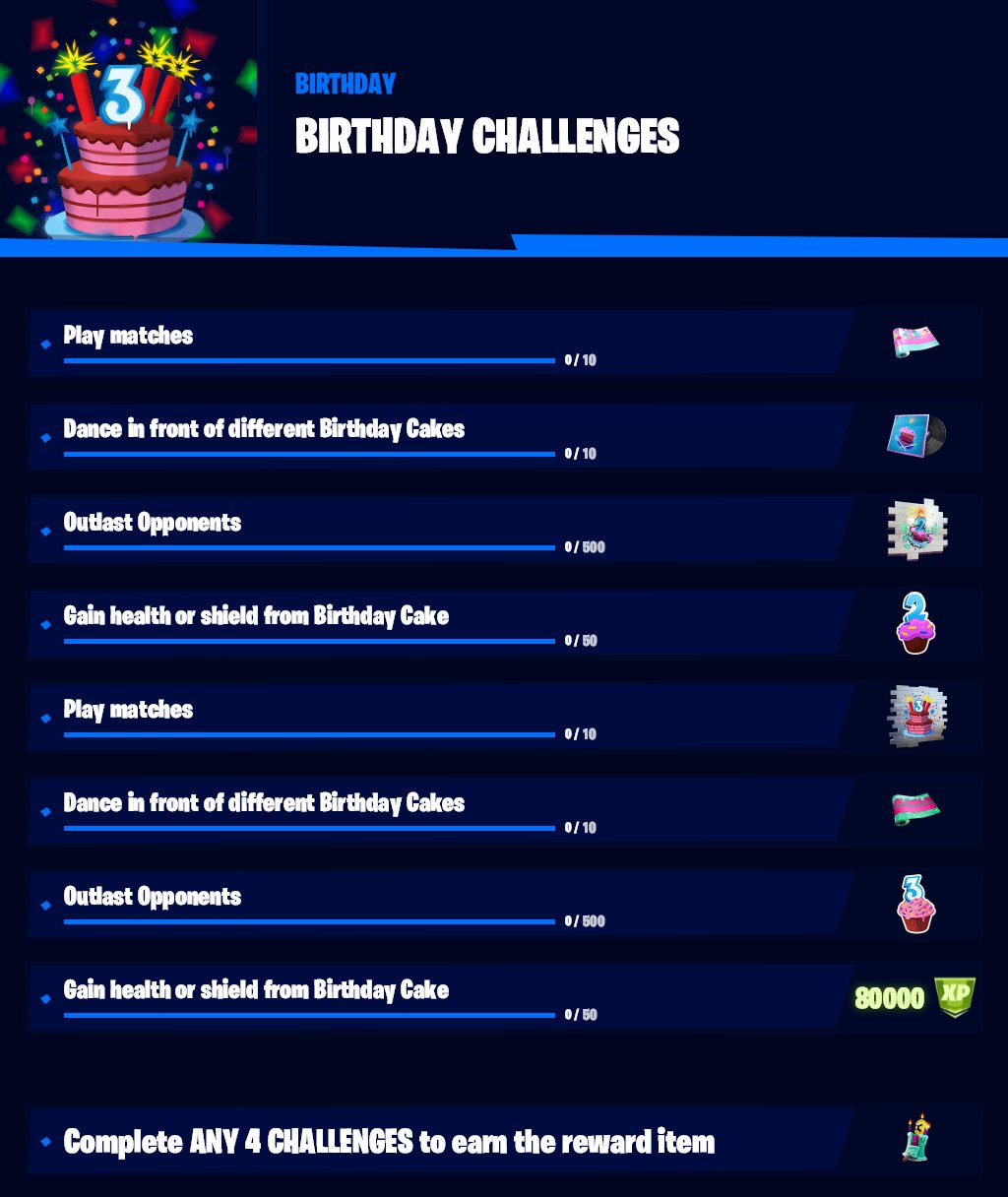 Gift Boxes & Battle Bus
As expected, the Fortnite Birthday Battle Bus will be returning for a third year. Yes, this means the relatively annoying Birthday music will greet us at the beginning of every match for about a week. In our opinion, this is the worst Battle Bus song of them all. With any luck, Epic reworked it this time around.
Read More: Upcoming Fortnite BTS emotes leaked
The birthday Gift Boxes will be returning, as well. Thanks to data miner, Hypex, we also know what they'll contain. We'll be getting some tier-one loot in these boxes. They'll also be one of the two ways to get a Rocket Launcher in Fortnite.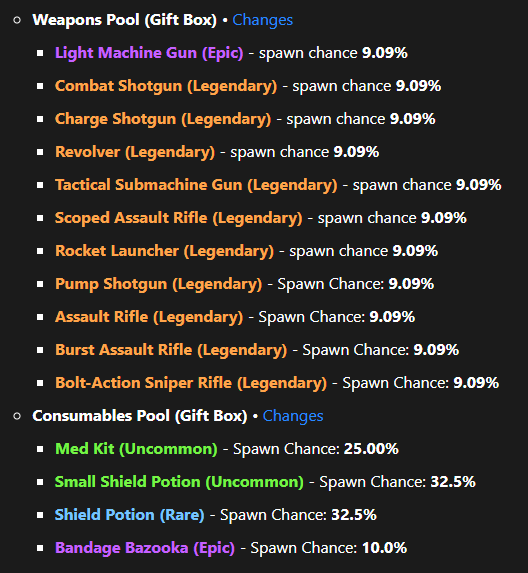 Of course, we're also expecting to see cakes spawn around the map when the event kicks off. We're not sure where these will be, but we'll provide you with a guide to these birthday challenges when they come to Fortnite.
The official Fortnite birthday is on September 26, so we can expect the event to begin on that date – if not a day or two before. It will probably run through the next week and give players plenty of time to complete their challenges.
Guides
Find out how to make a Stark Robot dance for your Fortnite Season 4 week 5 challenges.

Published
11 hours ago
on
September 24, 2020
Fortnite Season 4 Week 5 is here, bringing us some new challenges to complete for the week. XP is flowing this season, but don't get complacent. Unlocking the Holographic Wolverine style will require you to reach level 220 – a tall order for even the most dedicated Fortnite player.
This week, there are a few challenges that require a bit of existing Fortnite knowledge to complete. One of these is "Make a Stark Robot dance." Don't worry, though, this is easy to check off your list once you know what to do.
The first step in this process is finding a Stark Robot. Yes, you can find plenty of them at Stark Industries, but that's probably not a good place to do this challenge. It's one of the most populated places on the map and Stark Robots don't spawn in Team Rumble.
Read More: Glitch King reveals Fortnite 'Infinite XP' exploit
Instead, we suggest heading for one of the Quinjet landing sites on the map. You can usually find one that's devoid of players, but be careful that the Stark Robots don't take you out on their own.
The best strategy is to land somewhere near the Quinjet, get a couple of guns, and head to the landing site from there. That way, you'll be able to defend yourself from those pesky robots.
Now that you've found an untouched landing site, all you need to do is down one of the stark robots and hack them. You can do this by going up to them and pressing F on keyboard, Square on PS4, or X on Xbox. We recommend clearing out the other robots before trying to hack one.
Read More: How to enter the Stark Industries Vault without a keycard
Once you've hacked a robot and are safe, the final stage is to dance. The robot will dance with you and you'll complete the challenge. You don't even have to wait for the robot if you don't want. The challenge will complete itself as soon as you dance with a hacked robot by your side.
Hacking robots in Fortnite is sneakily an awesome tactic. They fight by your side, distract your opponents, and can sometimes even do enough damage to get a kill or two. Good luck!
Glitches
This "grindy" XP glitch gives you infinite experience, but is it worth your time?

Published
12 hours ago
on
September 24, 2020
XP is relatively easy to come by in Fortnite Season 4. There are weekly and daily challenges, Punch Cards, in-game XP, and even secret challenge that net players some sizeable rewards.
Despite this fact, it's unlikely that most players will be able to unlock all of the foil variants in the season. Unlocking a Holographic Wolverine – the highest XP threshold of the season – requires you to reach level 220 by the end of Season 4. That's more realistic than the Golden Agent Peely from a couple of seasons ago, but it's far from a guarantee.
There is at least one working XP glitch that's in the game at the time of writing, but you'll need to act fast if you want to make the most out of it. Epic are known to quickly patch these XP glitches, and this one is tied to a secret challenge. Once you complete the challenge, you may not be able to use the glitch.
Read More: New Fortnite Battle Bus "Upgrade" leaked
This exploit was uncovered by YouTuber Glitch King, who also showed players how to get into the Stark Industries vault without a keycard. All you need to do is visit one of the four locations listed in his video and equip a spray.
The XP exploit has to do with defusing the bomb for the Season 4 secret challenge. For some reason, spraying the barrel will trigger the 500 XP reward for defusing the bomb up to five times. Once you hit five, you need to leave the game, rinse, and repeat.
The first obvious downside to using this exploit is that it will tank your stats. If you care about your Solo win/loss and kill/death ratio, you'll probably want to find another way to earn that XP.
Read More: How to catch the Midas Flopper in Fortnite
It's also a full-on grind. You'll have to ask yourself: do you really want that Holographic Wolverine or do you just want to play to have fun? This isn't an MMO, after all, it's a competitive battle royale.
If you do decide that this 2,500 XP per game exploit is worth it, be careful not to overdo it. We don't think that this will trigger a ban, but you need to be careful. You could see a timeout once Epic get wise to it.
Now that you know how to do it, though, the decision is yours: will you throw a bunch of games in the name of free XP or will you earn it the hard way while having more fun?
Glitches
Fortnite players have found an exploit that allows them to enter the Stark Industries vault without a keycard.

Published
15 hours ago
on
September 24, 2020
The first update of Fortnite Season 4 included a massive overhaul of almost the entire northeast portion of the map. Stark Industries has now become one of the most popular places to land, with nearly a quarter of the lobby chasing Iron Man at the beginning of each match.
It's easy to understand why this location is so popular. Stark Industries offers a ton of loot, a chance for an early battle, the only place to obtain high-level Stark Rifles, the Iron Man hero abilities, and a vault.
We're focusing on the vault, for this article. It's one of only two closed vaults on the map, but that doesn't mean that you need a keycard to enter. More than a few players have eliminated Iron Man and hit the vault, only to find a squad of players already inside.
The reason for this is a video made by popular YouTuber and glitch exposer Glitch King. He offered a video tutorial on how to enter the Stark Industries vault without a keycard.
Read More: New Fortnite Battle Bus "Upgrade" leaked
A glitch like this one has been possible in every season since vaults first came to Fortnite. The good thing was that most of these glitches took so long to complete that they were nearly impossible to pull off in a real game. You'd have to build walls and cones, get a boat, and spam buttons to enter the vault.
This one, however, is troublingly easy. All you need to do is hit the back of the vault at the proper angle with one of the many cars that spawn in the Stark Industries parking lot. Simply land, grab a car, drive it under the stairs and hop into the vault.
There's a small catch to this glitch, however. One of the requirements is a bad PC – or, at least, a friend with a bad PC. Part of the glitch requires the driver's PC to fail to render the walls of the vault, pushing you inside.
Admittedly, Glitch King makes the exploit look easier than it is. You probably won't get it on your first try, but there's nothing stopping players from practicing this glitch in Battle Lab. Once you find the right angle, you'll get in every time.
Read More: How to catch the Midas Flopper in Fortnite
Of course, you'll be stuck inside the vault until someone else opens it, but that isn't much of a problem. The Stark Industries vault almost never goes unopened, so chances are you'll be able to loot the vault and kill whoever opens the door for you.
This is a pretty broken exploit, so we hope Epic address it in a coming update. The longer it's in the game, the more players will try it. For now, all we can advise is to be careful when opening the Stark Industries vault.
Get the latest news and advice on COVID-19, direct from the experts in your inbox. Join hundreds of thousands who trust experts by subscribing to our newsletter.
Send your news and stories to us news@climaxradio.co.uk or newstories@climaxnewsroom.com and WhatsApp: +447747873668.
Before you go...
Democratic norms are being stress-tested all over the world, and the past few years have thrown up all kinds of questions we didn't know needed clarifying – how long is too long for a parliamentary prorogation? How far should politicians be allowed to intervene in court cases? To monitor these issues as closely as we have in the past we need your support, so please consider donating to The Climax News Room.