Leak
All signs point to the Launch Pad returning in Fortnite Season 5.

Published
11 hours ago
on
Fortnite Season 4 is nearly over, so fans are looking towards the new season and what it will hold. There's no doubt that we'll have some surprises when we load-up Fortnite on the first day of Season 5. We may be able to predict a few things, however.
Outside of the stripped-down Chapter 2 Season 1, Season 4 was the only Fortnite season that didn't include Launch Pads since they were introduced to the game way back in November of 2017.
The Launch Pad is a central point of the game, so it was surprising to see it leave in Season 4. According to recent reports, however, we could see it sooner rather than later.
Although it was surprising, the removal of Launch Pads made sense. Several mobility improvements were added to Season 4, and Epic could have thought that the Launch Pad pushed the game into the "too much mobility" category – which was a problem in Season 9.
Read More: Fortnite leak suggests Zero Point will return in Season 4 event
According to a tweet from Fortnite data miner, Mang0e, it seems like Epic could be reversing course. When digging through the v14.60 game files, the data miner found that Launch Pads were added back to the files.
The Launch Pad's return to the Fortnite game files could mean a number of things. It could be coming back for the event or an LTM like we saw with some items in Lachlan's Pickaxe tournament or Unvaulted.
Unvaulted just ended, though, and the Launch Pad was nowhere to be found. More than likely, this means that everyone's favorite mobility tool will return for Fortnite Season 5.
The Launch Pad is kind of like the Pump. It might go away for a Season here and there, but we always know it's coming back.
Leak
Could we be seeing the return of the Zero Point in Fortnite Season 4?

Published
2 days ago
on
November 19, 2020
Galactus is coming for the Zero Point, and these Fortnite leaks suggest that he'll succeed.
Ever since we first learned that Galactus was on his way to the Fortnite island, we heard that he was after one thing: the Zero Point – also known as the Nexus Sphere. In Marvel comics, the "Nexus" refers to the point at which all realities are connected. With this crossover, it could mean the same thing in Fortnite.
By all accounts, the Season 4 event will be the biggest in the history of the game – not a short bar to clear. Fortnite has repeatedly outdone any other video game in their live events, and looks to outdo itself yet again.
With such a massive event on the horizon, fans are expecting certain assets to return to the game. How do you beat the Butterfly Event, Doomsday Event, and Black Hole event? You combine all of them into one.
Read More: Fortnite leaks link Galactus event to the Black Hole & Travis Scott
We don't think that the next Fortnite event will be this simple, but we do have a few signs that some of the major plot points from Chapter 1 will rear their heads, again. Yesterday, data miners reported that files for the Season X Black Hole lobby were back in the game files, suggesting a version of the Black Hole will come back in Season 4.
Today, @Mang0e reported that the sound files for the Nexus Sphere – or Zero Point – were added back into the game. When you combine these two pieces of news, they make a lot of sense. The Zero Point caused the Black Hole, after all.
Of course, this is only speculation and we have no idea if/how these sound files would be used. Most data miners don't know exactly what will happen during the event, but this trickle of information gives us some cryptic clues.
It looks like we'll all need to wait for November 30 until we know more. Until then, we'll cover all of the leaks, clues, and speculation ahead of the biggest event in the history of Fortnite.
Leak
Fortnite v14.60 brought leaked skins, pickaxes, and more cosmetics to the game.

Published
3 days ago
on
November 18, 2020
Fortnite v14.60 is here, and you know what that means: a batch of leaked skins that will be hitting the Item Shop in the upcoming weeks.
Fans are eagerly awaiting the next Fortnite event, which is rumored to be the biggest event in the history of the game. Until then, we can pass the time by drooling over some upcoming skins. The Cob skin is going to be a must-have going into Thanksgiving.
Leaked Skins & Back Bling
Fortnite is bringing a couple of interesting Thanksgiving skins to Fortnite, this year, including a skin concept that has existed for a while. Peely is getting the seasonal treatment and being turned into corn on the cob. This will, reportedly, be a part of a skin bundle with the evil pie-looking skin.
Read More: Fortnite update 14.60 patch notes: Venom Skin, Creative changes & more
Of course, players will also see Venom enter the game as early as today in the Venom Cup. Winners of the skin will be able to use it this week. Everyone else will have a chance to buy it at a later date – probably this weekend.
The resident witch and wizard – Elmira and Castor – received a Dark variant in this patch, as well. Players who already own these skins will be able to access this new style right away.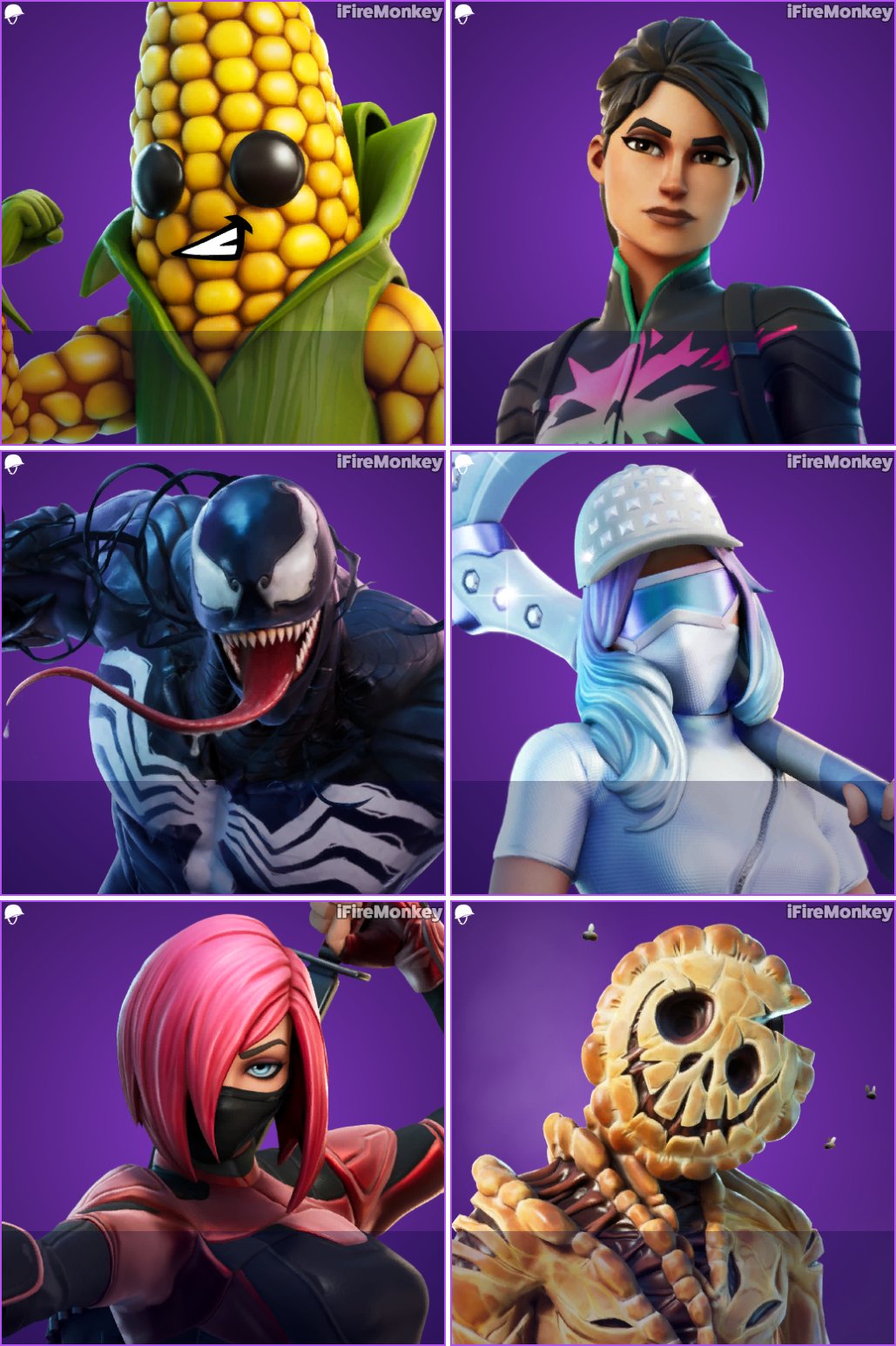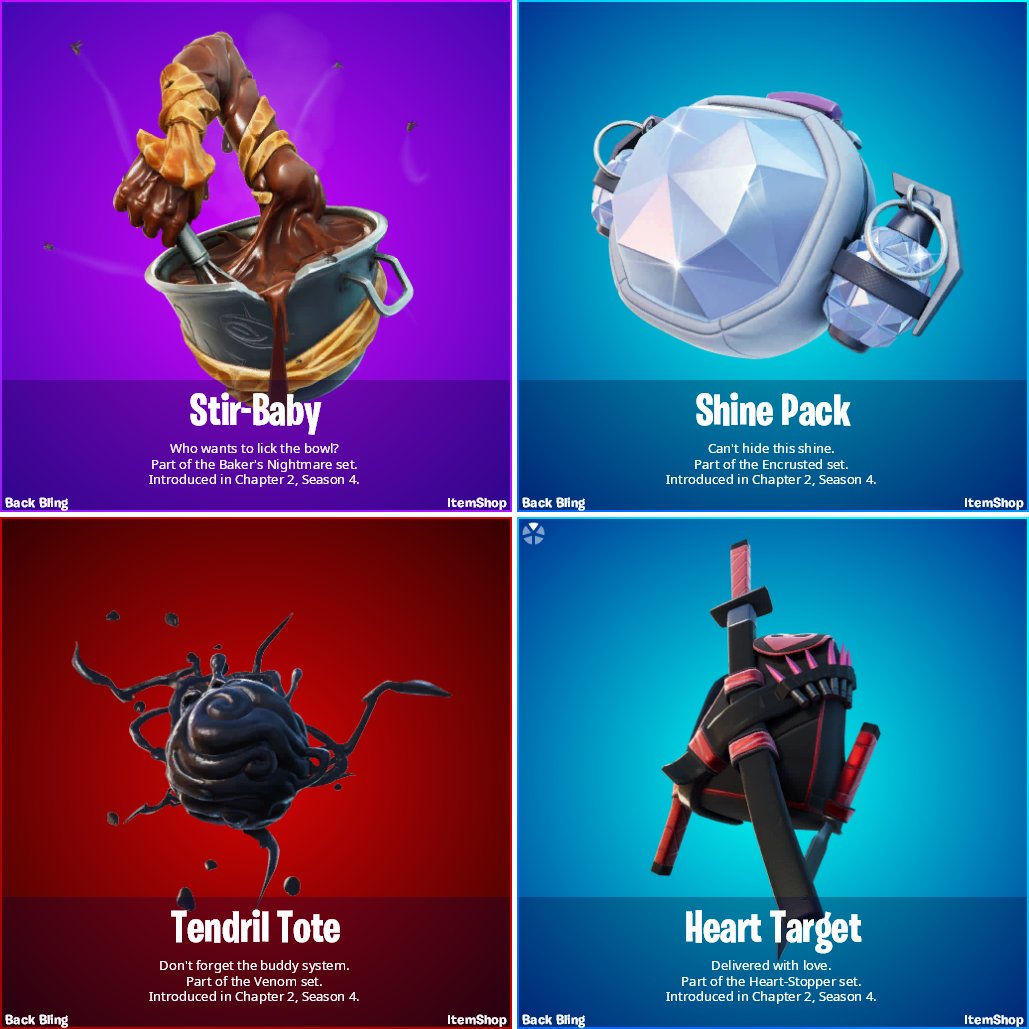 Leaked Pickaxes
The leaked pickaxes in this update aren't much to write home about – all but Venom's pickaxe. We have some bad news about that one, though.
According to Hypex, it will be a built-in pickaxe that we won't be able to use with other skins.
Leaked Wraps
We'll be getting a few wraps to go along with the leaked skins in the section above. The Galaxy Wrap appears to be another style for the female Galaxy skin that we saw a while back.
Read More: How to get your Creative Island featured in Fortnite this winter
The Rainbow Fog wrap looks to be a part of the upcoming Fortnite X House Party collaboration, meaning players will probably be able to get it for free.
Misc.
There are a few miscellaneous leaked cosmetics as well, including a Reboot Van emoticon, a Thor music pack, and two sprays that relate to Ghost Rider and Peely.
We don't know whether or not you'll be able to buy these items, but most of the time Epic save these for free challenge rewards.
Cosmetics weren't the only leaks that were a part of the v14.60 update. We also have some information on what we can expect coming out of the next Fortnite event: Devourer of Worlds.
We'll keep you covered with all of the leaks ahead of the update, so make sure to follow us on Twitter @FortniteINTEL.
Leak
Published
2 weeks ago
on
November 8, 2020
Fortnite leakers have uncovered what is believed to be a subscription service in the works, named Monthly Crew Pack, referred to in an Epic Games survey.
Fortnite is, of course, a free-to-play game, but there are still plenty of ways to spend real money in-game. The most prominent is the battle pass, which cycles with each new season.
However, there has been discussion previously about a potential alternitave or replacement to the battle pass system: a recurring subscription model.
And, according to questions in an official Epic Games survey, it appears the developers are toying with the idea.
Fortnite leaker MarDlt_ discovered and shared the image of the survey, alongside a promotional image of the 'Monthly Crew Pack' subscription service.
Read More: Nvidia's Geforce now will reportedly bring Fortnite back to iOS
The image shows three main components of the Monthly Crew Pack:
Battle Pass
Early access pack: Includes outfit + style, backbling and pickaxe
1,000 V-Bucks each month
How much will the Monthly Crew Pack cost?
As it's still a work-in-progress, the price is not set yet. But, the survey gives us indication of a possible minimum and maximum.
The survey asks how much people would be willing to spend for the pass: this ranges from $4.99 to $19.99.
The one aspect we don't know anything about, is when this subscription option will launch.
At this stage, it's still possible the plan will be scrapped entirely, but given marketing materials have been drafted up, and survey questions designed, it's clearly at an advanced stage.
We'll keep you updated with any further developments on the potential Fortnite Subscription plan.
Get the latest news and advice on COVID-19, direct from the experts in your inbox. Join hundreds of thousands who trust experts by subscribing to our newsletter.
Send your news and stories to us news@climaxradio.co.uk or newstories@climaxnewsroom.com and WhatsApp: +447747873668.
Before you go...
Democratic norms are being stress-tested all over the world, and the past few years have thrown up all kinds of questions we didn't know needed clarifying – how long is too long for a parliamentary prorogation? How far should politicians be allowed to intervene in court cases? To monitor these issues as closely as we have in the past we need your support, so please consider donating to The Climax News Room.