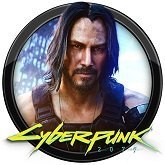 Pod koniec kwietnia bieżącego roku firma CDP, jeden z największych polskich dystrybutorów gier, złożyła wniosek o upadłość, na co według pogłosek mogła mieć spory wpływ obsuwa premiery Cyberpunka 2077. Wówczas poinformowano, że wydawcą w Polsce nowej gry studia CD Projekt RED zostanie firma Cenega, która zajmie się realizacją zamówień przedpremierowych na edycję standardową. Radek Grabowski, Lead PR Manager z CD Projektu RED, potwierdził także, że za przedsprzedaż wydania kolekcjonerskiego odpowiadać będzie bezpośrednio producent gry Cyberpunk 2077. Użytkownicy sklepu CDP, w którym można było zamawiać EK, zaczęli jednak od niedawna otrzymywać oficjalne pisma od syndyka, które wywołały zamieszanie w sprawie złożonych wcześniej (i opłaconych z góry) zamówień. Jest oficjalna informacja od CD Projekt RED!
Studio CD Projekt RED wydało oświadczenie, według którego wszystkie złożone zamówienia na edycję kolekcjonerską gry Cyberpunk 2077 zostaną przez nich zrealizowane zgodnie z wcześniejszym komunikatem.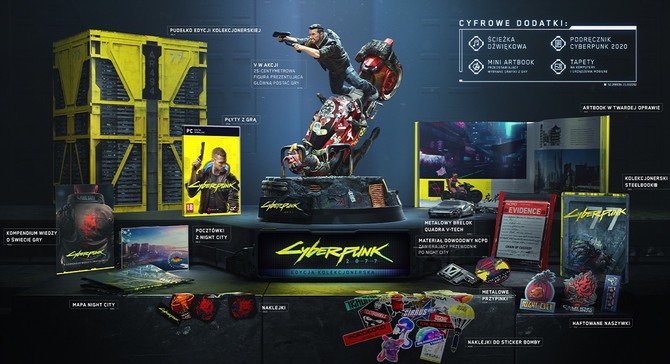 Cyberpunk 2077 – najnowszy trailer i gameplay z Night City Wire
Jeden z naszych czytelników poinformował nas o tym, że dostarczono do niego pismo od syndyka, które wzbudziło wątpliwości co do tego, czy w ogóle zostanie zrealizowane zamówienie na edycję kolekcjonerską gry Cyberpunk 2077. Syndyk najprawdopodobniej nie był świadomy tego, że do realizacji preorderów zobowiązała się firma CD Projekt RED, która ponownie postanowiła uspokoić zaniepokojonych fanów: Gwarantujemy, że wszyscy, którzy zamówili grę Cyberpunk 2077 (Edycja Kolekcjonerska oraz Standardowa) za pośrednictwem sklepu https://cyberpunk.sklep.pl/ należącego do naszego poprzedniego dystrybutora w Polsce, CDP sp. z o.o., otrzymają swoje zamówienia bez dodatkowych opłat i formalności. Jako CD PROJEKT RED przejęliśmy odpowiedzialność za dostarczenie gry. Osoby, które zamówiły grę otrzymają od nas dziś maile w tej sprawie. W razie jakichkolwiek dodatkowych pytań lub zmian dotyczących zamówienia prosimy o kontakt na adres zamowienia_pl@cyberpunk.net.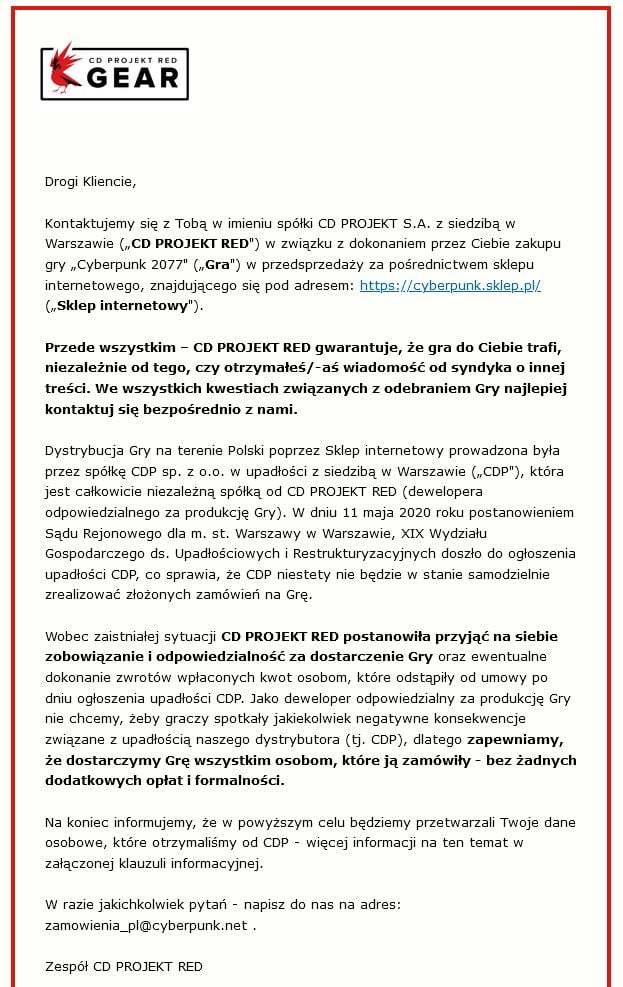 Każdy, kto zakupił w przedsprzedaży edycję kolekcjonerską gry Cyberpunk 2077, otrzymał lub otrzyma wyjaśniającego sytuację e-maila od studia CD Projekt RED (patrz załączona grafika). Oznacza to, że obawy były bezpodstawne – nic się nie zmieniło. CD Projekt RED zamierza zrealizować wszystkie złożone zamówienia bez jakichkolwiek dodatkowych opłat. Szkoda tylko, że pisma wysyłane przez syndyk wywołały niepotrzebne zamieszanie i wątpliwości, które na szczęścia zostały w pełni rozwiane. Przypominamy, że premiera gry Cyberpunk 2077 odbędzie się 19 listopada 2020 roku na PC oraz konsolach PlayStation 4 i Xbox One.
Cyberpunk 2077 na PC tylko z DirectX 12 oraz DirectX 12 Ultimate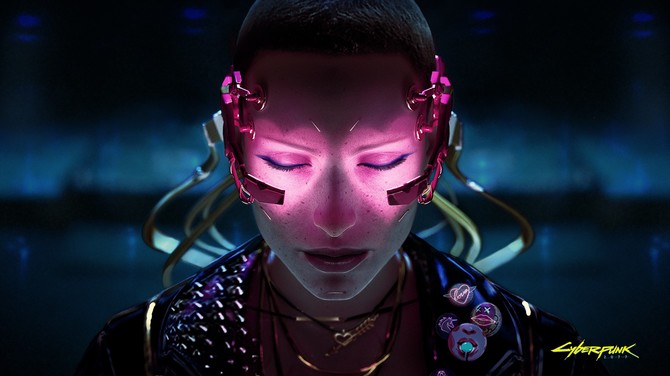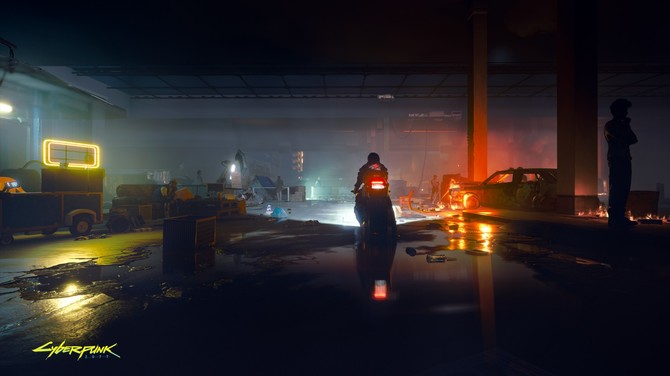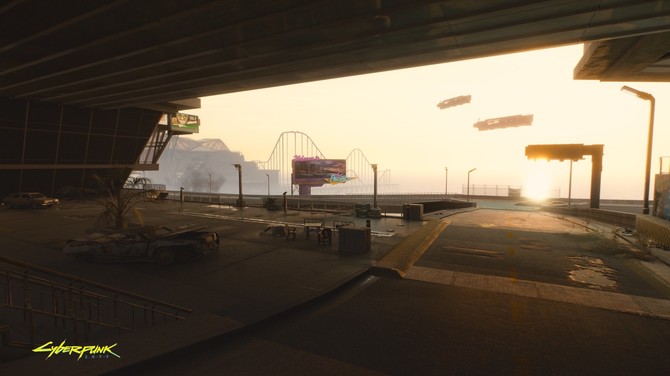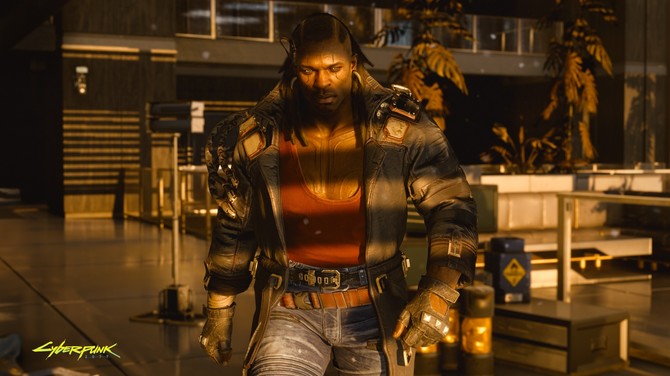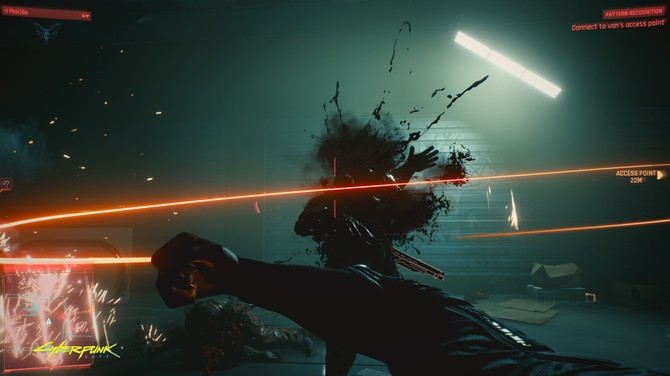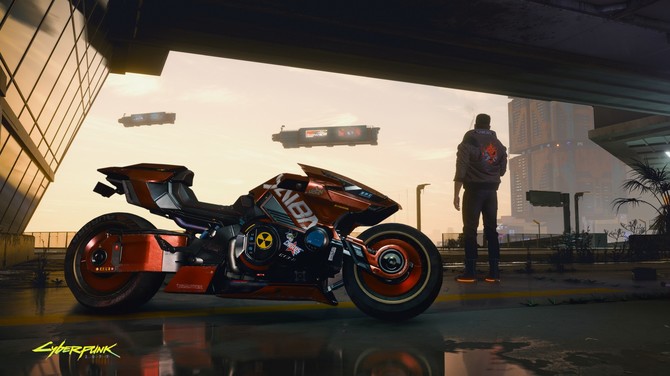 Źródło: CD Projekt RED
Get the latest news and advice on COVID-19, direct from the experts in your inbox. Join hundreds of thousands who trust experts by subscribing to our newsletter.
Send your news and stories to us news@climaxradio.co.uk or newstories@climaxnewsroom.com and WhatsApp: +447747873668.
Before you go...
Democratic norms are being stress-tested all over the world, and the past few years have thrown up all kinds of questions we didn't know needed clarifying – how long is too long for a parliamentary prorogation? How far should politicians be allowed to intervene in court cases? To monitor these issues as closely as we have in the past we need your support, so please consider donating to The Climax News Room.