Sir Keir Starmer has said Labour will abstain in the vote over new Covid restrictions
Sir Keir Starmer said Labour would abstain in Tuesday's vote over replacement coronavirus restrictions, saying it would "not be in the national interest" and would be "irresponsible" to vote against them.
Earlier in the day, he warned England could be left going "round and round in circles" under Boris Johnson's new tiered system for tackling coronavirus.
Meanwhile, Matt Hancock said the "light of dawn is on the horizon", as he led a No10 press conference in the final days of England's second lockdown.
The jab, expected to be rolled out next spring, is currently being reviewed UK's Medicines and Healthcare products Regulatory Agency (MHRA).
As England prepared for a vote over a new tier system, Wales' first minister announced tough restrictions on the country from Friday onwards, which will see restaurants, bars, pubs and cafes close from 6pm.
1606723927
Good morning and welcome to our rolling coverage of the coronavirus pandemic.
1606726163
Environment secretary refuses to rule out potential third lockdown in January
Rumours of a third lockdown taking place in the New Year have swirled since Boris Johnson warned last week if the tiered restrictions were not stuck to, there could be another lockdown in 2021.
And this morning, environment secretary George Eustice said he felt it was not "necessary" to go back into another full lockdown if the tiers remain in place.
When asked whether he could rule out another lockdown, the cabinet minster told Sky News: "You can't rule anything out because this is a rapidly developing situation."
1606726681
MPs are "concerned" about the new Covid-19 restrictions, Mr Eustice says
Ahead of the vote on Tuesday, which will see MPs in the House of Commons vote on the proposals for the new tiered system, the environment secretary said up to 100 Conservatives have "got concerns" about the new restrictions.
Mr Eustice told Sky News: "The chief whip, obviously, will be talking to those MPs who have got concerns. I've seen suggestions that there could be up to 100 or so people that have got concerns."
He added: "I think there is great frustration with the emergency measures that we have had to take to deal with this pandemic.
"We haven't taken them lightly. We have had to take these to get the virus under control.
"What we need to show to those MPs and to the country at large is that we have got a clear route towards fixing this problem and turning the corner."
Isobel Frodsham30 November 2020 08:58
1606727686
Scotland's First Minister plans for quiet Christmas with husband
Nicola Sturgeon has said she has made changes to her own plans for Christmas to align with the new rules that will take place over the Christmas break.
And the Scottish First Minister said she is taking a restrictive approach with her own Christmas, cutting down the number of guests she hosts.
She told BBC Radio 4's Today programme: "Normally, Christmas, my husband and I would have both our families here in our own home. We will not be doing that this year.
"I've not seen my parents since July and I would dearly love to see them today and at Christmas, but I don't want to put them at risk when a vaccine is so close.
"We might go and have a family walk somewhere, but the idea … of an indoors Christmas dinner is something we will not do this year."
Isobel Frodsham30 November 2020 09:14
1606728717
George Eustice urges Labour to back the government with Tuesday's vote
The environment secretary has called for the opposition to back Boris Johnson's government ahead of the vote to bring in the new restrictions this week.
Parliament is due to gather on Tuesday to vote through the new tier systems, which would then come into force on 2 December.
Now Mr Eustice has said Labour should not "play politics" by blocking a return to the tier system.
Speaking to BBC Breakfast, he said: "My own personal view on this is that at times of national emergency, which is highly unusual emergency measures, it's not the moment for any political party, whether in opposition, whether in Government, to play politics.
"There are times when people of all parties need to try and make the right judgment, and we are doing this."
Isobel Frodsham30 November 2020 09:31
1606729207
New Christmas trading rules 'not decided', Mr Eustice says

George Eustice has said plans to allow 24-hour trading in the run-up to Christmas have not yet been decided.
But Mr Eustice said a "range of measures" were being observed with no plans set in stone yet.
The Environment Secretary told BBC Breakfast: "We are looking at a range of measures to try and ensure that we don't get overcrowding in stores, so, while retail venues are going to open from 2 December – that's very important – we also want to ensure we can maintain social distancing, we want to avoid crowds, so a range of measures are being considered.
"I'm not sure whether there has been a decision yet on round-the-clock opening, but I know there has been some discussion around the Sunday trading hours and some easements there."
Isobel Frodsham30 November 2020 09:40
1606730037
When will the Covid tiers be reviewed and how are they decided?
As the end of national lockdown approaches on 2 December, the UK will move into the three tier system instead, which will then be reviewed in a matter of weeks.
Aine Fox and Helen William have outlined plans for the new restrictions and how often Boris Johnson will review them.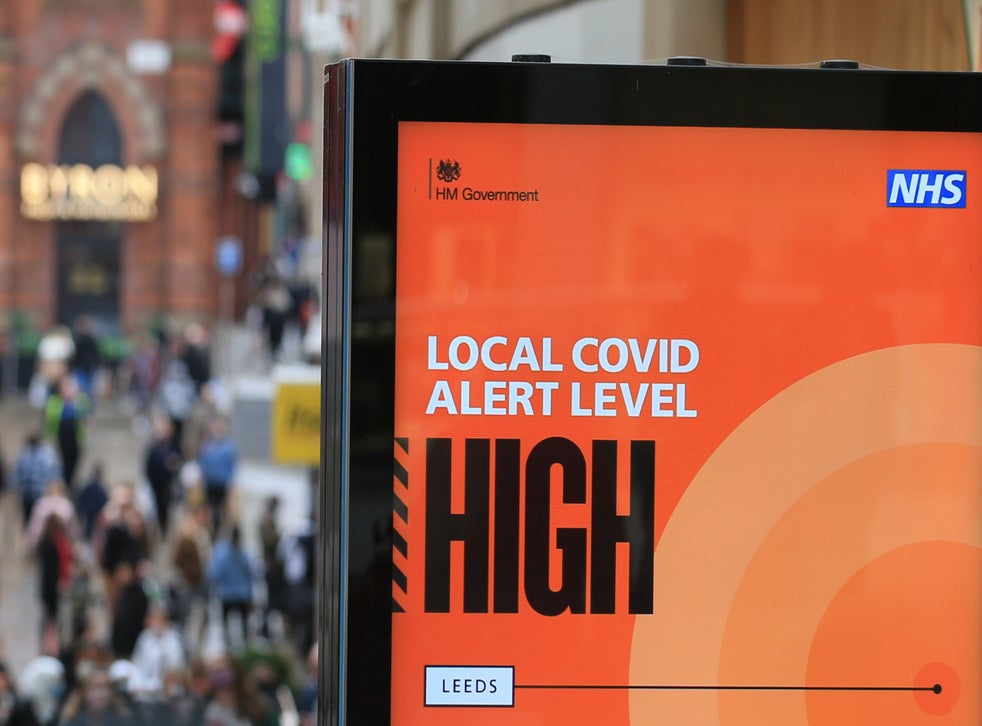 Isobel Frodsham30 November 2020 09:53
1606731465
George Eustice: 'Manchester should be in Tier 3'
The environment secretary said Manchester being placed in Tier 3 as of 2 December was the right thing to do.
He led a chorus of regional leaders, MPs and business figures voicing frustration after the government said vast swathes of the north would face the more severe restrictions but be given no additional financial support.
But Mr Eustice has defended the Government's decision.
Speaking on Good Morning Britain on ITV, George Eustice said: "The reason that some areas are in Tier 3 and others are in Tier 2 is that it's not just the incidence rate of the disease, if you like the R value as we've all come to know it, it's the prevalence rate.
"And where the prevalence is higher that's taken into account, particularly where there's a high prevalence in the over-60s.
"And also the Government takes into account things such as the pressure on the NHS and whether there's capacity to deal with growth in numbers, and it looks at trends as well.
"So there are a number of different criteria that are considered. That accounts for why Manchester is in Tier 3."
Isobel Frodsham30 November 2020 10:17
1606732398
People more likely to socialise in pubs rather than gyms, so they must stay closed, George Eustice says
Environment secretary George Eustice has outlined the reasons why eating venues would be forced to remain closed, apart from for takeaway-only services, in Tier 3.
He told Good Morning Britain on ITV : "The great challenge throughout this is that people meeting in pubs and in restaurants, these are by their definition social interactions, people go to the pub and go to restaurants to socialise."
On gyms, he said: "It's sometimes down to the fact that the number of people going to those gyms would be lower and they are less likely to be, for instance, sat around a table, they can do social distancing more easily.
"It's not perfect and never will be when you're introducing quite draconian emergency measures, which is what these are."
It comes as The Telegraph reported pubs and restaurants hit by the new restrictions would be given extra financial support to help them get through to Christma
Former chief whip for the Conservatives Mark Harper, chairman of the Covid Recovery Group of lockdown sceptics, welcomed the prospect of extra support for pubs and restaurants.
"I welcome the fact that the Government has recognised our concerns about the enormous impact that its proposals will have on the hospitality industry and has suggested further support," PA News Agency reported Mr Harper saying.
"We look forward to seeing the detail of the support proposed being set out before the vote on the restrictions tomorrow evening, along with the cost-benefit analysis we've been asking for.
"I am particularly concerned about some of the non-Covid health implications these restrictions have been having.
"This needs to be published as soon as practically possible, so that MPs have a chance to digest it ahead of tomorrow's vote."
Isobel Frodsham30 November 2020 10:33
1606733585
Carol singing and nativity plays still allowed under new Covid rules
Britons will still be able to go church services, volunteer, go Christmas carolling and take a trip to Santa's grotto under the new rules.
Public Health England guidance has said both professional and amateur choirs will be able to perform in "any indoor venue permitted to open" but the audience will not be allowed to participate.
Eleanor Sly outlines the new rules.
Isobel Frodsham30 November 2020 10:53
Get the latest news and advice on COVID-19, direct from the experts in your inbox. Join hundreds of thousands who trust experts by subscribing to our newsletter.
Send your news and stories to us news@climaxradio.co.uk or newstories@climaxnewsroom.com and WhatsApp: +447747873668.
Before you go...
Democratic norms are being stress-tested all over the world, and the past few years have thrown up all kinds of questions we didn't know needed clarifying – how long is too long for a parliamentary prorogation? How far should politicians be allowed to intervene in court cases? To monitor these issues as closely as we have in the past we need your support, so please consider donating to The Climax News Room.