FACE mask wearing will not be compulsory in bars and restaurants, Environment Secretary George Eustice has said.
His comments come as officials announce that wearing a face mask in shops and supermarkets will be made mandatory in England this month.
In a statement on Tuesday, Health Secretary Matt Hancock said that anyone failing to comply with the order – which comes into force on July 24 – could face a fine of up to £100.
Mr Hancock said: "The liability for wearing face-covering lies with the individual.
"Should an individual without an exemption refuse to wear a face covering, a shop can refuse them entry and can call the police if people refuse to comply. The police have formal enforcement powers and can issue a fine."
Meanwhile, the UK's coronavirus death toll increased by 11 to 44,830 on July 13 – the lowest rise since the outbreak began.
Follow the latest news and updates surrounding coronavirus below…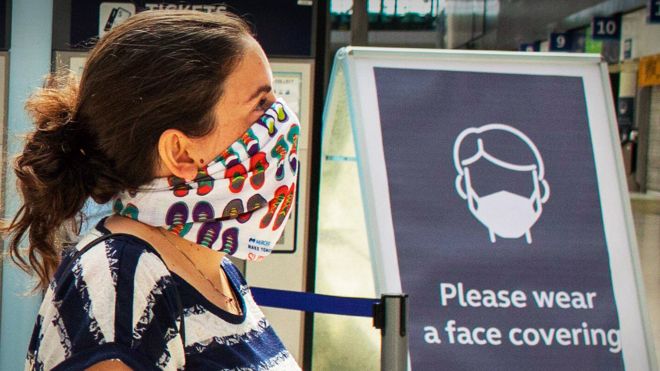 Wearing a face covering will become mandatory in shops and supermarkets in England from 24 July.
They are already compulsory in Scotland – but different rules apply across the UK.
What are the face coverings rules in shops?
It will be compulsory to wear a face covering in shops in England from Friday 24 July.
However, the rules won't apply to shop workers, government minister George Eustice told the BBC.
Those who fail to wear a mask will face a fine of up to £100. This will be reduced to £50 if people pay within 14 days.
The rules will be enforced by the police, rather than shop workers. The National Police Chiefs' Council says guidance will be issued to officers once the details of the new legislation are known.
People also won't be required to wear a covering in places where it's not practical – such as in a pub, cafe or restaurant – according to Mr Eustice. Children under 11 and those with certain disabilities will be exempt.
In Scotland, it's been a requirement to wear face coverings in shops since 10 July. Anyone not wearing one can be fined £60 fine (reduced to £30 if paid within 28 days) for a first offence.
People with certain medical conditions or disabilities, and children under five are exempt in Scotland.
Shop staff do not have to wear them, but it is "strongly recommended" in the guidance that they do.
Why are the rules in England changing?
Since mid-May the public in England have been advised to wear face coverings in enclosed public spaces, such as supermarkets, where it can be difficult to follow social distancing rules.
Prime Minister Boris Johnson says there is growing evidence that wearing them helps protect individuals and those around them from the virus.
Making it mandatory sends a stronger signal to people about their value.
What are the face covering rules on public transport?
Since 15 June, anyone travelling by bus, train, ferry or plane in England must wear a face covering.
Some passengers are exempt from the rules including:
Children under 11
People with disabilities
Those with breathing difficulties
Anyone travelling with someone who relies on lip reading
If it is "reasonably necessary" for you to eat or drink, you can remove the face covering to do so.
People can be refused travel if they don't follow the rules, and can be fined as a last resort.
Public transport excludes cruise ships, school transport, taxis and private hire vehicles. However, ride-sharing company Uber has made face coverings compulsory.
In Scotland, it is also compulsory to wear face coverings on all public transport
Coverings will also be made mandatory on public transport in Wales from 27 July. These coverings should be three layers thick. It's also recommended that coverings are worn whenever social distancing is not possible.
The wearing of face coverings on most buses, trains and ferries became mandatory in Northern Ireland on 10 July.
Where am I supposed to get a face covering?
The government has been careful to use the term "face covering" rather than "face mask" – with surgical masks kept for medical use.
The BBC has created a guide on how to make your own face covering. The government has issued its own advice too.
How many people wear face coverings?
There is a lot of variation around the world when it comes to wearing face coverings in public, according to polling company YouGov.
People in Asian countries are most likely to say they wear them. In Singapore, where it is an offence not to wear a mask outside your home, 90% of people do so – the highest rate in the world.
In Europe, the proportion of people wearing masks is highest in Spain (86%), followed by Italy (83%) and France (78%).
In the UK, just 36% of people say they wear a mask in public – although this has been steadily increasing.
In the US, the rate is 73%, which is slightly higher than its neighbour Canada (60%).
The data comes from surveys run in nearly 30 countries.
Do face coverings work?
World Health Organization (WHO) advice says non-medical face coverings should be worn in public where social distancing is not possible.
Coronavirus is spread when droplets are sprayed into the air when infected people talk, cough or sneeze. Those droplets can then fall on surfaces.
The WHO says there is also emerging evidence of airborne transmission of the virus, with tiny particles hanging in aerosol form in the air.
Homemade cloth face coverings can help reduce the spread from people who are contagious but have no symptoms or are yet to develop symptoms. This is called asymptomatic or presymptomatic transmission.
Scientists in Singapore suggest the contagion risk is especially high in the 24-48 hours before an infected person is even aware they might have the disease.
Taking a face covering on and off can also risk contamination, the WHO says.
Police have raised concerns that enforcing face mask rules in shops is "unrealistic and unfair," if shoppers refuse to wear face coverings in England.
The Police Federation, representing rank and file officers, said it was "unrealistic and unfair" to expect them to patrol the aisles looking for people breaking the coronavirus regulations.
John Apter, chairman of the Police Federation of England and Wales, said: "Policing the wearing of face coverings in shops can't be a priority because we simply don't have the resources."
He added: "Only as this last resort should the police get involved.
"To expect my colleagues to be policing the supermarket aisles, looking for those shoppers not wearing a face covering, is unrealistic and unfair."
Police in England are to be given new powers to enforce the wearing of face masks in all shops from July 24, the point at which they will become compulsory.
The Public Health (Control of Disease) Act 1984 will be amended to allow police to issue fines of up to £100 to people who do not wear face coverings.
Get the latest news and advice on COVID-19, direct from the experts in your inbox. Join hundreds of thousands who trust experts by subscribing to our newsletter.
Send your news and stories to us news@climaxradio.co.uk or newstories@climaxnewsroom.com and WhatsApp: +447747873668.
Before you go...
Democratic norms are being stress-tested all over the world, and the past few years have thrown up all kinds of questions we didn't know needed clarifying – how long is too long for a parliamentary prorogation? How far should politicians be allowed to intervene in court cases? To monitor these issues as closely as we have in the past we need your support, so please consider donating to The Climax News Room.