10:03

Nazia Parveen
Hello, I will be updating the global blog for the rest of the afternoon. Please do send any stories and tips to [email protected] or follow me on Twitter to send me a DM.
09:13
New daily cases in Canada could soar to 60,000 by the end of the year, up from less than 5,000 now, if people increase their daily contacts, medical officials have warned in a grim forecast.
Even if current restrictions on gatherings are maintained, new daily cases will jump to more than 20,000 over the same time period, the officials told a briefing. Several Canadian provinces are reimposing restrictions on movement and businesses as a second wave of the pandemic rips across the country.
09:12
Sweden records daily Covid cases high
Sweden, whose unorthodox pandemic strategy placed it in the global spotlight, registered a record 7,240 new coronavirus cases today, Health Agency statistics showed.
The increase compared with a previous high of 5,990 daily cases recorded earlier this month.
Sweden registered 66 new deaths, taking the total to 6,406. Sweden's death rate per capita is several times higher than that of its Nordic neighbours but lower than some larger European countries.
09:03
A couple of interesting studies related to Covid antibodies – neither yet peer reviewed – have been published by UK academics today.
The first, a collaboration between the University of Oxford and Oxford University Hospitals (OUH) NHS Foundation Trust, found that individuals who have previously had Covid-19 are highly unlikely to contract the illness again, for at least six months following their first infection.
It involved 12,180 health workers at OUH between April and November.
The healthcare workers were tested for antibodies to detect who had been infected before and then tested staff regularly for Covid-19, both when they became unwell with symptoms and also as part of regular testing of staff.
During the study, 89 of 11,052 staff without antibodies developed a new infection with symptoms and 76 tested positive when symptomless. By comparison none of the 1,246 staff with antibodies developed a symptomatic infection and only three developed a asymptomatic one.
One of the authors on the paper, Professor David Eyre of the University of Oxford's Nuffield Department of Population Health, said:


We will continue to follow this cohort of staff carefully to see how long protection lasts and whether previous infection affects the severity of infection if people do get infected again.
In a separate study, led by experts at the University of Birmingham, researchers studying a group of UK healthcare workers discovered that non-white individuals, recovering from Covid displayed higher antibody levels than white individuals, with significantly greater levels observed in Asian individuals.
This was based on antibody testing on a cohort of 956 UK healthcare workers who self-isolated between March and June 2020 because of Covid-19.
Study lead Prof Alex Richter, honorary consultant in Clinical Immunology at the University of Birmingham, said:


We were surprised to find that risk factors associated with severe Covid-19 were also associated with higher antibody levels in convalescent health care workers after mild disease. We need to understand this observation and the role of antibodies in Covid-19 as this has implications for vaccination and convalescent plasma as a treatment.
Updated

08:03
Health authorities in
Italy
's South Tyrol region today began a three-day programme of mass screening for coronavirus, seeking to conduct voluntary rapid tests on 70% of the local population.
The mainly German-speaking province in northern Italy, also known as Alto Adige, said infection rates had "reached such proportions" to make testing 350,000 people key to quickly rooting out virus spreaders.
By 9am GMT the province had tested more than 24,000 people and found 596 positive for Covid-19.
South Tyrol is currently classified as a "red" or high-risk zone under Italy's system of regional coronavirus restrictions.
The mass screening in the area, which includes part of the Dolomites range, comes ahead of the planned reopening of primary schools and nurseries on Tuesday.
Italy was the first country in Europe to bet big on rapid "antigen" coronavirus tests, and its apparent success encouraged Britain, the United States, Slovakia and others to follow suit.
However the tests, which are roughly 80% to 90% accurate, have not stopped an outbreak that has rocketed from around 500 cases a day in August, when they were first rolled out, to more than 35,000 now.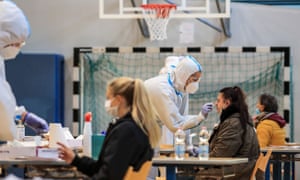 Updated

07:46
Madrid to close its borders with other regions for 10 days in December
Sam Jones
The regional government of Madrid has said the area will close its borders with other regions between 4 and 14 December in an effort to stop transmission of the virus over the long bank holiday weekend that begins on Friday 4 December and runs through the following Monday and Tuesday.
Over the period, travel into and out of the region will only be permitted on justified or emergency grounds.
"We want things to be as good as possible as we approach Christmas," Antonio Zapatero, the region's deputy public health minister, said on Friday, adding that the decision to limit people's movements had been taken "in the interests of prudence".
Spain's nationwide curfew, declared under the current state of emergency, is expected to remain in force until at least the beginning of next year. In Madrid, people have to remain at home from midnight to 6am and gatherings – as elsewhere in Spain – are capped at six people.
There are signs that the pandemic is beginning to stabilise in the Madrid region. Over the past two weeks, the region has recorded 297.3 cases per 100,000 people – down from 324.4 a week ago. Across Spain as a whole, there are 436.3 cases per 100,000 people.
Last week, 34.2% of the region's intensive care units were occupied by Covid patients. Yesterday, the figure stood at 31.4%.
To date, Spain has logged 1,541,574 cases of the virus and recorded 42,291 deaths.
Updated

07:44
Spain
will have vaccinated a large part of its population of 47 million against the coronavirus by mid-2021, the prime minister, Pedro Sánchez, said today.
He said the government had put together "a comprehensive vaccination plan" that would be presented at Tuesday's cabinet meeting, making Spain the first country within the European Union, alongside Germany, to fully map out such an immunisation scheme. Sánchez said the government had been working on the plan since September, adding:


We are ready. Our forecasts, under almost any reasonable scenario, show that a very substantial part of the Spanish population will be able to be vaccinated, with all guarantees, within the first half of the year.
The move, he said, would make Spain "the first country within the EU, along with Germany, to have a full vaccination plan".
Spain has been badly hit by the pandemic, suffering more than 1.5 million confirmed infections – the EU's second-highest number of cases after France.
As of last night, it had lost 42,291 lives to the virus, ranking fourth within the bloc after the U K, Italy and France.
Last month the Spanish health minister, Salvador Illa, said the government had authorised the purchase of 31.5m doses of a Covid-19 vaccine currently being developed by British pharmaceutical giant AstraZeneca.
The supply of the vaccine is part of an EU scheme and it could start reaching Spain in December "if there are no delays," he said at the time.
Updated

07:02
Summary
Here's a summary of the most recent developments:
The drugmaker Pfizer applied to US health regulators for emergency use authorisation (EUA) of its vaccine. It came just days after the firm and its German partner BioNTech SE reported final trial results that showed the vaccine was 95% effective with no major safety concerns.
Russia recorded its greatest daily caseload increase since the pandemic began. Moscow said it had confirmed 24,318 new infections, bringing the cumulative national tally to 2,039,926.
India has recorded more than 9 million coronavirus cases. The country added , 45,882 new infections in the last 24 hours, the health ministry said on Friday, and now has 9,004,365 cases, according to the Johns Hopkins University tracker site, and 132,162 deaths.
Dr Anthony Fauci, the US diseases expert, is back. After months of sparring with Donald Trump, the scientist spoke at a White House briefing again as the outbreak continues to spread rapidly. It is the only country with more cases than India, with the national total now on 11.72 million with 250,000 dead. California has imposed a curfew on most of its 40 million residents.
Mexico passed the 100,000 mark in Covid-19 deaths Thursday, becoming only the fourth country — behind the United States, Brazil and India — to do so.
The EU will pay more than $10bn to secure 425m doses of vaccines being developed by Pfizer-BioNTech and CureVac, Reuters reports. The bloc has agreed to pay €15.50 euros ($18.34) per dose for the Pfizer/BioNTech Covid-19 vaccine, and slightly less for the Curevac treatment.
Almost a million people in China have taken an emergency Covid-19 vaccine that is still in its testing phase, the company Sinopharm has said.
Remdesivir should not be used in hospitals to treat Covid-19, the WHO has warned. Donald Trump tried to push the treatment and took it himself when he contracted Covid-19. But the WHO says there is no evidence it works.
South Australia's six-day lockdown is being cut short three days early at midnight on Saturday after it emerged that a man infected with Covid-19 had lied to contact trace investigators.
06:55
Vaccine manufacturer seeks authorisation in US
Pfizer has applied to US health regulators for emergency use authorisation (EUA) of its vaccine; a major step toward providing protection for pandemic-weary Americans.
The application to the US Food and Drug Administration (FDA) comes just days after Pfizer and German partner BioNTech SE reported final trial results that showed the vaccine was 95% effective in preventing Covid-19 with no major safety concerns.
Updated

06:54
German cases stabilising but not declining, says government, after 23,648 new infections reported
Germany has managed to stabilise the number of infections but has not yet reversed the trend, a government spokesman has said.
The number of infections still needs to fall significantly, he added ahead of another meeting of Chancellor Angela Merkel with state premiers over the issue on Wednesday. The government's goal is to reduce infections to 50 cases per 100,000 people over seven days while the incidence now is around 140 cases, he said.
With the latest daily increase in cases the worst such figure seen in the country since the outbreak began, pressure is rising on Germany's 16 federal states to implement stricter restrictions.
The Robert Koch Institute for infectious diseases recorded 23,648 confirmed new cases and 260 new deaths, which now stand at 13,630, an increase of more than a third in four weeks.
The mass-selling Bild newspaper has reported that Merkel wants any new measures to remain in place until January instead of the weekly approach favoured by state leaders. Bild quoted Merkel as telling members of her conservatives that she wanted "proposals to be made, not only for two weeks but rather with a perspective until January".
Updated

06:49
Poland has found 18 cases among mink farm workers as it continues tests among the animals, but does not believe the workers were infected by the animals, sanitary and veterinary authorities said.
Poland, which is a major producer of mink fur, started testing among its farmed minks and checks among the workers earlier this month after a mutated virus was detected in farmed minks in Denmark, leading to a nationwide cull there.
While the authorities have not yet received results of the animal tests, it said Covid-19 cases were confirmed among people connected with the farms.
The Chief Sanitary Inspectorate said there were 18 cases of infections among farm workers that were unrelated to each other. "Currently, there is no basis to conclude that minks were the source of infection for these 18 cases," it told Reuters.
The inspectorate said it had analysed all infections among farm workers and their families since the beginning of the pandemic. Veterinary authorities said earlier this month they had ordered tests in 18 farms in four administrative regions of the country. Industry groups objected strongly to the tests, worrying they could lead to a nationwide cull.
Poland is one of the world's top producers of mink fur, with 354 farms, containing around 6 million minks.
06:20
Coronavirus infections rose by 4,946 in a day, data from Swiss health authorities shows.
The total number of confirmed cases in Switzerland and neighbouring principality Liechtenstein increased to 290,601 and the death toll rose by 111 to 3,575, while 252 new hospitalisations added to the strain on the health care system.
05:57
A substantial part of the Spanish population will be vaccinated in the first half of 2021, the country's prime minister
Pedro Sánchez
has claimed.
He said the government will unveil a vaccination plan next Tuesday but did not give any details. The government has created a special committee to establish who would be vaccinated first when a vaccine is available.
05:55
Ukraine hopes to receive 8 million doses of a vaccine in the first half of next year, its health minister has said, as the country reports 14,575 new infections in the last 24 hours; passing the previous worst toll of 13,357, which was recorded only the day before.
The tally climbed to 598,085 cases, with 10,598 deaths, Maksym Stepanov said.
The daily infection tally began rising in September and has been consistently high ever since, spurring the government to impose a national lockdown at weekends.
The lockdown means closing or restricting most businesses except essential services such as grocery shops, pharmacies, hospitals and transport.
Stepanov told Reuters on Wednesday that Ukraine faced a "very severe" period but will not tighten lockdown restrictions because measures taken last week should stabilise the situation.
Ukraine participates in the global Covax facility, which has been set up to provide vaccines to poorer countries. Stepanov said Ukraine hoped to receive enough vaccine for up to 20% of its population.


This is 8 million doses. By 7 December, we must sign all technical documents and expect that in the first half of 2021 we will already start receiving the vaccine.
He said the first tranche could total 1.2 million doses and it would be used primarily for groups most at risk. He gave no further details.
Stepanov said Ukraine had also held talks with all possible vaccine manufacturers and suppliers and already issued budget funds for the purchases.
04:55
The developers of Russia's second vaccine have said mass production will begin in 2021.
A recent surge in cases has taken Russia past the 2 million threshold, behind only the United States, India, Brazil and France in total infections. Authorities have resisted imposing lockdowns across the country as they did earlier this year, however, preferring targeted, regional measures.
Russia said its first vaccine, named Sputnik V, was 92% effective, according to interim trial results. Around 500,000 doses are due to be produced in November. Moscow approved it after only limited safety testing and without the support of the World Health Organization.
Post-registration trials for the second vaccine, EpiVacCorona, being developed by Siberia's Vector institute, are underway. The institute said 15,000 doses of the vaccine have been issued and, by the end of the year, 50,000 doses would be released.
Vector's vaccine centre said all volunteers injected with EpiVacCorona had developed antibodies, the Interfax news agency reported without specifying the number of people involved.
The vaccine's effectiveness can only be assessed when preliminary or final results of the post-registration trials are released, Vector said.
04:38
Hong Kong has reported a spike in daily cases to 26 two days before an arrangement with Singapore to allow a limited number of passengers to fly both ways without having to go through quarantine kicks in.
Hong Kong has been spared the dramatic escalations seen in other major cities, but the rise was big by its standards, with daily cases having mostly been in the single-digits or low double digits in recent weeks.
Of the 26 confirmed cases, 21 were local transmissions, prompting the health secretary Sophia Chan to say the Chinese-ruled city "probably entered" a fourth wave of infections.
Hong Kong health authorities said another 40 people were likely to be infected, pending final confirmation.
It comes as a travel bubble between Hong Kong and Singapore is due to begin on Sunday, Reuters reports.
Under the arrangement, people would be allowed to travel between the two cities without observing quarantine but must take a test before departure and upon arrival. There would be no restrictions on the purpose of travel.
Travellers would also have to take designated flights, with only Cathay Pacific and Singapore Airlines having been selected to operate these flights for now. If the situation deteriorated in either city the travel bubble would be suspended, the two governments have said.
Hong Kong has recorded around 5,500 cases and 108 deaths since the pandemic began.
04:24
Public meetings of more than 20 people will be banned in the Helsinki region, Finnish authorities have said.
While Finland's 14-day average of 58 new cases per 100,000 inhabitants remains Europe's lowest, public health authorities said the rate was nearly twice as high in the capital region and, therefore, the new restrictions are needed.
03:54
The French high-end department store chain Galeries Lafayette, which expects the pandemic to halve its revenue this year, fears foreign tourist flows may not be back to pre-crisis levels before 2024. Its chief executive Nicolas Houze has told BFM Business radio:


This year, our revenue will be cut in half. 2020 will be difficult, 2021 also. We should return to break-even in 2022.
Retailers – particularly those who depend heavily on tourists – have been hit hard by government-enforced lockdowns and restrictions on international travel.
HI! I AM DAVID BRAYZ!
I am a highly-skilled IT Specialist with over 12 years of experience in Web Design, Graphic Design, Web Blogging & ITL Management.