03:00
This live blog is now closing – please follow the new global coronavirus live blog here for the latest updates.
Donald Trump posted a video message on Saturday evening saying that he is "doing well", his wife Melania is "doing very well" and the next few days will be the "real test" after he was taken to hospital with Covid-19.
His medical team says: "while not out of the woods yet, the team remains cautiously optimistic".
Top Trump aide Nick Luna has tested positive for Covid-19.
Joe Biden's campaign is committing to releasing the results of all future Covid tests the candidate takes.
US secretary of state Mike Pompeo will depart for Japan on Sunday but will not go to Mongolia and South Korea as originally planned, after Trump's diagnosis.
Germany has reported 2,279 new cases, bringing the total number to 299,237. Two people were reported to have died, bringing the death toll to 9,529.
Victoria, the state of Australia most affected, recorded just 12 new cases and one life lost in the past 24 hours. That's the equal lowest death toll for almost a month.
Mexico's confirmed coronavirus cases rose to 757,953 on Saturday, according to the health ministry, with a total reported death toll of 78,880
France reported 16,972 new confirmed cases over the past 24 hours on Saturday, a new daily record, as well as 49 new deaths.
Italy on Saturday reported 2,844 new coronavirus cases, its highest daily tally since April, when the country was still in lockdown.
The UK reported 12,872 new coronavirus cases in the 24 hours to Saturday, nearly double the number reported a day earlier, which was blamed on reporting delays from previous weeks, as it came to light that the government does not currently know Saturday's actual number of new infections.

Brazil on Saturday registered 599 new coronavirus deaths and 26,310 new confirmed cases.
Tunisian authorities will ban all gatherings and reduce working hours for employees in the public sector in order to stop the rapid spread of the coronavirus
Ireland is seeing a "significant escalation" in coronavirus infections, after reporting the highest daily death toll since May and the third-highest number of daily cases recorded to date.
Thousands of Israelis protested again across the country on Saturday, flouting a new law meant to curb anti-government demonstrations during a new national coronavirus lockdown
Updated

02:52
Boris Johnson's reputation among Conservative members has plunged to a record low, it has emerged, as the party enters its annual conference facing accusations of a "chumocracy" at the top of government.
With Tory MPs restless over the government's performance, which has seen it lose a huge poll lead over Labour since the start of the pandemic, the prime minister has recorded his first ever negative satisfaction rating among a survey of Tory members on the ConservativeHome website. He recorded the second-lowest score of any cabinet member, with only education secretary Gavin Williamson performing worse.
The prime minister will attempt to use the virtual party conference this week to try to relaunch his premiership by looking to the programme he wants to pursue beyond the Covid crisis, which has dominated his time in Downing Street.
Read more here:
02:45
Hong Kong health authorities are reportedly about to announce five new recorded cases – making it two weeks since the city reported figures above 20. The South China Morning Post also reported one of the five cases is a 22-year-old student at the Hong Kong Institute of Vocational Education Lee Wai Lee campus in Tseung Kwan O, where more than 2,000 other students and staff were being now tested.
On Saturday the overall number of local cases stood at 5,108, with 105 related deaths.
02:36
AAP:
West Australian
authorities have confirmed a crew member from a cargo ship docked at Fremantle Port has been tested for Covid-19.
The crew member aboard the Kota Legit vessel was tested after it emerged they had been unwell while the ship was at sea, WA Health said in a statement on Sunday.
The result of the test is not yet known.
"The crew member is currently well but as a precautionary measure that crew member was tested for Covid-19 yesterday," WA Health said.
"The result of that of test will be available soon.
"The rest of the crew remain well. Any necessary changes to the further management of the ship will be made once that test result is known. In the meantime, the ship will remain at Fremantle Port with all crew remaining onboard."
The ship arrived in Fremantle after a seven-day voyage from Port Klang in Malaysia. It's believed to have been in China and Singapore prior to that.
It comes as authorities continue to deal with an outbreak of 17 cases on the Patricia Oldendorff bulk carrier off Port Hedland.
The vessel, carrying 20 Filipino nationals and the captain, arrived from Manila on September 16 and is anchored eight nautical miles off WA's northwest coast.
Nine people remain on the ship as essential crew, seven of whom have tested positive.
There are also a dozen crew members in quarantine at the fenced-off Hedland Hotel and 10 of them have tested positive.
None are seriously unwell.
Authorities are confident the ship will set sail in the next week. WA recorded no new cases on Sunday and has 17 active cases.
02:17
A couple of follow ups to those White House photos of Trump Signing Things.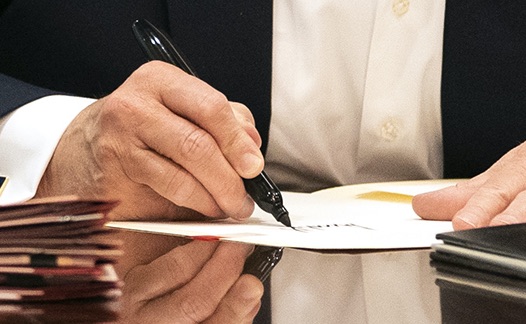 01:57
Jillian Ambrose
In the
UK
, millions of employees preparing to work from home this winter will face a collective hike of almost £2bn on their energy bills, and tougher working conditions, with only a "pittance" in compensation from their employers.
Half the UK's workforce is likely to work primarily from home over the coming months as they help to contain the spread of the coronavirus, and may see their winter energy bills rise by a fifth as radiators and boilers are kept running through the day.
The average household energy bill could climb by £107 this winter for those working from home five days a week, according to a study by Energy Helpline, which would mean a £1.9bn hike for the energy bills of working households between October and March.
Read more:
01:38
Reuters: So far, markets have been comparatively sanguine in response to Trump's diagnosis: hopes of a breakthrough in talks among US lawmakers on another stimulus package took the edge off a stock market selloff on Friday, with the S&P 500 losing less than 1% and so-called safe-haven assets seeing limited demand. News of Trump's hospitalisation at a military medical center outside Washington, where he remained on Saturday, came after trading ended on Friday.
Many investors are concerned, however, that a serious decline in Trump's health less than a month before Americans go to the polls could roil a US stock market that recently notched its worst monthly performance since its selloff in March while causing turbulence in other assets.
If the president's health is in jeopardy, there's "too much uncertainty in the situation for the markets just to shrug it off," said Willie Delwiche, investment strategist at Baird.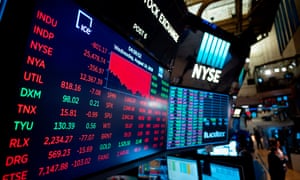 The various outcomes investors currently envision run the gamut from a quick recovery that bolsters Trump's image as a fighter to a drawn-out illness or death stoking uncertainty and drying up risk appetite across markets.
Should uncertainty persist, technology and momentum stocks that have led this year's rally may be particularly vulnerable to a selloff, some investors said. The tech-heavy Nasdaq fell more than 2% on Friday, double the S&P 500's decline.
"If people … get nervous right now, probably it manifests itself in crowded trades like tech and mega-cap being unwound a bit," Delwiche said.
A record 80% of fund managers surveyed last month by BofA Global Research said that buying technology stocks was the market's "most crowded" trade.
The concentration of investors in big tech stocks has also raised concerns over their outsized sway on moves in the broader market.
The largest five U.S. companies – Google parent Alphabet , Amazon, Apple, Facebook, and Microsoft – now account for almost 25% of the S&P 500's market capitalization, according to research firm Oxford Economics.
01:23
Bloomberg News is reporting – and the New York Times' Maggie Haberman says she has separately confirmed – that top Trump aide
Nick Luna
has tested positive for Covid-19.
Luna serves as Trump's "body man", a personal attendant to the president, and was diagnosed a little over 24 hours after Trump's admission to Walter Reed hospital, the report says. Haberman reports Luna is married to Cassidy Dumbauld, a senior advisor of Jared Kushner, husband of Trump's daughter, Ivanka.
01:09

Katharine Murphy
With news that the US secretary of state Mike Pompeo is scaling back a planned visit to Asia this week given the drama associated with Donald Trump's Covid diagnosis, I've made a couple of quick calls to work out if Australia's foreign minister Marise Payne is still bound for Tokyo for the "quad" discussion. As far as Australia is concerned the Toyko conversation is all on track. Pompeo will be there, and so will Payne. The "quad" is a gathering between Australia, the US, Japan and India. The agenda for Tuesday's meeting is the coronavirus, the impact of the pandemic on supply chains, and how to counter state sponsored disinformation.
00:57
A reminder for Australian readers who want to stay up-to-date
with US election news
: sign-up to our daily email briefing.
The US election briefing for Australia is an Australian take on the news, delivered every weekday at 5pm to keep you up to date with the extraordinary electoral contest between Donald Trump and Joe Biden.
The email gives you the top US election headlines and most important developments, as well as links to our full range of election coverage, all explained and presented from an Australian viewpoint.
It's written by my Guardian colleague, columnist and former US reporter Josephine Tovey, who spent three years reporting in New York and covered the 2016 presidential election for Fairfax Media.
You can sign up here:
00:25
Here's our wrap on the latest from Australia, and in particular the state of Victoria which has been under a long hard lockdown for months, but is now seeing vastly improved numbers.
00:12
Singapore
is expected to move into "phase three" of its reopening plan, but recent rule changes have people wondering if they haven't unofficially done it already.
"Instead, we are calling the big overall phases as one, two and three, like signposts that we have reached major staging points in our journey," says Associate Prof Alex Cook, vice dean of research at the National University of Singapore's (NUS) Saw Swee Hock school of public health in the Straits Times.
"Careful relaxation is necessary as countries that have rushed into reopening are entering second waves, and either starting localised lockdowns, in the case of Spain and Britain, or full national lockdowns, like Israel," he said.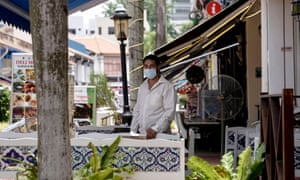 Restrictions have been eased over recent weeks, including doubling the number of people allowed at weddings, and allowing tourists from more countries including Australia (but not the state of Victoria), and Vietnam, and resuming live music at worship services.
Here, the Straits Times charts the plethora of changes to restrictions since the pandemic began.
Updated

23:50
Australia is heading into summer, and for much of the country's coastal population this usually means long days at the beach.
While the country has relatively very few cases of Covid, there are still social distancing measures in place – the only big waves we want to see are in the ocean, thanks very much.
So what does this mean for beachgoers and for the lifesavers who occasionally have to rescue them? Well, to start, there will be more crowd control, no mouth-to-mouth resuscitation, and swimmers should watch out for others coughing up mucus in the water (ew).
Elias Visontay takes a look: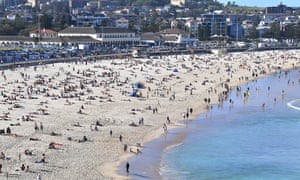 Updated

23:27
Germany's Robert Koch Institute for infectious diseases has reported a further 2,279 cases in the country, bringing the total number to 299,237. Two people were reported to have died, bringing Germany's death toll to 9,529.
Get the latest news and advice on COVID-19, direct from the experts in your inbox. Join hundreds of thousands who trust experts by subscribing to our newsletter.
Send your news and stories to us news@climaxradio.co.uk or newstories@climaxnewsroom.com and WhatsApp: +447747873668.
Before you go...
Democratic norms are being stress-tested all over the world, and the past few years have thrown up all kinds of questions we didn't know needed clarifying – how long is too long for a parliamentary prorogation? How far should politicians be allowed to intervene in court cases? To monitor these issues as closely as we have in the past we need your support, so please consider donating to The Climax News Room.