Home
News
Entertainment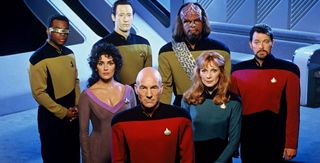 Celebrate 54 years of "Star Trek" with Star Trek Day 2020.
(Image: © CBS)
It's been an incredible 54 years since "
Star Trek
" first debuted. On Tuesday (Sept. 8), actors from across the multi-decade franchise will celebrate an online "Star Trek" day with panels and discussions, while discussing the series' emphasis on diversity.
More than three hours of free virtual panels will play at the Star Trek Day website here starting at 12 p.m. PDT (3 p.m. EDT or 1900 GMT).
The multi-hour online event comes in the wake of a CBS announcement Sept. 2 that "Star Trek" will feature its first nonbinary and transgender characters in Season 3 of "Star Trek: Discovery," which premieres Oct. 15. Adira will be a nonbinary character played by non-binary actor Blu del Barrio, while transgender actor Ian Alexander will play Gray.
Related: 7 Lessons 'Star Trek' Taught Us About Life, Leadership and Diversity
CBS All Access also pledged to donate $1 for every person who tweets the hashtag #StarTrekUnitedGives on Tuesday between 12 a.m. and 11:59 a.m. PDT (between 3 a.m. Tuesday, Sept. 8 and 2:59 a.m. Wednesday, Sept. 9 EDT, or between 0700 Tuesday, Sept. 8 and 0659 Wednesday, Sept. 9 GMT).
The donations will go to "organizations who do the real-world work of championing equality, social justice and the pursuit of scientific advancements," CBS said in a statement. The organizations include the NAACP Legal Defense and Educational Fund, the National Action Council for Minorities in Engineering and the Equal Justice Initiative.
Here's what you can expect for the event:
12 p.m. PDT/3 p.m. EDT/1900 GMT: "Star Trek Discovery" cast and writers will discuss the upcoming third season that premieres on Oct. 15.
12:30 p.m. PDT/3:30 p.m. EDT/1930 GMT: The cast of "Star Trek: Deep Space Nine" will talk about iconic episodes that still have relevance today, including the famous episode "Far Beyond the Stars."
1 p.m. PDT/4 p.m. EDT/2000 GMT: The cast and writers of "Star Trek: Strange New Worlds" will discuss the new adventures featured in the reboot series, which features iconic, recast franchise characters such as Captain Pike, Spock and Number One.
1:30 p.m. PDT/4:30 p.m. EDT/2030 GMT: The legacy of "Star Trek: The Original Series" will be discussed with original cast member George Takei, Rod Roddenberry (son of the series creator Gene Roddenberry), and "Star Trek: The Next Generation" star Wil Wheaton, who is hosting multiple panels during "Star Trek Day."
2 p.m. PDT/5 p.m. EDT/2100 GMT: "Star Trek: Voyager" cast members will discuss the 25-year anniversary of their series in 2020, whose plotline saw the U.S.S. Voyager starship and crew stranded in a poorly explored region of space.
2:20 p.m. PDT/5:20 p.m. EDT/2120 GMT: "Star Trek: Enterprise" cast members will discuss their series, which was the last to air on a television service for several years before the debut of "Star Trek Discovery" in 2017.
2:40 p.m. PDT/5:45 p.m. EDT/2140 GMT: The cast of the new "Star Trek: Lower Decks" animated series discusses what the first season holds in store.
3:05 p.m. PDT/6:05 p.m. EDT/2205 GMT: "Star Trek: Picard" and "Star Trek: The Next Generation" stars Patrick Stewart and Jonathan Frakes helm a discussion about how TNG a generation ago informed their much more recent appearances on "Picard", which debuted in January this year.
You can tune in to CBS's Star Trek Day 2020 panels here on Tuesday, beginning at 12 p.m. PDT/3 p.m. EDT/1900 GMT.
Follow Elizabeth Howell on Twitter @howellspace. Follow us on Twitter @Spacedotcom and on Facebook.
Join our Space Forums to keep talking space on the latest missions, night sky and more! And if you have a news tip, correction or comment, let us know at: community@space.com.
Get the latest news and advice on COVID-19, direct from the experts in your inbox. Join hundreds of thousands who trust experts by subscribing to our newsletter.
Send your news and stories to us news@climaxradio.co.uk or newstories@climaxnewsroom.com and WhatsApp: +447747873668.
Before you go...
Democratic norms are being stress-tested all over the world, and the past few years have thrown up all kinds of questions we didn't know needed clarifying – how long is too long for a parliamentary prorogation? How far should politicians be allowed to intervene in court cases? To monitor these issues as closely as we have in the past we need your support, so please consider donating to The Climax News Room.