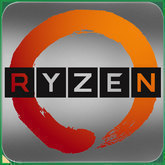 Minęło blisko 15 miesięcy od premiery procesorów AMD Ryzen serii 3000, które przyniosły usprawnioną architekturę Zen 2 oraz zauważalnie wyższą wydajność w stosunku do poprzednich generacji, także w grach. Od dłuższego czasu jednak producent pracował nad kolejną generacją, która miała w zamyśle przede wszystkim zaatakować ostatni, utrzymywany przez Intela bastion, którym są gry komputerowe. W ostatnich tygodniach pojawiło się kilka ciekawych informacji na temat nowych jednostek Zen 3, jednak do ogromnych wycieków informacji nie doszło. Czekaliśmy zatem na konferencję firmy, podczas której mieliśmy poznać wszelkie konkrety. Doczekaliśmy się i zapraszamy do wspólnego omówienia nowych procesorów AMD Ryzen serii 5000. Przeskok w numeracji pozwoli w końcu na ujednolicenie całej oferty procesorów desktopowych oraz układów APU ze zintegrowanymi układami graficznymi.
AMD podczas specjalnej konferencji zaprezentowało pierwsze desktopowe procesory Ryzen serii 5000, które oparto o usprawnioną architekturę Zen 3.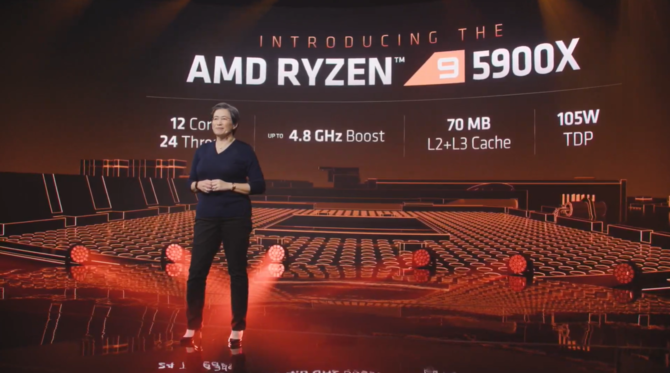 Podczas specjalnego wystąpienia Lisa Su, CEO firmy AMD, ujawniła szczegóły dotyczące procesorów Ryzen serii 5000 oraz architektury Zen 3, która została znacząco ulepszona głównie pod kątem wydajności w grach. Nowe procesory Ryzen odznaczają się około 25% lepszą efektywnością energetyczną w porównaniu do poprzedniej generacji. Zwiększono również o 19% IPC, co ma przełożyć się na zauważalnie wyższą wydajność pojedynczego wątku. Prawie topowym procesorem ujawnionym dzisiaj (ale z pewnością nie najwydajniejszym w ogóle) jest AMD Ryzen 9 5900X – 12-rdzeniowy i 24-wątkowy układ z maksymalnym taktowaniem Boost sięgającym 4,8 GHz. TDP układu pozostało bez zmian i wynosi 105 W. AMD chwali się wyższą o średnio 26% wydajnością w popularnych grach komputerowych. Przykład zaprezentowano na bazie gry Shadow of the Tomb Raider, gdzie procesor AMD Ryzen 9 3900X uzyskał średnio 141 FPS, z kolei AMD Ryzen 9 5900X zdołał zwiększyć wynik do 181 FPS. Nowy Ryzen jest także pierwszym procesorem desktopowym, któremu udało się przebić barierę 600 pkt w teście jednowątkowym Cinebench R15 – takiego rezultatu nie udało się zdobyć nawet topowemu procesorowi Intel Tiger Lake o dużo mocniejszym pojedynczym wątku w porównaniu do architektury Skylake.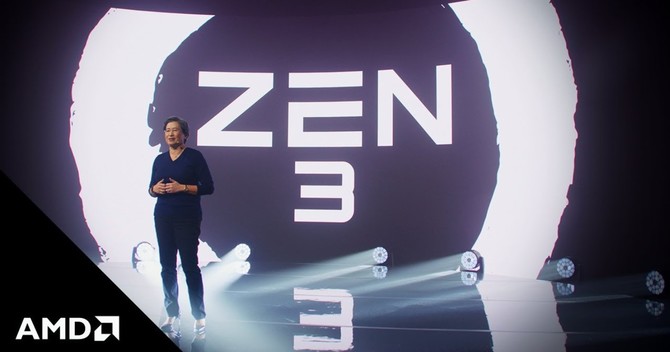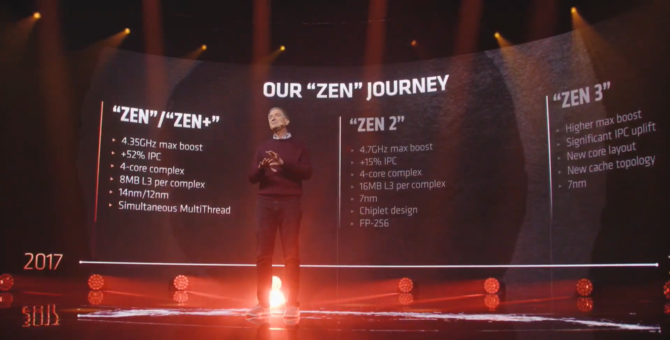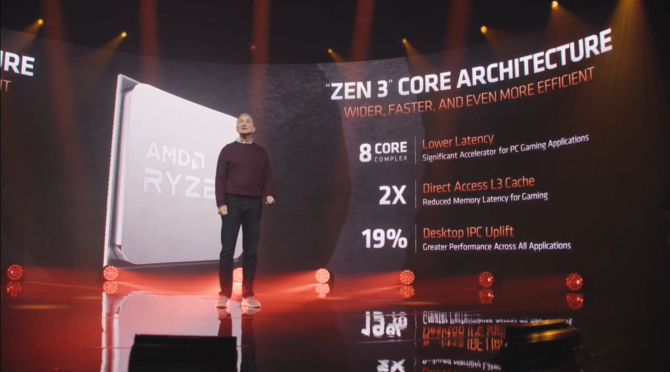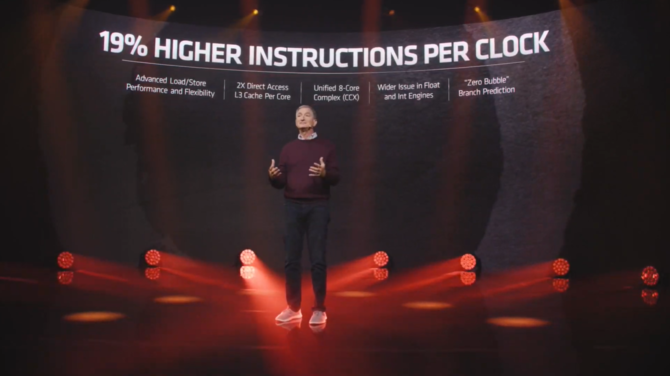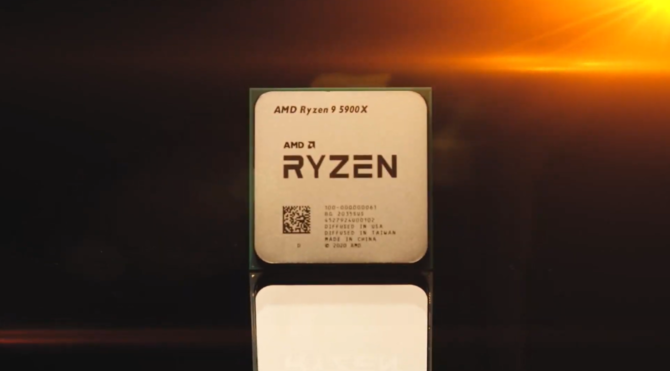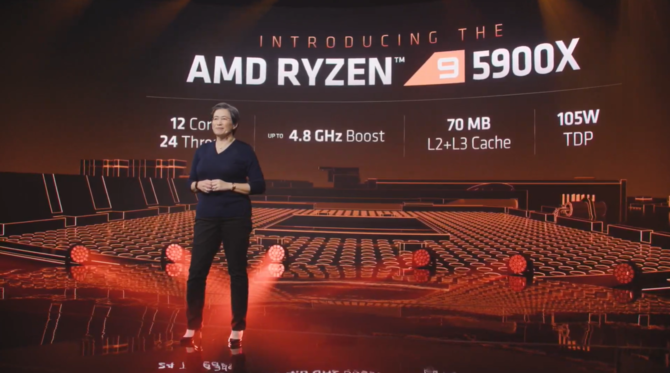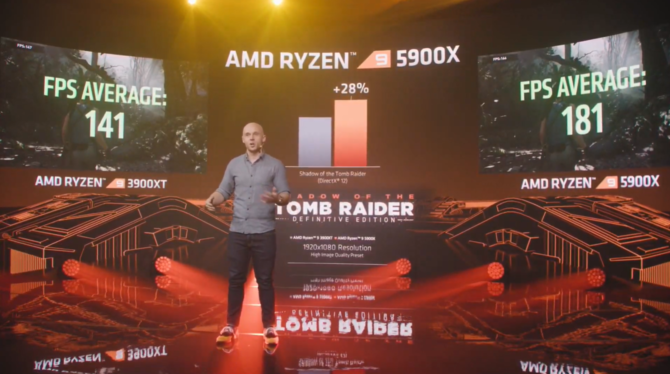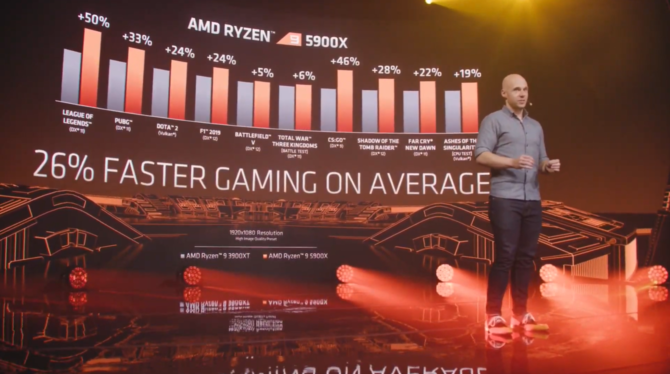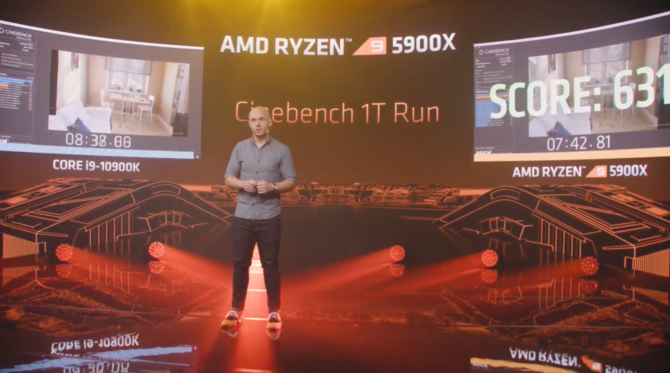 AMD zaprezentowało również procesory Ryzen 9 5950X, Ryzen 7 5800X oraz Ryzen 5 5600X. Pierwszy z procesorów został wyposażony w 16 rdzeni oraz 32 wątki, drugi w 8 rdzeni i 16 wątków, trzeci z kolei w 6 rdzeni oraz 12 wątków. Widać zatem, że producent nie zdecydował się na kolejne zwiększanie rdzeni i wątków, zamiast tego poprowadzono zmiany w budowie klastra CCD, który posiada teraz 8 rdzeni oraz większą ilość pamięci cache, co ma w zamyśle zmniejszyć opóźnienia oraz zwiększyć wydajność w grach. Więcej szczegółów dotyczących specyfikacji procesorów umieściliśmy w poniższej tabeli.
| | | | | |
| --- | --- | --- | --- | --- |
| Specyfikacja | AMD Ryzen 5 5600X | AMD Ryzen 7 5800X | AMD Ryzen 9 5900X | AMD Ryzen 9 5950X |
| Architektura | Zen 3 | Zen 3 | Zen 3 | Zen 3 |
| Proces technologiczny | 7 nm | 7 nm | 7 nm | 7 nm |
| Ilość rdzeni/wątków | 6C/12T | 8C/16T | 12C/24T | 16C/32T |
| Taktowanie bazowe | 3,7 GHz | 3,8 GHz | 3,7 GHz | ? |
| Taktowanie Boost | 4,6 GHz | 4,7 GHz | 4,8 GHz | 4,9 GHz |
| Cache L2+L3 | 35 MB | 36 MB | 70 MB | 72 MB |
| TDP | 65 W | 105 W | 105 W | 105 W |
| Cena | 299 USD | 449 USD | 549 USD | 799 USD |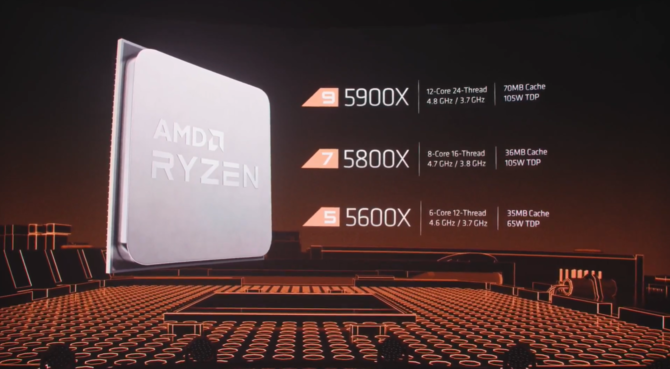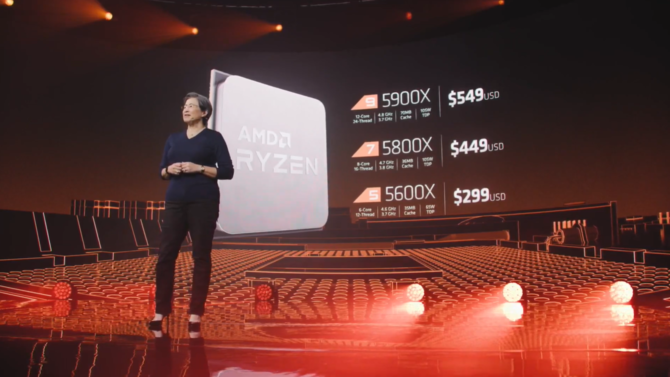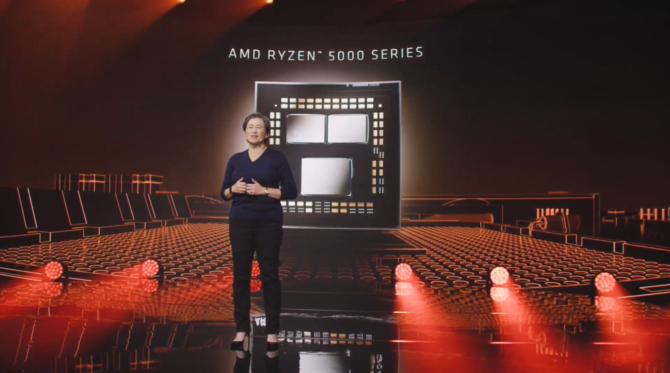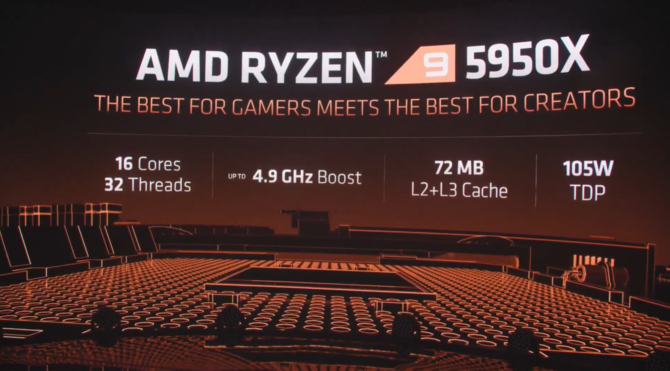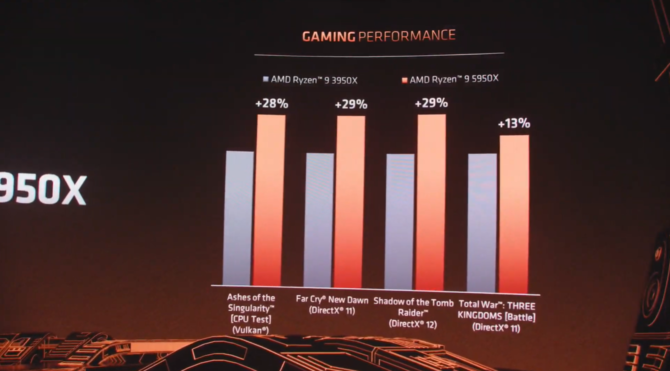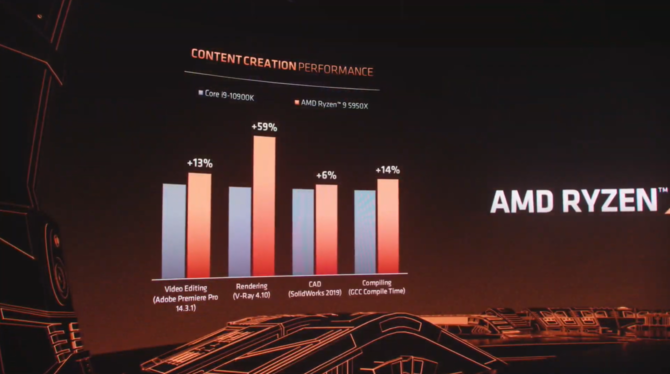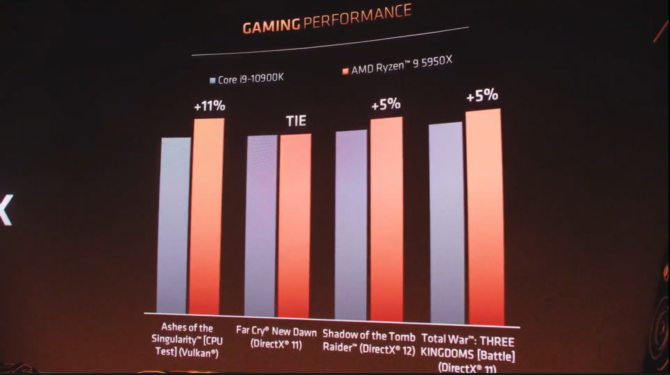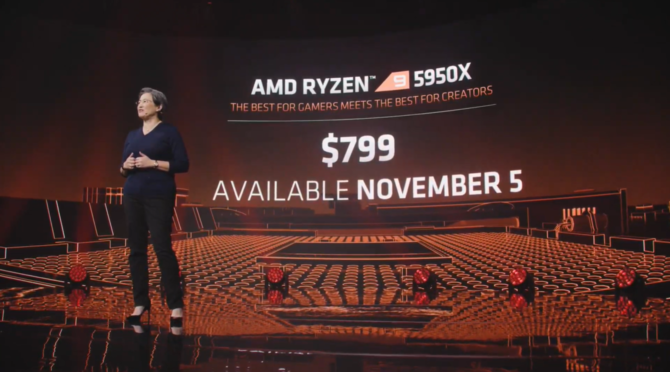 Niespodzianką podczas pokazu był pierwszy preview na topowy układ graficzny Radeon oparty na architekturze RDNA 2. Lisa Su z rozbawieniem podkreśliła, że karta to prawdziwe Big NAVI, jak została ochrzczona w mediach już wiele miesięcy temu. Firma przedstawiła na żywo kartę oraz potwierdziła, że to zdecydowanie najwydajniejszy układ graficzny jaki dotychczas wyprodukowano przez AMD. Przedstawiono również krótki materiał z gry Borderlands 3, gdzie topowy NAVI 21 w połączeniu z procesorem AMD Ryzen 9 5900X zaoferował ponad 60 FPS w rozdzielczości 4K przy maksymalnych ustawieniach graficznych. Do tego przedstawiono wstępne wyniki wydajności z gier Call of Duty: Modern Warfare oraz Gears 5.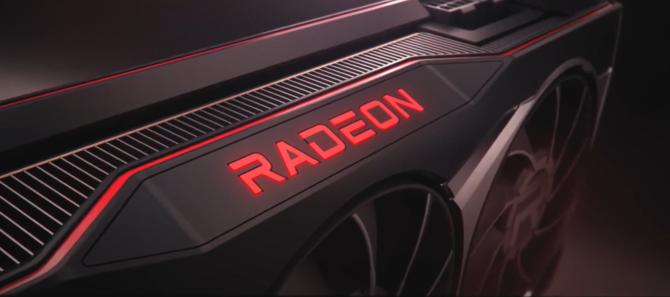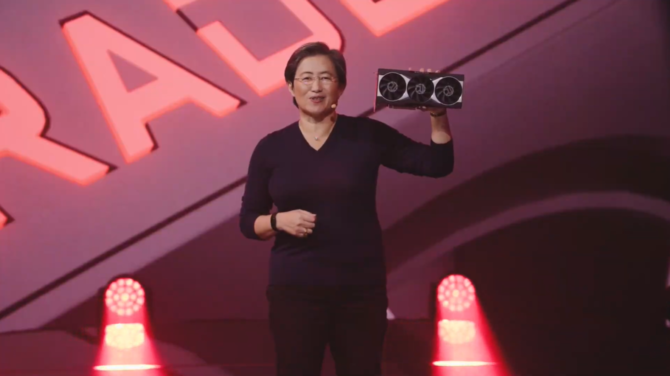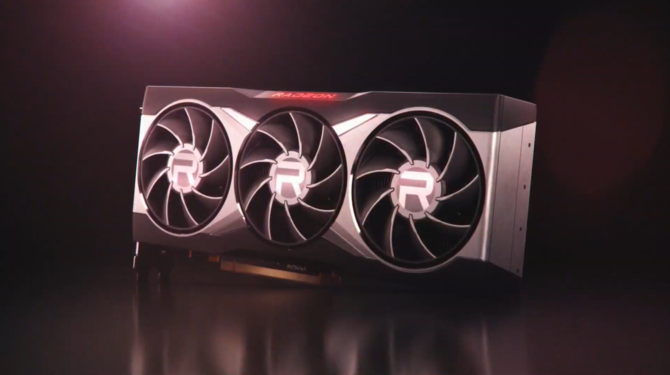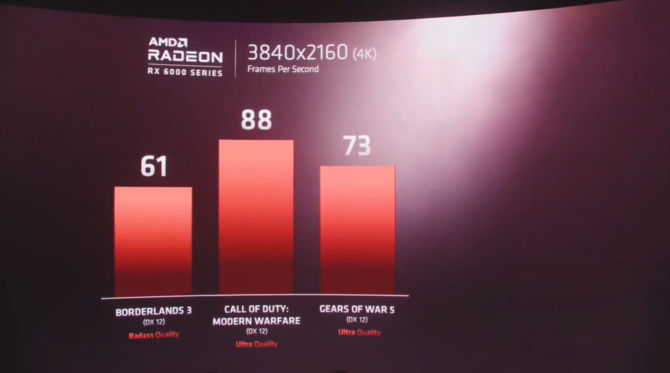 Wszystkie cztery zaprezentowane dzisiaj procesory, a więc AMD Ryzen 5 5600X, AMD Ryzen 7 5800X, AMD Ryzen 9 5900X oraz AMD Ryzen 9 5950X zostaną wprowadzone do globalnej sprzedaży 5 listopada, a więc za około miesiąc. Ryzen 5 5600X będzie kosztował 299 dolarów, Ryzen 7 5800X będzie wyceniony na 449 dolarów, z kolei 12-rdzeniowy Ryzen 9 5900X to koszt 549 dolarów. Topowy, 16-rdzeniowy Ryzen 9 5950X będzie natomiast kosztował 799 dolarów. Na więcej informacji odnośnie kart Radeon RX 6000 musimy z kolei poczekać do 28 października. Krótka zapowiedź od AMD dała jednak jasny sygnał, że warto zobaczyć co firma będzie miała do zaoferowania dla entuzjastów grania. Producent podkreślił również inną ważną rzecz – architektura Zen 4 ma się dobrze i ponownie potwierdzono wykorzystanie 5 nm procesu technologicznego od TSMC.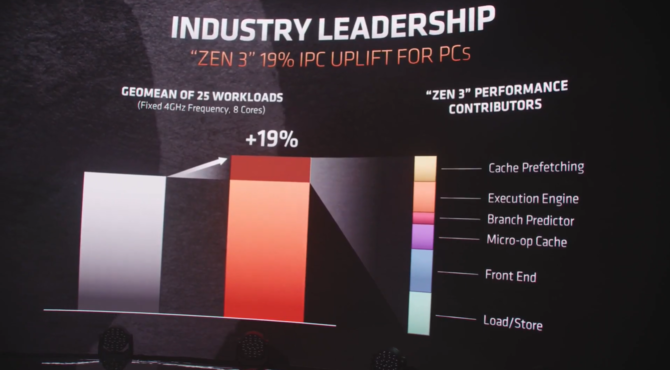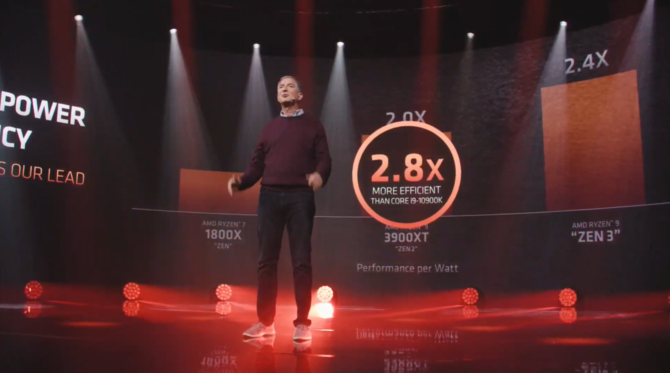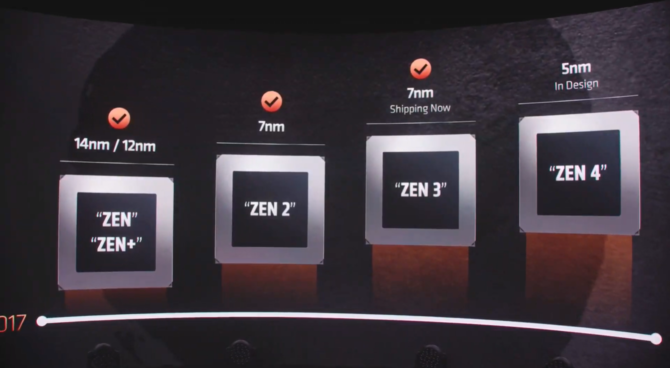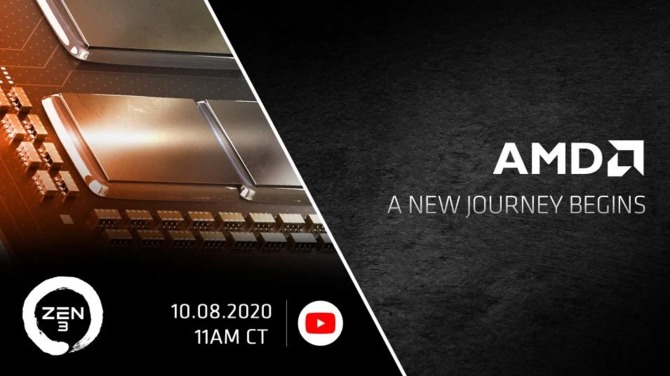 Źródło: AMD
Get the latest news and advice on COVID-19, direct from the experts in your inbox. Join hundreds of thousands who trust experts by subscribing to our newsletter.
Send your news and stories to us news@climaxradio.co.uk or newstories@climaxnewsroom.com and WhatsApp: +447747873668.
Before you go...
Democratic norms are being stress-tested all over the world, and the past few years have thrown up all kinds of questions we didn't know needed clarifying – how long is too long for a parliamentary prorogation? How far should politicians be allowed to intervene in court cases? To monitor these issues as closely as we have in the past we need your support, so please consider donating to The Climax News Room.