Guides
The addition of NPCs in Fortnite give players a new way to play the game. Here are all of the NPC locations so you can find them all.

Published
14 hours ago
on
Fortnite Season 5 brought NPC quest-givers to the game. Here's where you can find all of them.
The most interesting part of Fortnite Season 5 has to be the currency system. It might not be fully realized upon release, but it offers a ton of potential to the game and truly makes it feel fresh.
After a few games, players will begin to stockpile gold bars after eliminating players, completing quests, and breaking furniture. The only place to spend these gold bars is at the NPC quest-giver locations.
There are NPCs all over the place – you've undoubtedly stumbled upon them in your travels. As you may have noticed, though, some NPCs are more useful than others.
Players are still working their way around the map, looking for all of these NPCs. So far, @meetlootllama has completed the most comprehensive map of where all of the quest-givers are located.
Read More: Fortnite Season 5 Gold, Bounty & Quest systems explained
This map isn't 100% complete yet. We know that at least one NPC is missing at Holly Hedges, suggesting more are left off this list. Still, it's the most information we have and will serve as our map until we unlock all of these quest-givers in our collection.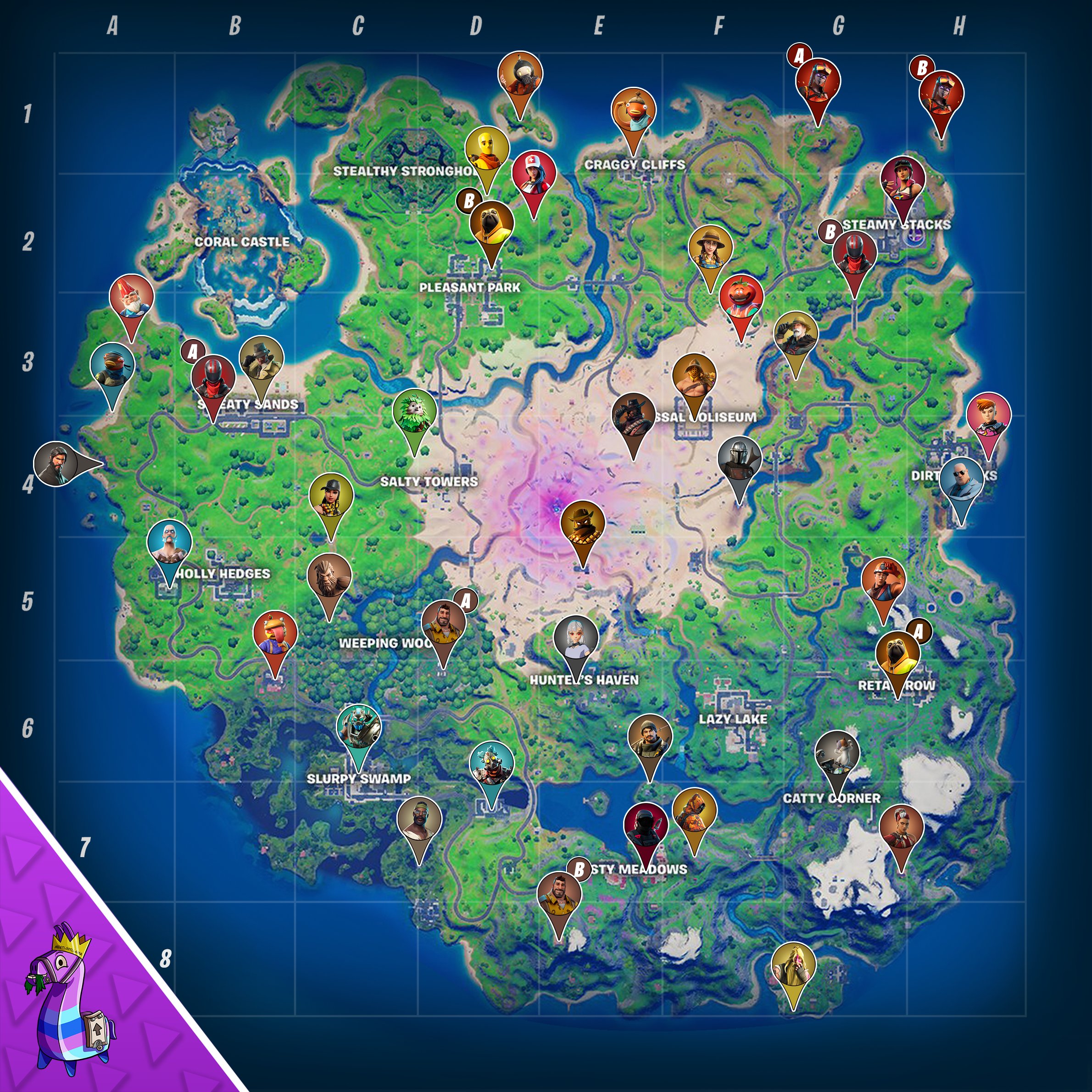 Again, some NPCs are more useful than others. Craggy Cliffs houses Remedy and Fishstick – neither of which offer too much to players. Ragnarok over in Holly Hedges, on the other hand, gives you a chance to earn a free P90 for defeating him.
Read More: All major map changes in Fortnite Season 5
There are also some cool interactions you can have with these characters. Bunker Jonesy answers questions about the loop, and Tomatohead talks trash to you if you wear the Beef Boss skin. We can't wait to find all of these Easter Eggs while exploring the new island. Season 5 might be our favorite season in Chapter 2.
Image Credit: @meetlootllama
Guides
Fortnite Season 5 brought Exotic weapons to the game to replace Mythics. Here's where to find all of them.

Published
11 hours ago
on
December 3, 2020
Fortnite Season 5 introduced Exotic weapons to the game instead of Mythics, giving more players access to them. Here's where you can find them.
There's no shortage of new mechanics in Fortnite Season 5, with the addition of NPCs, quests, and a whole lot more.
Mythics have returned to the game in Season 5 but in a limited capacity. The only classic Mythic items in Fortnite Season 5 include The Mandalorian's Jetpack and sniper rifle, both available from the bounty hunter himself.
The other items in the game are classified as Exotics. There's only one of each Mythic item in each game, but can be multiple Exotic weapons.
You can purchase these Exotic weapons from specific NPCs across the map. Of course, this means you'll need to save up your Gold Bars to afford them.
Read More: How to get the new Mythic items in Fortnite Season 5
Twitter user @MikeDulaimi created an easy-to-follow guide on how to locate all of the Exotic weapons in Fortnite. You can purchase them from NPCs in the areas surrounding Hunter's Haven, The Zero Point, Dirty Docks, Craggy Cliffs, and Stealthy Stronghold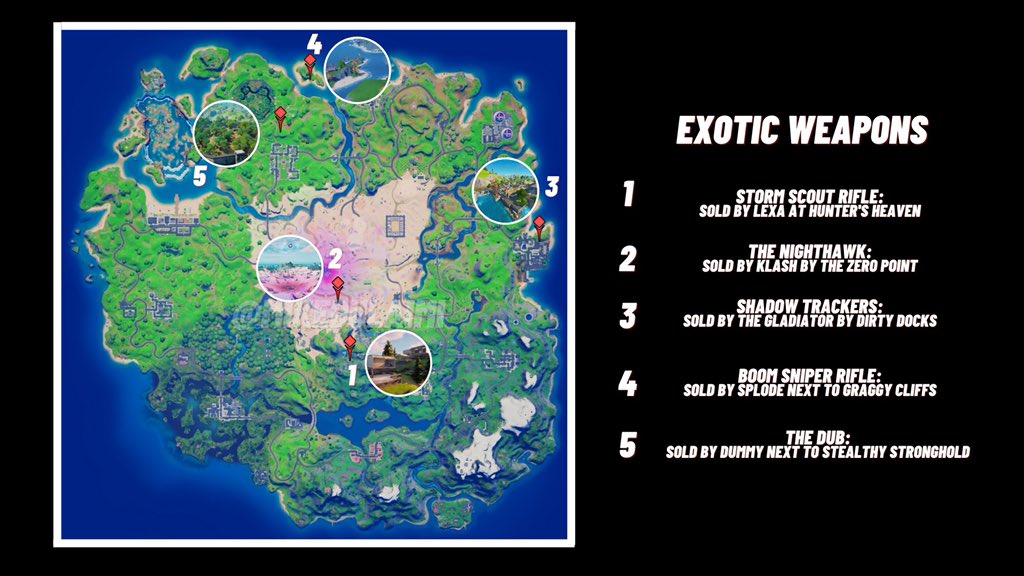 Mythic items were relatively controversial for the past few seasons of Fortnite – especially in competitive modes. Doom's Mystical Bomb and Kit's Shockwave Launcher dominated tournament play for the past two seasons, and the competitive community largely called for them to be removed.
We're curious to see how this community treats Exotic weapons. They're more widely available and aren't as powerful as Mythics, making them more balanced than the latter – that is, until a player eliminates the NPC selling them.
Guides
Fortnite Season 5 introduced new Mythic weapons and items to the game. Here's where you can find them.

Published
2 days ago
on
December 2, 2020
Fortnite Season 5 is out now, and you know what that means: new Mythics. Here's where you can find them.
Mythic items and weapons are a hot topic in the Fortnite world. Some people love them, and others have hated the idea since way back in the Infinity Blade days.
Season 5 was released with only one Mythic item and one Mythic weapon, although that's probably going to change in the future. Data miners have already found several upcoming Mythic items relating to Battle Pass characters that will likely come to the game in the future.
Let's start with the Mandalorian, as he is the first (and only) Mythic boss in Fortnite at the time of writing.
Fortnite Mandalorian Location
You can find The Mandalorian patrolling his crashed ship on the western edge of the desert biome, south of Colossal Coliseum. He'll be carrying his sniper rifle and jetpack – both of which are worth grabbing once you eliminate him.
Read More: Fortnite Season 5 Gold, Bounty & Quest systems explained
The sniper isn't too special, apart from its thermal vision and ability to deal melee damage. The real prize is Mando's jetpack, which allows you to aim-down-sights while flying in the air. We expect to see a ton of trickshots coming out of this one.
Consequently, this is also the location you need to visit to complete the "Open a Razer Chest" quest. If you're alone – which isn't likely at this stage of the game – you can kill two birds with one oversized Sniper Rifle.
For now, this is the only Mythic item in Fortnite. We assume that the other Battle Pass characters will join Mando in Hunter's Haven, Colossal Coliseum, and Stealthy Stronghold, but they aren't available just yet.
We'll continue to update this post as more bosses, and Mythic abilities come to Fortnite. For now, we wish you luck grabbing these Mythics without getting sniped.
Guides
Fortnite Season 5 brought Quests, Bounties, Gold Bars, and NPCs to the game. Here's how all of this works.

Published
2 days ago
on
December 2, 2020
Fortnite Season 5 is here, bringing an all-new currency quest mechanic to the game. Here's how they work.
After the release of Warzone, Fortnite players saw the massive possibilities that come with a currency system in a Battle Royale. Such a system immediately jumped to the top of every Fortnite player's wish list.
In Season 5, Epic finally brought a currency system to the game – of course, with a Fortnite twist. You can now interact with NPCs around the map to gain intel, upgrade weapons, purchase new ones, or hire them to help you.
You can earn currency by completing quests, eliminating other players, finishing bounties, and finding it in stashes. The NPC are scattered around the map – mostly at unnamed or older POIs.
Read More: Fortnite Season 5 patch notes: New Shotguns, Bounty System & more
There are too many quest-givers to list, here, and we still don't know where all of them are located. You can find Fishstick and Remedy at Craggy Cliffs and Mancake at Butter Barn. You'll notice a square dialogue symbol with three dots over their names when you get close.
As for what you can buy, you can use the Gold Bars to upgrade your weapons, purchase new guns/items, or even hire NPCs as your bodyguards – it all depends on the NPC with which you interact.
The last option seems to be a mixed bag, as the NPC only carries one weapon. We'll need to experiment and see which NPCs you'll want to hire and which ones you'll want to leave behind. So far, we've been underwhelmed by their abilities.
It's also important to note that you need to visit these quest-givers before completing your quest for Gold Bars. XP quests don't give you the same Gold rewards that in-game NPCs do. Quests include bounty hunting other players, gaining health/shields, collecting materials, or random things like throwing shields.
Gold Bars, Bounties, Quests, and NPCs are a massive step forward for Fortnite, and there's a ton that they can do with all of these elements in the future. It seems like this is only the first step towards a new way to play Fortnite.
HI! I AM DAVID BRAYZ!
I am a highly-skilled IT Specialist with over 12 years of experience in Web Design, Graphic Design, Web Blogging & ITL Management.
Get the latest news and advice on COVID-19, direct from the experts in your inbox. Join hundreds of thousands who trust experts by subscribing to our newsletter.
Send your news and stories to us news@climaxradio.co.uk or newstories@climaxnewsroom.com and WhatsApp: +447747873668.
Before you go...
Democratic norms are being stress-tested all over the world, and the past few years have thrown up all kinds of questions we didn't know needed clarifying – how long is too long for a parliamentary prorogation? How far should politicians be allowed to intervene in court cases? To monitor these issues as closely as we have in the past we need your support, so please consider donating to The Climax News Room.