Nobody wants to be stuck in a food rut. Luckily for you, Sam Gates, author of The Batch Cook Book, has created a series of budget-friendly, low-waste recipes for those wanting no-fuss meals.
The book, which costs £18.99, is inspired by Gates' experience of juggling family, work, life and cooking during the pandemic. Recipes include smoky bean breakfast burritos; honey, soy and five-spice baked chicken; and smoky aubergine and fennel tagine.
From veggie sausage rolls filled with butternut squash, pine nuts and harissa; to stuffed jacket potatoes with cheese, mushrooms and pancetta, you won't be disappointed with these delicious dishes. Bon appétit!
Squash, Pine Nut And harissa 'Sausage' Rolls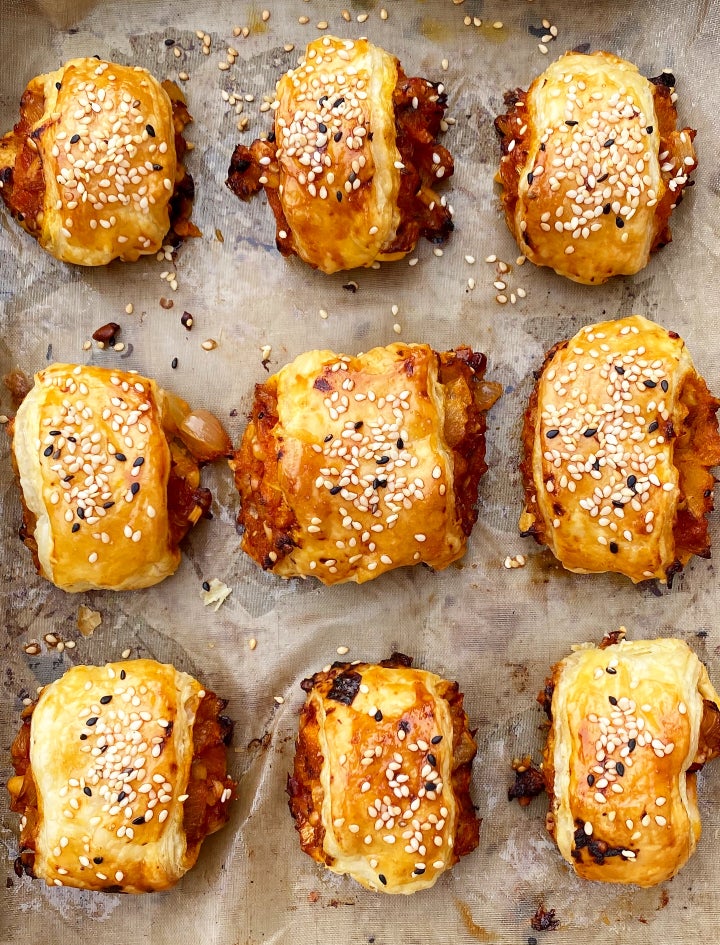 Ingredients
750g butternut squash, peeled, deseeded and roughly chopped into 2cm chunks
2 red onions, halved
2 tbsp olive oil
1 red chilli, deseeded and finely chopped
4 tbsp pine nuts
1 tbsp harissa paste
1 ready-rolled sheet of puff pastry
1 egg, beaten
2 tsp sesame seeds
Salt and black pepper to season
Method
1. If serving straight away, preheat the oven to 200°C/180°C fan/Gas mark 6.
2. Combine the squash, onions, oil and chilli in a baking tray and season well. Roast for 40 minutes, stirring from time to time until the squash chunks are soft throughout and caramelised around the edges.
3. While the squash is roasting, toast the pine nuts in a dry frying pan on a medium–high heat until lightly golden (watch they don't burn!). Roughly chop and set aside.
4. Remove the baking tray from the oven, transfer the pieces of butternut squash to a mixing bowl and roughly mash.
5. Chop the roasted onion and tip it, along with any chilli bits and oil left in the baking tray, into the mixing bowl and mix well. Stir in the harissa and pine nuts and season to taste.
6. Unroll the puff pastry sheet on to a piece of greaseproof paper (or use the paper it comes wrapped in) and cut it in half down its length, into 2 strips. Halve the butternut mixture and use each half in turn to create a line of filling down the centre of each pastry strip.
7. One strip at a time, paint a line of beaten egg down one side, and bring the other side over to cover it. Press lightly to seal, then roll the 2 pastry tubes over so that the seams are underneath. Cut each length into 8 equal pieces, and place on a baking tray lined with greaseproof paper or a reusable liner. (See freezer notes now if you intend to freeze.)
8. When you are ready to cook, lightly brush the rolls with egg and scatter sesame seeds over the top. Bake for 25–30 minutes until the rolls are puffed up and gloriously golden. Eat warm for maximum tastiness.
To freeze: put the unbaked rolls between layers of greaseproof paper and place them in an airtight box or bag. Freeze for up to 2 months. To bake from frozen, lightly brush the rolls with egg and scatter sesame seeds over the top. Bake as in the method.
Stuffed Jackets With Mushrooms And Pancetta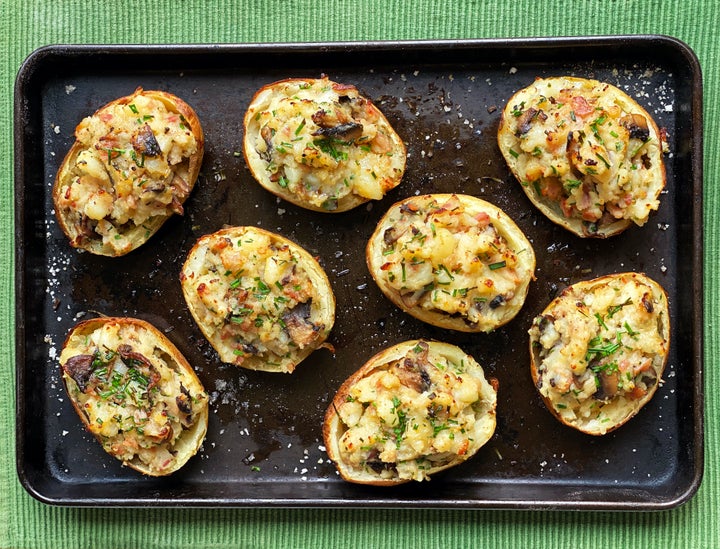 Ingredients
4 large baking potatoes
2 tsp olive oil, plus extra for frying
50g butter
300g any medium-sized mushrooms, sliced
160g pancetta or streaky bacon, sliced into small pieces
2 tbsp chopped chives, plus extra to serve
50g Parmesan or mature cheddar, finely grated
4 tbsp milk
Maldon salt and black pepper
Method
1. Preheat the oven to 200°C/180°C fan/Gas mark 6.
2. Prick the potatoes a few times with a fork then rub a little olive oil over the skins. Place them on a roasting tray and scatter with a teaspoon of salt.
3. Bake for 60–90 minutes until the skins are crisp and the potatoes are cooked through. Set aside for 15 minutes until cool enough to handle.
4. While the potatoes are cooking, melt the butter in a frying pan on a medium–high heat, add a good pinch of salt and fry the mushrooms for 8–10 minutes until golden brown. Remove with a slotted spoon and set aside in a mixing bowl. Add the pancetta or bacon pieces to the pan and fry quickly until crispy all over, adding a little olive oil if needed. Tip into the mushroom mixture, add the chopped chives and grated cheese and stir well.
5. Cut the potatoes in half lengthways and, without breaking the skins, carefully scoop out the flesh and mash it in a bowl together with the milk. Stir the mashed potato into the mushrooms and bacon and season to taste. Divide the mixture equally between the potato halves. (See freezer notes now if you intend to freeze.)
6. If you're eating straight away, place in the oven for 15–20 minutes until golden on top and warmed through.
To freeze: Cool the filled (but not re-baked) potatoes completely, then place in an airtight container or foil freezer container and freeze for up to 2 months. To cook from frozen, loosely cover with foil and place in the oven at 200°C/180°C fan/Gas mark 6 for 30–35 minutes until golden brown and warmed through.
Fast And Furious Quinoa 'Bolognese'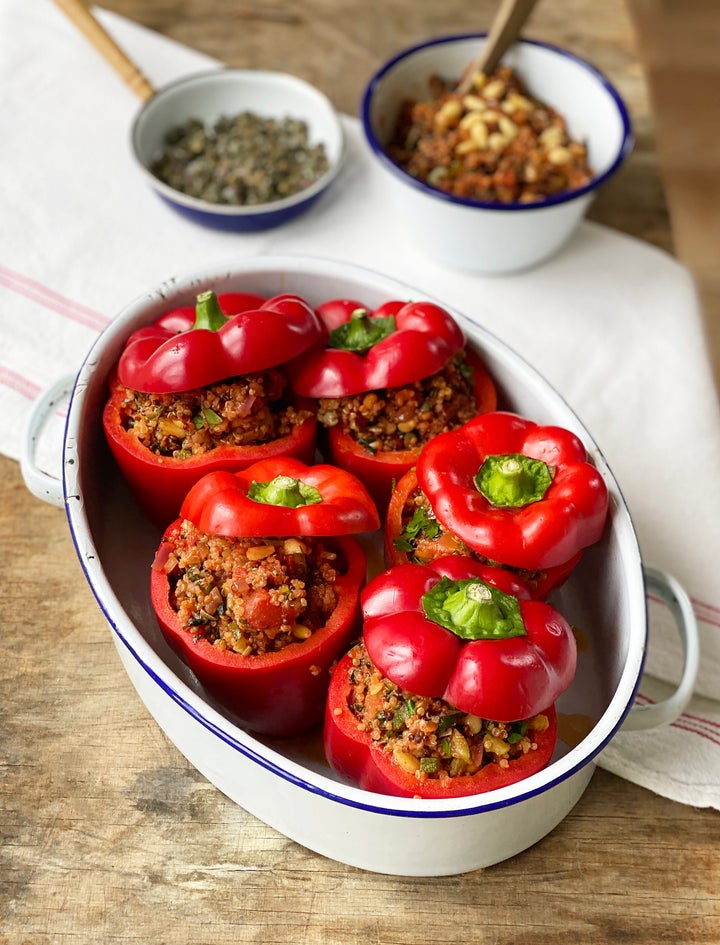 Ingredients
2 tbsp olive oil
2 red onions, finely chopped
2 garlic cloves, crushed
Small bunch of flat-leaf parsley, stalks and leaves
Finely chopped separately
2 courgettes, finely diced
3 tbsp chopped capers
2 tbsp tapenade or sun-dried tomato paste
1 x 400g tin of chopped tomatoes
generous pinch of sugar
250g sachet of ready-cooked quinoa
½ tsp salt, plus extra to season
4 tbsp pine nuts, toasted
4 large red peppers
Black pepper to season
Method
1. Heat the olive oil in a large, shallow pan over a medium heat and gently fry the onions, garlic and parsley stalks for 8–10 minutes until the onions are soft and translucent. Remove from the pan with a slotted spatula, increase the heat and fry the diced courgettes quickly until golden.
2. Return the onions to the pan and add the capers, paste, tomatoes, sugar and quinoa. Stir in the ½ teaspoon of salt and season with plenty of pepper. Cook for 10–12 minutes until the sauce thickens. Taste and add more seasoning if desired.
3. Remove from the heat and stir through the chopped parsley leaves and the pine nuts. (See freezer notes now if you intend to freeze.)
4. Preheat the oven to 180°C/160°C fan/Gas mark 4.
5. Slice a 'lid' off the top of each of the peppers. Remove the seeds and white pith from the insides and rub the skins with olive oil. Stuff the peppers with the sauce and place in a greased baking tin. Cook for 30 minutes until piping hot, then serve.
To freeze: To freeze the filling, allow to cool completely and freeze in airtight containers or bags for up to 2 months. Defrost completely before using as in the method.
HI! I AM DAVID BRAYZ!
I am a highly-skilled IT Specialist with over 12 years of experience in Web Design, Graphic Design, Web Blogging & ITL Management.